as if the ostrich festival wasn't enough fun to last us through our ENTIRE spring break,
we had to go ahead and plan a family reunion.
yep.
for reals.
only,
with the new baby
(not ours!),
one family had to bail.
but that's okay.
the cousins have been SO EXCITED for this week.
the Washington state and Chicago family are looking forward to SUN and WARMTH.
we are SO THANKFUL to have this HUGE house (not ours) for us all to share this week.
it's a huge blessing.
a perk, for sure.
it's not far from our home.
in fact, we're just in a neighboring town.
but it feels like we're miles and miles away.
because we're vacationing.
and there's a heated pool.
and family is here….
oh my. let me stop there for today and get back to the story at hand…
Sunday was day one (full day) of the Dunkins in the Desert.
not everyone has arrived yet.
in fact,
it was just us and one other family.
but it was a fantastic day anyway.
lots of sun.
lots of pool time.
cousins playing and having a blast.
siblings and spouses talking and cooking and eating and parenting together…
probably the way life once was before trains and planes made traveling easier.
before people moved thousands of miles away from their family instead of just to the other side of town.
pretty sure this guy was on a high school diving team:
he's got some crazy acrobatic moves.
i should've taken video instead of stills!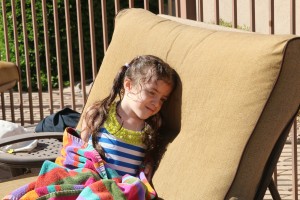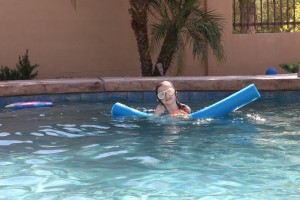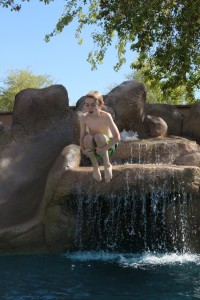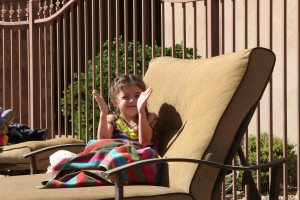 (The Littlest Munchkin asked for her big brother to yell "cannonball" and then jump into the water. He acquiesced. She chapped.)
along with his own acrobatic skills,
he's a pretty great uncle and dad to help the kids realize their full acrobatic potential: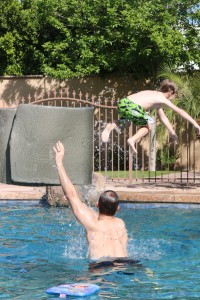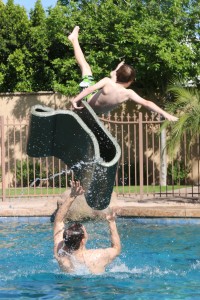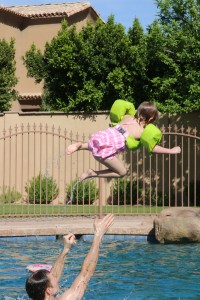 this little series of photos makes me laugh…
probably because i can see their smiles.: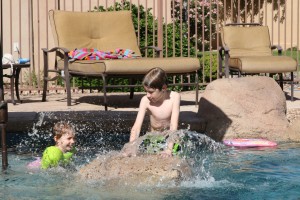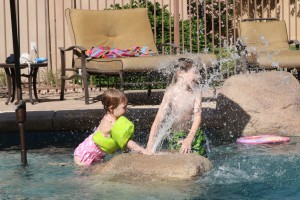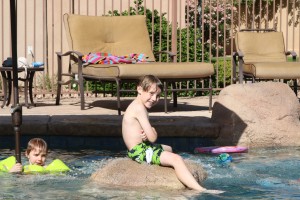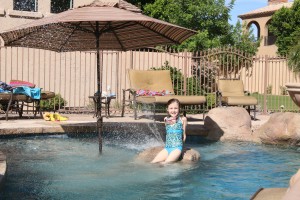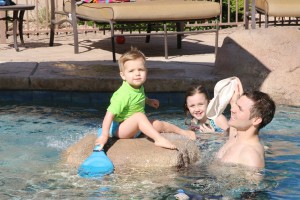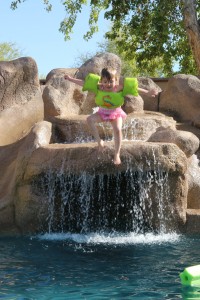 dave found a comfy place on the living room floor to take a nap
(while the kiddos watched some Jake and the Neverland Pirates):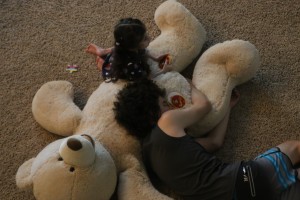 and while I whipped up 1/2 a batch of Monster Cookies.
and a batch of pico de gallo.
in my most amazing kitchen for the week: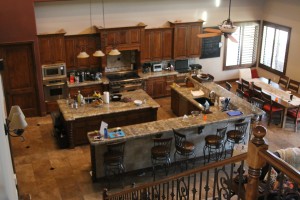 seriously.
isn't it amazing?
it's HUGE.
with TWO sinks.
and TWO dishwashers.
and THREE ovens.
and a pantry SO LARGE it holds it's own fridge.
that's just for beverages.
seriously.
here are the girls reading stories before dinner.
ironically enough,
after a day of swimming,
the book of the night was The Little Mermaid!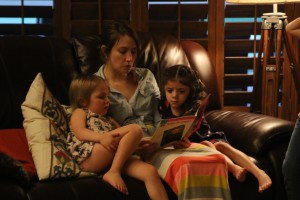 with a morning at church,
a lunch of Rancho Market's pollo asado,
an afternoon of swimming,
breakfast for dinner,
and a whole host of fun moments in-between,
i think Day One of the Dunkins in the Desert
was quite successful.
the silence in the house from FIVE sleeping children would probably support that thought!
we're all quite excited to see what day two holds!