TEN MONTHS LATE…
So 10 months ago, this girlie girl of mine turned EIGHT.
EIGHT.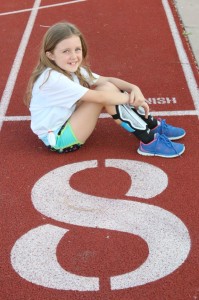 This amazing girl,
who is ridiculously smart,
wants so much to be even MORE grown up.
I still remember when she was born.
My labor was horrid.
(Can you say "back labor?"
Can you say "epidural that only worked on one half of my body?"
Can you say "came out sunny side UP instead of DOWN?")
But despite all that pain….
and despite giving up SO. MANY. FOODS. while I was nursing her,
and despite the MONTHS she spent screaming,
I still remember her as a beautiful
(and bald)
baby girl.
A girl quick with a smile.
And a laugh.
A girl who LOVED life.
Correction, LOVES life.
This girl started Kindergarten almost three months before she turned 5.
(She's the youngest kid in her entire grade).
This girl qualified for the academically gifted program by the end of Kindergarten.
This girl is loved by her teachers.
At school AND church.
This girl is loved by her friends.
This girl is loved by other adults.
This girl is VERY WELL LOVED by her parents.
And siblings.
And extended family.
When she turned 8,
she was EXCITEDLY anticipating being a big sister (again).
She's not perfect.
She's got the attitude of a teenager (and has since she was 5).
She hates being told to do things.
She loves helping – but on her own terms.
She wants so badly to be older. MUCH older.
She gets frustrated easily.
She gives up easily.
She doesn't like to work hard for things.
She doesn't think about the consequences of her actions.
She won't brush her hair.
She always "forgets" to brush her teeth.
But despite those things, she's amazing.
(Heck, none of us are perfect).
This girl loves school.
She loves her teachers.
She loves her friends.
All of her friends are her BEST friends.
This girl wants to be a teacher herself.
And an author.
She's planning to write during the summer and teach during the school year.
This girl fiercely loves her family.
She loves family movie night.
She loves eating out at restaurants.
She usually asks for burgers or sub sandwiches.
(We never have the latter).
This girl wants to wear high heels all the time.
She wants to wear make-up ("for real" – um, no. you're 8. barely.).
She desperately wants her ears pierced.
She wants "in" on all adult conversations.
She has ears that hear EVERYTHING.
This girl does cartwheels EVERYWHERE.
ALL. THE. TIME.
She loves gymnastics and dance but doesn't want to take classes for either.
She's not the sport-y type.
But she claims she loves to run.
And she enjoyed soccer and volleyball camps this summer.
And she's playing volleyball (with her friends) this season.
She loves clothes.
LOVES clothes.
And shoes.
Oh, the shoes…..!
And shopping.
It's seriously her favorite pastime. (i've taught her well).
She loves to make crafts.
And to write stories.
She wants to help in the kitchen more.
She wishes she were an amazing cook.
But she's proud of the few dishes she can make
(grilled cheese, mac-n-cheese, scrambled eggs, toast…).
She's still afraid of heights.
She wants to wear (real) glasses.
She's adventurous.
She learned to ride a longboard this year.
She's a great "little mommy" to her sister.
She loves to read. Even out loud.
She loves roller coasters and theme park rides….
as long as they don't go up too high.
This girlie girl of mine…
Her smile lights up my days.
Her enthusiasm is infectious.
Her attention to detail is uncanny.
Her fashion sense is pretty on-pointe.
Her helpfulness is a gift to this tired mommy.
Her friendliness is a treasure to many.
Her life is a blessing to those who know her.
This girlie girl of mine… I can hardly believe she's EIGHT.
I love you,
dear Samantha,
and pray that this is a fantastic year for you!
(photo dump):