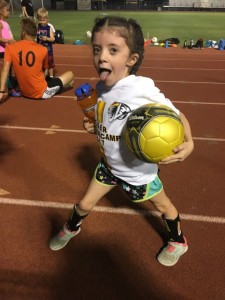 She's SEVEN.
For real.
This baby girl of mine -
almost eight years ago, they told us that this baby girl
MIGHT not be born alive…
or might be born alive but wasn't likely to live long,
or who might live awhile but have serious issues….
this PERFECT little girl of mine is SEVEN YEARS OLD.
Take THAT, science!
Sorry.
Every year I can't resist the digs at science.
And I wish I could go back to that doctor in seattle and show them this sweet and loving girl.
This precious LIFE that they offered me the opportunity to end.
Stupid doctor.
But really,
this girl is amazing.
Every year she grows by leaps and bounds.
She still knows NO strangers.
Everyone is her friend.
Her best friend.
She LOVES people.
She fully embraces them.
Every age.
Every sex.
Every color.
Every personality.
She loves them all.
Seriously.
ALL OF THEM.
She still loves to cuddle and snuggle.
She wants to sit on EVERYONE's lap.
And if that person chooses to read a book to her?
Or multiple books?
Seriously.
You'll be BFFs forever.
FOR. EV. ER!
She's reading like a mad fiend.
She's comprehending math and is getting the answers right.
She's adding and subtracting.
Despite this, she'll be repeating 1st grade this school year.
She just needs the extra time.
And it'll be good for her to be "ahead" of the other kids in some areas.
Especially since she's so far behind in her writing ability.
She loves to laugh.
Especially at the sound of burps and toots.
Seriously.
She's like a junior high boy sometimes.
She still likes to tell jokes.
Jokes that she makes up.
Jokes that she makes up that don't make any sense.
She loves to play games.
Especially go fish,
hide-n-seek,
tag,
"family" (in my day we called it "house"),
and anything with sand or rocks.
Or anything with her big brother and sister.
Or anything with her baby brother.
Basically, she just likes to play.
And always with friends.
She tried soccer camp this summer and did pretty well.
She's still petite.
Very, very petite.
She's wearing a size 5 bottom
(and many of those are way too big on her waist)
and a size 6 top.
She weighed in at 34 pounds (0.14%).
She stands 40.25" tall (0.28%).
Her shoe size is 9.5 (again, sooooo tiny)!
This amazing little girl brings so much joy, sunshine, and laughter into our home.
She learned how to swim this summer and she's doing AMAZING.
She still loves to practice riding her skateboard.
But she still can't balance well enough to actually ride it.
She loves to ride her balance bikes (she has BOTH hand-me-downs from D&S).
This girl is also frustrating on so many levels.
She doesn't listen well.
She doesn't obey right away.
She doesn't grasp the concept of "personal bubble."
She asks "what?" ALL. THE. TIME.
But then she gives you a hug.
Or a huge smile.
Or she laughs….
And she gets away with it all again.
She has an enthusiasm for life that I wish could be bottled.
She can frequently be found running and cheering ("woohoo!").
She loves to encourage people.
She loves parties and celebrations.
She still loves to watch Daniel Tiger,
Super Why,
Minions,
Frozen,
Frozen Fever,
Moana, and
Monster Math Squad.
She LOVES Thursdays when we go to Summer Movie Fun.
But she MIGHT be into the movie theater movies for the popcorn.
And the candy (we buy it at Dollar Tree).
She's a little obsessed with Elephant and Piggie books by Mo Willems right now.
But Pete the Cat will forever be her first favorite(s).
And Biscuit. Never forget the Biscuit books.
Her favorite toys remain her dolls and stuffed animals.
She'll play with them for minutes.
Sometimes for hours.
She'll try to carry them ALL around the house.
ALL. OF. THEM.
Her favorite seems to still be her original Beanie Boos.
This 7-year old girl of mine is a medical marvel.
She's sweet and cuddly and adorable and fun.
She's loving and kind and gracious and caring.
She has a sensitive heart (especially when others are hurting).
She's empathetic and sympathetic.
I'm so grateful for her life.
Happy 7th Birthday, my dear Alex.
Always know that you are LOVED beyond measure!