Alex is SIX?!
This sweet girl is SIX today (July 13, 2016).
She is full of energy,
personality,
enthusiasm,
silliness,
zaniness,
love,
snuggles,
cuddles,
hugs,
tears,
joy,
delight,
and so much more.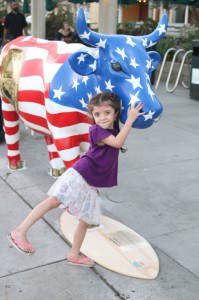 she is a tiny thing.
she wears a size 8.5 shoe.
she wears a size 4 bottom.
she wears a size 5 top.
she doesn't even weigh 30# yet.
she's about 41″ tall.
she is adventurous (when she wants to be).
she is courageous (when she wants to be).
she is stubborn.
she is determined.
she is persistent.
she still LOVES to watch Daniel Tiger's Neighborhood (why, oh WHY did Netflix have to stop carrying this show?!?!?!).
her favorite characters in the movies are the various Minions.
she's been drawing RAINBOWS a lot lately.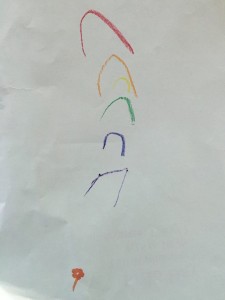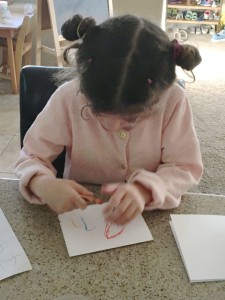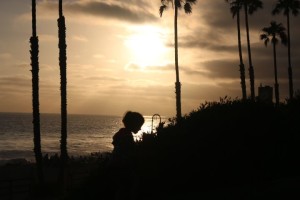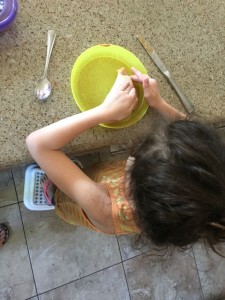 she can make her own peanut butter and jelly sandwich. she makes a huge mess and she "contaminates" the peanut butter (with bread crumbs which means Dave can't eat/use that peanut butter) but i'm happy to know she can fend for herself when necessary.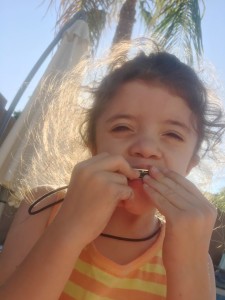 she LOVES music.
sometimes you'll even catch her dancing to it.
or singing (favorite songs are "Let It Go!," songs from this year's VBS CD, and various praise songs from church).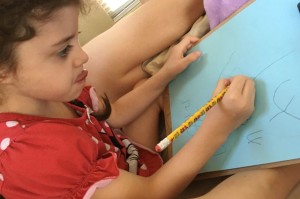 this girl, my friends, is READING.
yep.
R-E-A-D-I-N-G!
she love to TRACE and likes to write.
she struggles with writing - like, PHYSICALLY writing letters, but she's such a hard worker.
she knows all the sounds of the letters.
and she can tell you what ALL of them are.
but writing them is a big struggle for her.
her penmanship is A.W.F.U.L.
but she LOVES school.
her cutting skill has improved DRAMATICALLY.
she can follow multi-step directions better.
she's adding single digit numbers. subtracting is still extra difficult.
she's struggling to draw shapes but she can recognize them all.
she can spell quite a few colors (red, blue, orange, yellow, green, purple, black, brown, white, pink).
she knows a good number of sight words.
she's working hard to write her numbers…. and she's doing really well.
she can count up to 100.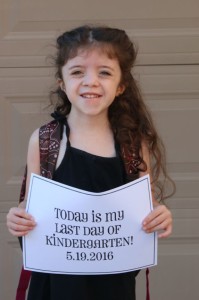 this girl worked SO HARD in school this year that she's moving on to FIRST grade in three short weeks (school begins on August 3rd)!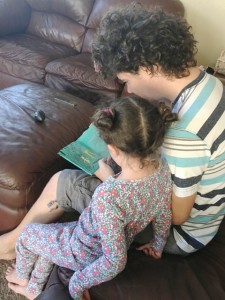 even though she can read (words that are easy-to-sound-out),
she still LOVES to be read to.
it's probably her favorite activity.
it's not abnormal for her to climb in bed with Daddy & Mommy in the morning and to ask for either of us (who aren't awake yet) to read at least one of the multiple books she has brought to bed!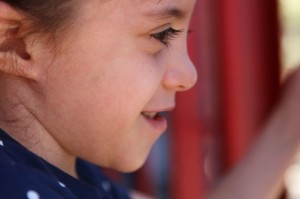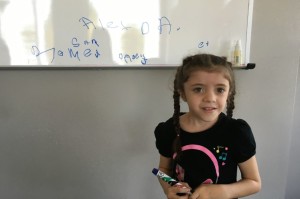 (that white board reads: "Alex, Davey,
Sam,
Momey, Dadey")
she still LOVES anything sweet.
and cold.
ice cream, frozen yogurt, frozen custard, or Rita's Italian Ice are definitely favorites.
she's been working REALLY hard this summer to learn how to swim.
she has ZERO fear of the water – which is good AND bad.
she readily admits that she's the BABY of this family.
she can often be heard making baby noises and sounds (to the point that it's a problem and we have to remind her that she KNOWS HOW to use words).
she knows she's adorable.
and cute.
but she also wants to be like the big kids.
she can frequently be found with a controller in hand so she can "play" whatever game big brother (or daddy) is playing.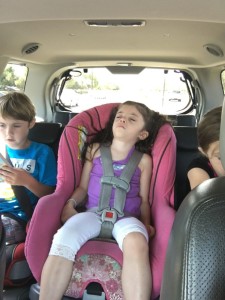 she still crashes hard and fast.
she'll be talking your ear off one minute.
and she'll be sound asleep 2 seconds later.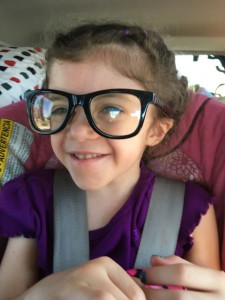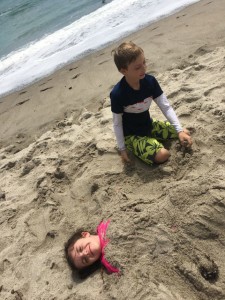 the girl has no fear of strangers.
in fact, she's never met a stranger.
they're all her dear friends.
when she disappeared at the beach one day two weeks ago, I freaked out.
why, oh WHY didn't i immediately think to look at the group next to us.
she made a friend (his name was Quinn).
sweet, sweet girl.
she LOVES to swing (favorite playground/park activity).
when we go hiking, she can still be found in an ergo carrier on my back.
i guess her belief that she's ACTUALLY a baby is somewhat true.

her curls are so adorable.
i'm eager to see what her hair will be like as she grows older.
many people say she has my hair.
but those are the people who don't know that i didn't have curly hair before i had kids.
for real.
i'm pretty sure she has her daddy's hair.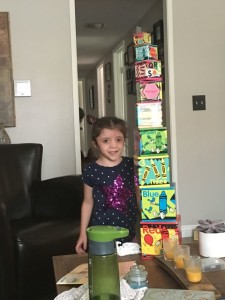 she LOVES to build with blocks.
and put things in order.
she'll say she's making a pattern, but it's pretty obvious she doesn't fully have that concept down yet.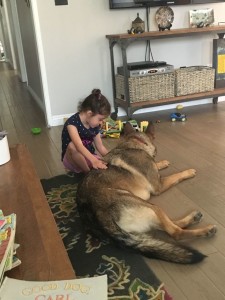 she still LOVES animals.
she was IN HEAVEN on our recent vacation with friends.
sweet Phoebe was SUPER tolerant of this crazy little Munchkin.
i looked for a German Shepard stuffed animal as a birthday present (the closest we'll get to having a pet) but couldn't find one I liked.
she would be ELATED to have a pet at home.
especially a dog.
even though she's TERRIFIED of them.
she's also SUPER CURIOUS.
and she really does LOVE them.
dogs, that is.
she has SO MANY stuffed animals that are dogs.
she LOVES Beanie Boos.
probably because they're all animals AND they have HUGE eyes like she does.
she'd actually be SUPER happy if we had a baby in the house.
(not happening, unless we're babysitting for friends).
she can most often be found carrying a baby doll around the house.
usually baby (princess) belle or baby maddie.
she dresses them.
she reads to them.
she puts them to bed.
she changes their diaper.
she spanks them.
she feeds them.
she really does love them.
this amazing little girl,
who has overcome so much already in her life,
is GOING PLACES.
she continues to amaze us with what she can do.
what she can accomplish.
what she can learn.
what she can master.
what she can tolerate.
what she can overcome.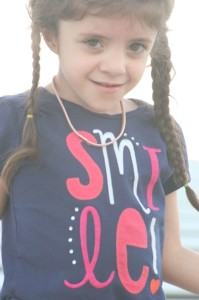 the sky's the limit for this Littlest Munchkin.
Dear Alex,
We love you SO MUCH.
We are SO PROUD of you and
we are SO THANKFUL you are in our family.
You bring us all so much JOY… thank you for your infectious smile,
your constant hugs, your empathy, your energy, your enthusiasm,
your forgiving nature, your kindness, your love, your sweet spirit….
you are a blessing and we are so grateful you are in our family!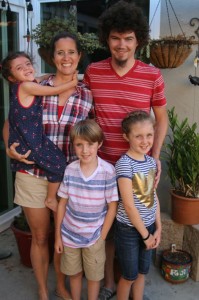 P.S. as much as we love you, i hate to tell you that now that you are SIX, you are STILL not yet old enough to DRIVE…. you have to be sixTEEN to enjoy that privilege. it's not our rule. it's the law.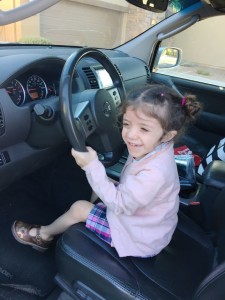 p.s. if you want to go back in time, here's the post about alex turning FIVE.
p.p.s.  and here's the post of alex turning FOUR.
Where's the post of her turning THREE? i honestly don't know?!
p.p.p.s. and here's the post about alex turning TWO.
p.p.p.p.s. and here's the post of alex turning ONE!
p.p.p.p.p.s. and a post of her BIRTH!