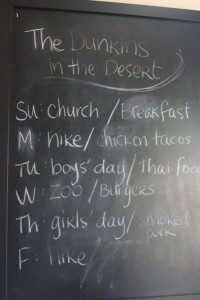 vacations with extended family can be fun.
this one most certainly is.
everyone is in shock at the house we're using.
it's about 7000 sq ft of amazingness.
it's truly a blessing that we get to use it this week.
we are all so very, very thankful.
when i walked downstairs this morning for my breakfast,
i found Uncle S at the table with all the cousins.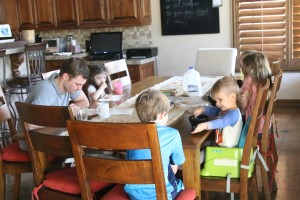 and then i heard my son shout "GRANDPA!" and go racing across the room….
i just happened to be by my camera (for reals)
and was able to snap this photo of my littlest welcoming grandpa to our vacation: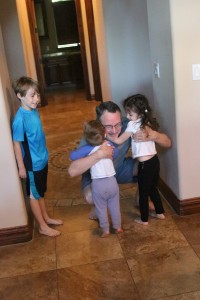 right after i took this photo,
she jumped up and down and said "i'm so glad you came here!"
the morning was relaxing as we all breakfasted on whatever, whenever.
and we enjoyed the sunshine.
and the cousins played and laughed and giggled and ran….
lunchtime with 5 kiddos and 7 adults can be a bit crazy.
this large kitchen makes it easier: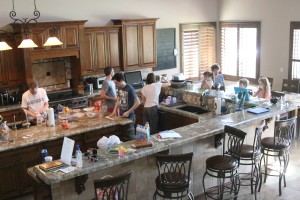 and then the men (plus davey) were off on a grand adventure…..
TOP GOLF!
it was a first time visit for everyone.
well, maybe not Uncle S.
he may have gone to one in atlanta one time.
but it was a first time for all the rest.
(thanks for these photos, honey!)
while the men were off playing,
quite literally,
the girls (plus Cousin W who was too little to tag along) enjoyed some quiet time at the house before hitting the pool.
well,
kinda.
grandma & alex assembled all the puzzles that keep getting dumped out: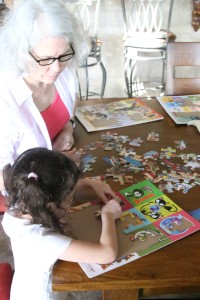 i found piles of shoes and toys everywhere,
alerting me to the reality that EVERYONE is having FUN:
and then i spent the early afternoon reading a book by the pool.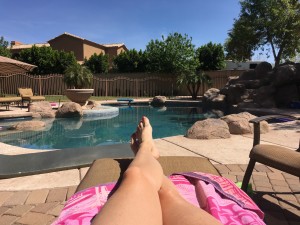 it might be a family reunion,
but it's vacation time, too!
and then the guys returned.
and the littlest woke from his nap.
and the dads and uncles and grandpas all got in the pool.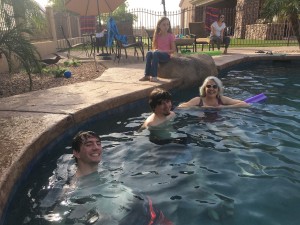 and there was LOTS of jumping from above the cave/waterfall.
uncle S used to be on a diving team, i think.
(did i tell you this already?
i'm so old i've already forgotten.
and i'm too lazy to go back and look).
so he pulled out some old moves….
the handstand dive:
and the front pike flip
(yes, i'm making up the names):
and a back flip:
and another handstand dive:
and a hand stand:
he has other tricks….
i'm sure of it.
we may have even seen some of them today.
i can't possibly photograph EVERYTHING.
can i?!
not to be outdone,
Cousin A wanted to jump in with her daddy:
and my davey wanted to jump:
uncle tom hit the slide:
while these two were oblivious to most of the events happening over the waterfall: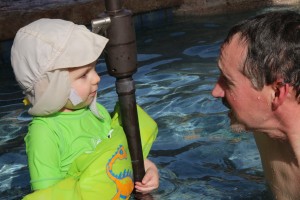 this sweet little guy is Cousin W.
and he LOVES LOVEs LOVES his papa.
he pretty much wants nothing to do with anyone else when Papa is around.
(it melts my heart a bit).
and not to be outdone by his (younger) BIL,
my man got in on the fun jumping action.
dave did several jumps.
but he really surprised me when i went to take photos of him JUMPING and, instead, caught THIS:
yep.
front flip.
full rotation.
niiiiiiiiiiiice!
uncle tom did an impressive spin jump: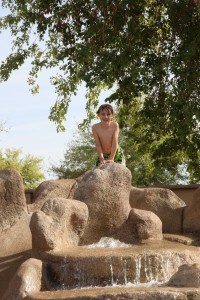 everyone kind of meandered their way out of the pool area and back into the house
as though we were all on the same schedule….
the cousins played and made messes (and cleaned some of them).
and then the cousins found themselves on the couch with grandpa & grandma,
enjoying some Faithlife TV
(until R and I discovered the show might be a little too realistic for the littles, at which point we caught the attention of the grandparents to change the show….. and it turns out the grandparents had been napping!)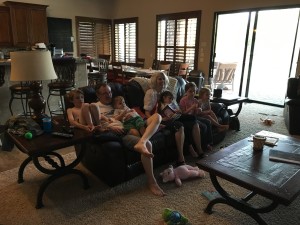 S&R made us a DELICIOUS thai meal (3 dishes!)
that was so tasty i have zero photos to share with you.
for reals.
none.
no photos.
but that food is all in my belly.
and it was goooooood!
tomorrow is the zoo.
and more swimming.
because when you have access to a heated pool,
you use it.
daily.