when you're on vacation with littles in this area,
the zoo is always a winner!
but when you have to transport 11 people,
you take two vehicles.
and you kind of caravan….
this was my crew: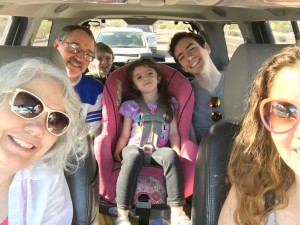 but we had a special hook-up….
my neighbor is the event coordinator for the zoo.
and she was able to get us ALL in for free with her annual pass and some free passes she found on her desk.
AND she was able to get us into STING RAY BAY (again, for free)
so we could pet AND feed the sting rays!
i'm pretty sure a restaurant gift card is headed her way
(she doesn't cook)!
but before your grand adventure of animal fun begins,
you ask your husband to adjust the camera settings.
and you pray you don't mess them up throughout the day!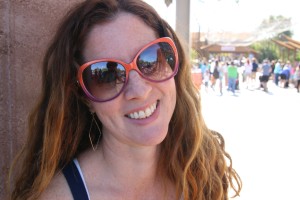 Samantha and i have fed and pet the sting rays once before
(on a class field trip to the zoo when, again, our wonderful neighbor got our group into this  area for free).
she had no desire to feed them again.
petting them was fine.
i'll admit,
feeding the sting rays is a freaky feeling.
you put a piece of a fish or shrimp into your hand and hold it sticking up
(imagine you're holding an ice cream cone – that's how you hold the sting ray food).
then you put your hand as far down into the water as you can
(with the food sticking up, not out),
and you wait for a sting ray to glide OVER your hand.
it pulls the food out and continues to swim in a circle around the water tank.
sometimes you can feel them "nibbling."
or some of them come so fast you really think they're going to attack!
this is me, showing you a fish head that the sting rays are going to eat.
my favorite thing about the photo, though,
is Uncle/BIL S's face behind me: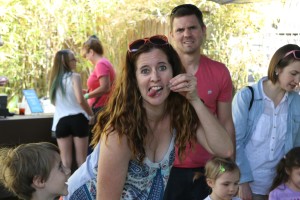 alex was NOT interested in petting or feeding a sting ray.
the feeding part is kinda scary,
though no one at the zoo has been seriously harmed from feeding the sting rays.
but petting them is easy.
you put your flat hand in the top part of the water and they come and glide under it…
so you're flat hand just glides over the top of their spine.
it's pretty cool.
they feel smooth there.
you're not allowed to touch them on their side, underneath, or their tail.
seriously,
he is SO GENTLE
with animals.
it ALMOST makes me wish we had a pet.
ALMOST.
davey won the award for getting the most wet in Sting Ray Bay!
next we visited the new Aviary and Reptile area
(despite all our trips to the zoo,
we hadn't seen this space before!)
Lots of lizards and snakes….
("Mommy, even though you hate snakes,
we really want you to take a picture of all these snakes in this giant box,"
- Samantha, age 7).
we found some prairie dogs
(they look cute but they're not so cuddly).
that didn't stop alex from trying to climb into their area to pet them.
seriously.
and creepy birds: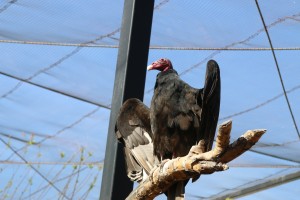 there were more creepy birds,
but you don't want to see them.
well, maybe it's just ME who doesn't want to see them.
vultures, turkeys, turkey vultures….
yuck.
and after spending an HOUR at the zoo,
we FINALLY meandered more than 100 feet from the entrance!
i love this photo of the guys watching the area that holds
giraffes and oryx and ostriches and emus and other wildlife: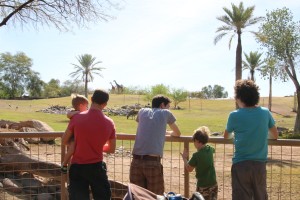 as we walked up the hill,
we took a peek at the Fennec Fox.
which is ALWAYS in hiding.
the most i've ever seen before is a partial bit of his face.
but guess what?
today,
we saw THIS: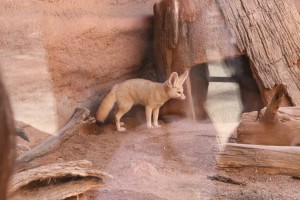 the WHOLE thing!
he's another cute, cuddly looking thing!
and despite all the cool animals at the zoo,
the sight of a chipmunk (?) running across the pathway
is what caused everyone to stop and look!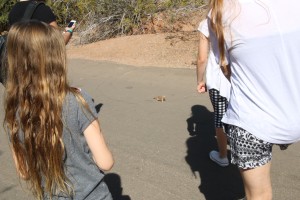 alex has ALWAYS loved the mandrakes (mandrills?) and the baboons.
this time was no exception:
right after we took these photos,
this guy wandered away.
the BIG one was sitting on a log to our left.
we watched him stand up,
poop,
remove an un-digested long leaf from the poop,
wipe it "clean" with his hand,
and eat it.
yep.
for real.
MONKEYS ARE GROSS.
here's a gerenuk: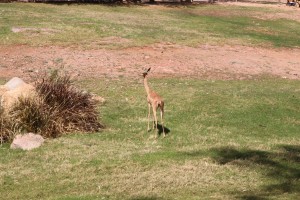 we saw these in africa.
they're a type of deer
with a LOOOOOOONG neck,
it can stand on it's hind legs
while it reaches up to the higher leaves in a tree
(like a giraffe, but not nearly as tall as a giraffe – maybe up to their legs?!)
to get it's meal.
they look so dainty.
now,
you know that a day at the zoo with
7 adults and 5 kiddos who are ALL related
means there will be more than just animal photos…
let's start with this one of papa and cousin A: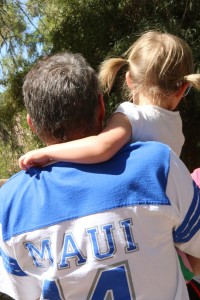 while we ate a light lunch,
we watched the howling monkeys sleep (no photos),
the GIANT pelicans chill (again, no photos),
and some turtles sun themselves on a rock: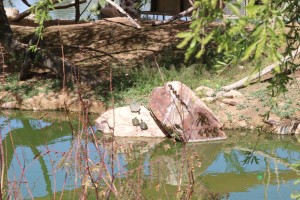 (i know, i know,
FINALLY,
a photo)!
flamingoes are kinda weird.
and creepy.
it's their eyes.
and the way their legs fold backwards….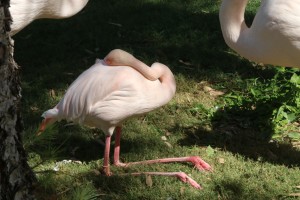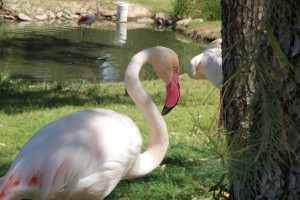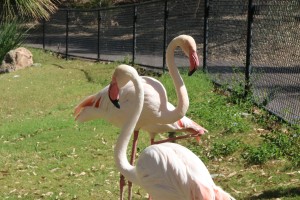 zebras are always a winner….
(especially when you tell that cute little girl above that zebras have
purple and green stripes.
and she emphatically tells you they're black and white.
a few times.
until she looks REALLY CLOSELY at the zebra
and sees the dirty areas underneath (on the belly)
where it was in the dirt.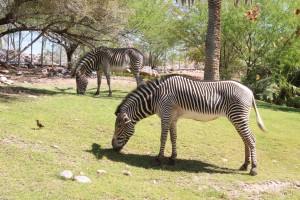 and she says "oh, yeah Auntie Tam,
I think you're right!
There IS a little bit of green and purple on the white!"
seriously.
for real.
5 year olds are the best!
(don't worry.
I did tell her i was just kidding and the zebra's stripes
are black and white
AND i told her the dirty spot from the dirt was brown).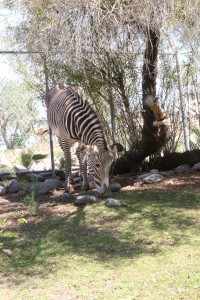 there was more papa and cousin A love: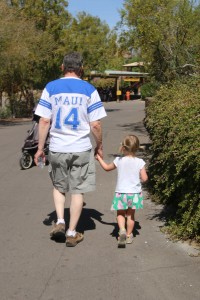 this girl got a kick out of reading the new map all day: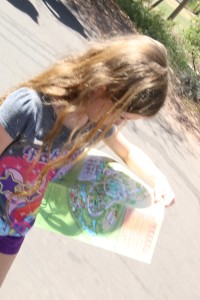 we stopped for a giant bag of kettle corn
(i'm not a fan of that stuff,
but for some reason,
at the zoo,
it always tastes good to me!)
and as we were working our way to our final loop,
some of the howling monkeys were awake and moving
but not howling:
we found the new tiger exhibit,
which is really cool.
and it means there are now TWO tigers at the zoo instead of one:
and the komodo dragon is always a hit with the Munchkins:
we even got to see him on the move!
the orangutan habitat has always been fun.
when grandpa & grandma were here just over a year ago,
there was a brand new baby (like a day old).
and now,
that baby is still cute
but is a little bit bigger….
Monkey Village is a winner for those who choose to enter
(grandma/nama, auntie Tam, Davey, Cousin A, and Uncle/BIL Tom).
the spider monkeys are pretty fun to watch.
the Forest of Uco
was disappointing
since the Andean bears were off exhibit.
but i did get to capture this photo of Uncle Tom and Alex getting some good bonding time: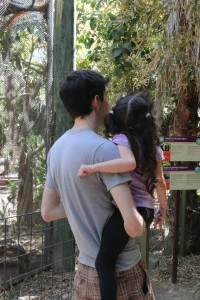 it cracks me up that the kiddos were all CLOSE
to the macaw but had ZERO interest in the beautiful bird:
an obligatory COUSIN photo (minus one):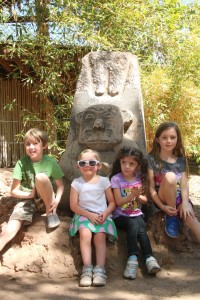 i love the barn owls.
niece/cousin A was SO EXCITED when she finally saw them!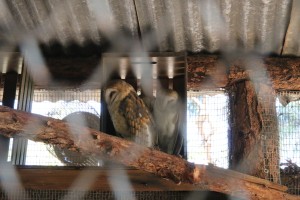 this is another favorite from the day:
they're checking out tarantulas
and cockroaches
and scorpions
other creepy, crawly things: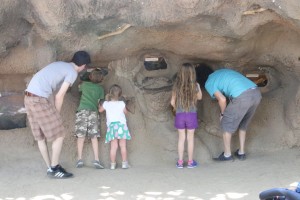 seriously.
these two.
five-year olds can be quite adorable.
they can be exasperating, too.
but THIS is adorable: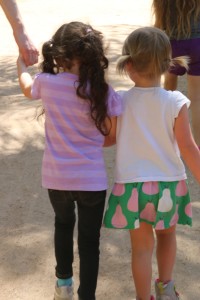 my munchkins LOVE their uncle Tom.
with a fierce passion.
it's hard to have him in chicago.
he's just so far away.
and we don't get to see him enough.
i think the last time we saw him was july 2014….
so almost two years ago.
(i also want to note that i LOVE that my 8-year old will still GLADLY hold hands with his family members….. uncle tom, daddy, mommy…. i will treasure this for as long as it lasts)!
before our adventure was over,
we saw the galapagos turtles
and the elephants.
well,
one elephant.
but that's another story for another day at the zoo….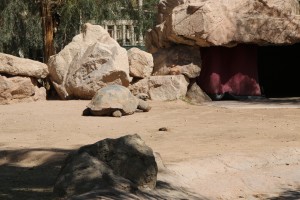 and then alex got some extra love from grandpa as we headed to the cars: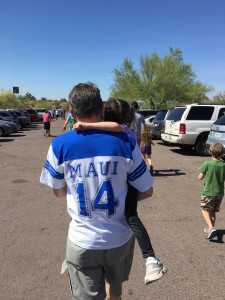 back at home,
we just relaxed.
we swam.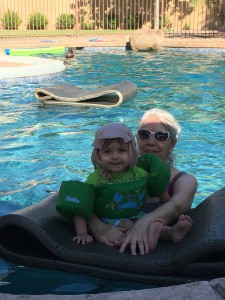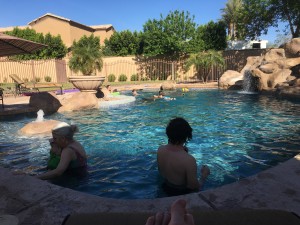 we enjoyed.
we snacked.
we chilled.
grandma/nama visited the hair salon: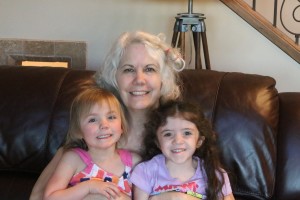 she had the CUTEST entourage of hair stylists.
they may only be 5 now,
but one day,
they'll be AMAZING at what they do!
it was the perfect ending to the day.
dinner was even easy -
frozen burgers on the grill
and peanut butter truffle cookies: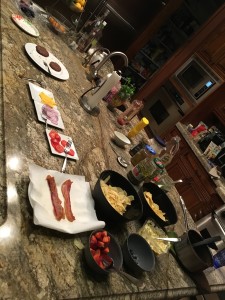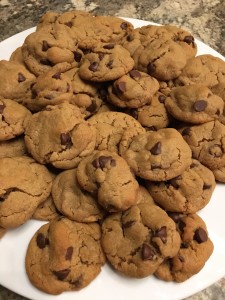 (i took the food photo AFTER we'd all eaten our fill of burgers
topped with cheese, bacon, onion, tomatoes….)
alex got some quality time in the big soaker bathtub in the master,
where grandpa&grandma are staying: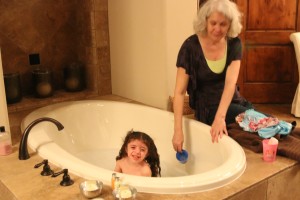 and then she and big brother fell asleep on the floor in the living room
while the grown ups talked….
yep.
it was a long,
tiring,
hot,
sweaty,
sunny,
FUN,
adventure day.