well, friends, the PLAN was HIKING on Friday.
but much like the Monday plan for hiking,
the plan got de-railed.
i woke up early in the morning with a killer headache and feeling really nauseous.
like so nauseated that i had to hug the toilet for awhile.
a few times.
it was not pleasant.
i needed headache meds but was afraid they wouldn't stay down.
i had two sips of peppermint tea and felt worse.
i finally fell asleep for a nap around 12:00ish.
i woke up at 3 and felt like a new person.
in retrospect,
we're guessing it was a migraine.
my second ever.
what a fantastic time to get one, right?!
but, apparently, i wasn't the only one who didn't sleep well.
so the hike was put on the back burner.
and in the end,
three of the guys (Dave, Tom, and S) went for a hike in the early afternoon.
they went hiking to the Wind Cave: a hike I've never done.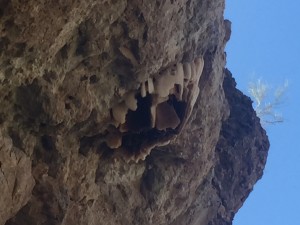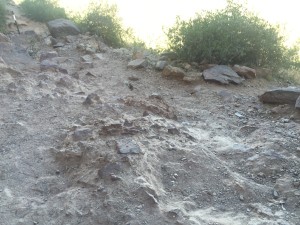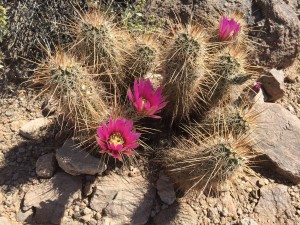 (hiking photos courtesy of Dave).
everyone else relaxed around the house.
naps.
swimming.
tv/movie time.
games.
laundry.
you get the idea.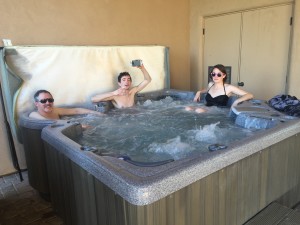 this is me with a pouty face b/c i had to stay in the shade and drinks lots of water.
i wanted to be IN the water.
ultimately, this week was about being TOGETHER.
not about DOING everything on THE LIST.
and we definitely spent a lot of time together.
it was a huge blessing to be able to use this company retreat house
for a personal family reunion.
there aren't many people who can do that.
we feel extremely blessed and extremely lucky that we got this opportunity.
we headed out around 5 to have a spoil-your-appetite
treat at Rita's Italian Ice.
several family members had never experienced it before.
we were happy to introduce them!
and once back at the house,
it was time to do stuff "one last time" before parting and going our separate ways.
there was some putt putt golf happening….
a phone call with great grandpa and great grandma in Ohio.
he let us know that great Aunt Ibby made it through her hip replacement surgery
and was already hoping to go home!
take it easy, Ib!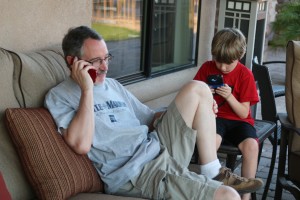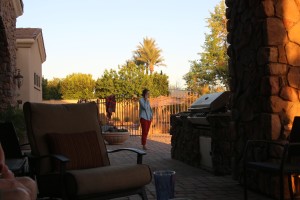 pretty much, just hanging out and relaxing at the house:
the cousins enjoyed running and jumping and riding….
davey found my blog (on grandpa's phone) and read through DITD days 4 & 5:
and while he was reading,
cousin A (who wants to marry davey),
came up and started giving him a shoulder rub.
don't worry.
her parents have already talked with her to tell her she can't marry her cousin.
we're not that kind of family.
Samantha enjoyed final moments playing with cousin W.
(they were pretending to scale/climb the wall).
then the girls climbed into the hammock:
while Uncle S enjoyed a little frisbee golf:
as usual,
this child was found inside,
watching something on the iPad:
but then she got distracted with Uncle Tom.
and his audio recorder.
she gave him some good animal noises before too many people started watching!
dinner was a do-it-yourself buffet of left overs.
and uncle tom provided some candy from Chinatown in Chicago!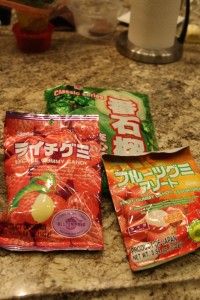 and while the grown ups packed
(their flights were EARLY this morning),
we had a few movies going….
one downstairs for the littles: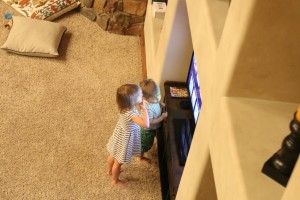 and Men In Black upstairs in the theater for the
big kids.
(which includes the adults).
and as everyone (minus the littles) said good bye,
uncle tom shared surprises for each of the kiddos.
samantha is ELATED with her lightbulb.
dave scored Men In Black sunglasses (in a case).
and alex got a princess peach (mario brothers character) toy.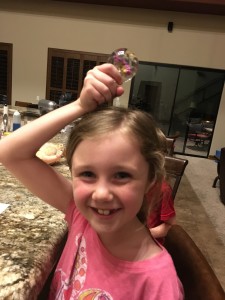 despite the hiccups of R's inner ear problems,
A's seriously sunburned arm,
my migraine,
some bad dreams,
some poor nights of sleep for several….
despite all that,
this week was a HUGE success.
for the first time in…. ever?! we spent multiple nights under the same roof.
we enjoyed sunshine together
(a big deal for those from Washington),
swimming,
games,
a zoo adventure,
movies in the in-house theater,
eating great food,
good conversation,
the guys enjoyed top golf,
the ladies enjoyed shopping…
it was an incredible week's vacation and
we're already looking forward to trying it again someday.
i think the beach would be a fun location next time?!