a few years ago, i heard about this place called "The Angry Crab Shack."
it sounded intriguing,
but with Dave's gluten intolerance,
it's not always easy to try new places.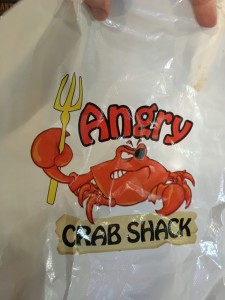 to be fair,
their menu DOES note that the sauces are all gluten free.
but i was never sure if it would be worth it for him.
and i really didn't know if my kids would enjoy it.
i mean, i'm SURE they would LOVE that your food gets dumped out on your table.
and i'm sure they would LOVE making a giant mess at dinner -
especially because they wouldn't get in trouble for it!
but they're not crazy about seafood.
we eat fish tacos and we eat salmon but that's about it.
samantha had fresh from the bay crab in WA one summer and LOVED it.
but that was awhile ago.
and it was crab that had been pulled out of the bay only hours earlier.
so last week, when Audra was in town and we planned to have lunch together,
it took me a few days to think of another restaurant for us to try
(she has multiple allergies and foods she avoids, too),
we agreed on The Angry Crab Shack.
now you should know that lunch (or any meal) with Audra is always an adventure.
she likes to order different things.
she likes to try the specialty of the house.
she pushes me out of my comfort zone.
so for an appetizer,
it was recommended that we try the breaded alligator or the breaded frogs legs.
since Audra is supposed to avoid gluten/wheat,
we went with the recommendation that had LESS breading: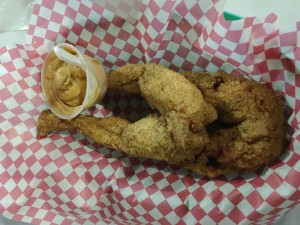 frogs legs.
for real:
so it wasn't gross.
(the breading was actually REALLY good – and i'm NOT a breading lover).
it was extra chewy.
it didn't taste like much.
(no, it didn't taste like chicken).
i have no need to order them again.
but they weren't bad.
but now, as i think back on frogs
and all the dirty, slimy, swampy, muddy places they live,
i'm a bit grossed out.
so i stop thinking about it.
that's my best defense.
now, Audra is allergic to crab.
so she asked our server for a recommendation for her meal.
he suggested the grilled salmon basket.
i ordered a Dungeness Crab.
i didn't pay complete attention when i ordered,
so i neglected to realize i was ordering a WHOLE crab instead of just crab legs.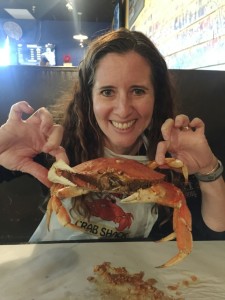 that, my friends, is 1.75 lb of tasty Dungeness crab.
MMMMMMMMMMMMM.
Audra was disappointed to later discover that there was LOBSTER on the menu.
(try to imagine a photo of Audra holding a LOBSTER like i'm holding that photo of a crab!)
and THEN we learned that our server doesn't even like seafood.
WHAT?!?!?!?!?!?!
so Audra wants to try this place again.
and she'll order the lobster.
and i'll order crab LEGS.
and we'll maybe take the guys with us.
and i don't know WHAT Dave will order.
or Bob.
it could be very, VERY fun!
so Audra,
THANK YOU for our lunch date!
i had a great time.
i ate great food.
the conversation didn't falter at all.
i wish you lived here all the time.
come back soon!