by now, i think you know i'm a "parent rep" on our school's PTSO board.
that means i'm part of the decision making and planning and prepping of our PTSO activities, events, and fund raisers.
last year, we hosted a CANDYLAND themed Valentine's Dance/Party
(there was a little drama from the upper grades when we called it a DANCE instead of a PARTY, so we re-named it and pushed hard that it's a FAMILY EVENT).
we had candy, candy, candy, candy, and more candy.
plus cupcakes, soda, and water.
i agreed to create a photo backdrop AND to take photos for $5 each.
many thanks to pinterest,
i went with a "candy dots" themed backdrop:
kinda fun, eh?
i agreed to take photos again this year.
but i wanted to change up the backdrop.
and simplify it.
but after searching on Pinterest,
i didn't come up with many great ideas.
thankfully,
one idea i DID find there was PERFECT for this year….
colored streamers.
with blue butcher paper behind it.
yep. that's all i did.
well, i made it a little harder….
but in the end, it made it easier for me to put it up and take it down.
i stapled 7′ lengths of streamers to square dowel rods.
since we were working with a CEMENT BLOCK wall at school,
i used a hot glue gun to attach the butcher paper to the wall.
and then i hot glued the square dowels to the butcher paper.
and i used glue at the BOTTOM of the streamers to attach them to the butcher paper so they wouldn't fly about and get tangled during the evening.
i also snagged some huge frames from my home and painted them
(using trusty-old spray paint) to add another "dimension" to the photos.
i love that there was no "seam" visible in the middle of the backdrop this year.
i did learn, however, that i need to make my backdrop taller (we have some TALL DADS)…
and wider (there were some photos with 9 people in them!).
if we stick with the CANDYLAND theme again next year,
i'll have to come up with another fun backdrop….
now i know the above photos of my kiddos and i aren't the greatest.
we were missing a KEY piece to our lighting kit.
and that piece was at a friend's house.
and she wasn't going to be home until AFTER the party started.
so she ran it to me as soon as she could.
and after about 7 or 8 photos,
i had MUCH better lighting, b/c we got the slave flashes to work.
but before the doors opened,
we got a photo of SOME of our trust PTSO board hard at work….
well, maybe we're not hard at work in this photo.
we're smiling nicely.
and standing up tall.
but we were in the middle of scurrying around to get everything READY.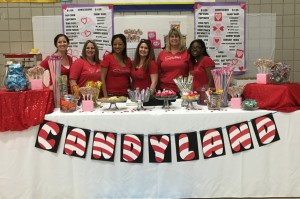 many, MANY thanks to Bobbi Jo (our president),
for snapping a few photos of me "at work" in the photography booth that evening: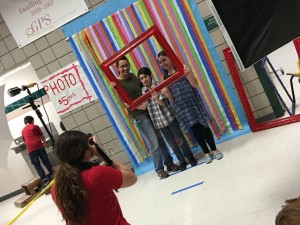 see?
FUN!
(since this year's photos weren't "fixed" – meaning i didn't have the camera attached to a tripod to keep them all "portrait" style (like a prom photo),
i was up and down all night long.
i was on my knees.
i was squatting.
i was walking.
for TWO hours.
i spent the next few DAYS trying to recover.
my left thigh, especially, was SORE.
and stronger.
much, MUCH stronger.
HA!
here are a few of my favorite people who bought pictures that night:
(that last photo is of Bobbi Jo, our President, and her son.
it was the LAST photo i took of the evening.
it was literally SECONDS before i ripped down the backdrop and rendered it useless.
so glad for that ONE. LAST. PHOTO!)
now since i was at the photo booth ALL. NIGHT. LONG…..
(seriously, my line was CAH-RAZY looooooooooong)…..
I have ZERO photos of the event itself.
many thanks to SUSAN for showing up to take photos for the yearbook!
i was, however, able to snag some photos from some friends….
this photo is like a "where's waldo?" search….
can you find SAMANTHA: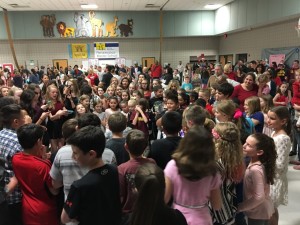 apparently it's a dance circle and there was a 4th grader inside doing AH-MAZE-ING things.
there's a video of it on Facebook.
but not on my page.
i don't know the kid.
that might be kinda weird.
but the dance was cool.
i think our PTSO pulled off another VERY successful event!
and bonus for me:
it's first thing Wednesday morning right now and i've already
EDITED,
CROPPED,
STAMPED,
PRINTED,
ENVELOPED,
and
DELIVERED
all the photos I took.
yep.
for reals.
(please be advised that "delivered" means i put the photos in the teacher's boxes in the workroom at school. they are responsible to deliver them to the students. and the students are responsible to deliver them to the parents.)
while i really do ENJOY taking the photos,
i do wish i could enjoy a few moments with my kiddos on the dance floor.
then again,
samantha was the only one who stayed at the party this year.
davey, alex and daddy went home to eat dinner and watch
The Lego Movie.
because….
"EVERYTHING IS AWESOME….."