i wasn't planning on jumping on the one little word bandwagon.
(if you don't know what i'm talking about, check out THIS link).
i mean, i LOVE the idea.
i LOVE the intent.
i LOVE the purposefulness.
but i've never had something resonate so deeply within me that i KNEW i wanted to spend the next year focusing on it.
living it.
breathing it.
letting it change me.
watching it change me.
but this year, something is different.
back in early december i went to a local flea market (my FAVORITE pastime).
it was a crazy saturday morning b/c i had my munchkin girls with me.
but as i walked up to a church friend's space, i saw this: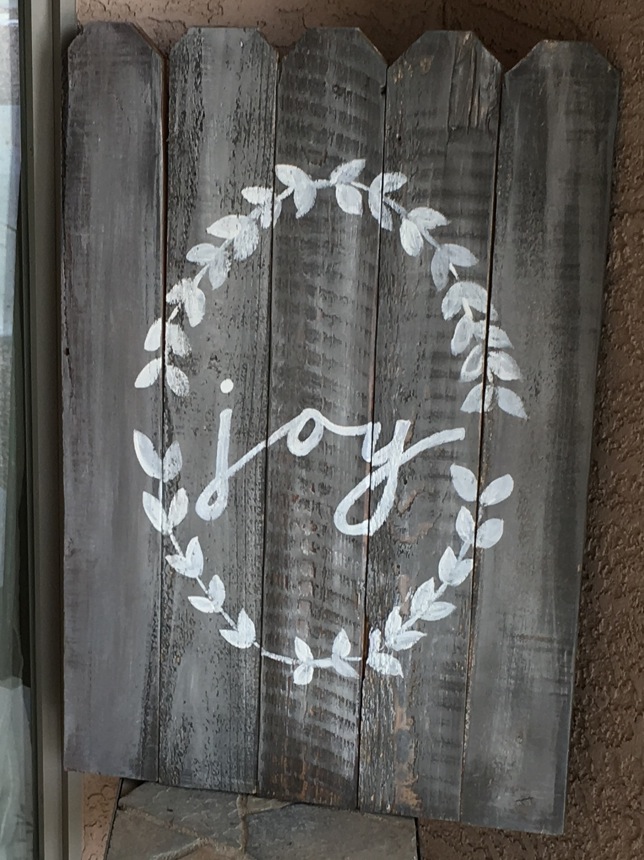 and i was hooked.
it didn't matter to me that there was one right next to it that read "peace."
(if you know anything about me,
even if only my personal e-mail address,
you know that word means SOMETHING to me.
"peace" was a HUGE theme in my life waaaaaay back in 1997
and it has affected me ever since).
but for unknown reasons,
i was really drawn to the JOY sign.
perhaps because i was looking for more outdoor Christmas decor.
perhaps because i have FINALLY realized that everything in my home can NOT have the word "peace" on it.
or perhaps….
just perhaps
God was working in me even then to prepare me for now.
perhaps He was breathing new life in me.
a desire for change.
a desire to be different.
a desire to grow.
a desire to be JOYFUL.
filled with joy.
not happy, my friends.
no.
not happy.
something MORE than happy.
something deep within that will bubble up and spill out of me when i talk.
when i type.
when i hug.
when i laugh.
when i cry.
when i live.
JOY.
i want it to be WHO I AM.
not what i feel.
or how i act.
so, my friends,
my ONE LITTLE WORD for 2016 is
JOY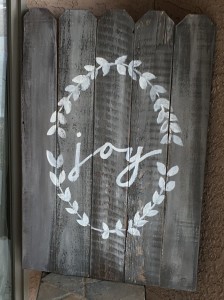 joy in the mundane
joy in the boring
joy in the fun
joy in the hardships
joy in the trials
joy while folding laundry
joy while cleaning poop off a toilet seat
joy while holding a crying Munchkin
joy while walking to school
joy while working the copier
joy while reading with children
joy while shopping
joy while eating
joy while cooking
joy while studying
joy while grieving
joy while driving
joy while celebrating
joy when not getting my way
joy in the frustrations
JOY, my friends.
this year i will CHOOSE JOY in all i do.
i won't be successful all the time.
i will still complain and whine and cry.
i will still be sad and mad and frustrated.
i will still be human.
but it is my heart's desire….
my prayer…
to be JOYFUL through it all.
Psalm 30:5b
"Weeping may last for the night, but a shout of joy comes in the morning."
Psalm 51:12
"Restore to me the joy of Your salvation And sustain me with a willing spirit."