a few weeks ago,
when my mom (aka: Nana) was still here,
(the official date was Saturday, January 2nd),
we decided to take advantage of winter in Arizona….
so we went for a hike!
dave found a new trail for us to try:
DYNAMITE TRAIL
on San Tan Mountain
it was easy enough for alex to walk a solid mile before i agreed to carry her.
granted, she complained for the last 0.3 miles that we made her walk,
but it was good for her.
and she PHYSICALLY can do it.
she's just a fairly lazy child.
with very limited endurance.
anyway, we loved the clear, blue skies and the warm sunshine.
it was a clear day, so we could see all the way into phoenix
(and we were SOUTH EAST of our house,
which is already south east of Phoenix!)
oh yeah,
the two older Munchkins tried out their new water backpacks.
alex struggled to suck the water so we left hers in the car.
as you can see, it was fairly windy up there: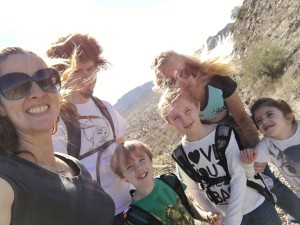 and while arizona is VERY brown and a LITTLE bit green,
it still has it's own kind of beauty.
(i forgot to mention that i only had my iPhone for this hike!)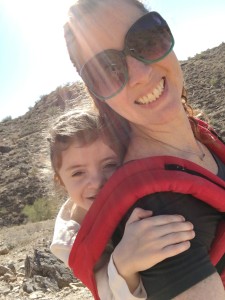 this trail was one of those "walk as far as you want and then turn around and go back" types of hikes.
so we went a little over a mile and then decided to push for 1.3 miles.
but then we were so close to the "other side" of the mountain that we pushed a little further "just to see" what's there.
and we ended up walking 1.7 miles before enjoying the view of the OTHER side of the mountain.
and then we stopped for a snack break.
and a certain someone REALLY had to go to the bathroom.
because that certain someone drank ALMOST ALL of the water from their backpack before we even STARTED our hike.
i kid you not.
and then ANOTHER Munchkin had to go potty.
but we were on the side of a mountain.
with no bathrooms.
no port-a-potties.
and no trees for "coverage."
and it was a fairly busy day on the trail.
i finally sent them off
(up the side of the mountain – off the trail)
to find a place to do their business.
and the rest of us settled down to some granola bars and peanut butter crackers and fruit snacks….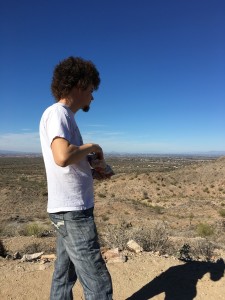 AND THEN I HEARD IT.
I HEARD THE SCREAM.
YOU KNOW THE ONE.
THE ONE THAT COULD ONLY BE FROM YOUR CHILD.
THE LONG, SHRILL SCREAM OF A CHILD.
THE TERRIFIED SCREAM OF MY CHILD.
immediately my mind flashed to:
A RATTLESNAKE?
A FALL DOWN THE MOUNTAIN?
A BROKEN BONE?
PEED ON A PILE OF ANGRY, BITING ANTS?
so i took off running on the trail.
searching frantically up and down….
left and right.
and then i saw her.
to my left (up the hill).
a little roughed up.
she had fallen.
not far.
but hard.
and the ground in arizona is not very forgiving.
it's rock hard.
and filled with rocks.
and cacti.
and sticker bushes of all varieties.
it turns out,
she scraped up her ear.
it bruised up within minutes.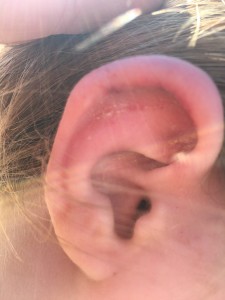 i think it's safe to say,
she won't remember this hike too fondly.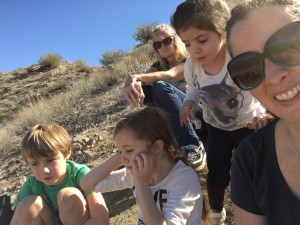 but she wasn't so hurt that she didn't want to eat her snacks.
and THAT was a good sign.
and then we went down the mountain rather quickly.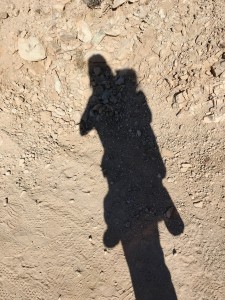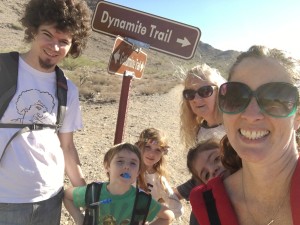 and we enjoyed a REALLY TASTY dinner at Joyride Taco.
we had earned it.
i should also point out that this day,
HIKE day,
was the ONLY day during our Christmas break that i took over 10,000 steps in one day.
I usually have 10,000 steps between noon & 3pm.
but during Christmas break,
i skipped my mornings at the gym
(b/c I'm too cheap to pay for childcare for all three kiddos).
so it felt GOOD….
really,
REALLY
GOOD
to be active again.