If you want to know what a crazy, whirlwind trip to NYC in December looks like, keep reading. My oldest niece (shhhhh – she's 24 already!) planned her wedding for December 19th at a vegan restaurant in NYC. Despite the craziness of the season, AND the reality of a week of classroom parties, festivities, group teacher gifts to coordinate and create, and more, I bought a round trip ticket…. leaving PHX at 5pm on Friday the 18th and landing back in PHX at 11:51pm Sunday the 20th.
After surviving all the fun (but busy-ness) of the week, I packed quickly (only forgot a razor and my hair product!) and almost fell asleep on the family room floor waiting for it to be time to leave for the airport!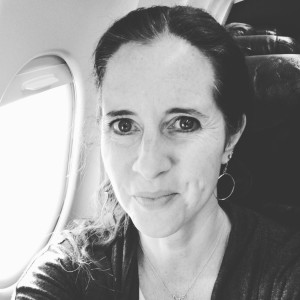 flying into NYC at midnight on a Friday night is just like flying into any other city at 7pm on a Friday night!  :)   lots and lots of lights and people up and about!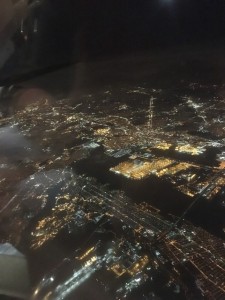 except in the airport. i was surprised that our terminal at JFK was so…. silent!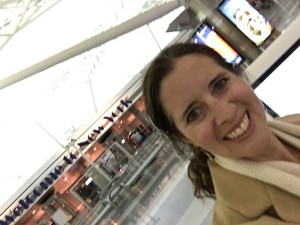 But have no fear. My $70 taxi ride (that included tip) to my ex-SIL's apartment (it's complicated) was definitely entertaining. My driver moved to NYC 4 years ago from Africa (I couldn't understand what country within the continent) and he'd never heard of Arizona. And he didn't know that just a few hours drive outside of the city would take him to open spaces with fewer buildings and people! We talked about Global Warming and Population and I don't even remember what else.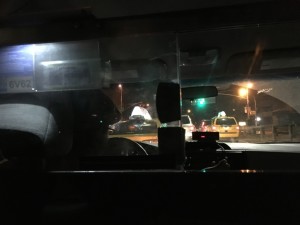 I felt relief, however, when we pulled up to this un-numbered, small (3 story) red house (aka: 3 apartments) where Babi lives now.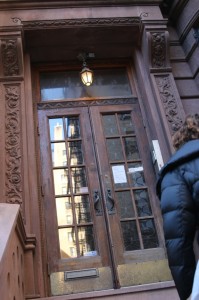 The bride was almost asleep on a pull-out sofa. Her youngest sister (aka: my youngest niece), was almost asleep on the floor next to her. And my bed hadn't been laid out yet. There were hugs and greetings all around and then we all crashed!
In the morning, Babi made breakfast (eggs with salmon and fruit for me) for each of us.
We eventually kicked Liz out of the apartment so she wouldn't be too late for her hair appointment.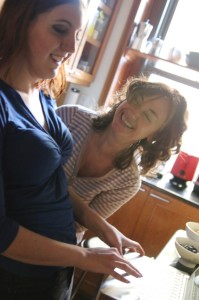 And then the rest of us got ready (and I also took photos of the details of this adorable apartment)!
with a maiden name of "Sarapata," it's always pretty unique to find something with that name on it…. even if it's my youngest niece's field hockey jacket: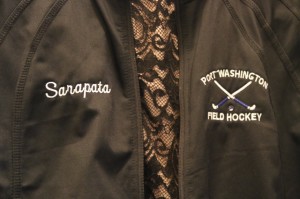 but even cooler than that would be this sight: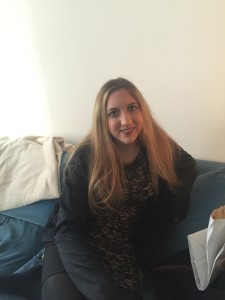 that's my 16-year old niece…. who looks like she's in her 20s.
i wish i looked like i was in my 20s.
seriously.
isn't there something special about a wedding gown hanging…
waiting to be worn…
on the bride's most planned day?!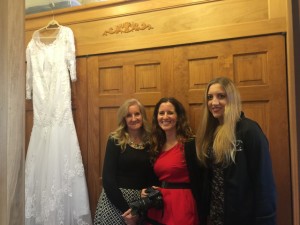 and then, just like that, it was TIME!
Liz rushed in from her hair appointment. She was a bit frantic as she chanted "fix contouring and get dressed. Fix contouring and get dressed. Fix contouring and get dressed."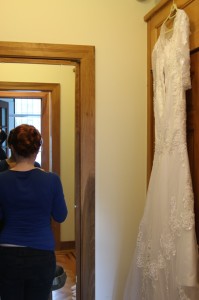 getting dressed included putting on her jewelry.
a special necklace from her nana (my mom) that was purchased in Burma or the Philippines.
earrings made by the groom (using a 3D printer).
and (after getting on her gown), a bracelet. i missed the significance of that.
Liz looked stunning.
and every bride should be as radiant on her day.
and joyful.
Liz never seems to lack joy when the occasion calls for it.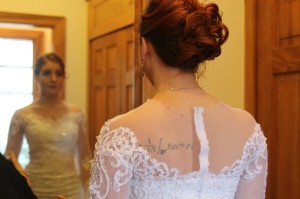 we certainly made sure there was enough time for a few groupie/usie shots….
me, Nana, Liz, Gwen, and Babi: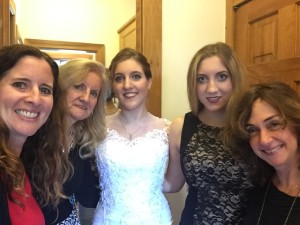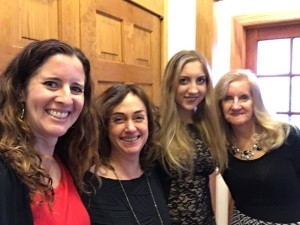 and then we were off.
we told Liz that YES, she HAD to wear her coat over her dress.
it was too cold outside not to.
and we had to walk a block… to Broadway… to hail a taxi (or two):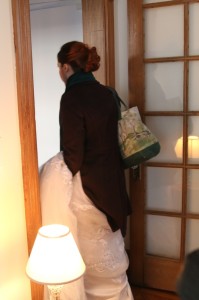 those stairs were pretty treacherous.
I'm honestly unsure how she did it in those heels (here i am, proving my old age with comments like that).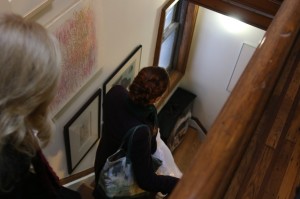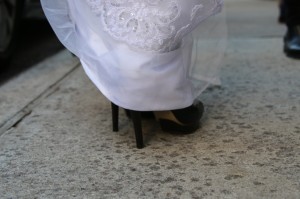 surprisingly, it took us awhile to hail a taxi.
Liz, Gwen and Nana went ahead in one.
Babi and I returned to the apartment for bags and suitcases before heading back to Broadway to hail our own taxi….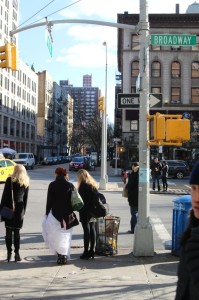 in case you're wondering, people who live IN the city DO like live Christmas trees.
here's how you buy them: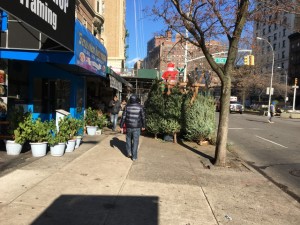 the wedding and reception were in an upper room at BLOSSOM, a vegan restaurant in NYC.
it turns out that the couple got married (Justice of the Peace/City Hall) over the summer, so this was really just their big party. they gave ZERO thought to the "ceremony" portion of the wedding but hundreds of thousands of hours of thought into the PUZZLE portion of the reception. but we'll get there.
so in lieu of any "ceremony," they said some words (that couldn't be heard) and exchanged rings and kissed.
and just like that, the wedding was over and the party was beginning….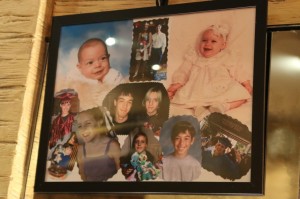 (fun fact: that picture of Liz in a "victorian lilac" dress in the lower left corner of the frame above, is her at MY wedding back in 2002!)
so it turns out that the CAKE was missing.
yes.
MISSING.
this is the groom's mom (also named Tamara but pronounced differently) and Babi reading from the "script" about the missing cake:
so it turns out that we had to solve some puzzles to find out WHO stole the wedding cake.
yes.
for real.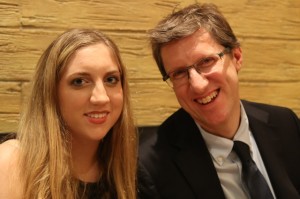 (that guy up there, he's my brother. love him.)
there were LOTS of puzzles to solve.
and answers had to be submitted on line.
again: yes. for real.
in the midst of puzzle solving,
there were toasts,
and the couple visited around the room and provided hints and clues,
and there was eating.
lots of eating of the vegan food.
and after 3 hours, people were getting antsy.
so it was time for the couple to fast-forward on the puzzles and provide us with the meta-meta answers to the puzzles.
don't get it? me either.
but they're both in PhD programs (physics, i think).
they're smart.
like…. REALLY smart.
and i'm not.
and i'm okay with that.
but to find the CAKE,
we HAD to solve the puzzles to get the answer of "WHO STOLE THE CAKE?!"
so there were 6 META-META answers.
then we had to group them into two groups of 3 to solve for the META answer.
The two groups were names of Spice Girls and Things with Rings.
The META answers, therefore, were as follows:
1. the MISSING spice girl was GINGER. another name for GINGER is RED HEAD. who has red hair? LIZ, the bride!
2. what/who else has rings? think Lord of the Rings. i can't remember the name of the character, but in the end, it was a HOBBIT. who else is like a hobbit? PETER, the groom!
so the answer to WHO STOLE THE WEDDING CAKE was PETER & LIZ.
so then… OUT CAME THE CAKE: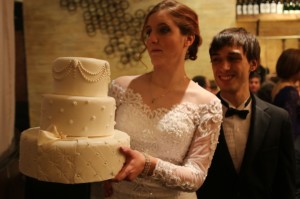 except does this look like the type of cake puzzle-lovers and creators would enjoy? math geeks? people who don't love tradition?
yeah.
i didn't really think about that either.
but they did.
so the cake in the photo above was fake.
like, LITERALLY fake.
and then there was the big unveiling of the REAL cake.
(note: also VEGAN from a bakery in Bethlehem, PA that makes the only good vegan "buttercream" frosting – and it was sweet and tasty)
and then i asked the couple for a photo of them with the bride's dad (aka: my brother):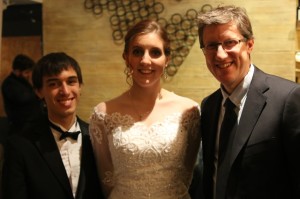 and i wanted a selfie: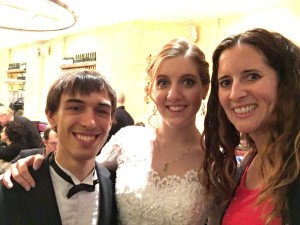 and then the photographer took their final photos (the couple with all the various attendees at the wedding – individual shots, no big groups).
and then we (John, Gwen, and I) were off….
we walked 10ish blocks to a chocolate place and on the way,
i found some fun Christmas decorations: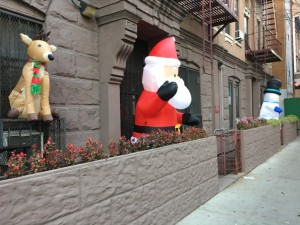 and then we joined another 1000 people from the city who were ALSO on the subway…
(you can't tell from the photos, but it was SARDINE city on that subway.
i was literally being held up as the train moved ONLY by all the bodies surrounding me!)
and then it was a mad dash around PENN STATION (no photos) to the Long Island trains.
and we waited for the announcement of the train track.
i forgot how RUSHED everything is in the city.
i do NOT miss that part of living on the east coast.
and then we were on the train.
sitting 3 across…. enjoying the time before landing "home."
i spent the next 24-hours thoroughly enjoying the company of this young man:
he's my adorable nephew, JJ.
i LOVE him.
seriously.
he's fun. he's cute. he giggles. he laughs. he plays. he eats. he sleeps.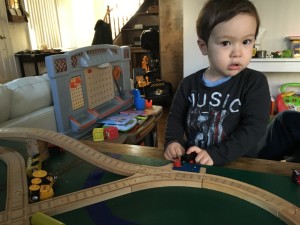 Korean food:
(they don't use knives, but they DO provide scissors to cut your meat!)
see… he DOES sleep:
and, unfortunately for him,
he slept when it was time for me to get out of the van at the airport.
i miss you already, sweet JJ!
after a RIDICULOUSLY long line to get through security at JFK (took me over an hour),
i was able to buy souvenirs for the Munchkins (NYC pens), some beverages (Dr. Pepper and water), a snack (Chex Mix) and some reading material (a book) before crashing at my gate and "re packing" my carry on suitcase (including my long, camel-colored, wool coat that i NEEDED in NYC but would NOT need upon arrival in PHX):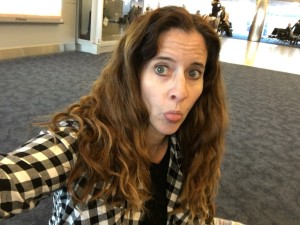 and then i flew from JFK to LAS VEGAS:
and from LAS VEGAS to PHX.
where my amazing friend, Casey, picked me up at midnight.
and she drove me from the airport,
PAST her house,
to my house.
where i crashed.
and i spent the next two days on the couch, barely functioning,
from a killer head cold paired with complete exhaustion
(that's my expert medical opinion, anyway).