after spending monday and tuesday on the couch,
i was ready to tackle CHRISTMAS PREPARATION on wednesday.
well, mostly ready.
i definitely wasn't 100% but i felt sooooooo much better.
so i declared wednesday to be CLEANING and BAKING day.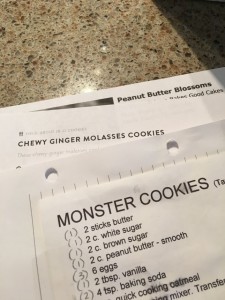 and maybe not in that order.
or not entirely in that order.
or maybe it was just all mixed together.
but by the end of the day, I had 3 kinds of cookies completed.
and a batch of fudge.
we also spent a few hours of our day at our dear friends' house.
Mrs. Casey made some sugar cookies and gingerbread cookies (both gluten free) and invited us over to DECORATE cookies!
the kiddos all had a blast.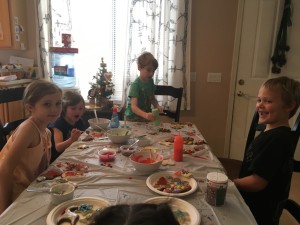 and then we kicked them out of the decorating area
(seriously – there were sprinkles EVERYWHERE) so we could decorate in a much more calm environment.
we had a blast!
 but a little munchkin and i were pretty wiped out by the end of the day: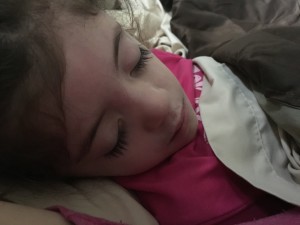 and before i knew it,
it was Thursday.
aka: CHRISTMAS EVE!
good grief!
with the wedding/trip to NYC and being sick,
i lost all my prep time!
while prepping dinner (chili and potato soup),
i put the munchkins to work decorating some gift bags
(aka: lunch sacks) for their gifts to each other.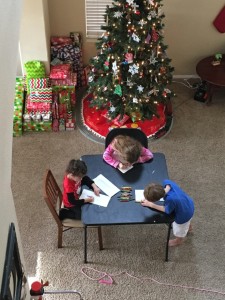 we had planned to enjoy an early dinner and then go see some Christmas lights (Comstock Lane in Gilbert had an entire block of lights timed to music and they won a show on ABC for their display!) but with Dave and the Munchkins running around to acquire last-minute gifts, the day got away from us.
We ended up going to see the lights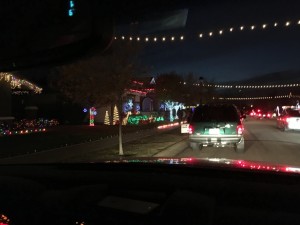 and then we ran outside to the neighbor's donut food truck for a treat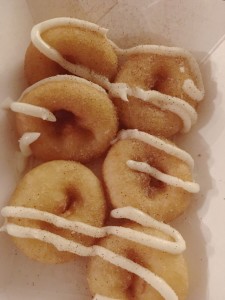 (to save for AFTER dinner)
before eating our dinner and simultaneously watching MY favorite Christmas movie: ELF!!!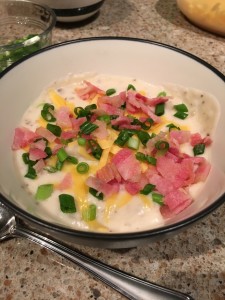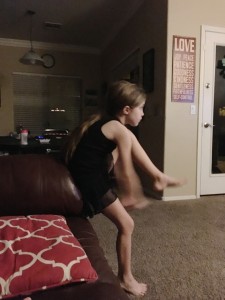 (a certain someone could NOT sit still during the movie.
dave and i were highly entertained by her "hands clasped" and then "step in and then out" of her clasped hands moves. she did it over and over and over. and i video taped her about 5 times. and she has no clue. none. what-so-ever. she was thoroughly engrossed in the movie. but she also wanted to be up and moving. crazy girl!)
and then… FINALLY….
around 9pm, it was time to open ONE present each: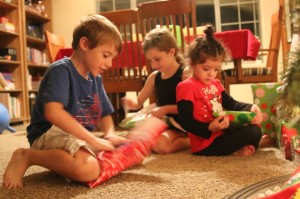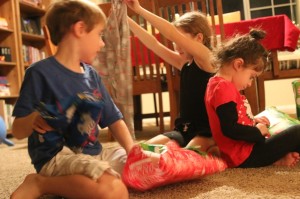 new pjs!
and then there was time for a quick photo shoot (that took FOREVER b/c all three children have a real struggle to look AND smile at the same time…. not surprisingly, it's the oldest and youngest who struggle the most!)
and then we shipped the Munchkins off to bed.
and i took photos.
and then i realized dave was missing.
it turns out he was in the garage assembling some presents: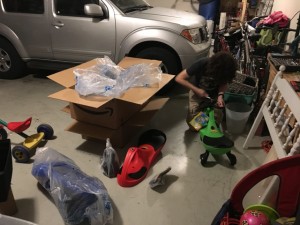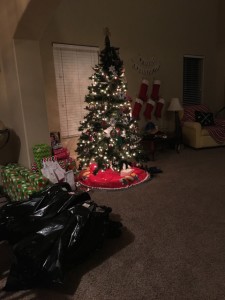 whew.
finally finished.
in the morning, we let the munchkins open their stockings before embarking on a tasty breakfast: GF waffles with all kinds of sugar and fruit!
after breakfast, Dave read the Christmas story from Luke 2:
and it was time to open presents!
THIS munchkin was pretty excited about a certain stocking gift…
he proceeded to use it to open a vast majority of his gifts…. which helped make "present time" last quite a bit longer. he used the tiny scissors to cut the tape on his wrapped gifts:
the munchkins didn't know it, but they bought off-brand camel baks for each other.
(now we need to go on a hiking excursion)…
daddy & mommy came through with plasma cars for all: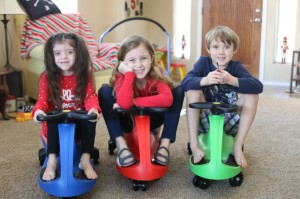 and two days before Christmas, Dave decided to buy a chrome book for the Munchkins as an extra special Christmas surprise. He ordered it at 11pm on the 23rd. It arrived before 11am on the 24th! Davey and Samantha were (are) ELATED: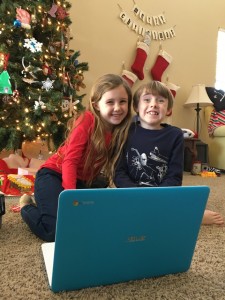 grandpa & grandma are always good for some clothes AND toys:
at school, davey made a cool snowman decoration for us:
while Samantha made us a calendar: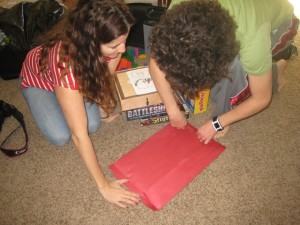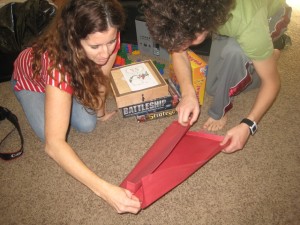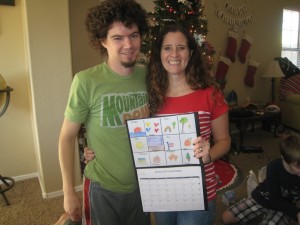 uncle john usually rocks it in the gift department.
this year was no different:
daddy got some new games this year: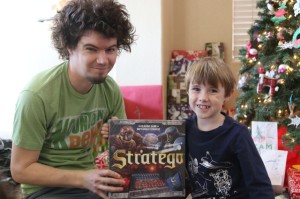 while i received my own scooter: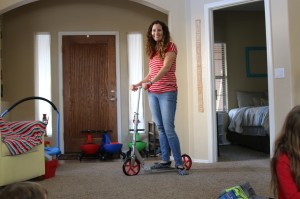 uncle sterling & auntie rachel (dave's sister & family) sent a game and a book…
and with alex around, there was no continuing with gifts until the book was read: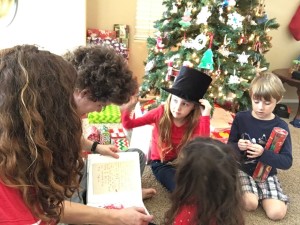 we highly recommend The Day the Crayons Quit!
Dave's parents made game for us (it's BEAUTIFUL, Dad!) and provided us with the funds for a date night. AND the promised us FREE BABYSITTING if we wait for their visit in January!
um…. DEAL!
The Munchkins had fun opening their gifts to each other.
Davey bought Sam a ring.
Sam bought the SAME ring for Alex.
As I expected, Samantha LOVED that reality!
and our dear friends, the Dycks, sent each kid their OWN box of bubble gum…. while I got a mini gum ball machine (which i quickly washed and filled with the peanut m&ms that were in my stocking!)
Christmas wasn't over,
but we needed a bit of a break.
We took some time for everyone to use the restroom.
And we prepped some food for later.
And then we decided to go for a drive.
Seriously.
With presents still under the tree.
WHAT were we thinking?
Alex kinda fell asleep on our car ride: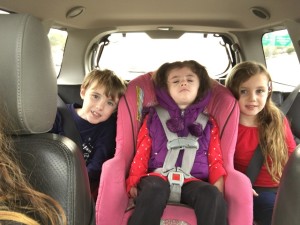 we drove for quite awhile with minimal "where are we going?" questions.
but then we got to the airport.
so we watched planes take off and land.
that's ALWAYS cool.
but the questions were coming faster and faster.
more frantic.
WHERE are we GOING?
WHY are we HERE?
WHAT are we DOING?
and since we didn't time it perfectly,
we had to find the cell phone lot.
and THAT's when they started guessing.
and before we knew it, Davey had the right answer….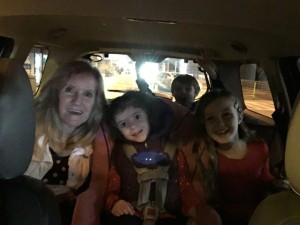 we were picking up NANA!!!!!
Once we got home,
we needed to ACTUALLY prep some Christmas meal stuff
(Dave smoked a turkey)
before diving into presents part 2…..
Nana got a calendar of the Munchkins:
Samantha is ALWAYS good for an animated reaction to a gift.
her reaction to "MY VERY OWN SEWING MACHINE" from nana did NOT disappoint: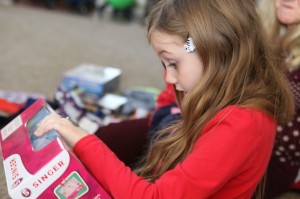 davey and daddy got a gift to share:
and alex received a tea cart
(which broke during assembly and needs to be returned to the store)
there were other gifts, too, for all the parties involved.
but the best gift was given last.
and it wasn't planned that way.
nana opened the very last present in this house on Christmas Day….
so you need some back story for this one.
back when i was in late elementary school or early junior high,
my mom was a PAL to a GAL in Pioneer Girls at our church.
and among other things,
she paid the extra money at McDonalds to acquire THREE special "stuffed animal" MUPPETS as part of her "Gal's" Christmas gift.
and i was jealous.
i WANTED those darn things.
but Christmas morning came and went and i didn't get them.
in the early afternoon on Christmas,
we headed to my gram's house.
it was about a 40 minute drive.
i'd say we were about 20 minutes in when my mom SUDDENLY pulled the car over
ON THE SIDE OF THE HIGHWAY
and GOT OUT OF THE CAR (without a word to me what was going on)!
i was nervous something was wrong with the car.
she opened the trunk (wait – the trunk? why not the hood?)
and when she came back to the car,
she calmly opened her door and tossed something at me.
i remember her words as something along the lines of:
"i forgot about these. merry christmas."
and there they were.
in all their glory.
the THREE MUPPETS from McDonalds.
my very own set: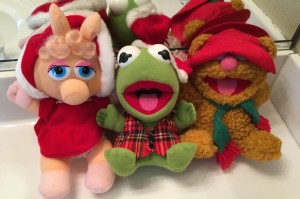 so when i saw them at a flea market just a few weeks ago,
and when i knew my mom was coming HERE for Christmas,
i HAD to buy them for her.
for the memory,
if for no other reason at all.
(but you should also know that Nana LOVES Miss Piggy.
always has.
and always will.
in fact, one of her birthday presents one year was also a Miss Piggy/old McDonalds item: a drinking glass with Miss Piggy riding a motorcycle through a giant glass window!)
and THAT,
my dear friends,
is the story of the LAST Christmas PRESENT in our home this year!
she laughed
QUITE HARD
when she opened that box b/c she remembered that Christmas
when she gave them to me!
Later in the day, we SKYPED with Dave's family in Washington: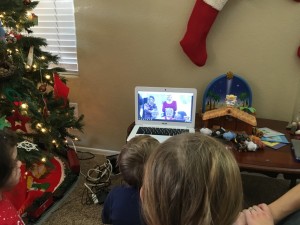 and just before we sat down to eat,
the littlest Munchkin showed us she was still in "recovery" from her recent illness: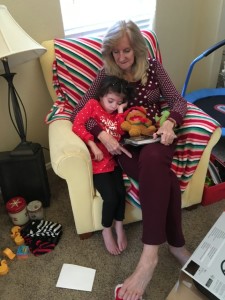 she fell asleep while Nana was reading a story!
but a delicious turkey waits for no man, woman, or child,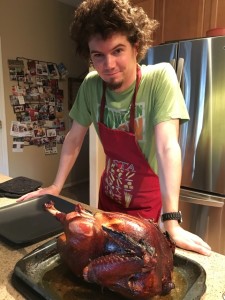 so we filled a plate for her and started on our own meal: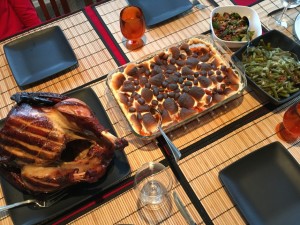 (don't mention the over-toasted-ness of those marshmallows on the yams.
i was very Unhappy about it.
thankfully, my family is pretty gracious.)
I hope you had a VERY MERRY CHRISTMAS, too!