i think we're finally about to enjoy life in arizona again.
it's been a LOOOOOOOONG summer.
a very loooooooong, hooooooot summer here.
we finally dropped out of the triple digits,
but then we had a few random days here and there that included triple digits again.
ugh.
you see, it's fall/autumn everywhere else.
i'm ready for jeans.
and boots.
and scarves.
and cardigans.
but more important than that,
i'd love to be outside with my kiddos.
i'd love to not endure mosquitoes all the time.
i want to enjoy the park.
and hiking.
and bike rides.
and just general life outside.
earlier this week, the weather dropped to the LOW 70s.
for ONE day.
and it was a GLORIOUS day.
i wore jeans.
and boots.
and long sleeves.
and, i repeat, it was glorious!
but the weather has been rising ever since.
again: sigh.
HOWEVER,
it hasn't hit triple digits again.
in fact, it hasn't even hit the 90s again.
WOO-HOO!
since last week was Fall Break for the Munchkins,
that means that THIS week is parent-teacher conference week,
which means HALF DAYS at the end of the week (Th & F).
and with temperatures only in the low to mid 80s….
yep.
it was PARK TIME.
but even better?
WITH FRIENDS!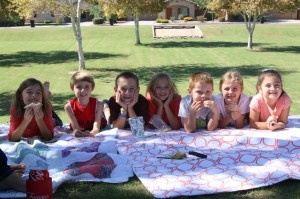 (violet, davey, luke, lily kate, drew, samantha, reagan).
(not pictured: Kayleigh, Alex, and Sarah)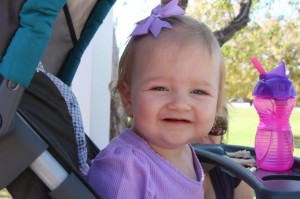 sarah tolerated life in her stroller for a solid 90 minutes.
and then she wanted to be out and about.
but she can't walk yet.
so she was "stuck" for awhile!  ;)
the great thing about the little park near our house….
we can SEE MaryAnn's house from the park.
which means it's a GREAT place for bathroom visits.
or gathering new things to play with.
like Halloween BINGO: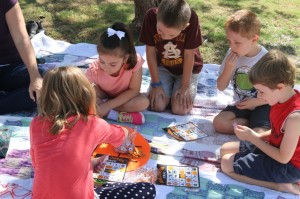 or crayons: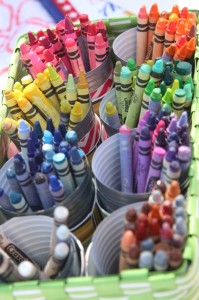 but it's also a great little park with some fun climbing trees.
sometimes the MOMS will even climb them to get a different angle for a picture!
(or maybe it's just me.
maybe i'm the only MOM who will climb the tree):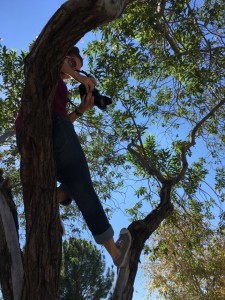 (thanks for the shot, Katie!)
see?
TOTALLY worth the climb up the tree.
and yes,
i did almost fall.
and my shoe DID get stuck.
but it was worth it.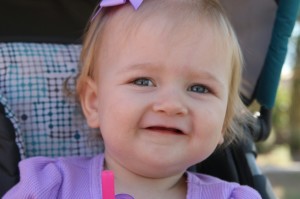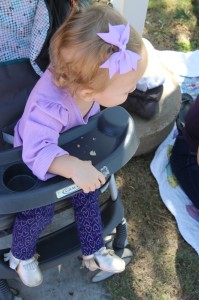 we stayed long enough that ALEX joined us.
yep.
her bus driver let her off at the park.
her bus driver rocks.
granted,
i ran across the field and "waved her down."
but still,
she recognized me.
and stopped.
and did it all with a big smile on her face.
thanks, Lisa!
sarah finally escaped for a little jaunt down the slide….
this girl LOVES to play "school" or "teacher:"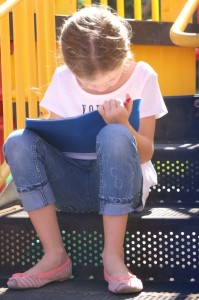 the location doesn't matter.
in fact, i think the more locations, the better.
go ahead and check PLAY TEACHER AT THE PARK off her list!
and THEN we stayed long enough at the park that Kayleigh's dance class was over and she (and her mama) joined us. Kay was wearing an amazing SPINNING skirt, so we asked for a demonstration:
pretty amazing, huh?!
and after two hours (minus a couple of minutes),
Sarah was DONE in the stroller.
and she was DONE with being on the blanket.
and it was time for Katie & kids to head home.
and the rest of us headed out, as well.
but it was only about 2 hours later that this happened:
and then this:
and then this:
outside playtime is SO. MUCH. FUN.
i'm so thankful for this cooler weather.
and i'm so thankful that we plan to do it again today after school!