in our home,
our morning routine is usually quite rushed.
like considerably rushed.
we rush out of the garage door and run to get alex to the bus on time.
it's just our life.
we're learning to accept it.
but there are those mornings when the routine is altered.
a kid has to stay home sick.
alex doesn't need to ride the bus.
those kinds of things.
this morning was one of those days.
samantha was sick.
so davey had a few extra minutes before heading to school with the neighbors.
and the bus was scheduled to pick up alex at home instead of at our friend's house.
that meant i was able to snap a photo of the oldest and the youngest together….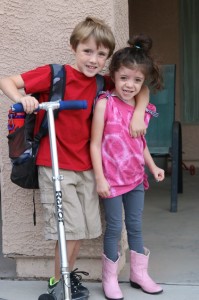 it's even cuter b/c she's wearing davey's shirt.
see, it's tie dye day at her school.
but she owns zero tie dye.
but davey has this shirt that was supposed to be red.
his class made them for their recent fund raiser.
but the 2.5 boxes of red dye used in the bucket of water did NOT yield a deeper red.
it yielded pink.
the class changed their name to The Erasers.
it worked.
and even the boys were good-natured about the pink shirts.
but i don't expect many of them to re-wear them.
all that said,
the shirt was JUST what we needed for alex today.
except it's too big.
enter grey leggings, cowgirl boots, a hair tie, and some ribbon…
and a new outfit was born!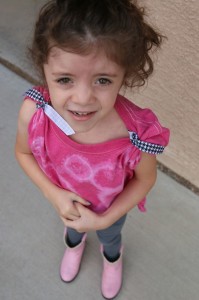 we sent davey across the street to the neighbor's house:
(yes, another neighbor owns a traveling donut food truck.
well, the trailer.
and all the equipment.
but it's not really a food truck.
i'm not sure why i called it that.
but again…. bunny trail!)
alex was ELATED to have some time to ride her BIKES this morning:
and then she was done….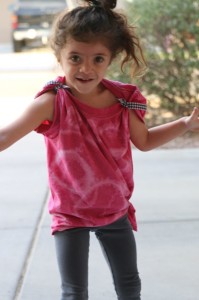 but i told her she had to put it away….
on to the tricycle from the neighbors who moved last march (we miss you, Paynes!):
but then she was finished with that bike, too: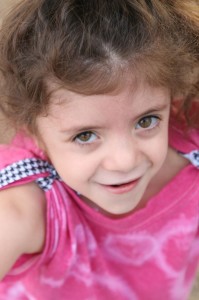 so she carried it back to the garage, also:
and then she returned to the strider bike:
what a goofy girl.
best part of the morning for her?
seeing the bus pull up in front of her house!
she RAN to it!
and that was a wonderful start to a typically crazy and rushed morning!