for the past three years of school,
dave has dropped off D&S in the mornings and I have picked them up in the afternoon.
(usually walking…. very, VERY rarely with the car).
for the past two years,
i have dropped off and picked up alex from pre school.
every day.
there have been days with other parents helping me bring home healthy kids while i'm home with a sick one.
or while i'm sick myself.
but there have been ZERO busses involved in our transportation system.
see, we only live about 0.25 miles from school.
it's a quick walk or bike/scooter ride.
and the munchkins love to see their friends along the way.
but this year is a new year.
and dave wanted to leave for work earlier in the morning.
and alex is going to a new school.
so for the first time,
morning transportation was ALL on me.
for all THREE kiddos.
with two different start times.
after three days of driving Alex to school in the morning
AND home again in the afternoon
(which made for CRAZY afternoons),
the Transportation Department finally had all the necessary paperwork.
So on Monday, August 10th,
the big kids and I walked home from school.
and waited.
we looked at papers from school.
they had snacks.
they put away their lunch boxes.
they started reading.
and every 32.6 seconds I was looking at the clock.
or at the clock on my phone.
WHERE WAS SHE?
WHY WASN'T SHE HOME YET?
oh.
yeah.
school only got out 3 minutes ago.
3 minutes and 32.6 seconds ago.
4 minutes and 5.2 seconds ago.
you get the idea, right?
it was NOT a relaxing, restful, peaceful visit on the porch swing for me.
i was simply WAITING.
and then i heard it.
coming up the block.
the loud sounds of a truck.
or better yet – A SCHOOL BUS!
and then, at 3:59 and 23 seconds pm, there she was:
THAT, my friends,
is my sweet, BABY girl
getting off the bus….
just like a BIG KID!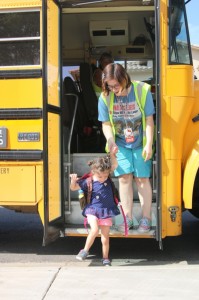 it was SO WONDERFUL to hear her high pitched squeal yell "momyyyyyyyyyyyyyyyyyyyy!"
and then she ran up and gave me a HUGE, SQUISHY hug!
it was WONDERFUL!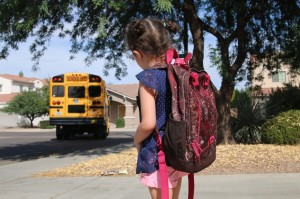 and the best part of all?
she LOVED the bus ride.
we're talking L-O-V-E-D it.
after being TERRIFIED (and I do mean T-E-R-R-I-F-I-E-D) of the bus for TWO YEARS,
she LOVED LOVED LOVED riding the bus home!
in fact,
as soon as the bus rounded the corner and was out of sight,
she asked if she could ride the bus tomorrow.
FAST FORWARD two weeks.
to Monday, August 24th.
alex had been riding the bus HOME from school for two weeks.
and for two weeks (minus one day),
she had been asking if she could ride the bus TO school in the mornings.
but i was still taking her TO school each morning.
with the timing of the bus pick up AND getting D&S to school,
I just wasn't able to be in TWO places at ONE time.
surprising, I know.
but every superhero has their limits.
that must be mine.
I can only be in one place at one time.
I hate admitting that I'm human!
But the day finally came.
Alex has a friend in her class who lives just two blocks from us.
two blocks away from our house but two blocks CLOSER to D&S's school.
so on Monday, August 24th,
i watched my older two Munchkins cross the street by themselves (GASP!).
then alex and I walked down a side block to Lia's house.
It was not an EASY morning.
It was not FUN getting the kids out the door a few minutes earlier than they're used to
(for the past 3 years!)
But when that bus pulled up in front of Lia's house (at 7:55am),
I knew it was worth it.
My littlest Munchkin ran STRAIGHT for the bus.
she didn't even give me a hug good bye!
and just like that, she was gone.
no early morning walk home from school with my littlest.
no last minute chances to fix her hair.
or get her to eat some more breakfast.
or give her 50 hugs and snuggles.
gone.
poof.
in the instant (or 29) that it took the bus to drive away.
and every day since then,
my heart has left me twice each morning.
we all stop at the corner to say "good bye" to each other.
and then D&S cross the street and go to school.
and alex and i walk down the block to catch the bus.
and i always feel just a little bit emptier inside.
it's hard when your babies are growing up to be big kids.