as of tomorrow (wednesday), we started school 4 weeks ago.
as of saturday the 4th, we started school 1 month ago.
and by "we,"
i mean "the munchkins."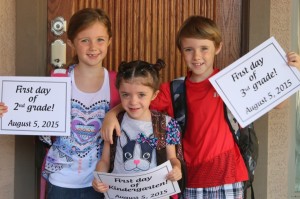 but really,
i started back to school, too.
before too long,
i'll be back in ALL of their classrooms.
i'll be taking photos.
i'll be listening to reading groups.
i'll be making copies.
i'll be adding and removing things from bulletin boards.
i will hoping that i will NOT be helping with painting projects.
but it's likely that i'll be doing that, too.
and it's all worth it.
i love my kiddos.
i love their schools.
oh!
wait!
did i forget to mention that?!
yes.
the munchkins are at TWO different schools this year.
D&S are at our local school.
alex is a few miles up the road at a public school that offers a special program for her communication delays.
this first month has been pretty great.
don't get me wrong – there have been some rough patches.
especially regarding transportation.
more specifically, the Gilbert Public Schools Transportation Department.
did you know that they lost alex's paperwork to ride the bus?
FOUR TIMES!?
plus they lost it in one e-mail message.
directly to the supervisor.
SERIOUSLY.
in the end,
alex's pre school teacher (aka: from last year) faxed the paper to Transportation.
then she texted me.
so then i called Transportation.
and i didn't get off the phone with them until they told me they held the paper in their hands.
again.
SERIOUSLY.
there was also the day where she got home an HOUR late.
via the bus.
and Transportation didn't call me.
yep.
SERIOUSLY.
but we've worked through these issues.
and moved past them.
and i'm here to tell you that the first day of school ROCKED!
my Munchkins were all up EARLY.
and they were all ready to go EARLY.
so i was able to take some fun photos!
this girl is SO goofy…. check out her funny faces: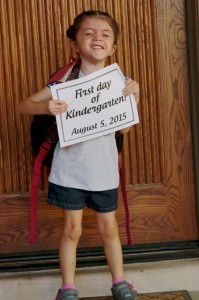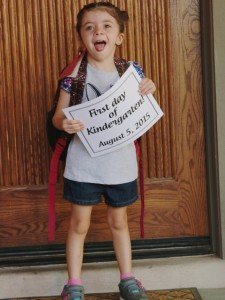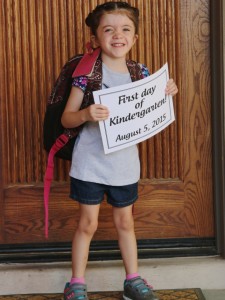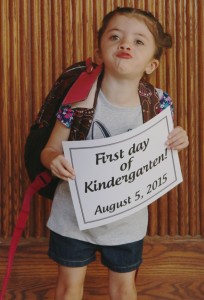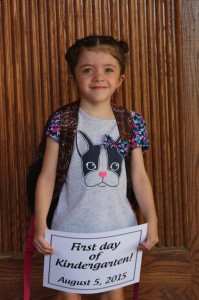 after each kiddo was walked or driven to their school (alex didn't take the bus for the first week – there was that whole paperwork problem with Transportation),
i headed to the GYM for the first time since June.
it was good to be back.
kind of.
and after my work out,
and my walk home,
and my shower,
i realized i had an empty home.
and i realized that i would have an empty home until 3pm.
and i wasn't sure how in the world i would stop myself over the next FIVE HOURS from calling alex's school to check on her.
or worse – how i would stop myself from just driving by and stopping in….
so i knew i needed some help.
i went to my closet and pulled out this bad boy: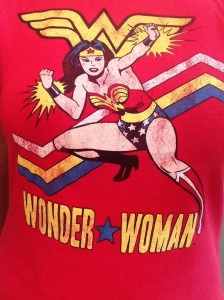 i KNEW it would take my super hero WONDER WOMAN powers NOT to call alex's school.
and NOT to call her teacher.
and NOT to just "stop by" at D&S's school.
i will admit.
it was difficult.
i had no problem with davey starting kindergarten.
i had no problem with samantha starting kindergarten.
i had a few issues with alex going to pre school but i knew it was good for her.
and it was only a few hours each day.
but this whole "alex-in-kindergarten-full-days-all-days" thing threw me for a loop.
so in an attempt to be a COOL mom instead of an over-protective, crazy, freak,
i drove to dave's office to have a KID-FREE lunch date with him.
we went out for tacos.
i ate THE BEST fish taco of my life that day.
seriously.
it was AMAZING.
(we went back on sunday with the kiddos but it wasn't anywhere CLOSE to good that day.
consistency,
people.
i like consistency.)
when dave and i got back in the car after lunch that wednesday,
the car's thermostat registered a higher number than i'd ever seen before: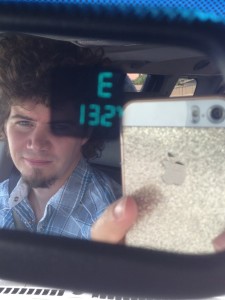 it wasn't even remotely THAT hot.
but i guess that parking lot was smoking.
if you don't know,
i'm on my school's PTSO Board.
(PTSO = Parent, Teacher, Student Organization)
we decided to sell Otter Pops after school for the month of August.
but for the FIRST day of school,
we GAVE AWAY otter pops to EVERY student.
for FREE!
(hence the "gave away" part of the sentence above).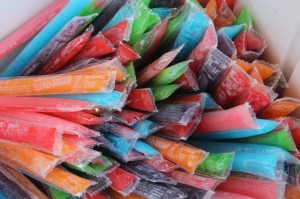 it wasn't 132* but it was hot.
it's actually been triple digits every day since school started.
(the forecast is saying that it's only going to be 92* this friday…..
we'll see how that actually plays out!)
those Otter Pops were well loved by all.
including 8 of my favorite Spectrum All Stars: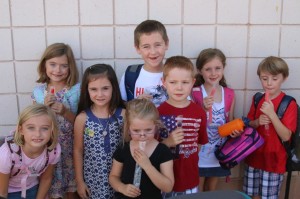 (those are the Mom Squad kiddos – minus Alex who was at her school and baby Sarah who, well, is a baby and therefore isn't a student yet)
this picture shows you ONE 3rd grader, FOUR 2nd graders, ONE 1st grader, ONE kindergartener, and ONE kinder-prep (aka: amped up pre school) kiddo.
my munchkins and i had to rush home after handing out otter pops.
we had to drive 4 miles up the road to pick up alex from HER first day of school!
(while i'm not a fan of her school's start and end times,
i am THANKFUL that alex's school doesn't start and end at the same time as D&S's school.
AND i am THANKFUL that it doesn't start and end even LATER,
which is the reality for some other schools in our district.)
once home,
my munchkins weren't too talkative about their days.
just little things here and there that i had to practically PRY out of them.
i kid you not.
the only reason i know as much as i know about my kiddo's classes each year is because i'm IN the classes.
i get involved.
my munchkins' lips are pretty tightly sealed.
or they forget about things that happened.
and that's okay.
because i know enough to keep me going.
until i get INTO the classes, that is.
then i know A LOT.
after a snack,
my munchkins spread out around the house.
and it was still quiet.
really quiet.
and this is what i found:
well, this one went back and forth between stickers and reading,
but it's all book-related.
so i say it counts!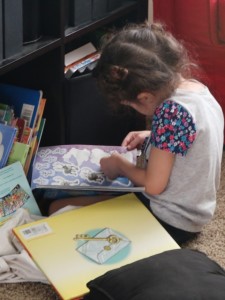 after a yummy dinner,
we went out as a family for a BACK TO SCHOOL "special treat!"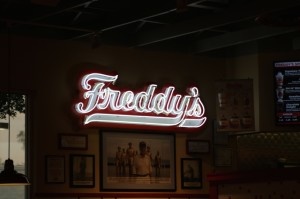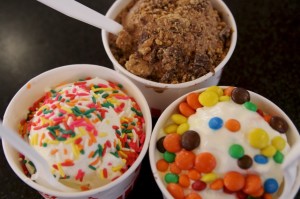 mmmmmm.
freddy's frozen custard.
SOOOOO good.
(i didn't get any.
and alex always gets a few spoonfuls from everyone else).
and then dave was hilarious.
each of our kiddos has a certain "eating style" when it comes to frozen custard.
so he started pretending to be each munchkin.
and Davey is the Face Maker: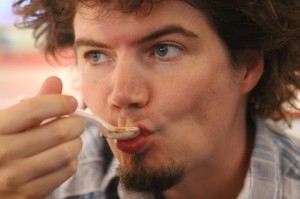 i think the evening was a success!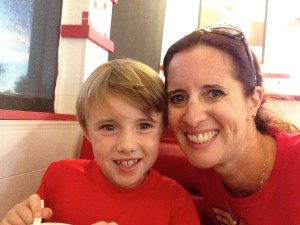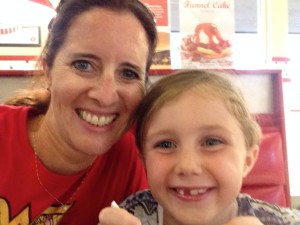 in fact,
i think the whole DAY was a success!
even the sky agreed with us: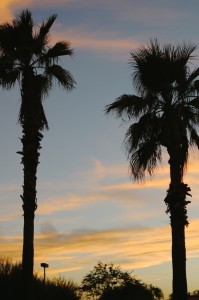 here's to another FANTASTIC year of school!