while Nana was here, someone very important in this family turned 36.
i wish it had been me.
seriously.
i would LOVE to be 36.
it sucks to be old.
well,
older than 36.
or older than your husband.
thank goodness
"AGE AIN'T NOTHIN' BUT A NUMBER!"
after the swimming that was pointed out in the last post (swimming, i might mention, that did NOT include Dave since he was at work.
on his birthday…)
anyway,
after swimming,
we enjoyed a very tasty family favorite meal of KAO SOI.
it's a thai soup-like dish that includes noodles.
or in our case,
gluten free brown rice spaghetti noodles.
the KAO SOI includes chunks of chicken.
then you add some tasty toppings
(like green onions, shallots, and cilantro).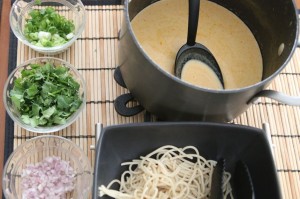 we were all QUITE stuffed after dinner,
so we took a hiatus from food (aka: no birthday cake yet) and let Dave open all of his gifts.
i'd been "stealing" some mail for the few days leading up to his birthday.
he had cards from his grandparents and his parents and they all arrived in time for me to "steal" them and add them to his gift stash to open at his "party!"
(he's reading that he got a massage gift certificate for his birthday —-
and not only a gift certificate for a massage, but an appointment had already been scheduled!)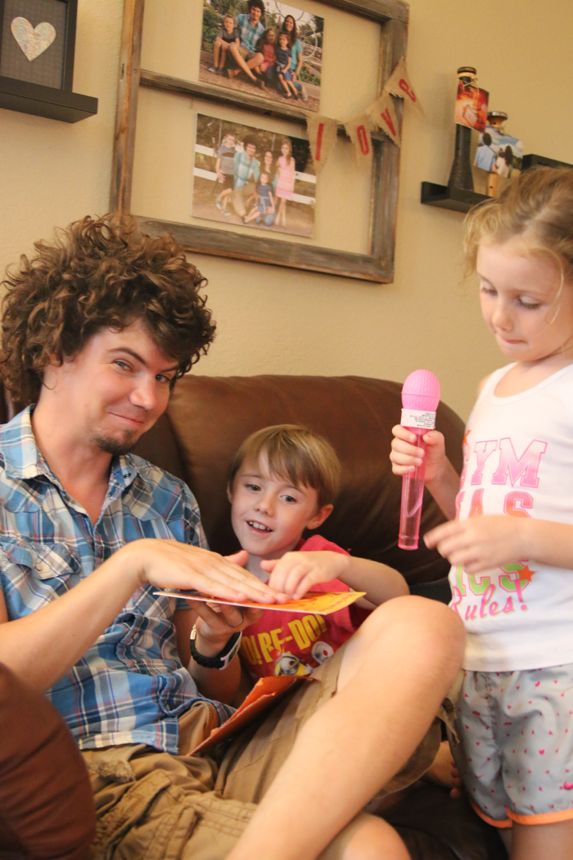 his parents sent a funny card.
the front says the word "GOOD" in fuzzy letters.
and the card reader is instructed to feel the letters.
yep.
like a scratch-n-sniff sticker only with the sense TOUCH instead of SMELL….
and then,
when the reader OPENS the card,
it says something about "wanting you to 'feel good' on your birthday!"
seriously.
it's actually quite clever.
and so very, VERY appropriate to be a card from his parents!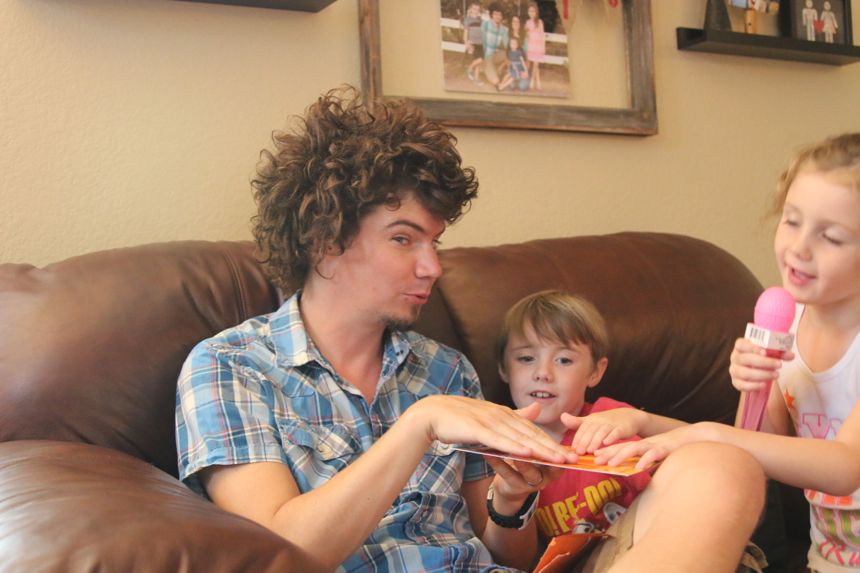 the Munchkins wanted to "feel good," too!
so between the cards and the money and the gift certificate,
he was pretty much set.
but then he needed a stash replenishment.
of chocolate.
dark chocolate.
GOOD dark chocolate.
so that's what the Munchkins did for him:
and while no one was "hungry" yet,
it was getting later and later and it was time.
TIME for cake.
BIRTHDAY cake.
gluten free birthday cake.
a two layer cake.
a two-layer reverse marble cake.
(that means that one layer was yellow cake with devil's food swirled into it and the other layer was devil's food with yellow cake swirled into it).
all topped with chocolate frosting.
yep.
just what the birthday boy guy requested.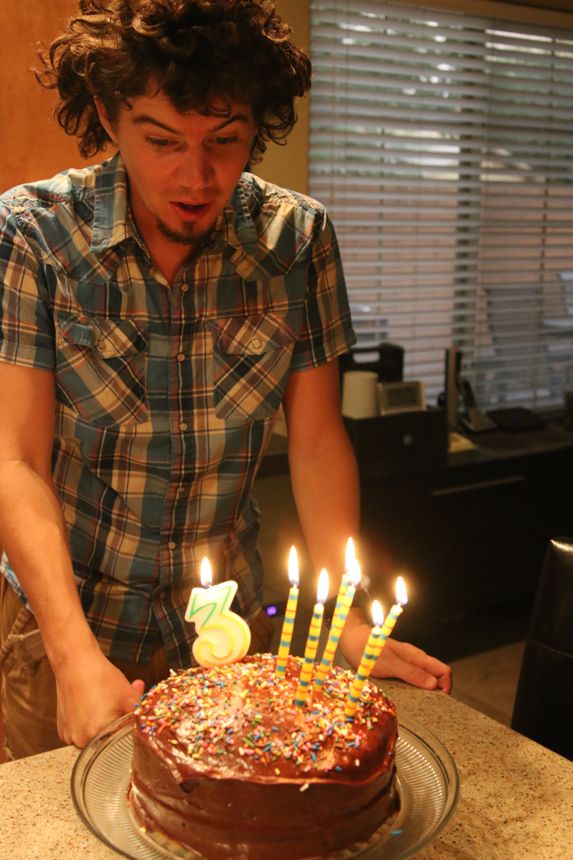 (one of these years,
i might actually check the status of my candle stash
BEFORE i need to put them on the cake!)
so after singing,
he blew.
and blew.
and blew.
and blew.
and in the end….
he couldn't get all the candles out!
(and they were NOT trick candles).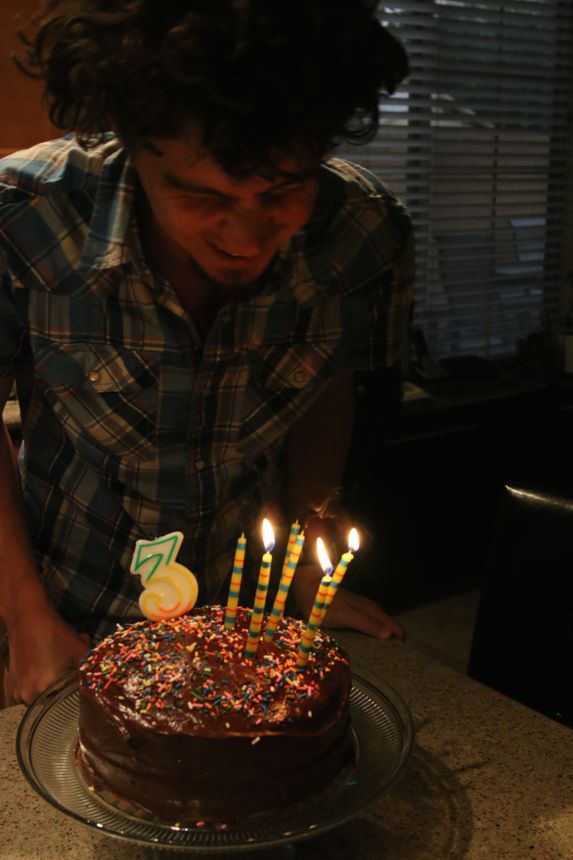 haha!
three candles left.
you know what that means!
(you'll have three kids.
oh, wait! he already has three kids!
whew!
good thing we stopped after Alex was born, huh?!)
and here's a not-great photo of the cake: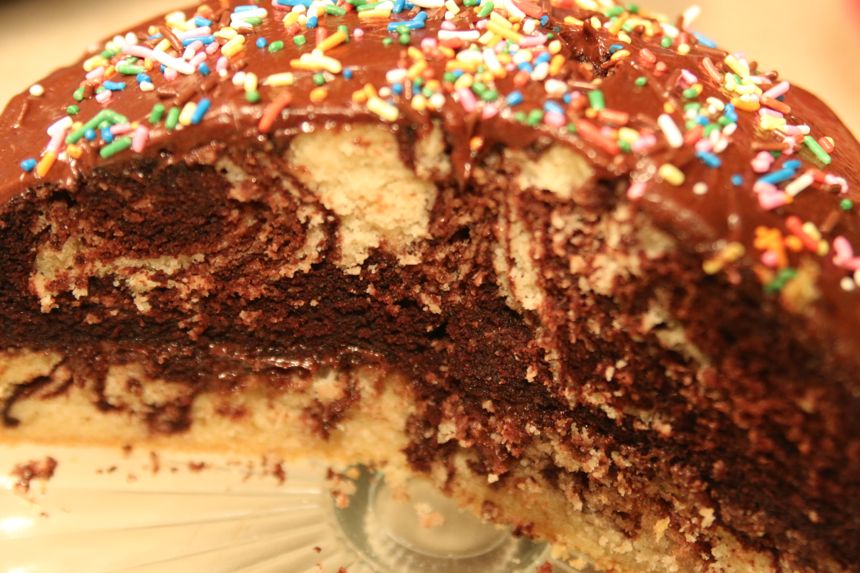 it was a little dry
(likely over baked)
but tasty none-the-less.
it took us a solid week to eat most of it.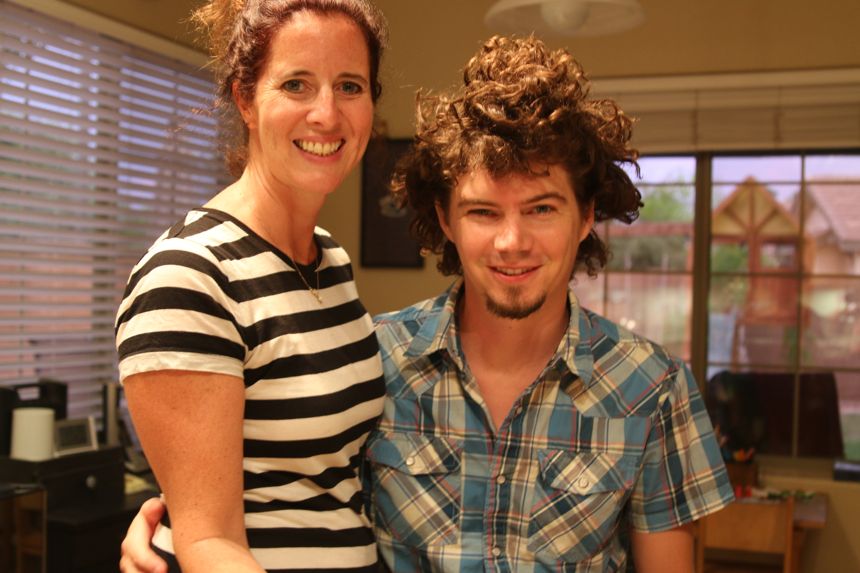 many, MANY thanks to samantha for this photo!
HAPPY BIRTHDAY (several weeks ago), HONEY!