did you know that for two days…
yes,
just TWO DAYS….
every. single. year….
in july,
i have THREE children with three CONSECUTIVE ages?!
one – two – three.
two – three – four.
three – four – five.
four – five – six.
five – six – seven.
yep.
it's true.
we chose to have our Munchkins close.
though we didn't plan to have them quite THIS close in age.
that said,
i don't regret it.
and i would do it the same all over again.
but i also wouldn't recommend it to anyone.
there were some very trying times.
and having three Munchkins in diapers PLUS one of them on formula?!
yeah.
THAT wasn't fun.
and it was really expensive.
but what's amazing about this reality is how CLOSE my Munchkins are.
davey doesn't remember life before samantha.
and davey & samantha don't remember life before alexandra.
they're all close.
not just in age.
they're CLOSE.
they LOVE each other.
they NEED each other.
they WANT each other.
don't get me wrong.
they argue.
they fight.
they bicker.
they complain.
they need time to themselves.
but they LOVE each other.
and they don't want to know what life is like without each other.
and to me,
practically an only child,
it's the coolest thing to see.
i LOVE watching them together.
i love watching them interact.
i love watching them play.
i love listening to them talk.
and whisper jokes.
and secrets.
i LOVE these tight connections they're building with one another.
i pray they are always close.
and not just in age.
we arrived home from our washington vacation on a saturday night.
fairly late (after 9pm).
and alex's birthday was monday.
and davey's was wednesday.
some years,
i'm able to do it all.
i'm able to pull together and organize an amazing double birthday party.
like yo gabba gabba meets the avengers.
or puppies and lego.
or daniel tiger meets the teenage mutant ninja turtles.
crazy,
i know.
but somehow,
i've pulled it off every year for the past three years.
but this year,
i just couldn't do it.
i wasn't mentally prepared for lots of kids.
and party games.
and favors.
and kids.
and entertaining.
so we made this the year of the "meaningful" birthdays.
alex had one friend (jada) come over to go swimming.
(they never did swim).
and to play.
and then to enjoy some fro yo.
it was a lot of fun!
and then we had a family dinner that evening.
and we enjoyed gluten free cupcakes and ice cream!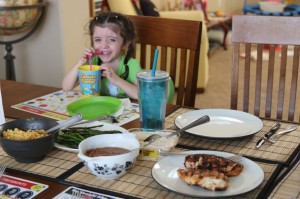 (she didn't choose her birthday meal,
but i did choose things she likes!)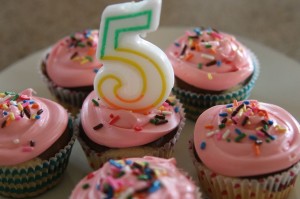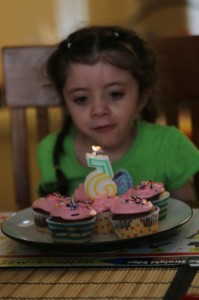 and what's more fun to a FIVE YEAR OLD
(seriously?!
she's FIVE?!)
than opening birthday presents?!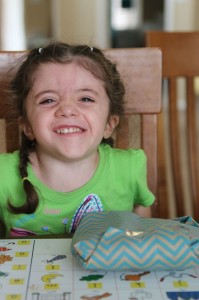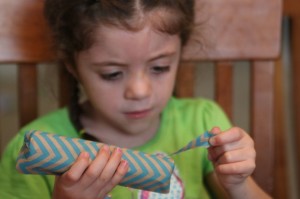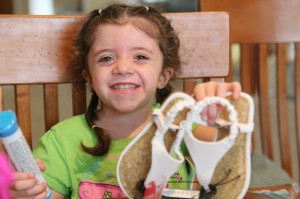 mini M&Ms and new sandals from the other Munchkins.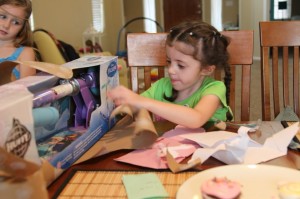 and a two-wheeled scooter from daddy and mommy!!!!
I THINK SHE LIKES IT!!!
in an attempt to make DAVEY's day just as special,
but again,
without the big party,
lots of kiddos,
craziness,
and all that other stuff,
i let him invite over TWO FRIENDS for swimming,
pizza for lunch,
and cupcakes and ice cream.
some of his best friends were out of town on vacation.
good thing he has lots of best friends!
(actually, i think it's a good thing some friends were out of town.
otherwise, his small gathering would have grown to a larger party!)
the boys enjoyed basketball in the pool:
and then some fun water games.
and crazy jumping "contests:"
(samantha may have invited herself to the party, too)!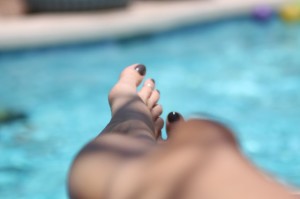 i even got to relax on a lounge chair while the kiddos all enjoyed the pool!
oh.
wait.
and then the crazy jumping resumed:
and then i ASKED them to all jump in together.
but they didn't quite have their timing right.

so i made them try again.
after swimming to the side.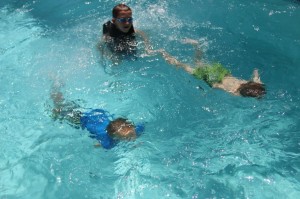 and they STILL didn't get the timing right.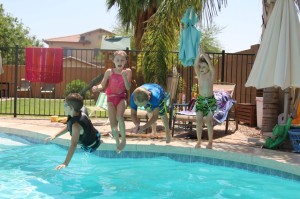 so they had to do it again.
yep.
AGAIN!
and i'm ELATED with what happened:
and before we knew it, it was time for PIZZA
and then cupcakes and ice cream.
(these were the SAME batch of cupcakes from alex's birthday two days earlier.
but i used different frosting.
because boys don't want pink frosting on their birthday cupcakes.)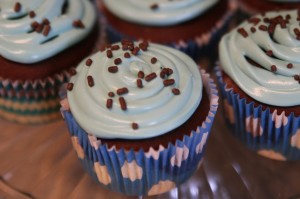 eight is pretty great, huh?!
and,
as if that wasn't enough excitement for one day,
the Munchkins got to watch Cloudy with a Chance of Meatballs 2 that afternoon.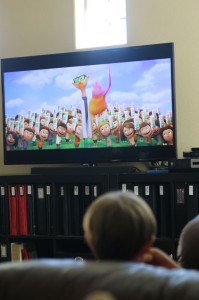 followed by Davey's meal request:
TERIYAKI CHICKEN and RICE!
he ate two helpings!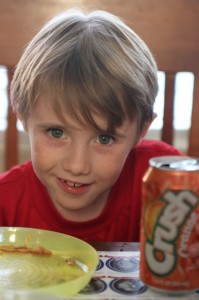 and then he asked to go to FREDDY's for dessert.
request granted!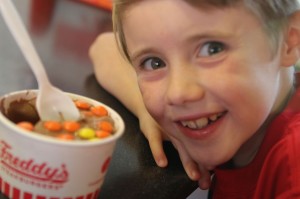 and then we returned home to open presents.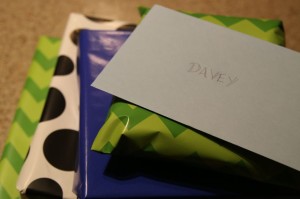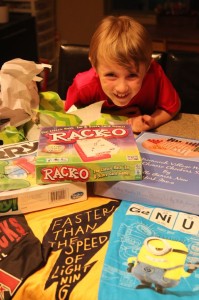 he scored in the game department!
he also got a few new shirts, too!
and then it was time to enjoy a few rounds of RACK-O before bed: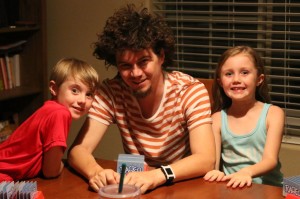 yep.
i'm pretty sure that birthday week is the best.
even if there aren't elaborate parties filled with friends and presents.