in contrast to yesterday, today i took very few photos.
(i know, i know, we're ALL very thankful).
after some morning snuggles,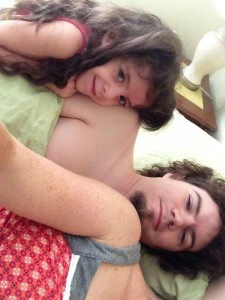 we rushed to get ready for sunday school and church.
since last night was a late night out, this morning's rushed adventure included 4 showers and 1 bath.
it also included doing the hair for TWO girls.
this is the tangle of broken hair ties from yesterday's hair styles.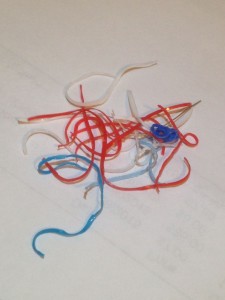 tam tip: i buy those cheap hair ties at dollar tree – 500 for $1.
then, i use finger nail clippers to snip them out of the girls' hair.
it helps avoid pulling too much hair.
and they really only work/last through 1-2 hairstyles before they break on their own.
no, i don't feel wasteful.
someone wanted a new-to-us twist into a bun today: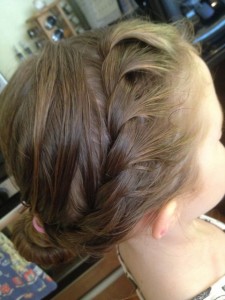 it turned out pretty cute.
i was going to do the 3-braid hair (samantha had it yesterday) on alex, but i ran out of time.
despite the morning rush,
we made it.
with time to stop at starbucks.
AND time "to spare" at church!
the Munchkins seemed to enjoy sunday school where they were each in a group/class with our friends who recently visited (Davey + Henry; Samantha + Jorja; Alexandra + Albert).
it appears that a fun way to wait for parents to pick you up includes karaoke: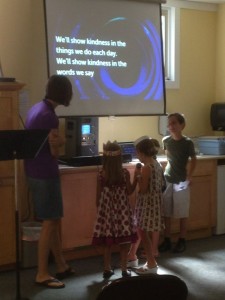 when i peeked in, they were singing this song.
samantha had the microphone.
but davey got a little wild at the end and i could hear him singing yelling the song, too.
(he's up there between samantha and henry, but you can't see him based on my angle).
the big munchkins sat through the main service with us (alex was still downstairs).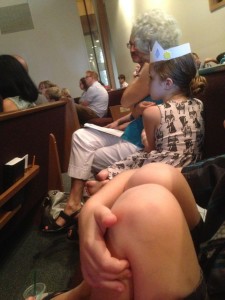 and after the service, it was time for the munchkins to visit grandpa's office.
we used to spend a good amount of time there on thursday mornings after Bible study.
i know grandpa misses his little visitors.
i know the munchkins miss noisily climbing all those stairs.
i also know that grandpa is thankful for his window a/c unit up there.
believe it or not, i had forgotten that i painted up there for him.
it made me antsy to repaint a brighter color!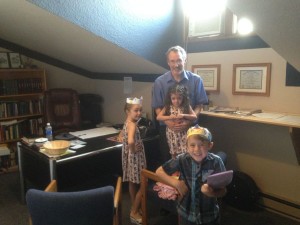 after lunch, we enjoyed a family drive to bellingham for some good Thai food at On Rice.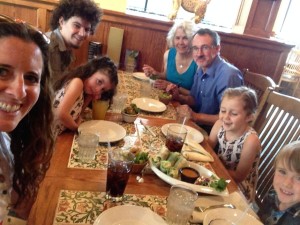 our service was great.
the food was great.
and the pen dad used to sign the bill was great….
and i mean great.
as in big.
huge.
obnoxious.
enormous.
NO ONE is stealing that pen.
unless it's a 3, 4 or 5-year old little girl.
who loves princesses.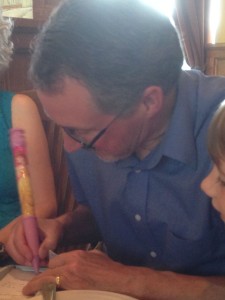 we stopped back at church on the way home to get grandpa's truck.
davey got to ride home from church with him: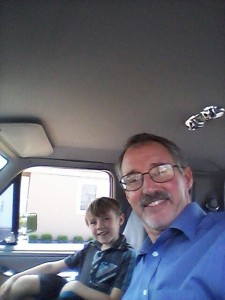 and then it was time for an afternoon of games in the room with a/c:
this girl finished another Ramona book.
i'm not sure WHAT clicked, but i'm so thankful for this new-found love she has for reading.
it really has only happened in the past month.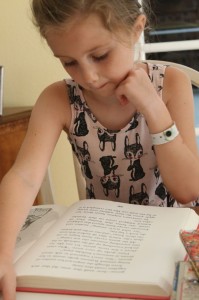 we even logged on to her library account today to add her reading minutes to her summer log.
she made it to 500 minutes, which means she earned a free book!
so we got that ordered – so fun!
i'm so proud of her for achieving this goal!
after games, there was some tv time.
and some napping time.
and then i found this:
it was 90* in the living room.
NINETY.
NINE-ZERO.
and the oldest munchkin was WRAPPED in a FURRY blanket.
i'm pretty sure i sweated just looking at him.
dad & mom went to the evening service while we stayed at home.
dave ran to the store for some dinner fixings.
alex spent a LONG time buttoning and unbuttoning dave's shirt (he changed from a button down to a t-shirt sometime in the middle of the afternoon).
and when grandpa & grandma came HOME from church (over an hour later), there she was – looking all kinds of cute in daddy's shirt.
and then she melted my heart.
dad and i were talking but she wanted him to pay attention to her.
so she grabbed his face with both hands,
turned him to face her,
and rubbed her nose on his.
i think grandpa was taken aback at first.
and he was trying not to kiss her on the lips.
but when I realized she was giving him eskimo kisses, he made some adjustments and my heart melted.
what a sweet moment:
after a delicious dinner of pork chops and left overs, we enjoyed some root beer floats and cooler temperatures outside.
several rousing rounds of RACK-O were enjoyed by all.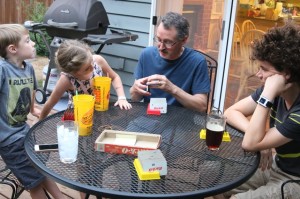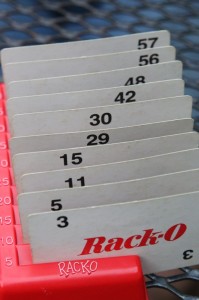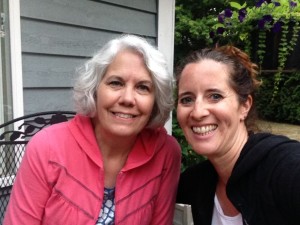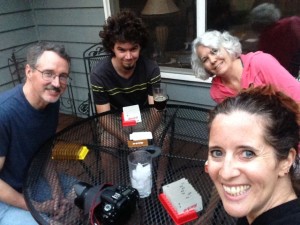 dad and i worked on a puzzle for about 20 minutes and now it's late.
and i'm heading to bed.
but today was just what we needed.
lounging time.
relaxing time.
restoring time.
and though the cousins and siblings and spouses were missed today, it was nice to have the day to recover from the past several days.
because tomorrow we're heading to artist's point up at mount baker.
i'm so excited.