so i'm going to warn you now.
there are over 200 photos in this blog post.
i took well over 1000 photos yesterday.
crazy, i know.
i was able to delete a good 500 or more of them.
we tried to get some "cousins w/ grandparents" photos.
and we tried to get some individual family photos.
which all led to LOTS of photos that could be deleted.
because SO MANY were taken in an attempt to capture that ONE that would work.
but before we get to THOSE photos, we have to start earlier in the day.
all the men (Dave, Dad/Grandpa, Jeff, and Sterling) went for a hike.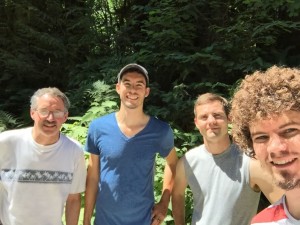 while they were gone, this happened….
some reading around the house…
(thanks for the book, Carrilee! she's reading, reading, reading!)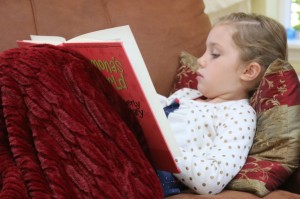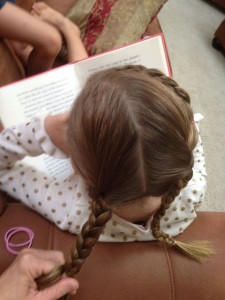 (she even read WHILE i did her hair!)
this is grandpa's coat rack (meaning he MADE it) covered with Munchkins' belongings…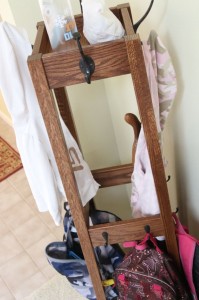 (sorry i didn't take one the other day when ALL the cousins were together, dad!)
while the munchkins read (or in alex's case, wandered the house), i worked on this: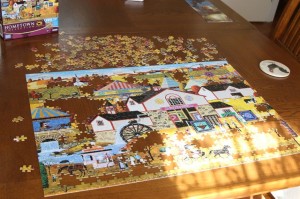 but then it was time for a post-breakfast treat.
so i loaded up the munchkins and we went into downtown lynden.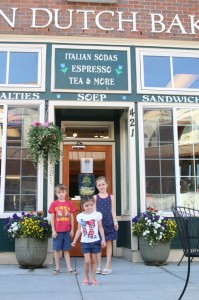 can you guess who ordered which treat?
hint: that one in the back is a cinnamon roll: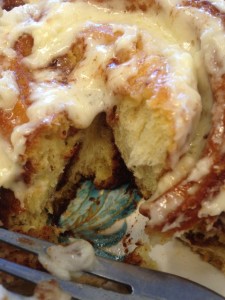 so that leaves the bar, sprinkled donut, and cream filled donut.
have you made your guesses yet?
when you're ready, scroll down to find out which Munchkin chose which treat.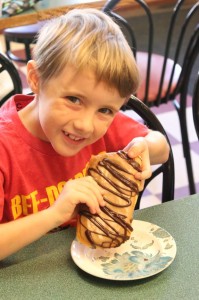 so while we were doing THAT,
the guys' were doing this:
(they had to use that rope to pull themselves up the mountain.
talk about sore arms the next day?
someone forgot this was a more "challenging" hike.)
can you see mount baker through those tall trees in the photo above?
here's a cropped version of that photo: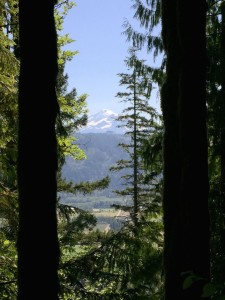 it was a tough hike, but look at the view: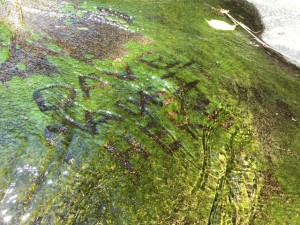 (dave documented that he made it to the top -
"DAVE MADE IT HERE.")
look really close in the next photo – do you see anyone up near the top?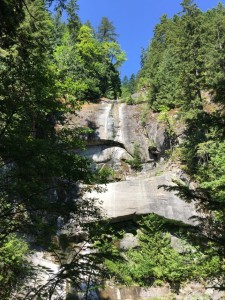 try this (over) cropped photo: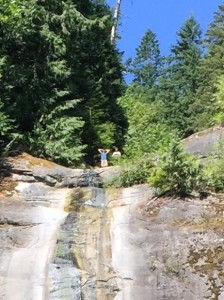 that's jeff and sterling up at the top.
(dave made it up there, too, as evidenced by that earlier mossy photo).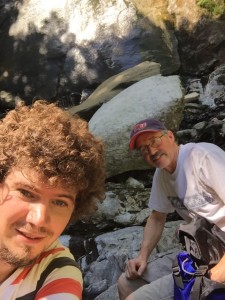 their hike took a LOOOOONG time.
so after returning to the house from our Bakery trip,
the munchkins resumed reading time.
and playing time.
and games with grandma.
and i may have finished this: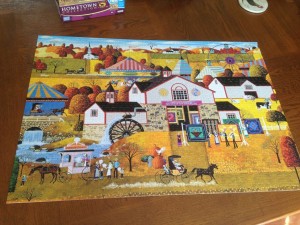 (sorry dad. i just couldn't wait!)
and then when they STILL weren't home at 11:30, i headed out for a few errands.
i cleaned up consignment my area at this place: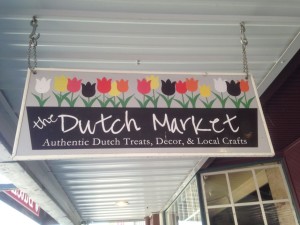 i also marked down headbands, hair pins, and magnet sets.
so head over right now to get some goodies for just $1 each!
i also took a little inventory to see what i need to send up to fill up my area.
and after that work was complete,
i crossed the street to the antique mall (where julie and i were earlier in the week).
i pulled out my list (hooray for my phone!) and started digging: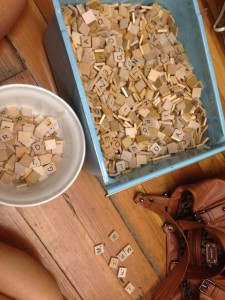 but there were so many tiles in there, that i didn't dig too long or hard.
i could've easily been there for an hour.
or two.
i pretty much sorted from the aqua drawer into that white bowl.
and when the white bowl was full, i just "dug" through the drawer.
and in the end, Tam's Treasure Box purchased 25 more tiles to help make some more Christmas ornaments for craft shows this season.
the guys got home about 45 minutes after i did.
we enjoyed a filling lunch and some more downtime before heading to bellingham for a family picnic.
i had gone an entire day without seeing this little dude.
he seriously melts my heart.
and he's easy going.
and photogenic.
and he just seems to LOVE life.
(i think this makes him a lot like BOTH parents).

it was the first time i saw the inside of jeff & taryn's house.
(well, i peeked in the other day, but i didn't see too much before it was time to head out for shopping & pedicures).
the house is beautiful.
they've done a ton of work already.
and there's still tons to do.
but i love what they've done.
and what they plan to do.
and what they're in the middle of doing.
it's a 1400 sq.ft. home in a cute neighborhood.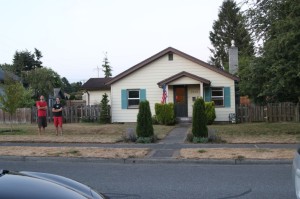 it has some small rooms (especially the living room),
but they've done a great job with it.
and i've always loved their decorating style.
well, taryn's decorating style.
but jeff helps a lot.
one of their newest additions is this SUPER FUN light in their office: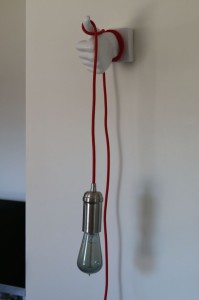 i LOVE it.
and it turns out that it just arrived during the week.
and jeff just hung it on Friday.
these hanging plants are super cool.
another jeff purchase.
their dining room table was moved outside for us to enjoy our meal all together, so the dining room was a spacious place for the day. they plan to have dad build some benches (i know the word but not how to spell it and i'm too lazy to look it up though in the time i'm typing this explanation, i could've looked it up!) for two sides of the table to make more space. but for now, i love their wall decor: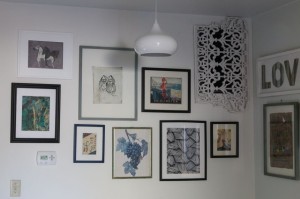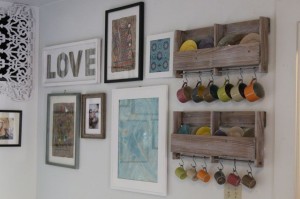 by the next time i see the kitchen, it will have some changes.
but it's not horrible.
even though it's not "open," it feels that way.
probably because you walk through the kitchen to the hallway and to the back door (that leads to a mudroom/laundry area).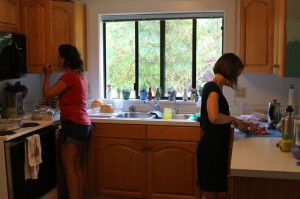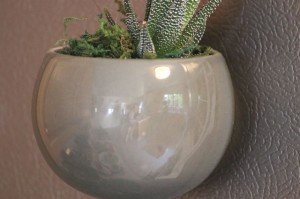 the immediate kitchen change will be removing cabinets above rachel's head – on the right – and knocking down the wall and the lower cabinets/countertop to "swing" the lower cabinets against the wall into the far side of the dining room (no photos available). the upper cabinets will become open shelving between the existing window+cabinet and the window in the far side of the dining room.
once that move is made, some cabinet painting will occur.
here are some color samples: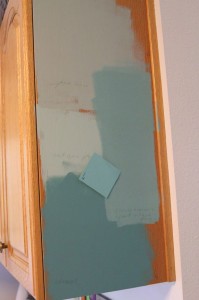 the darkest color is awesome.
but probably a little too dark for the long, dreary, grey winters up here.
and the color just above it on the left is a bit light.
and doesn't look great with the existing white paint on the walls.
at first i loved the color on the right (1 part light, 2 parts dark) but as the day progressed, i changed my mind.
it might be a bit too muddy?
so i think taryn might play with the color a little more.
but i love the plan.
just off the kitchen there's a hallway leading to a bathroom and two bedrooms.
i love the chalkboard area: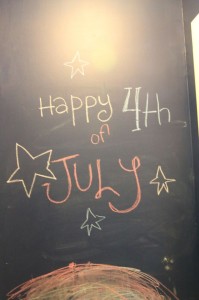 taryn and one of the cousins did a great job decorating!
please remember that this 1400 sq.ft. home is CURRENTLY housing 1 toddler + 2 adults.
and for the long weekend, there are TWO MORE toddlers + TWO MORE adults in there.
or, rather, in cooper's room: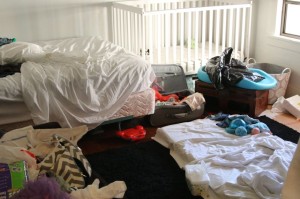 (good thing his room is large!)
i love the decor:
as you can tell, taryn has some serious talent.
she comes by it honestly.
she's an AMAZING artist.
and her mom is an interior designer.
as this post progresses, you'll find more photos of the backyard.
but i want to make sure you see this back door mat: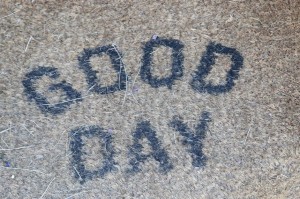 and a very dark (aka: late at night) view of the back of their house: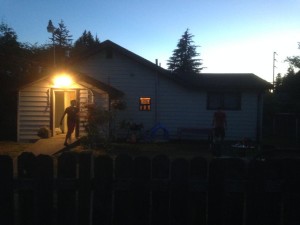 while some cousins spent some time INSIDE,
others were enjoying cooper's toys OUTSIDE.
this ride on mickey mouse car got LOTS of use.
then again, who wouldn't want to use it when there's a slope/RAMP from the backdoor down to the back gate!?!?!?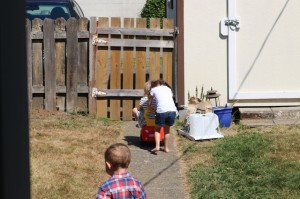 such a sweet moment between these cousins: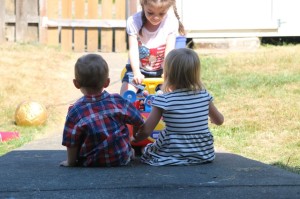 and then the girls played so well together:
while the girls were out back playing,
and while taryn, rachel, and i were in the kitchen working,
some of the guys were out front playing…. catch! (seems to be a theme of the weekend):
at one point, taryn and jeff wanted us to see just how much cooper loves to hide.
this kid is SERIOUS about his hiding.
especially when it's time for a diaper change.
sometimes taryn can't actually FIND him.
in their 1400 sq.ft. home.
so it's not so funny then.
but on a day like yesterday, when he was "hiding" in a usual spot but all the surrounding furniture was no longer there to actual "hide" him, it was pretty funny.
(he's standing in the corner of the dining room – below all that fun artwork, looking at daddy & mommy in the kitchen):
and after i snapped those photos and went to set down my camera, i found a little beauty relaxing on a fluffy pillow on the couch.
so i attempted a little photo session with this cousin:
and i LOVE the photos.
even though it wasn't easy to get those sweet and genuine smiles when THIS is the face she kept providing: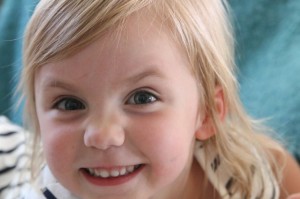 what a goofy girl.
or, as grandpa would say, "what a gink!"
(i've been hearing him say that word for years now.
but this weekend, i just discovered that it's a word dave made up as a kid.)
the holiday menu was fish tacos with spicy crema, guacamole, refried beans, blue chips, salad, and lemonade. i used some left over fresh foods to make a quasi-pico, too.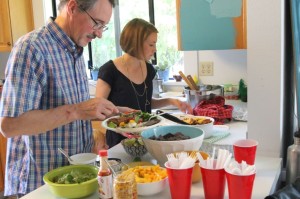 (granted, samantha's favorite part of the meal involved the mangoes for the fish tacos.
and the sour cream.
and, being the girl she is, she combined the two.
and ate THREE helpings of it.
i'm NOT kidding.)
i wish i had better photos of taryn's flower garden area.
i'm excited to see this area over the coming years.
to see how it stays the same.
and how it changes.
and how it grows.
it was beautiful yesterday.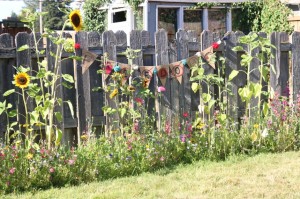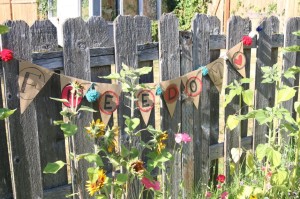 their backyard is a great size already, and they actually own back beyond the fence line, so they'll be able to make it larger as the years go by.
i loved the little decorations  taryn had around the yard.
there were handmade yarn pom-poms in the trees,
pin wheels in the flowers,
that FREEDOM banner above the flower garden,
little clusters of flowers on the backyard tables…
and this one was my favorite: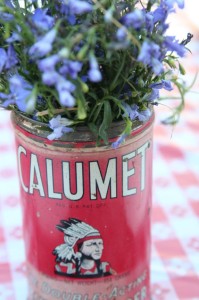 did i mention to you that she's canadian?
yep.
but she's fully embrace america.
and our family.
and i'm SO THANKFUL to have her as my sister!
along with being a talented decorator, and artist, and gardener, (not to mention an AMAZING mom),
she's also a photographer (who hasn't practiced in a long time).
so it's been fun to hand the camera over to her a few times this weekend.
(feel free to pick it up and click away ANYTIME, taryn).
she captured this one that i like: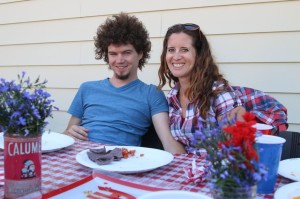 and this one that i find funny: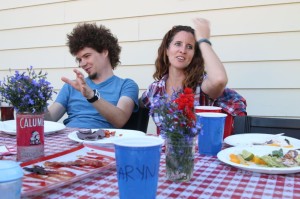 and then there was some flower sniffing initiated by alex:
followed by some real cousin love: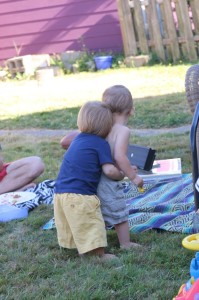 after that aggressive hike this morning, dad/grandpa pulled a trick that HIS dad taught him. it's called "how to fall asleep while sitting upright at family gatherings:"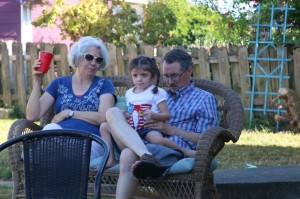 but moments later, he was wide awake, giving his full attention to 5/6 of his grandkids: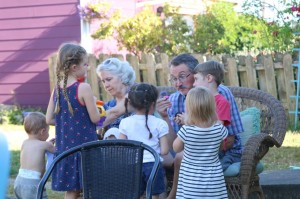 have you even known a couple that is touchy-feely?
always touching?
always demonstrating their love through little moments?
little touches or glances or unsaid phrases throughout the day?
that would be this couple: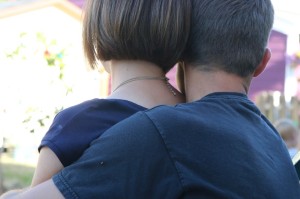 and, honestly, it warms my heart to see it.
keep the love alive, my family.
what a beautiful witness to their kids.
what a beautiful lesson for their kids.
what a beautiful sight for us all.
and before i get any sappier, i'm going to move on the funny (and slightly frustrating) part of the day…. PHOTO SESSIONS!
we all wore some version of red, white, and/or blue yesterday, KNOWING that we were trying for some photos. AND because it was the 4th of July (that's how we chose the color scheme, in case you didn't pick up on that). and even though i loved the backdrop of taryn's fence and flower garden for the photos, when the AMERICAN FLAG TRUNK came out of cooper's bedroom, the stage was set….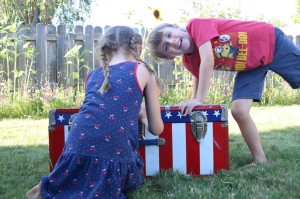 in the trunk.
out of the trunk.
on the trunk.
next to the trunk.
behind the trunk.
in front of the trunk.
the next hour would bring ALL of those positions.
and probably more.
let's start with the Jeff Dunkin Family…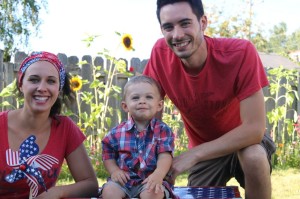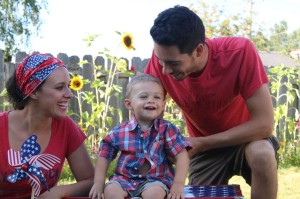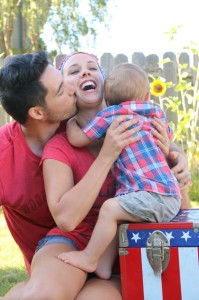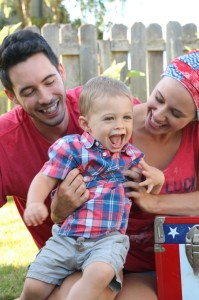 and though i took a good 60+ photos of these three, i deleted over half of them.
but that still leaves me with a lot.
and i've narrowed it down to these 4.
aren't you thankful?!
next up, Taryn took over the camera and the Dave Dunkin family got into the action: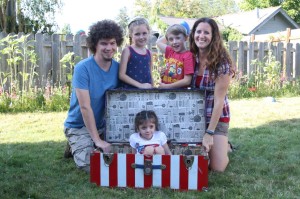 after we rotated seating arrangements, there was one Munchkin who was really crabby.
and wouldn't smile.
until taryn suggested we ALL look crabby.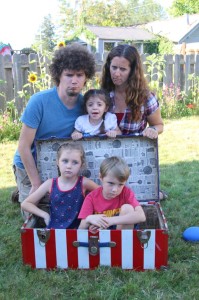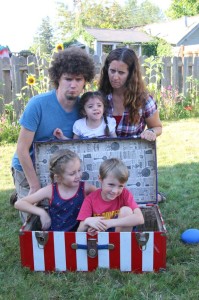 as you can see in the last photo, that made someone change their facial expression!
while we gathered the next family unit, i managed to capture a PAGEANT photo of rachel: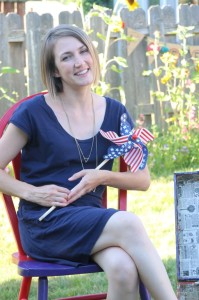 followed immediately by the "i'm running for congress" photo: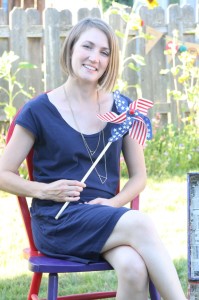 why is it so hard to get everyone looking at the same time?
i mean, i expect to not get the kiddos all looking at the same time.
but when THEY look, i expect the parents to be looking at/near the camera.
please, oh please, sterling, tell me WHAT IN THE WORLD were you looking at?
you're old enough to know to look at the camera!
perhaps i need to glue one of those rubber chickens or something to the top of my camera.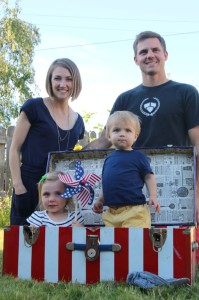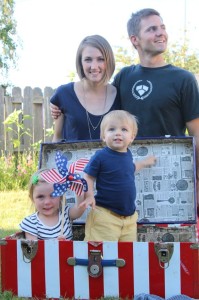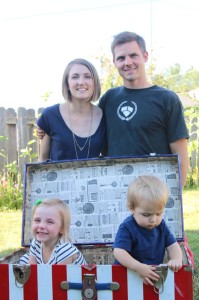 this little man was not having ANYTHING to do with photos: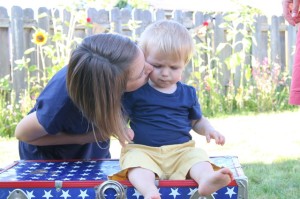 big sister tried to help.
but while he looked like he was being strangled,
she went from this natural face….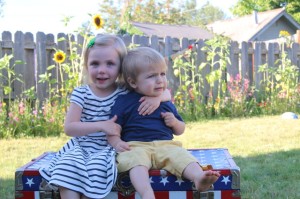 to losing her upper lip with her smile,
which looks a little sinister
and it made little brother even more upset.
"please help me mom!" is what his face says here: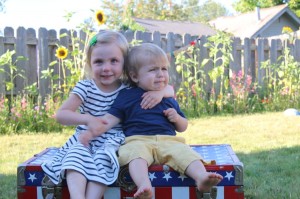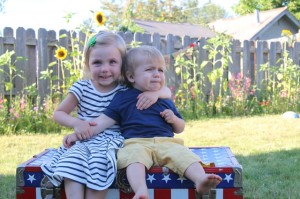 but when mom didn't help and rescue him,
he tried looking up and to the OTHER side of the crowd to find another family member to help him.
"SOMEONE. ANYONE! PLEASE HELP ME!"
but no one did.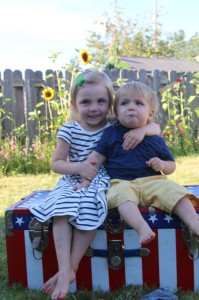 but then this photo magically appeared on my camera: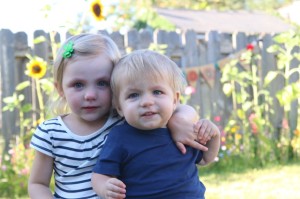 completely acceptable.
but the very next photo revealed a scowl.
a very deeply ingrained scowl.
i LOVE that cooper popped into that last photo.
he heard clapping.
seriously.
the kid LOVES attention.
but the dynamic of "The Scowl" compared to his "Camera-Made-Smile"
caused taryn and i a serious fit of the giggles.
auntie taryn finally took pity on little brother.
but she didn't rescue him.
she pulled out her headband/headwrap/tube top/miniskirt/peek-a-boo fabric and managed to get him to giggle.
i kid you not.
he thought she was hilarious.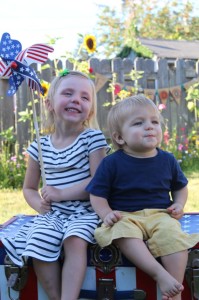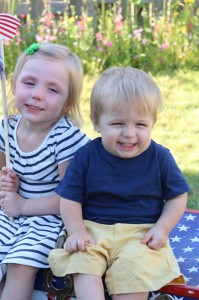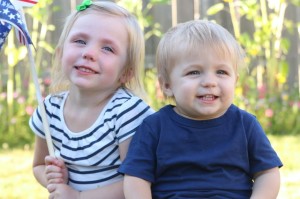 and THAT one, my dear friends, was the winner.
and then this appeared in my lens: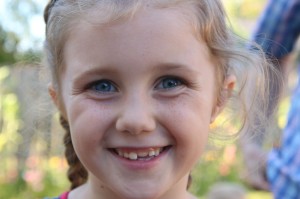 some days she pretends to be camera shy.
but most days, she pops right in with that big grin.
i'm already sad that tooth is growing in.
i hope the next front tooth (which is loose) pops out soon!
and then, my friends, it got all kinds of crazy.
let me remind you of the ages of the cousins:
almost 8, 6, almost 5, 4, 17 months, and 16 months.
three munchkins are VERY used to the camera.
1 cousin is also VERY used to the camera.
2 cousins are a bit less used to the camera.
but when you add them all together?
CRAZY does not describe it.
i really, REALLY wish i could've seen the view BEHIND me.
5 parents + 2 grandparents trying really REALLY hard to get ALL SIX COUSINS to look at the camera.
and smile.
and put their legs down.
and sit up.
and look at the camera.
and put down the pinwheels.
and take their thumb out of their mouth.
and smile.
and look at the camera.
and sit up.
and sit back.
and sit still.
and look at the camera.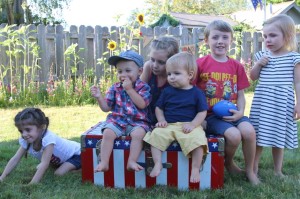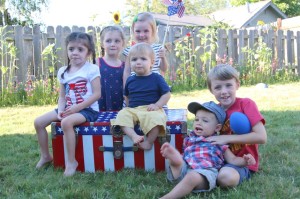 and it didn't happen.
so we took a break.
and some little girls did a quintessential summer activity….
they ran with a pinwheel to make it spin.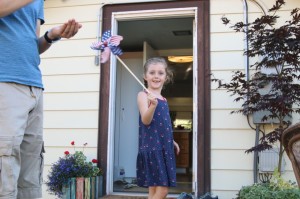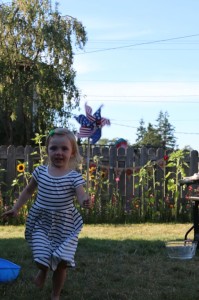 and i even got a good photo of this one: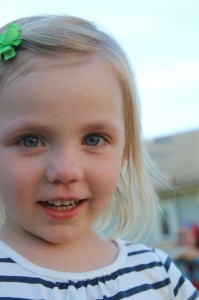 and then we RE-GROUPED, put grandpa & grandma in the photo, and tried again.
this time there were only 5 parents behind me.
trying to make the 6 cousins AND 2 grandparents look at the camera.
and smile.
and put your leg down.
and look at the camera.
and stand up.
and sit down.
and move forward.
and take your hand off his head.
and look here.
and look at the camera.
and smile.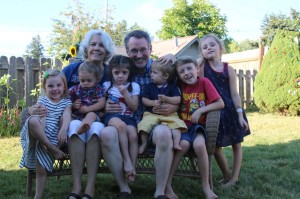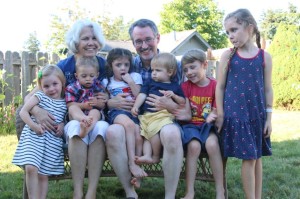 and again, it wasn't very successful.
so we RE-GROUPED.
we bribed cousins.
we tried again.
again, 5 parents saying "look here!"
"smile!"
"we can't see your face!"
"don't slouch!"
"look at the camera!"
"sit still!"
"put your hands down!"
and in the end,
these photos are a wonderful memory of the difficulty of getting 6 little cousins into the photo with their 2 grandparents.
and they show the different personalities of the cousins.
and they show how much grandpa & grandma love their grandchildren.
and that makes them priceless.
and i'm so thankful i don't get paid to be a photographer.
and i'm thankful i don't have to do this for other families.
but i loved it yesterday.
i laughed.
and i laughed.
and i laughed.
and i am so thankful for this family.
i am so thankful for this weekend.
i am so thankful for this TIME we have had to be together.
once the photo session pressure was over, the guys resumed a game of CATCH.
until the football went into the neighbor's yard.
they have dogs.
two of them.
pit bulls.
but they weren't in the yard.
sterling decided to risk it.
he jumped the fence in a most impressive manner: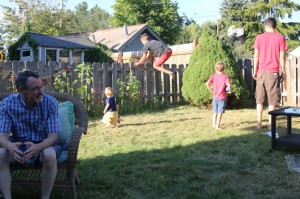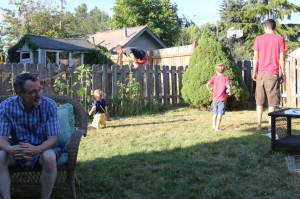 ball rescued!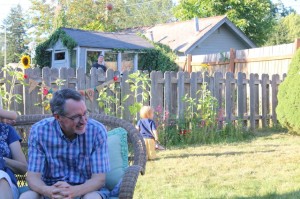 now to get back to the other side:
and then, upon my request (with the excuse that Jeff & Taryn hadn't been able to enjoy the show the night before), Sterling did two more flips!
ONE: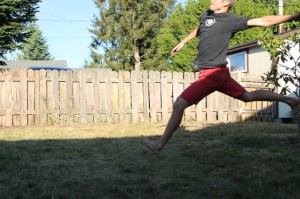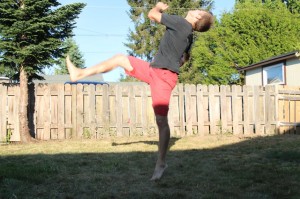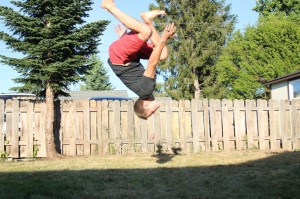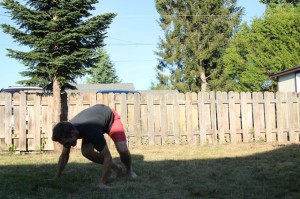 you can see he successfully landed BOTH flips.
and not to be left out, little cousin got in on the action, too, with the help of dad: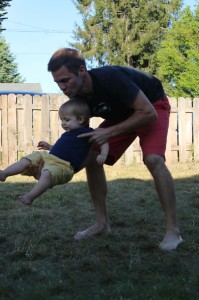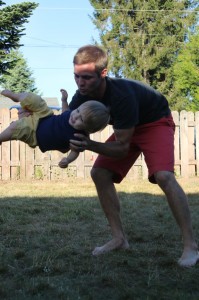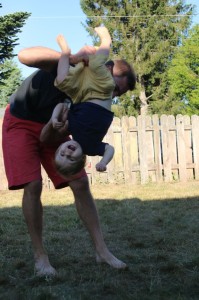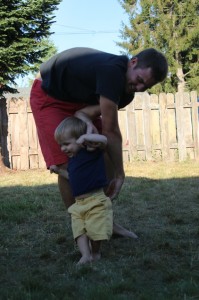 without planning it, this turned the evening into a Talent Show.
it started with sterling's fence jumping and flips.
and then little brother/cousin did HIS flip.
and then the girls had a chance to put on a show.
it was SOMEWHAT impromptu.
the day before, they had planned to "do a show" for us in the evening.
samantha was going to sing.
and cousin was going to dance.
and they practiced a little.
only samantha practiced by singing a song she made up.
a song about cousins.
and vacations.
and friendship.
but their ACTUAL performance was something NO ONE expected.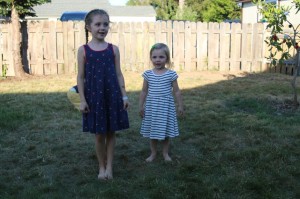 samantha sang, "My Country 'Tis of Thee"
while sweet cousin performed some very realistic ballet moves:
and they surprised us all.
in a good, good way.
it was sweet.
and innocent.
and endearing.
and beautiful.
and a certain uncle found it VERY moving: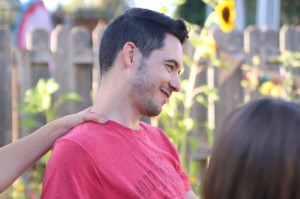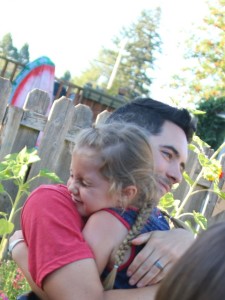 there's was a grandpa who was very impressed and thankful, too: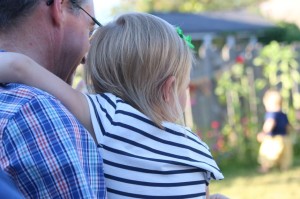 and not to change the mood from amazingly sweet and sentimental to something totally different, but taryn could NOT stop laughing at sweet cousin in his "shorts" that looked like very, VERY wide-legged "short pants" and when we saw the above photo (as sweet as it is with Papa and sweet granddaughter/cousin), taryn could not stop cracking up. because there's little brother in the background with his pants shorts. 
as if that weren't enough FUN for one family gathering.
on TOP of it being a national holiday, that is,
we opted to take this chance to celebrate summer birthdays.
there are FIVE in our little family.
one in june.
four in july.
(and the 4 in july are in a 16-day span!)
i whipped up some GF cupcake (box mix), complete with frosting (from a tub) and blueberries (from taryn's freezer):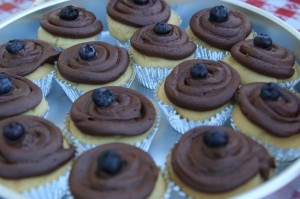 they were topped off with polka-dot birthday candles from dollar tree.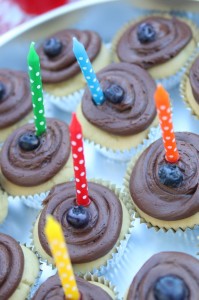 before we ate the yumminess,
we snapped a few photos of the summer birthday persons.
but they were photo bombed by an OCTOBER birthday girl.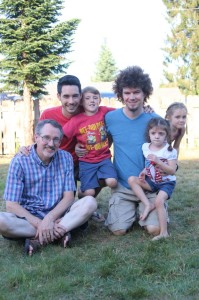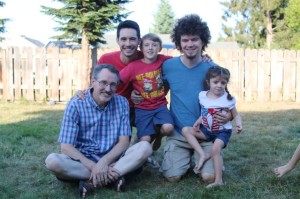 so we sang ONCE to all FIVE of them (that was a little crazy!)
before we lit the candles.
and then we lit the candles and sang AGAIN.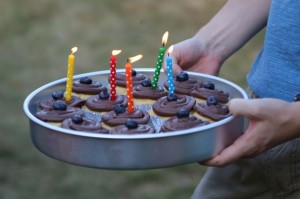 and my oldest munchkin was designated as the "candle blower:"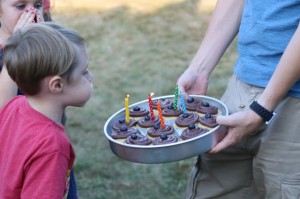 he did a very thorough job with little (if any?!) spit.
but then the October Photo Bomber decided SHE wanted to ALSO blow out the candles (that were already out):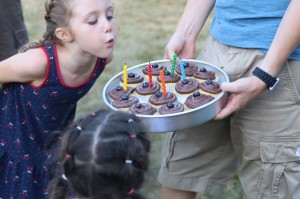 and then we ate.
and made big, big messes with frosting.
especially the littles.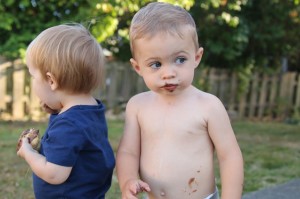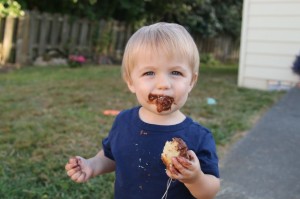 (yes, we know there's GRASS in that cupcake.
he didn't care.
we all opted not to care, either.)
but what he DID care about was mommy's cupcake.
you see, he was finished with his.
so mommy was holding it in her hand.
there was even still frosting on it, so that wasn't the problem.
but in mommy's OTHER hand, was HER cupcake.
and he wanted it.
for no other reason than the reality that he's 17 months old.
so he got mad.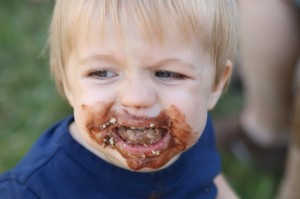 and he tried to reach for mommy's cupcake.
even though HIS cupcake was within easy reach.
he was SUCH a mess: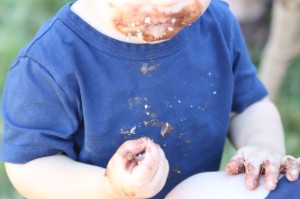 in case you haven't fully grasped this yet,
he WANTED that cupcake.
mommy's cupcake.
the one in the OTHER hand.
farthest away from him.
held up out of his reach.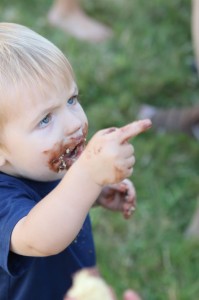 i don't really remember how this ended.
but i think it ended with mommy eating her own cupcake.
and him wandering off.
thankfully, not EVERYONE was a messy cupcake eater: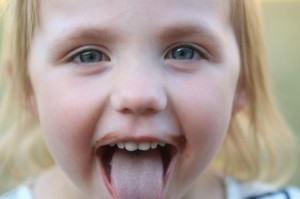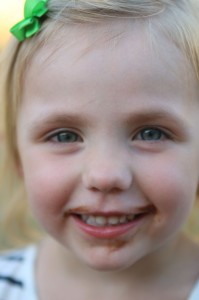 but i may have spoken too soon: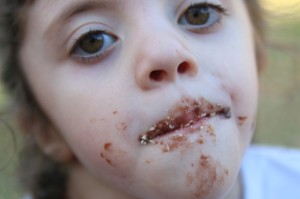 and for unknown reasons, all the cousins decided to wander over toward uncle dave.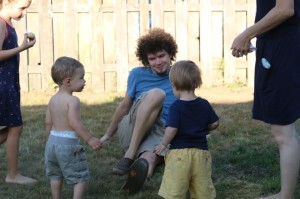 he had already finished his cupcake.
neatly.
cleanly.
with minimal mess.
and NO food in his goatee.
but the cousins,
with their still messy faces,
AND hands,
and clothes,
began to swarm.
so after ONE leg went up for defense,
the other leg went up…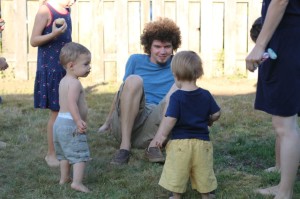 and then the littlest Munchkin moved in.
and daddy discovered that she was just as messy as the little boys.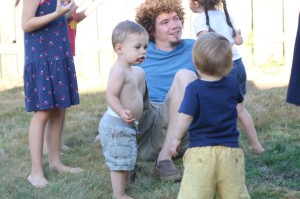 and MORE cousins started to surround him.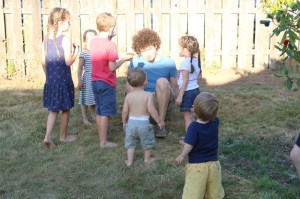 so he wisely got up and out!
frosting-free.
and parents swooped in to clean up some messy faces.
and hands.
and bodies.
and hair.
and legs.
and bellies.
and sides.
yep. it was EVERYWHERE.
and after clean up was finished,
the little boys were in bed.
and the grandparents were gone.
and the girls had to say both GOODNIGHT and GOODBYE to cousin….
it was SO SWEET to see them love each other so well: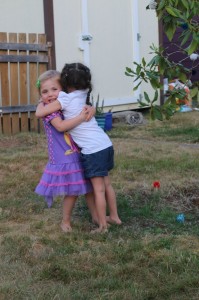 and to watch them have a conversation.
i can only guess regarding the topic.
but their mannerisms,
and their expressions,
and their body language,
were all so grown up!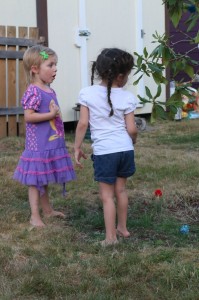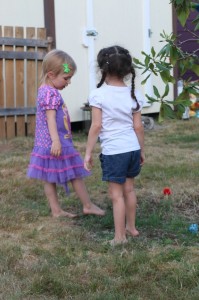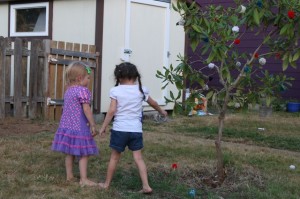 i really wish we lived closer.
these two are 9 months apart.
they had so much fun together.
and then these two:
the oldest and the youngest girls.
and at that point, the day was over.
it was time to head home.
except right before we were headed out to the car,
there was a front-yard deer sighting.
but by the time we had the camera and the view,
the deer had walked across the street.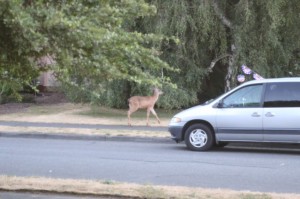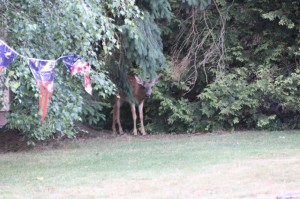 that deer sighting was the perfect ending to a fantastic family party.
and on our drive home, we were able to enjoy the drive by view of some fireworks.
it was a 4th of july for the record books, for sure.
ADDED AFTER INITIAL POST:
i apologize that i forgot to tell you this when i wrote this blog post.
i think i was a little overwhelmed that day.
but after we saw the deer at the end of the evening,
but before we were in the car to head for home,
alex wandered out the front door.
thankfully, dave saw her heading out.
(none of the other FOUR adults in the room at the time saw this happen.
guess who loses "babysitter" potential?! haha!)
so dave went outside to find out where she was headed.
here's their conversation (to the best of my recollection from his re-telling):
Dave: Alex, where are you going?
Alex: To ROAR the reindeer.
(pause)
C'mon.
(pause)
Let's go! We can go in the street! I want to scare him.
do you see why i had to come back and add this to the blog post?!
hahahahahahaha!