i started early again this morning.
i was so blessed to have THREE friends to walk with today.
Sara, Shelly, and Karla – I love you all dearly!
thank you for letting me take a photo of us.
as promised, it's not HERE or on FACEBOOK or on INSTAGRAM.
i keep my promises.
after a dusty, sweaty walk in the county with my friends, i got cleaned up and then, the moms in this family (x3) and the mom/grandma (x1) headed out for a little bit of shopping at the mall (CHILD-FREE!!!) before getting pedicures.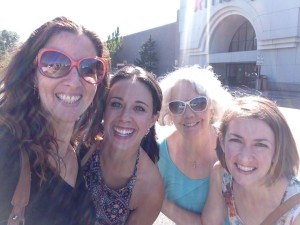 it was mostly about being out as opposed to actually "shopping," but i managed to find a few things to bring home anyway.
i fell in love with a ridiculously soft baseball style t-shirt at Macy's and a pair of coral capri denim at H&M. i also found shirts for each of the Munchkins at H&M.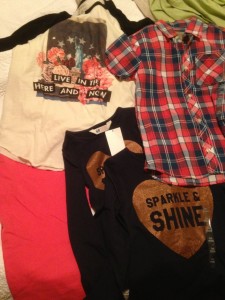 i think my favorite part of a pedicure is every part.
except when it tickles.
today it tickled.
i think it had more to do with me than with the woman.
while we were out doing that,
my amazing husband took the Munchkins to Lynden City Park for an hour:
some photo credit belongs to samantha, i think.
it looks like they had a good time.
this afternoon, i sat down to work on this masterpiece some more: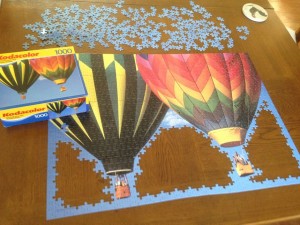 and, instead, while dad was out, i boxed it back up (after pulling it all apart). it was just a nightmare of a puzzle from piece one. and i'm on vacation. i'm all for a challenge, but i feel NO SHAME in giving up on that puzzle today.
we pulled out another one a few hours later:
one of my favorite sounds today had to do with these cousins: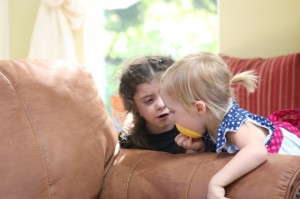 they played and giggled and laughed and giggled and talked and giggled and giggled and giggled and giggled!
two years ago (when they were each 2 and when they last saw each other), they weren't nearly so interactive. now they're playing together.
and it's the sweetest sound!
this munchkin did an amazing job today keeping those little girls BUSY and ENTERTAINED: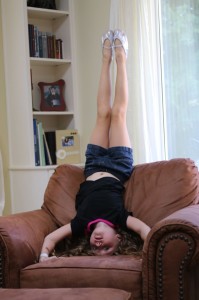 and though we're SO VERY VERY THANKFUL for this loaner: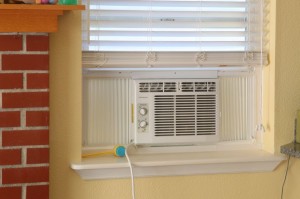 it's fantastic to be able to enjoy being outside together.
playing catch.
putting balls into buckets.
taking balls OUT of buckets.
kicking a soccer ball.
i know she'll be mad at me for sharing these photos, but it's what i do. sorry, Rach!
i LOVE her facial expressions as she pretends to pitch a ball to davey.
not too bad, sis, not too bad!
for dinner we had some yummy grilled chicken strips – good work, Dave!
this cousin looked like he was having fun today: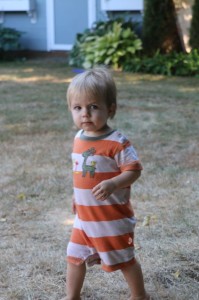 and without any forewarning, THIS happened: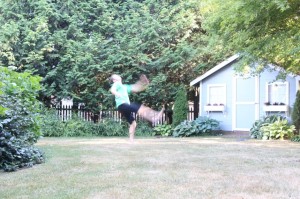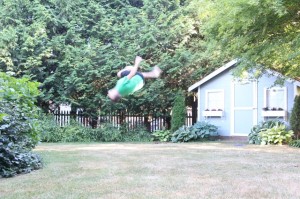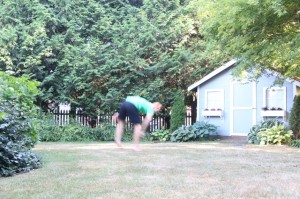 and, as you can tell, my shutter speed was too slow, so my photos were blurry.
so i fixed that and then asked Sterling to give us a repeat performance:
though, as you can see in the last photo, he didn't get quite as much height on that last one and he almost missed the landing. i didn't ask him to repeat it AGAIN for more photos. i'll wait until tomorrow to do that!
mommy picked some raspberries off grandma's plant and gave them to this cousin as a treat. he wasn't quite so sure what to do with them at first, which is funny, because he likes food. a lot.
yep.
he wanted more.
his delight really made me wish i would enjoy eating one.
but raspberries really don't cut it for me.
it's just not a flavor that tickles my taste buds.
there were lots and lots of little piles and messes everywhere today.
and every single one of them is worth the effort of clean up.
because it means the cousins are playing together.
they're having fun.
they're building relationships.
we all live so far away and live such different and separate lives that vacations like this are to be cherished. including all the little messes and piles. 

puzzle time really is fun in this house.
at one point, we had THREE puzzles on the SAME dining room table.
the one above (the NEW one, not the hot air balloons), and then these two:
my little pony and ironman.
good stuff.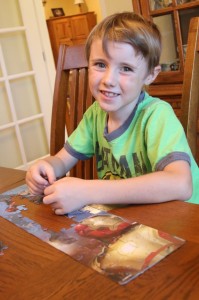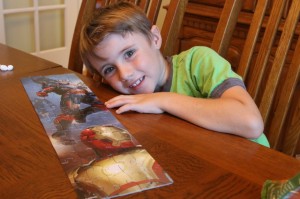 under the leadership and direction of samantha,
the little girls started playing "menu" with each other.
it's when their giggles were the loudest.
they kept going out on grandpa & grandma's back deck to have their private dining experiences.
they were so sweet.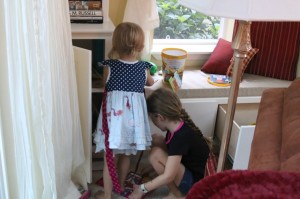 (LOVE LOVE LOVE that little pony in cousin's hair.
that was all samantha's work!)
davey and grandma played some games, too.
from what i heard, grandma won at chinese checkers and davey at won trouble.
we totally missed the littlest cousin's face today, but we're excited to spend time all together again tomorrow. i even finished this evening with more puzzle time (with grandpa) and by making cupcakes (a boxed mix) for tomorrow's shindig.
there's been a request to take specific photos tomorrow.
family photos.
and cousin photos.
and grandparents with the cousins (aka: grandkids).
i'm sure i'll overshare again tomorrow.
i think you've become accustomed to it.
unfortunately,
brother/son/uncle tom is STILL in chicago instead of here with us,
but we'll figure out a way to get him in there.
(two years ago, we had a photo of him in our family picture!)