so i decided i couldn't let the last full day of our trip go without being blogged.
so here i am.
the next morning.
sitting down to write it all out.
only now that i'm comfy on the chair,
i'm wishing i had a hot mug of tea in hand.
or a mocha milkshake (worth a bajillion calories) in hand.
yeah – i'm not too discriminatory, i guess.
my morning yesterday started with another drive out to Sara's house.
you remember her.
she's the one that's not me and not a newborn in this photo: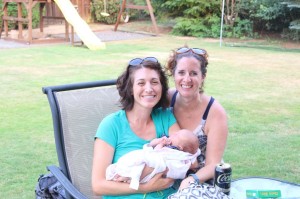 this is the long driveway to her place: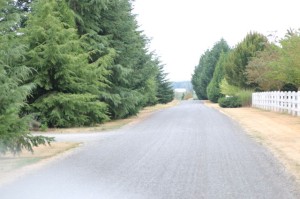 (fun side note, that driveway to the left belongs to another dear friend – Shelly!)
over the past few years,
sara (a science teacher!) and her husband (a doctor!) have started a new business on their little farm.
and they're about to LAUNCH their products.
and their website.
and their blog.
their business is called BEE IN BLOOM.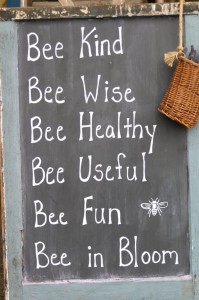 they've been bee keepers for the past 3 years.
and they're also lavender farmers now.
while they still maintain their other jobs.
i know.
they're crazy.
but yesterday morning, i went out to The Farm to take product photos.
and i had SO MUCH FUN.
while sara kept her eye on the distiller,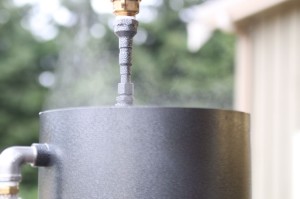 and while she geeked out over the chemistry involved in that process,
i reeked out about close up photos.
apparently that's REALLY my thing.
people or products – doesn't matter.
it's about CLOSE UPS for me.
but i don't want to give away the photos that you'll be able see on THEIR website and blog.
so instead i'll give you a few quick peeks: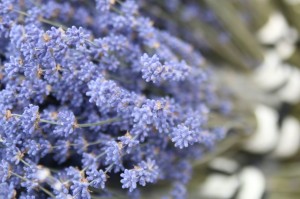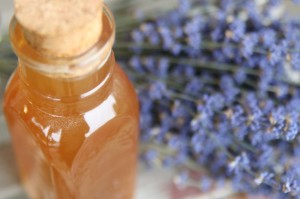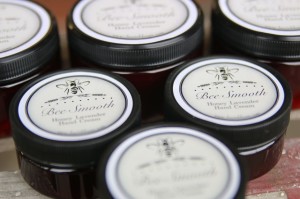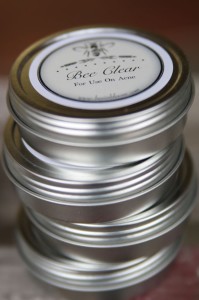 fun stuff, huh?
pretty soon they'll have their product for sale on their website.
and later this month,
sara will have a booth at the
TREASURES UNDER THE TENTS VINTAGE MARKET
at The Lavender House
in Lynden, Washington.
but there's a bonus!
The Green Barn
in Lynden
is also carrying ALL of their products!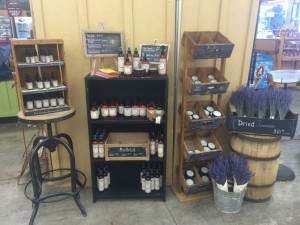 this super cool display happened last night!
thanks, sara, for letting me geek out over product photos.
and thanks for letting my amateur photography skills try to make your stuff look good!
and thanks for the free lip balm!
i LOVE it
(in case anyone wants to know, i chose the Lavender Honey lip balm.
with tint.
because i LOVE the shape of the tube.
it's not pictured above, but it's oval.
if you want "clear" (aka: no tint) then your lip balm is in a round tube as seen above.
before heading home to see the family,
i stopped by Shelly's house for a cup of tea and a nice visit.
with 5 kiddos ages 1.5 to 9 running around the house,
it's not always relaxing.
but it's home.
shelly even made brownies.
from scratch.
while i sat in her kitchen and tried to convince her youngest to smile.
(i think she eventually pitied me and gave me a fake grin).
we had a nice long visit.
thank you, shelly,
for your love.
your real-ness.
your kindness.
and your tea and brownies.
i miss you already.
i will be forever grateful for the T – I – M – E
i have had on this trip to spend one-on-one with so many dear friends.
i feel the need to say it again: these are the friends who helped mold and shape me into the mother i am today.
many of them knew me single.
and were there for my wedding.
and watched me learn how to balance work and marriage.
and then they watched me as i was pregnant.
x three.
and they encouraged me,
supported me,
uplifted me,
prayed for me,
prayed WITH me,
cried with me,
laughed with me,
laughed AT me,
and so much more.
back at home,
grandma found some green beans in her garden.
the girls helped her clean them and
break them.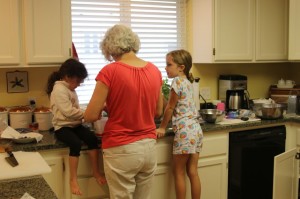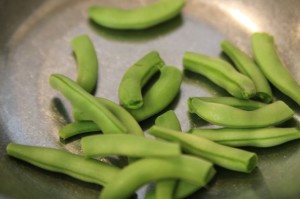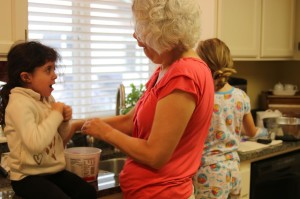 alex struggled a little with breaking them.
but she made some FUNNY faces while trying!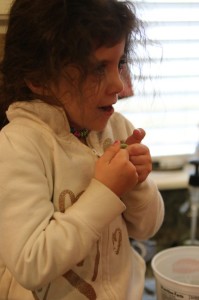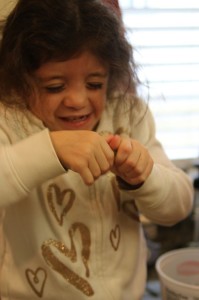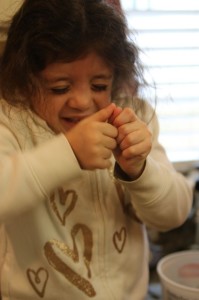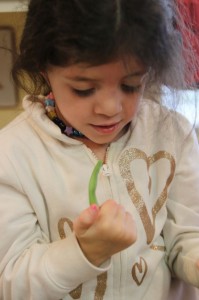 after lunch, the munchkins broke into their party favor bags from Jorja's party: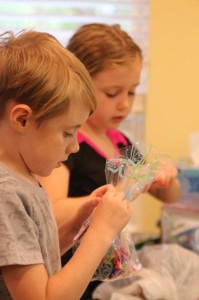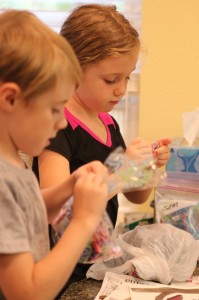 while i took a photo of the puzzle dad and i stayed up late the night before to finish: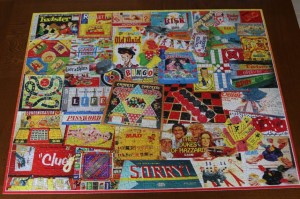 (i wrote blog post day 13 AFTER finishing this puzzle.
and it was almost midnight when we finished the puzzle.)
then, while the munchkins enjoyed some "grandparents only" time,
dave and i enjoyed a day-date!
we started with wine tasting here:
(it's both comical AND sad that this sign has to stipulate "no… mood altering substances" by their outdoor venue. remember all the pot places i showed you the other day?)
i wouldn't recommend that winery.
the wines were "enh."
the atmosphere was "blah."
and the owner was – well, different.
our wine tasting didn't take as long as we expected.
so we were on our way back out the door less than an hour from when we walked in.
so we went somewhere we hadn't been before: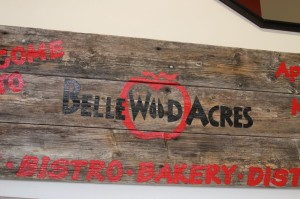 and we didn't know it,
but they have a tasting of their distilled spirits: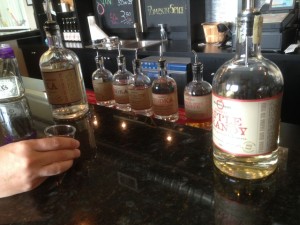 but that's not my thing, so only dave did the tasting.
until this older guy came out and tried to convince me to like their stuff.
so he had me pull out a bottle of cider.
and then he would make me dip my finger into the shot glass of spirits and taste it before he'd add the cider and have me taste that.
he was trying SO HARD to convince me to like it.
in the end, i drank the cider + brandy.
i did not enjoy the cider + pumpkin spice liqueur.
and there was another one that was a flat out "NO."
and before we knew it,
his errand behind the bar was complete
and with a smile on his face, he said something like
"just 'cuz i own the place doesn't mean i don't have to work…"
and off he went!
he was a riot and had me laughing pretty hard.
and tasting some spirits.
just because he didn't convert me doesn't mean he didn't win!
in the end, dave picked up some Honeycrisp Vodka.
then we toured the distillery area.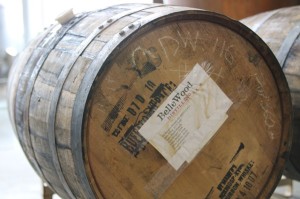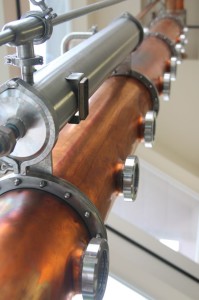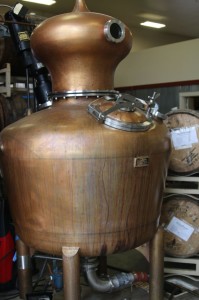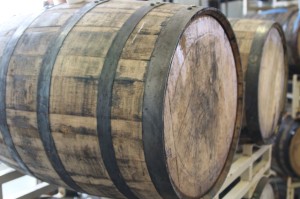 and we were on our way once again.
to downtown bellingham.
through horrid traffic.
my nemesis: bellingham traffic.
especially on The Guide.
ugh.
so we talked about traffic.
and the reasons we're glad we left this area.
and if we thought we could ever move back.
and we made our way to one of MY favorite places in the county.
PENNY LANE ANTIQUE MALL.
only i didn't take any photos of the outside.
sorry.
and while this is so NOT dave's thing,
he looked.
he was interested.
he inspected.
he found some cool stuff.
he thought of something for me to look for on future antiquing/thrifting adventures.
but we bought nothing this day.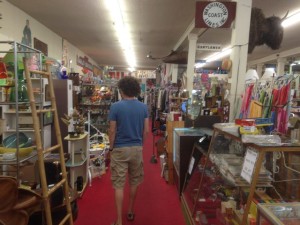 we did take a funny photo downstairs in ALADDIN'S ANTIQUES, though: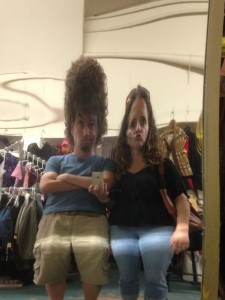 since we were in downtown bellingham
AND we were walking around,
we stopped and snapped a few photos of the places where I used to work.
you remember, back before the munchkins existed?!
my first job in washington was with people systems, inc.
but i worked in their mount vernon office for a solid 8 or 9 months.
or maybe even a year.
it was a long drive (45-ish minutes).
i was so thankful when spot in the bellingham office opened up and i was allowed to work up there.
i still drove to mount vernon one day a week.
the bellingham office was in the tallest building in bellingham.
all 15-stories.
we were in ONE office on the 4th floor.
we had 4 little office/rooms in our space.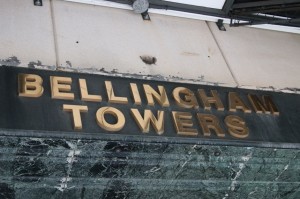 (i don't know why the sign says "towers" plural.
there's only one tower.
you can see it here: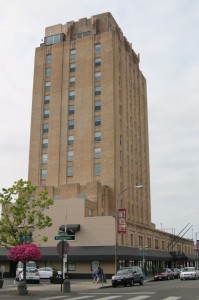 i remember feeling my first day-time earthquake while i was in this building.
(it was my 2nd earthquake overall).
the tower, it turns out, is one of the safest places in bellingham to be during an earthquake.
it's built on a "floating" foundation, so when the earth moves (in an earthquake),
the building sways a little.
and the foundation stays secure.
(this is what i've been told, at least.
i'm not in construction, so this could all be a hunk of hooey.)
i remember the earthquake b/c my office had a cabinet with doors.
and inside the cabinet i had to store all my case files.
which were in giant binders.
we're talking 4″ and 5″ binders.
with EVERY piece of paper from that case.
letters sent out.
letters received.
medical chart notes.
progress reports.
my own case file notes.
as usual…..
but my cabinet door was open,
and i saw it swaying,
which wasn't normal.
and i stood up and felt movement under my feet.
and i checked down the hall and my colleagues told me it was an earthquake!
another fun memory in this building?
driving up to the garage roof (only at the 2nd or 3rd floor level of the building) on the 4th of July with dave to watch the fireworks display over the Bellingham Bay.
and my co-worker showed up with some friends.
we could see the fireworks clearly.
there were no crowds.
we had access to a real bathroom (inside the building).
and we didn't have to fight traffic to leave.
it was fantastic!
fast forward a few years and i moved across the street to the 4th floor in this building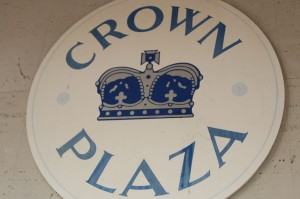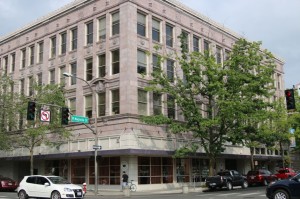 to work for STRATEGIC CONSULTING SERVICES.
same job, new employer.
more money.
i was the ONLY employee in the northern 2 counties of NW washington state at the time.
i was employee #19.
i think they're on employee #200 or so now.
seriously.
but i was in this cool building.
on a floor with a bunch of individual offices but a main receptionist.
so i was alone.
but i wasn't.
the building was cool, too.
it used to be a macy's.
and not all THAT long ago.
friends who are my age remember going back-to-school shopping at the Macy's in downtown bellingham.
the local mall opened in 1988.
and that's when Macy's moved from downtown to the mall.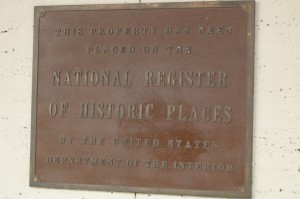 the door i would enter and exit had this outside of it: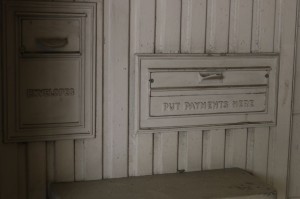 i'm guessing you could drop off payment for your "store tab" here back in the day.
and then later you could drop off payment for your store credit card.
and now it's sealed shut so you can't drop off anything.
because people are weird.
and gross.
we won't even begin to speculate what they might want to put in there if those slots still opened.
the view from my window included this spire: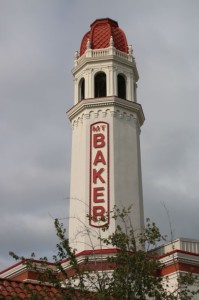 that's the Mount Baker Theater.
my view wasn't this straight on.
but it was a clear view of a "more-to-the-right" angle of this spire.
i've always regretted not going INTO the mount baker theater.
maybe one day we'll come back and watch something there.
a movie.
a concert.
a recital.
a ballet.
so many options.
i love the old theater feel it has maintained outside.
i do know that they've updated the inside.
at least the back stage and "getting ready" area has been overhauled.
my office was on the 4th floor (the building has 5 floors)
and i think i had the 2nd or 3rd window from the far left in this photo: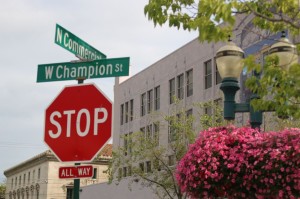 i miss that office.
i never said a complete "farewell" since davey surprised us all by arriving 4 weeks early.
he was born early on a sunday morning.
i had appointments scheduled for monday.
thankfully, i had an intern who covered for me for a few weeks.
i miss my lunches with dave.
we used to have lunch together every day.
usually with some of his co-workers.
i miss knowing his co-workers like that.
i don't really miss working.
at least, not what i was doing.
i mean, i enjoyed my job.
and i was good at it.
but i clearly recall many of the BAD things about it.
enough that i really don't want to go back to it.
ever.
the money was great.
but the stress level has only increased in the years i've been gone.
so with all three Munchkins about to start school FULL TIME,
i'm wondering "what will i do when i grow up?!"
i'm super thankful for a loving and supportive husband who WANTS me to stay home.
WANTS me to be involved in the school.
WANTS me to work IN the home rather than outside AND inside the home.
and i did it again….
so. many. bunny trails with me!
with the nostalgia of my "pre-Munchkin life" complete,
we headed to a different part of town for dinner at Scotty Browns.
we've eaten there before.
a few times.
it wasn't stellar this time.
oh well.
i guess we SHOULD'VE gone to anthony's at the marina.
next time.
just remind me, okay?!
so even though my food wasn't great
(can YOU find the fish in my fish taco?):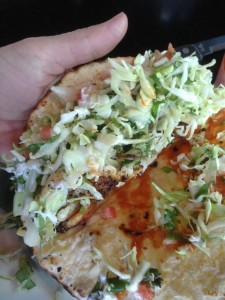 my peach bellini was DELICIOUS (perhaps one of the best i've ever had):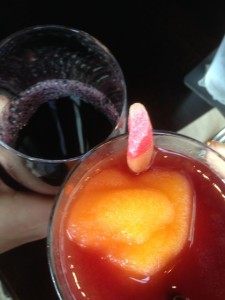 after dinner,
we tried to go for a walk at Boulevard Park.
it was too cold.
like not-even 70* and windy.
brrrr!
so we drove around various parts of bellingham and talked about whether we thought we could ever live there.
we didn't come to a consensus.
well, other than "no" to living in Lynden.
and "no" to living near the mall.
and ultimately, i think (unless we HAD to), "no" to living back in this area.
it's a great place to visit.
we liked it when we lived here.
but we are so happy in arizona.
and unrelated to ANYTHING else i have written about in this blog post,
here's my dear friend Julie.
she's on the OTHER side of this continent
she's actually in Pennsylvania.
she's actually at my alma mater: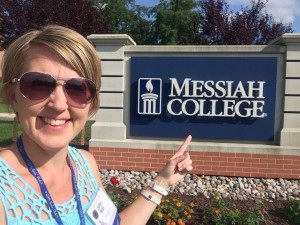 and she's been sending me fun pictures all weekend of the campus.
it's changed a LOT since i graduated in 1997.
(almost 20 years?! what the heck?!)
but a few things have stayed the same.
and even after her photos and looking at a map of the campus on line,
i STILL can't remember the name of the on-campus apartments i lived in for the first semester of my senior year (i went to israel for 2nd semester).
do any of my readers remember?
and now, my friends,
i need to get going.
i need to shower.
i need to PACK.
we leave later today.
tonight i'll sleep in my own bed.
i've been comfortable here.
but now the weather is changing (it's even colder today than it was yesterday!)
and i miss my pool.
it's time to go home.
and get back out in the heat.
i'm looking forward to the 108 & 109 temperatures forecasted for this week.
and now that i'm leaving,
lynden,
you may enjoy your rain.
i think it's supposed to start tomorrow!
thank you for being kind enough to keep it away while we were here!