before we really get started here, i need to tell you that it's 12:11am
(so i'm already "late" in getting this posted)
and i'm chilly
(even though the window is only open 3″)
and i have a blanket on my lap.
tomorrow's high is supposed to be 77*.
that's just COLD, my friends!
after another dusty day of walking 2.0 miles with my friend sara,
my morning was pretty relaxed.
in fact, we didn't do anything until a solid hour or more after lunch.
we spent our morning doing puzzles,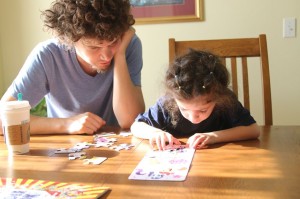 drinking a mocha: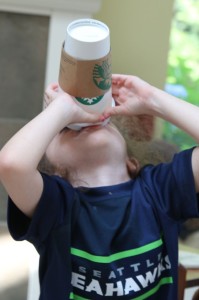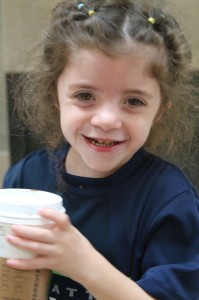 and doing some "creative" reading: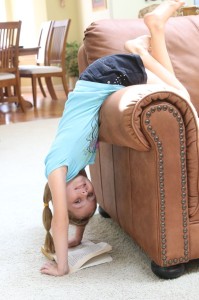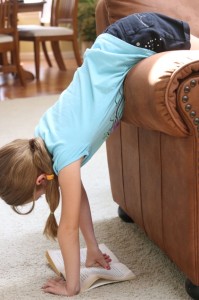 grandma found some boxes of books she'd been storing and we got to go through them and choose a LARGE stack to take home.
chapter books.
picture books.
old golden books.
i'm going to the post office tomorrow to ship a box (book rate)!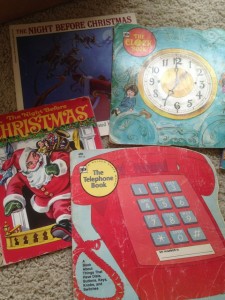 we finally ventured out to this place here in town: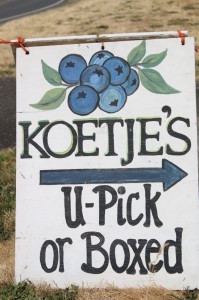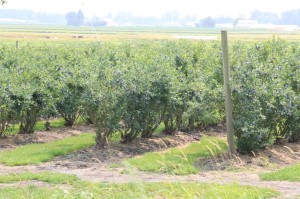 berries are only $1.50/lb (for u-pick or $3/lb if they pick them).
we were all about doing some berry picking!
aren't they BEAUTIFUL?
they're SUPER tasty, too!
there were a few different varieties of blueberries out there.
four people in our family liked the DUKE berries the best.
so that's what the girls and i picked…
one person in our family preferred the SPARTAN blueberries,
so davey & daddy picked those…..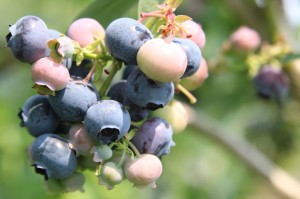 i love this cluster above….
some ripe,
some almost ripe,
and some not-quite-there-yet berries.
even though we preferred a certain type of berry, after awhile, they all tasted the same.
and you ARE allowed to eat while picking.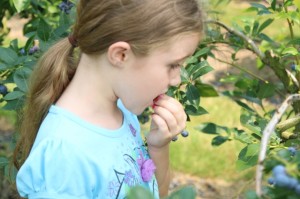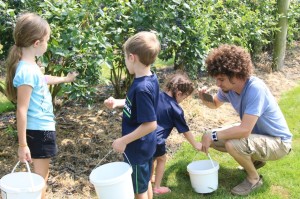 since we're not bringing the berries home with us,
i didn't let the munchkins pick very many.
in the end, we had about 3.5 pounds of berries in less than 15 minutes of picking.
it was perfect – enough berries to make us happy,
enough photos to make mommy happy,
a fun outing,
and some berries for our tummies AND for someone else's freezer!
these girls were a delight today.
pretty much always happy.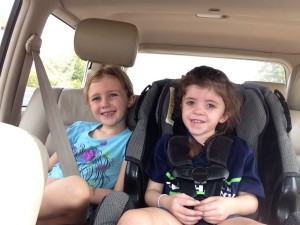 on the drive home, we checked out a few new buildings around town.
and we stopped so i could take a few photos.
have you ever moved away from a place and been able to go back and visit?
we have (obviously).
and each time we come back, there's something different that flips the "memory" switch.
i've been trying to collect photos of those "switches" each time we come back.
for me, seeing this giant "GOT MILK" sign painted on a red barn off the main "fast" road (which is no longer AS fast thanks to the construction of some circles – which are such a pain!).
but this sign is something i would see EVERY TIME i drove to mom & dad's house.
or to carrilee's house.
or to sara's house,
linda's house,
anna's house,
stacy's house (you get the idea)
for play group.
it was a FIXTURE in my mind.
something that i could see without even seeing it.
or something that i no longer "saw" because it was part of the landscape.
and now when i drive by it,
i SEE it.
it's no longer commonplace on my daily commute.
(it ALSO reminds me that whatcom county is a DAIRY county.
i didn't realize that when i moved here.
and it was a bit of a shock to my "suburbia" mentality.)
and for me, that's enough of a reason to snap a photo.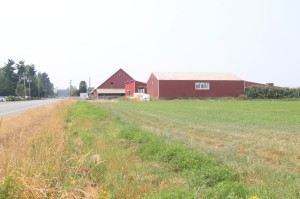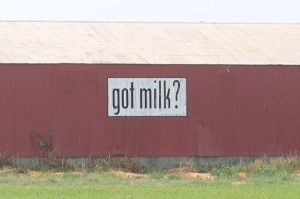 THIS sign: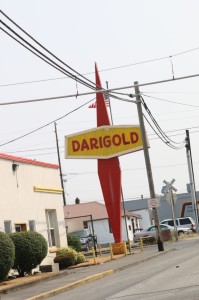 is stinkin' cool.
it makes me think of the 50s and 60s.
it makes me think of vintage and thrift and garage sale shopping.
it makes me think of milk (b/c it's  dairy).
it reminds me that there are still people who make a living as FARMERS.
whether it's dairy, cattle, berries, corn or something completely different,
some people still life a FARMING life.
up before the sun.
working very, VERY hard (physically).
farming is HARD work.
it's not easy.
it's not for the weak.
it's definitely not for the lazy.
but i can imagine it's rather rewarding.
not necessarily financially.
but to watch something grow from a speck to food.
to harvest something that has gone from seed to plant.
and, unrelated, it also reminds me of roller blading.
to you, that seems VERY random.
but to me, it makes perfect sense.
i used to roller blade a LOT.
especially when i first moved to Lynden.
and i would blade past this building a lot.
i LIKED the bumpier road.
i liked the challenge of going over the train tracks.
i liked ending up at the smooth path through the park.
see why this was an important photo to take?!
speaking of important photos…
i saw this super sweet moment between grandma & alex and i had to run to the other room to grab my camera.
grandma was "resting" and alex was snuggling with her.
by the time i got back,
snuggling was over,
but these two LOVE each other and you can SEE it in this photo.
their smiles.
their delight.
their joy.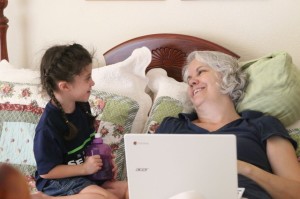 (and not 5 minutes later, alex was "removed" from the room b/c she couldn't sit still to rest and let grandma rest AND because she wasn't listening to grandma. proof positive that she is ever-so-sweet but she's still a kid.)

while DCD3 and DCD4 played checkers, i started a new puzzle: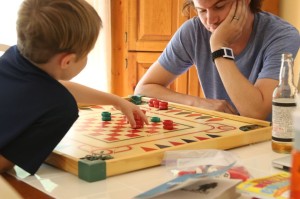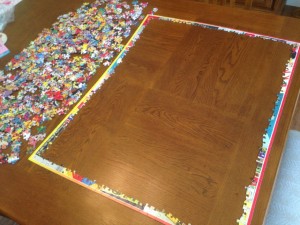 and then grandma was finished with her rest and chose to practice some songs for this sunday's church service.
samantha chose to dance to the music.
until i tried to take a video.
then she got shy.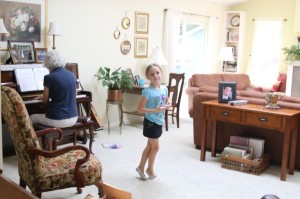 did i mention it was really, REALLY warm in the house again this afternoon?
and while samantha was dancing to grandma's piano playing,
she (samantha) was also playing a "let's pretend" game with alex.
something about alex going to school.
"GOOD BYE! i see you in da morning!"
so she wore her backpack
AND
her sweatshirt.
zipped up.
in a house that was over 80*.
yes.
yes, it made me hot just looking at her.
i had to FORCIBLY remove the sweatshirt about 15 minutes later.
she had clammy hands.
"nooooooo! i coooooold!"
whatever, munchkin.
take it off!  ;)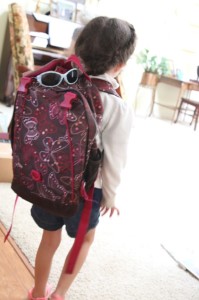 early this evening,
we headed to a birthday party.
sweet, wild, funny JORJA turned SEVEN today: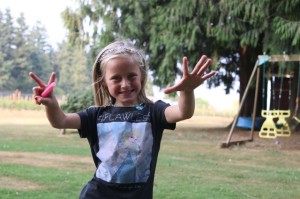 we enjoyed time with friends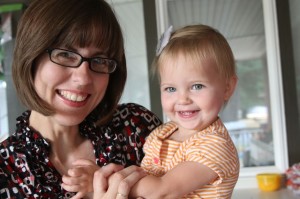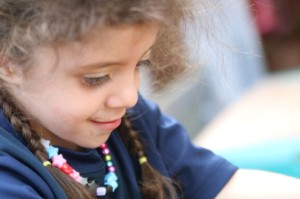 carrilee had set up some different stations in an attempt to "occupy" the kids without having to do organized games.
jorja LOVES art, so there was a watercolor station:
my middle munchkin spent a LOT of time there!
there was a sandbox station: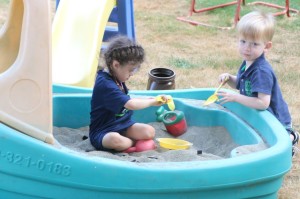 that was well-loved by my youngest munchkin!
there was a soccer ball & net.
there was a baseball bat and a pitching machine.
there was a blanket with homemade "poppers" (a cool pool noodle + balloon + duct tape meets craft pompoms PINTEREST project).
plus there's the play structure.
and sidewalk chalk.
and basketball.
and bikes.
and i don't remember what else.
i am SO GLAD that these kiddos have such a great time together: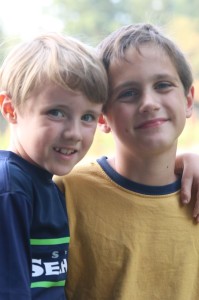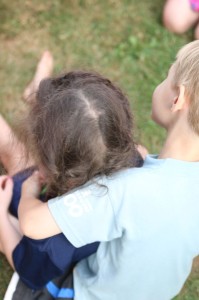 (Davey + Henry / Alex + Albert)
this girl recently spent 5 nights under my roof.
i felt like i got to know her pretty well.
she was in RARE form tonight.
carrilee said that jorja has been waiting for this night for 364 days.
and as far as i could tell,
she made the most of EVERY moment that tonight was HER night.
she was this ball of energy and sunshine and crazy and funny and silly and goofy and loving and kid all rolled into one tiny (but strong) body!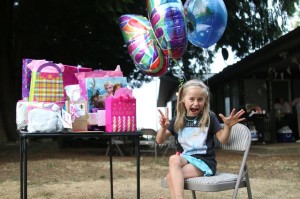 she saw this pillow at Charming Charlie when we had our girls' shopping day.
but she chose something else instead.
of COURSE auntie tam went back and bought THE LAST ONE!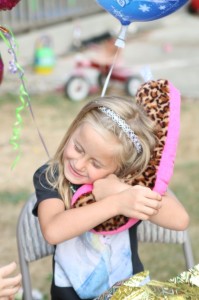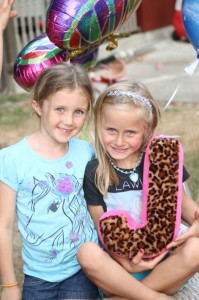 and THEN auntie tam hauled it all the way to WA in her luggage.
because that's what auntie Tams do.
right?!
carrilee doesn't understand WHY jorja wanted a guitar and a ukelele for her birthday.
but she's been asking for those two specific things for weeks.
perhaps even for months.
and low and behold, when carrilee drove up to a garage sale one morning,
what did she find?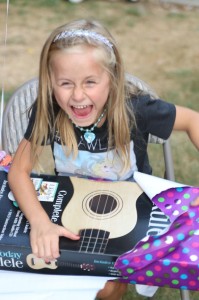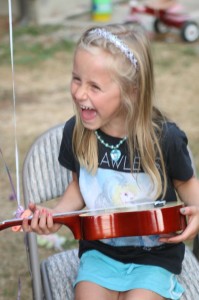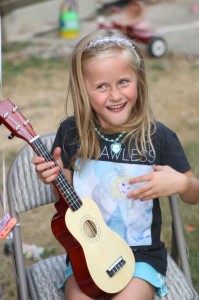 why, yes.
a COMPLETE ukelele kit.
yes.
a "kit."
so not only is it a ukelele.
it's also a "here's how to learn to play me" gift.
ahhhhh.
no need for those ukelele lessons then, right?!
and what child's party would be complete without a piñata?
but when your trees are over 90′ tall, it's hard to find a decent branch to use to hang it.
but when your dad owns a (side business) company that has a BUCKET truck,
you have the BEST place to hang a piñata….
from the bucket!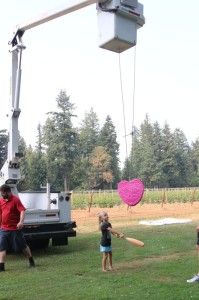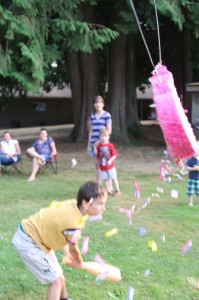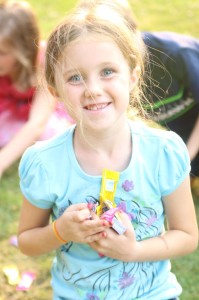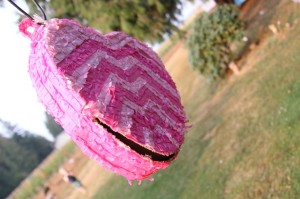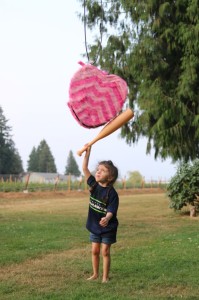 and then the children needed MORE sugar,
so it was time to sing to the birthday girl and eat some cake.
some very heavily frosted cake.
but it was beautiful.
and tie dyed.
and made at home.
by someone who is NOT a cake decorator.
but by someone who manages to outdo herself with every cake.
tim & carrilee's house is on 5 acres, so they rent out the extra land to a local berry farmer.
in previous years, that land has been loaded with raspberry plants.
this year, it has been turned into a "test field."
so they're growing different varieties of raspberries.
and they're gauging which kind grows the best under differing watering situations.
only this summer has been CRAZY, RIDICULOUS HOT (for here) so i'm not sure how all that research will actually help them….
but the raspberry fields have ALWAYS been a favorite of the kids.
and they're ALLOWED in there.
and it's easy to see them (neat & tidy rows with plants that are NOT over their heads).
tonight was no different.
every kid who left the party was FILTHY.
but had a GREAT time.
sometimes it really is GREAT to be a kid!
and at the end of the party,
carrilee had a chance to sit down and look at the shutterfly book i made of their visit
(yes, she got her own copy).
it's so hard to believe that was just a couple of weeks ago!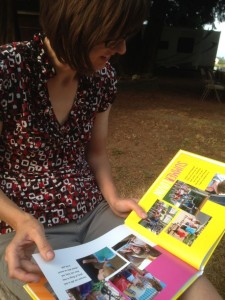 and, as if today wasn't fantastic enough already,
we got back to discover that the neighbor really IS having a garage sale.
so i decided to go hunt her down to find out the price of the gum ball machine.
only….
it was GONE!
i promise you, i LOOKED.
and i got really sad that someone had come along and "swiped" the very thing i'd been eye-balling for the last 3 days!
but then samantha ran outside to tell me that "grandma bought it!"
(turns out she was cleaning it to see if i really wanted it!)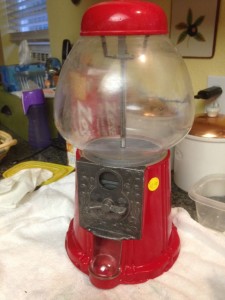 it works.
it's in good condition.
it was only $10.
and now i have to figure out how to get it home with me ON the airplane (i'm not going to pay to ship it)
OR
i have to leave it behind for my dear friend Julie.
i really want it.
for reals.
but i'm pretty darn sure this will be going into Julie's collection.
insert my HUGE sigh here.
but you know what makes any disappointment better?
puzzle time.
especially puzzle time with family.
especially puzzle time with my HUSBAND who does NOT like puzzles.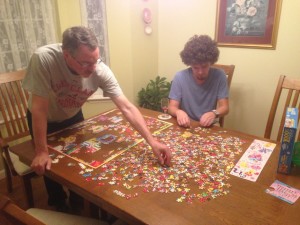 yes, indeed.
today was another fantastic day!
(and now it's REALLY late/early – it's 1:17am and i need to go to bed!)