today was a very fun, but very low-key day.
that's the way vacation is supposed to be, right?!
after a morning of sleeping in (a certain princess had to be awakened at 9am):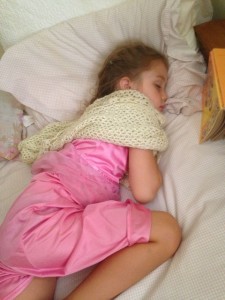 the older two Munchkins had a play date this morning with our dear friends Henry & Jorja:
while they were off having their own adventures,
dave and i decided to do something special with the littlest munchkin: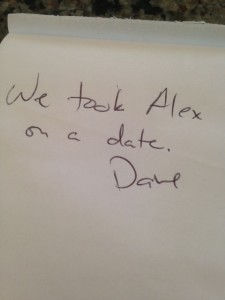 we went to the local toy store (Bumblebees Kids) for her to pick out one thing: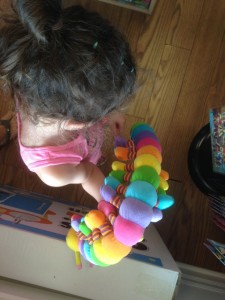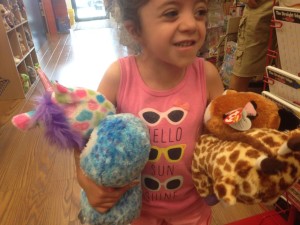 choosing just one thing in a toy store is WAAAAAAY too hard.
she had about 10 things picked out before we were fully inside the front door.
one by one, she would hand things to us to put back.
in the end, the blue with green big-eyed kitty cat won.
she named it "Boy."
then we walked around the Fairway Center for a little while.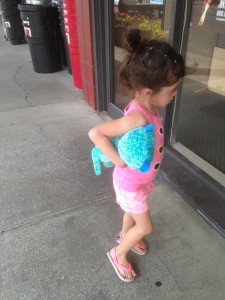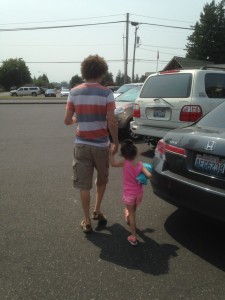 we stopped in at Lloyd's Electronics to say hi to dave's former boss (he worked there for a short time):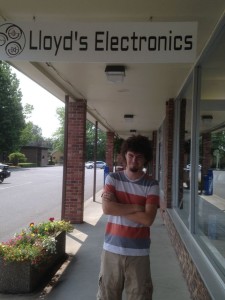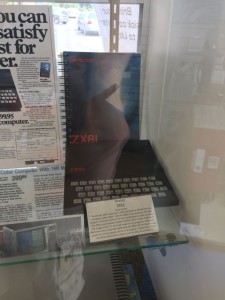 and as we were leaving, we saw a mini computer museum.
including the type of computer he used when he learned how to write code.
when he was 5 or 6 years old.
no joke.
it's a lifestyle for him.
then we popped into True Value to check out their sunglasses (i bought myself a new pair last week, remember, but dave has needed new ones for a few years. he tried several pairs but walked out without any). we also found a wiffle bat & ball set, so purchased that to give the broken Dollar Tree bat & ball a break from use in the back yard!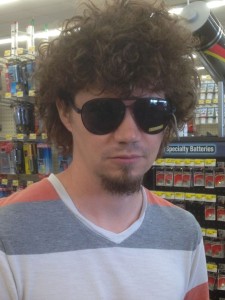 before picking up the older two from their play date, we stopped at The Dutch Market so i could pick up my June check.
i think dave is proud of me.
he took this photo which shows a lot of my stuff in the window: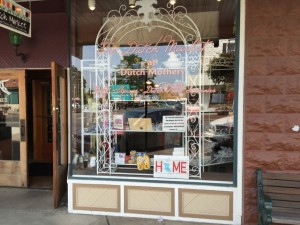 these two waited so patiently for me.
dave was pretty chill, too.  ;)
the big munchkins were finishing up lunch.
but we had to run b/c Carrilee had to get Henry to his robotics camp!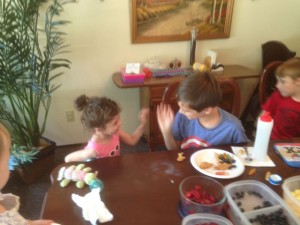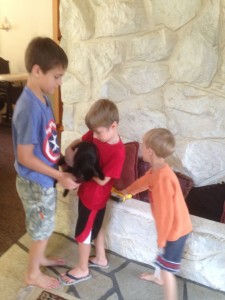 when we got home, some FUN MAIL was waiting for us…
in all the fun and excitement of our week, i'd forgotten about this order!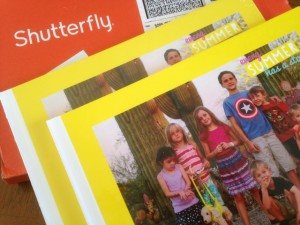 that would be TWO copies of a shutterfly book i made about the Dycks visit to our house.
in case you missed that series of blog posts, they're a little ways back HERE (a link to my JUNE blog posts). i'm excited to give Carrilee her copy later this week!
after some of us ate lunch, it was time for a little baseball in the backyard.
HOMERUN!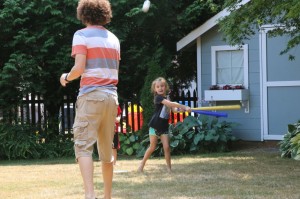 ANOTHER HOMERUN!
some BUNTING practice.
practice swings.
what better way to occupy yourself as the catcher during "practice swings" than to play catch with the pitcher:
they were both definitely hitting more than they missed.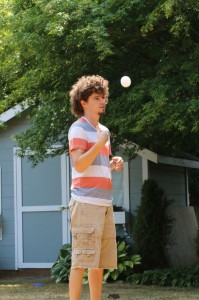 leading off a base is perfectly acceptable if the base is a frisbee:
but sometimes you decide to stay tight…. just in case!
we enjoyed some more games of RACK-O: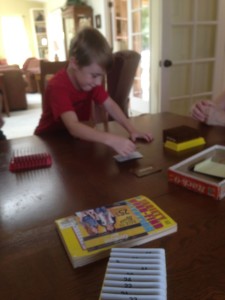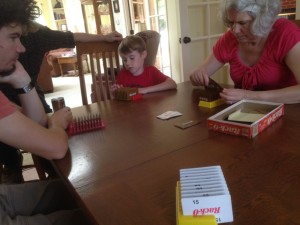 before we headed out to Birch Bay State Park.
we had to pay $10 to park (ugh!) but it's still one of my favorite places in the county.
well, shoot. i think i say that about all of my favorite places in the county.
i guess i just love it here.
the munchkins combed the rocky beach looking for seashells,
which were ABUNDANT,
since the tide was WAAAAAAAAAAAAAAAAY out.
it was probably out the furthest i've ever seen it, in fact.
kinda crazy.
and then our friends arrived.
that means Justin & Brandi.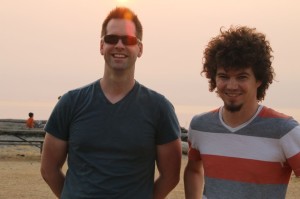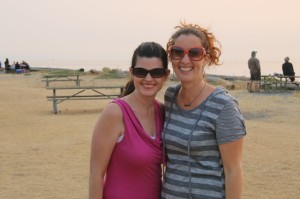 plus their 4 children, ages 9, 7, 4, and 6 months.
Dave and Justin go waaaaaaaaay back.
like, their parents were friends in college.
and in seminary.
and their moms were pregnant at the same time.
and they're EXACTLY one month apart (july 28 & august 28).
and after they were about 6 months old, the families moved to different places.
and they met up again when the boys were in 9th grade.
and they became fast friends.
good friends.
justin was a groomsman in our wedding.
dave was in their wedding party.
we've got some history.
but enough of that story.
Mr. Justin helped the kids find CRABS by flipping over rocks: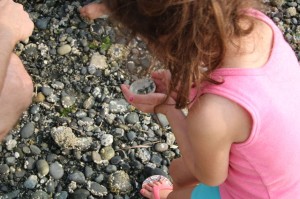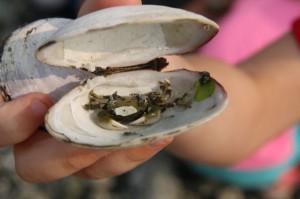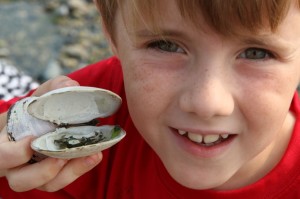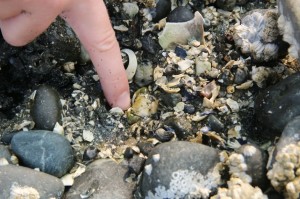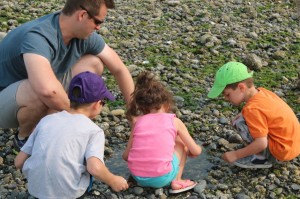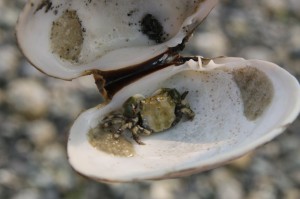 lots and lots and lots of teeny, tiny crabs.
yes, that's a crab on dave's wrist.
here's a close up: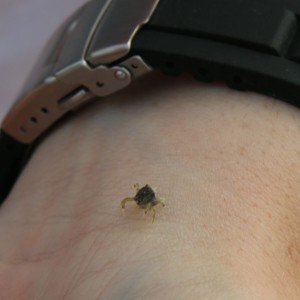 in case you didn't know,
they really do skitter sideways.
it was really easy to find them tonight, since the tide was so far out.
the kids were hilarious together.
anytime something moved and they weren't mentally prepared for that to happen,
they'd drop whatever they were holding.
crabs.
snails.
other live sea creatures that i don't want to know about.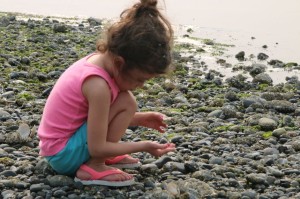 the picnic table we used for our dinner:
i just love the details.
the moss.
the growing things.
and aged wood.

alex just loves babies.
6-month old baby cole was no exception.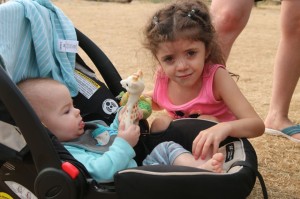 thankfully, my munchkins all love each other, too.
but this little bond here fills my heart: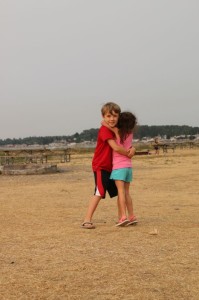 he really did just want to hug her.
i thought he was trying to do something else.
the kids all collected some shells.
brandi was adamant that they were NOT coming home.
i wasn't as adamant, but i knew that there would be a large bag of shells left behind….
but then the girls started playing with sand and shells and before we knew it,
they had used large rocks to pulverize the seashells.
and i do mean pulverize.
i think samantha's influence won out here.
they were playing some kind of restaurant.
the shells were potatoes so they had to pulverize them to make potato soup.
the seaweed was spinach.
the dry/dead grass was "lemon stick."
so they created a potato spinach soup with lemon stick.
the boys, meanwhile, avoided the kitchen (after they were TOLD to leave the girls alone!) and created a spaceship game.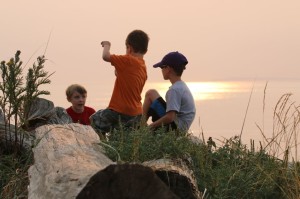 and then they would get out of their spaceship and go on missions.
or adventures.
or something.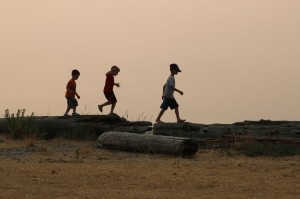 and i just had fun tonight playing around with the two lenses we brought on this trip
(our daily use lens and our telephoto lens):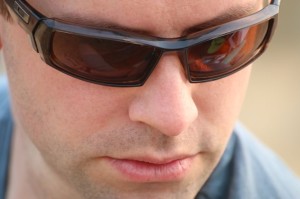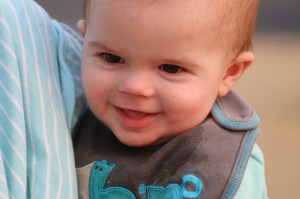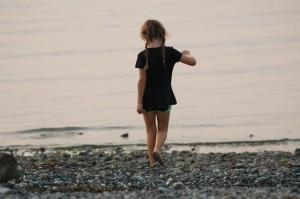 brandi asked if i would take some photos of her with Cole,
since she's usually the one taking the photo.
i kid you not,
on our FIRST ATTEMPT at a photo,
THIS happened: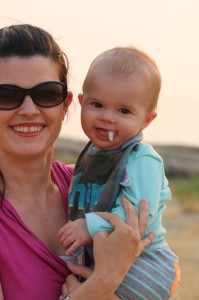 and, as if that's not classic enough, it continued: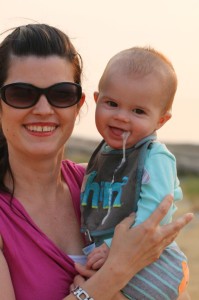 i couldn't quite warn her about it before she felt it.
look at his face.
she's oblivious to what's about to hit her.
he's thinking "hahahaha! mommy's about to get hit with my spit!"
so after a quick clean-up, we captured these:
two super cuties, eh?!
i have this one so well trained,
i sometimes worry that she'll want to go into modeling.
i repeat that my hashtag for her is #6goingon16
i just love him: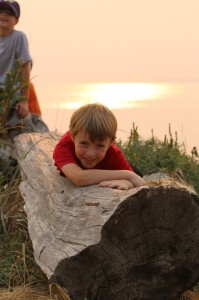 being the crazy mom with the camera that i am,
i decided to snap a few group photos.
because, why not?!
my settings weren't right for the sun,
but i lightened these a bit so we could see them better.
hopefully they're not all thrown off now.
i really do need more practice.
the bigger kiddos: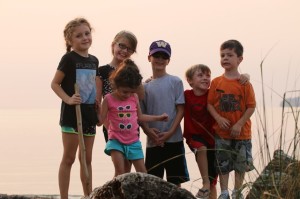 my munchkins: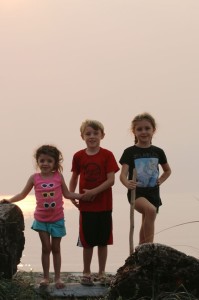 little miss crazy-pants: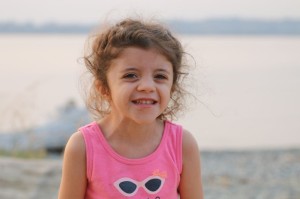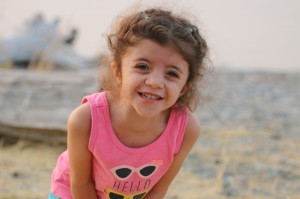 her smile has been cracking me up this trip!
at least she's beginning to smile upon request/demand/command.
i'll take what i can get from her!
and then we did a mini family photo session
(again, unplanned and my lighting meters were off):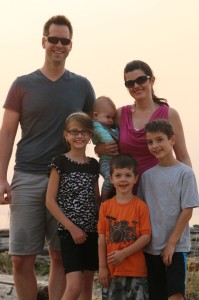 and brandi offered to take the camera and snap a few of us.
i'm so thankful when people aren't intimidated by a DSLR.
i like being in photos, too.
and i like when ALL of my family can be in the SAME photo.
thanks, Brandi!
once i crop it, it'll be a favorite!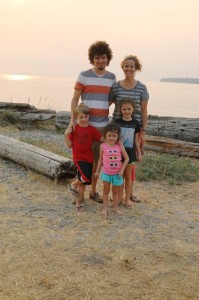 the hazy sky and the time of evening made for really good photo light.
soft and easy.
except, of course, i'm not used to that so i didn't adjust my settings properly.
but it's not about the TECHNICALLY perfect photo for me.
i want the shot.
the crop.
the angle.
the feeling.
the mood.
i hate post-processing on photos.
i do my best to crop only.
sometimes i have to lighten a photo.
i try really, REALLY hard not to do anything else.
in the end, brandi and i allowed the kids to each bring home a few shells.
i'm already unsure of where ours are.
hmmmm.
perhaps i should go find them before they are broken like these shells that were left behind:
we had a fun drive home.
until poor Boy kept getting "dropped" on the floor of the backseat and i had to repeatedly rescue him.
i tucked him safely in my seatbelt.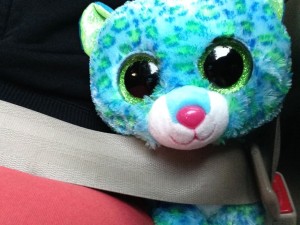 and then it was time for showers and baths when we got home.
that, also, did not make me mom of the year.
as usual.


and that, dear friends and readers, is the end of day 11.
for those of you have endured this journey with us,
THANK YOU.
and
it's not over yet.
it's been such a privilege to sit down each night (usually really, REALLY late)
to write these blog posts.
to review our day.
to view all the photos THE DAY i took them.
and i've really enjoyed writing down what's been happening AS it's been happening.
it's been such a boon to my spirit.
and i don't feel BOGGED down
despite the reality that i've got almost 2000 photos already from this vacation!
until tomorrow….