many of you know that my FIL is on staff at the church we used to attend when we lived in washington. as long as i've known the family, his two days a week "off duty" have been saturday and monday. (and "off duty" only means he avoids going to the office and tries not to answer the phone).
in an attempt to do something FUN with grandpa on his day off, we planned an adventure up to mount baker. i LOVE going up there anytime of year. i wish i had access to my older photos (i can only store a year's worth on my laptop – i have this trigger finger problem where i take "too many" photos) so i could show you some to compare with today's adventure.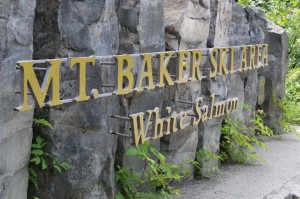 going up to mount baker doesn't actually mean you're ON mount baker. baker is actually a glacier and to climb it, you need ropes and crampons and you need to practice your "crevase" rescues…. you get the point. back when i was single, i had some friends who climbed it. beautiful photos. definitely not a hike i'd want to endure, though. so when we say we're going "up to baker," we actually mean we'll be on an arm of mount shuksan. but on that arm, you'll find the mount baker ski area AND you take mount baker highway to get up there.
so confusing, i know.
artist's point is waaaaaay up at the tippy top of the mountain and you can only drive up there in july and august. and sometimes september. western washington had such a MILD winter, and the drought has been so intense, and the weather has been so warm/hot (not compared to arizona, of course!) that artist's point was opened in MAY of this year. that's two months earlier than normal. in fact, when we were here for a visit THREE years ago (summer of 2012 – just 6 months after we moved to arizona), artist's point didn't open until AFTER we returned home (we were in washington until at least mid-july).
TWO years ago (summer of 2013), artist's point WAS open when we were here. but there was snow EVERYWHERE. in fact, the hike we did today was covered in snow. so we didn't hike that time. we simply climbed up some snow banks, slid around on some icy-snow and had some photos taken.
today's adventure was much more reminiscent of a hiking trip we enjoyed back when alex was just a month or two old (2010). which means the other two munchkins were just 1 and 3 years old. there was almost NO SNOW then. and there was almost NO SNOW today. but i'm getting ahead of myself here.
my morning started bright and early again with another walk with sara. on my way to her place, i got stuck behind this: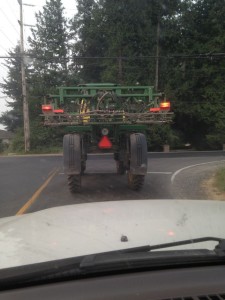 just another day.
just another piece of farm equipment on the road.
nothing unusual about this.
and as i've told you before, i think, sara lives outside of town.
so when we walk, we go across her side yard,
through some trees,
over a barbed wire fence,
to walk on a gravel/dirt road for a mile.
we pass some houses (or one?!) and a barn.
but we also pass corn fields.
and then we turn around and walk back.
when we got here, my shoes were grey and bright pink.
they currently look like this: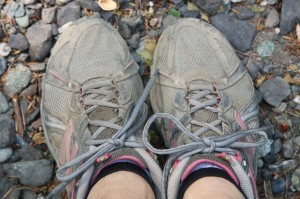 thankfully i learned (the hard way) three years ago to bring OLD shoes with me if i wanted to walk with sara. three years ago i ruined my new shoes with mud. two years ago, some old shoes got older with mud. and then i left the shoes with my friend karla for her dad to take on one of his trips to haiti. i'll do that again this time. hopefully some of that dust will come out of the shoes before they get packed, though!  :)
after my morning walk, i came home to find some fun happenings in the garage: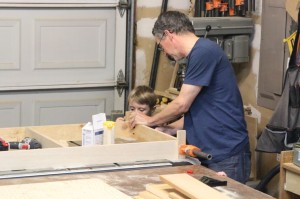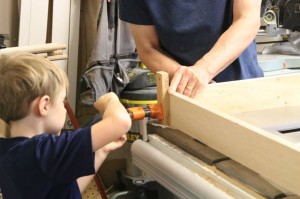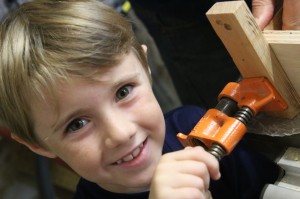 i know davey really wanted to build something WITH grandpa on this trip.
it *almost* makes me wish we had driven so we could take something home with us.
instead, he's been helping grandpa with his projects.
i love how much these two adore each other.
dad claimed he was trying to stay away from the puzzle, so he was busying himself in the garage.
that didn't stop me from working on the puzzle!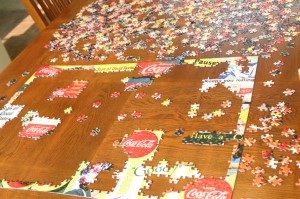 and several hours later, we were all loaded up and ready to finally begin our adventure for the day. our trip to mount baker.
we had to make a pit stop on the side of the road (mount baker highway) in an attempt to alleviate some carsickness for a few people. we all got out. breathed some (mostly) fresh air (there are fires in canada and washington state right now and it's pretty smoky and hazy!), and shuffle seats.
we don't grow trees this tall in arizona: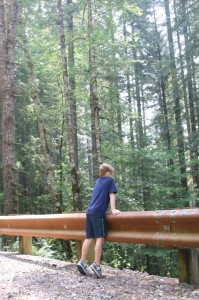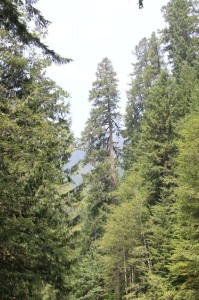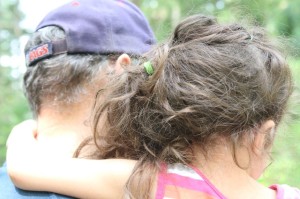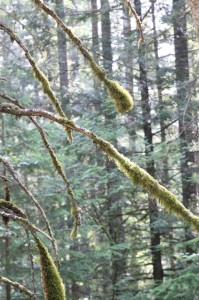 (i LOVE the texture and depth of field in that photo above.
and yes, that's MOSS.
growing on tree branches.
heavily growing on tree branches.
if you're not from here, it might freak you out.
to us, it's normal.
and, in fact, that's a light layer of moss.)
dave was trying to plant a pistachio tree where we stopped: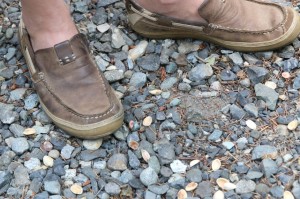 after about 15 minutes, it was time to get back on the road.
from my new seat in the waaaaaaay back, i enjoyed some time with this cutie: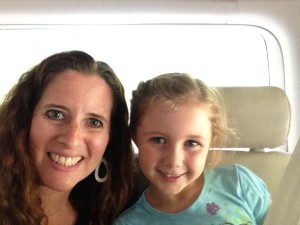 and we could see a TON b/c the very back row is up QUITE high.
at one point, before this little pit stop occurred, samantha piped up from her back seat position, "There are SO MANY TREES in Washington!"
the grown ups thought that was HILARIOUS!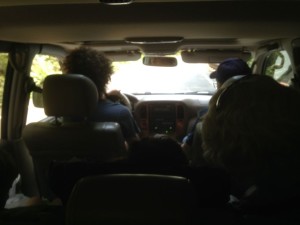 after a LOT more winding on the roads and hairpin turns and increasing our elevation a lot, we saw some pretty views: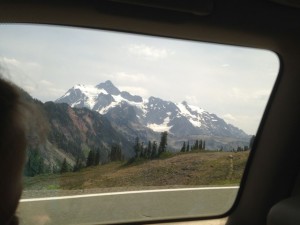 see this: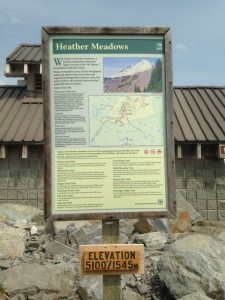 that says we were at 5100ft above sea level.
it's a "harrowing" enough adventure to be at Picture Lake and the ski area when you're afraid of heights.
but to venture further up?
to artist's point?
samantha informed us that she will NOT EVER take her children to artist's point.
she said it was too scary.
i must admit.
i closed my eyes.
but again, our back row seats had us up pretty high and we could see really well.
perhaps too well for the hairpin turns and sheer cliff drops.
we ate lunch first and then walked along the trail for awhile.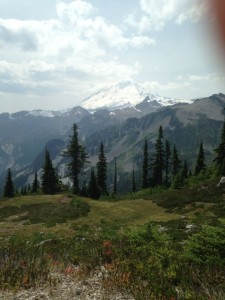 (even photographers sometimes get their finger on the lens…
especially when it's an iPhone photo!)
(so the photo with just D+S is Mount Shuksan and the photo of all three munchkins is Mount Baker – sorry it wasn't a more clear day to make it easier to see!)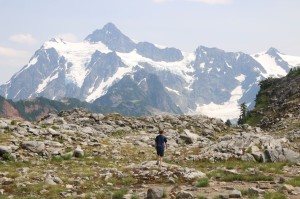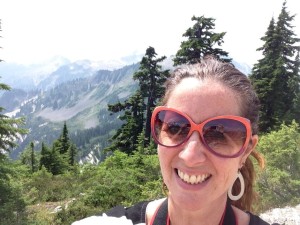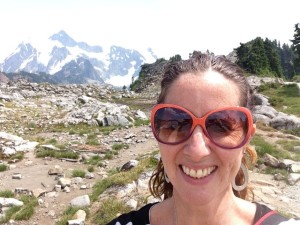 (yep, those last two photos are selfies.
and you can't see mount baker in the first one. but it's there).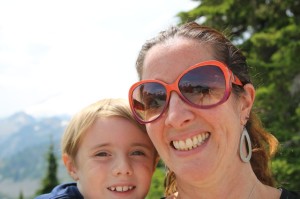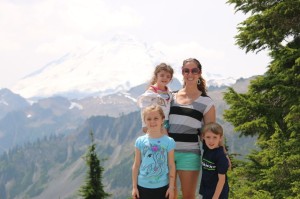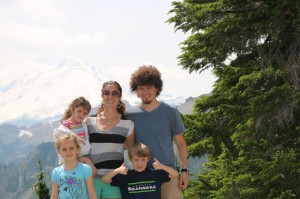 (many thanks to dad for holding the big "scary" camera for this photo!)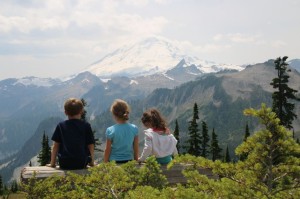 (yes, i staged this photo.
and yes, it was worth it.
because i love it.)
as soon as we got to this spot on the trail, i recognized it.
i knew which rocks we had used as seats for 3-year old Davey and 2-year old Samantha (alex was strapped on me in the Baby B'jorn carrier that i borrowed from Anna for a ridiculously long time – like 4 years!).
so i put the munchkins back on the same rocks.
they're a little taller now.
and we added alex after i took a few photos.
and then we walked up these steps: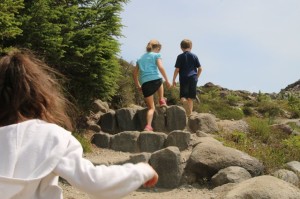 and i remember my little 1&3 year olds stretching their legs in an impressive attempt to walk up the steps on the trail.
and they succeeded.
they talked about that hike for MONTHS.
they kept asking if we could go back.
but it's a seasonal trail, so it wasn't an option.
it was so fun to enjoy little memories like that today.
as you can see, it's just breath-taking up there.
look CLOSELY at these photos:
this is where we decided to end our hike today (we weren't very far in).
i don't remember if we went much further than this point almost 5-years ago, but i'm thinking we probably stopped around the same place.
the munchkins threw rocks into a "lake" (aka: a giant puddle of melted snow) while dave scaled the mountain.
yes,
scaled.
he just walked up the rocky side.
skipped the trail.
(shhh! don't tell anyone!)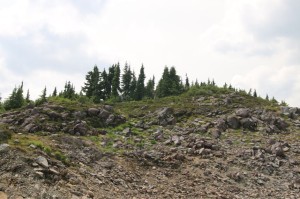 do you see him?
here's a cropped version of the photo: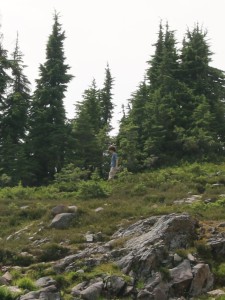 while the Munchkins were occupied with rocks, water and mud,
and while dave was busy scaling a mountain,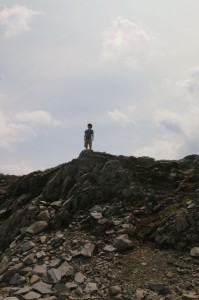 i occupied myself with some ferns.
i really like this one: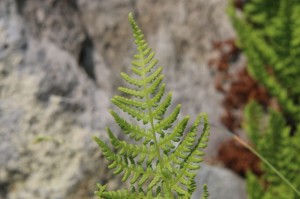 but then i turned around and i couldn't find alex.
big surprise, right?
she had wandered just a short distance away but it was hard to see her b/c of the rocks boulders that were in the way.
and by the time i got to her to help her climb the rocks she wanted to climb,
this was my view: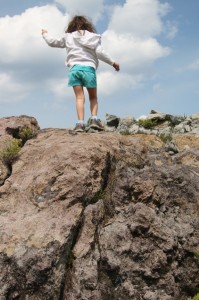 for the first time this ENTIRE trip, she said "i gwamma's big goy-el. i not wittle. i big."
but fast forward 10 minutes later when she was told she had to WALK back to the parking lot and she was instantly "too wittle" and a "wittle goy-el" again!
we really, REALLY don't grow trees like that in arizona.
not even in flagstaff.
those bad boys are TALL.
and they were the SMALL trees around us.
by the way, alex DID walk all the way back to the parking lot.
no piggy back rides.
no one carried her.
she walked the WHOLE way.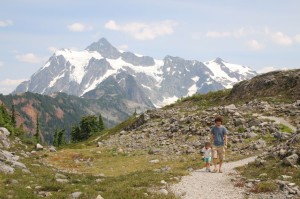 (but she wasn't very happy about it.)
one last one of mount baker before we move along….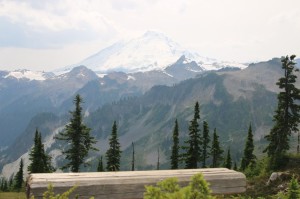 there was this one SMALL HUNK of snow off of the parking lot and we promised the munchkins (samantha, in particular), that they could play in it.
or on it.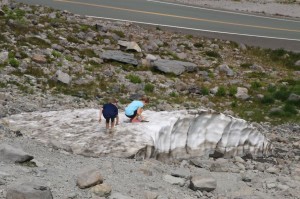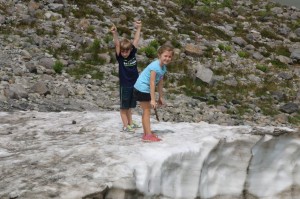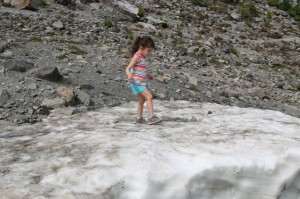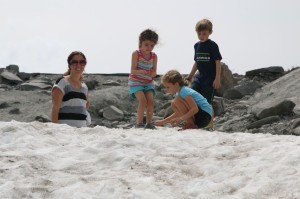 it was super dirty, as you can see.
and it was icy.
but it was snow.
i'm guessing it'll be gone before the week is over unless it cools down significantly.
then we stopped at Picture Lake (which you can access ALL year long, b/c it's on the same driving path as the ski area.
i have some AMAZING photos of mount shuksan reflected in the water at picture lake.
but not from today.
it was a little too breezy for calm, reflective waters this afternoon.
but you get the idea: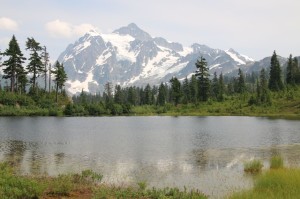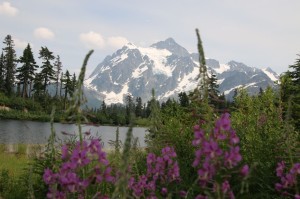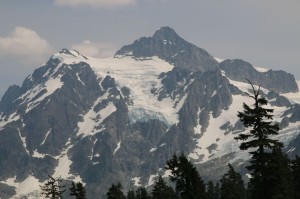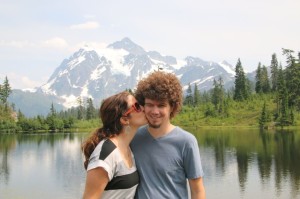 i was hoping you could see the "icy blue" of the snow (that means it's COOOOOOOLD) in that close up mountain photo above).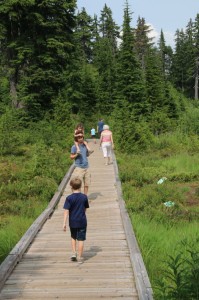 i love these wooden boardwalks to the lake.
and the benches at the lake.
when i first moved to washington in 1999, one of my roommates shared this place with me.
it became a favorite place to visit to read the Bible, pray, and journal.
i'll always feel emotional visiting this place.
after a brief stop, though, we loaded back into the vehicle and headed towards home.
but via another stop.
nooksack falls.
it turns out that our little "pit stop" on the way UP the mountain (remember – some people were getting carsick?!) was just around the bend from the turn off to Nooksack Falls.
sigh.
we managed to enjoy our little pitstop even without the falls.
but we DID stop at the falls on our way DOWN the mountain.
a sweet little someone fell fast asleep.
so grandma & mommy took turns visiting the falls.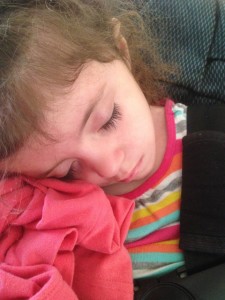 Nooksack Falls is where the melted snow travels down the mountain and goes over a cliff to join with the Nooksack River. The speed of the water and the volume of the Falls depends entirely upon the winter AND the spring. see, if there's a LOT of snowfall in the winter but then it's a warm spring, there's a LOT of snow melt which means a LOT of water is going over that cliff.
Last year they didn't have much snow but it's been a really warm spring/summer, so there was still lots of snow melt (as in, the snow from the year before).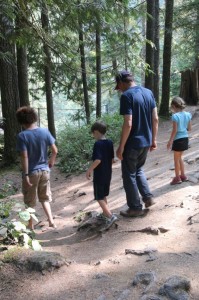 as seems to be common with most waterfalls, there's not a great spot to photograph it.
it's super cool to be so close.
to hear the ROAR
and the WHOOSH
as the water travels at break-neck speed over the cliff.
and to watch it swirl and twirl and mingle with more run off water below.
(same waterfall above – dave played with the camera's shutter speed). 

and here's a little glimpse of the Nooksack River:
we have been SO THANKFUL for this amazing vehicle, loaned to us by our dear friends.
it has been such a blessing for us to travel in ONE vehicle as a family of five.
and to be able to add grandpa & grandma to the car, too? major bonus.
and, as i discovered today, the waaaaaaay back is where all the cool kids (and moms) sit:
(she tried REALLY hard to touch her tongue to my tongue.
i just kept turning my head further away until dave snapped the photo.
so gross, sam. so gross.
but kinda funny, for sure.)
our final stop on our way home was at a street sign. i saw it in passing on our way UP the mountain and we all worked HARD to find it again on our way back DOWN.
just a quick shot of Davey at Eastwood Road.
the last name of his 1st grade teacher was Eastwood.
i e-mailed her the photo earlier this evening.
hopefully she gets a kick out of it!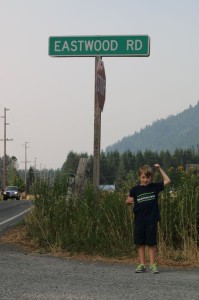 and then, HOURS later, dad sent us all outside to look at the moon.
or was it the sun.
this was actually the sun.
i'm already losing my mind.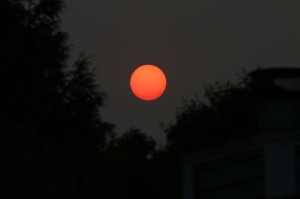 it was actually MORE orange-red than that.
it was beautiful.
and kind of creepy.
and i know the photo isn't super clear/sharp/in focus.
i was holding the camera by hand.
that's not easy to do in low light.