in case you were wondering,
birthdays are fun around here.
but sometimes i take them too seriously.
and i tend to go a little (or a lot) over the top.
this year, as much as i love my munchkins,
i needed a break.
and i really wanted to celebrate ALEX and DAVEY
instead of daniel tiger's neighborhood and teenage mutant ninja turtles,
or puppies and Lego,
or yo gabba gabba and the avengers.
so this year, we were on vacation (aka: out of the state) until the day before alex's birthday.
with ONE day to pull something together,
i went for EASY and LOW-KEY.
On Monday,
when alex turned FIVE (holy smokes, HOW did that happen?!),
we invited her dear friend Jada to swim and eat fro yo.
the girls opted out of swimming.
not sure why.
but they're 3 and 5.
no worries.
they found other ways to occupy their time.
and the older Munchkins were actually helpful!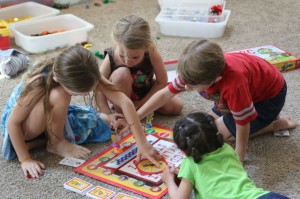 and then we all loaded into the Pathfinder for the short drive to Swirl It.
(please note: at other times of the year,
we WALK to swirl-it.
it was a little hot on Monday.)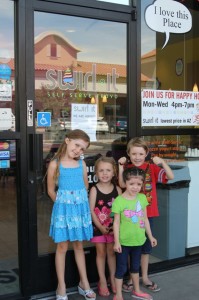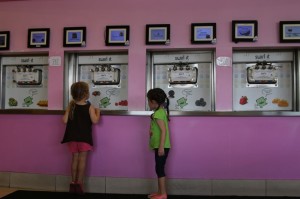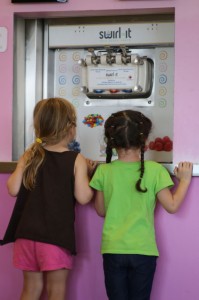 the girls were well-fed.
i think jada was in candy heaven.
i didn't limit any toppings and there were times i added her toppings instead of having her mom do it!  :)
for dinner that night,
we enjoyed BBQ chicken, mac-n-cheese (from Joe's BBQ – hooray for FREE birthday food!), baked beans, potato salad, and grilled asparagus.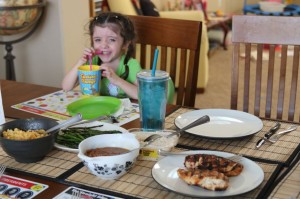 after dinner,
we enjoyed GF cupcakes (yellow & chocolate with pink icing)
and ice cream (neopolitan).
she had two cards: one from her great grandparents and one from her grandparents,
new sandals from her brother and sister,
mini m&ms (b/c she LOVES candy) and a new scooter.
which was promptly taken outside.
in the evening heat
(which wasn't really THAT bad).
i think her special day was a huge success!
and i didn't look on Pinterest ONCE for any party ideas!
fast forward to wednesday,
when davey turned EIGHT.
yep.
eight.
i've been a mom for EIGHT years.
but that's a whole different story.
Monday went so well.
and i still wasn't ready for an over-the-top party.
or a mediocre party.
so davey invited TWO friends over to swim.
and eat pizza.
and eat cupcakes (leftover from alex's birthday party – but with blue icing).
and ice cream (also left over from alex's birthday).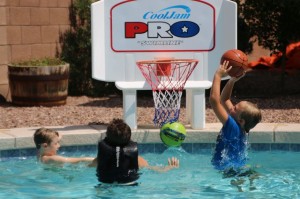 i'd say that,
once again,
the EASIEST PARTY EVER
was a HUGE success.
ahhhhh.
the new basketball backboard was a big hit: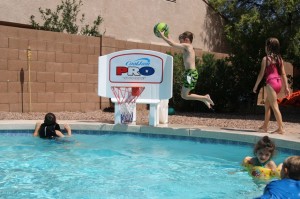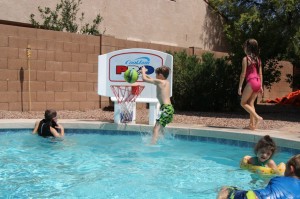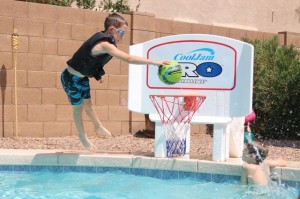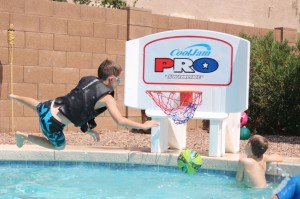 and i took some close ups:
and there was a jumping contest:
and  there was diving for "buried treasure"
(aka: diving for whatever pool toys could be found).
and this guy had a GREAT time!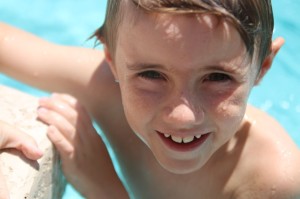 i was even able to sit back for a short while and do this: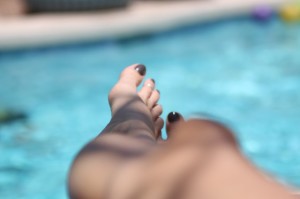 and then,
before we went inside for pizza,
i encouraged a group jump!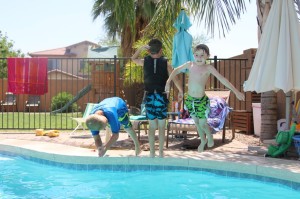 but the boys didn't quite jump at the same time.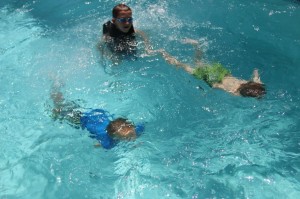 so we tried again.
and let samantha join the jump.
but davey wanted to dive.
so he waited.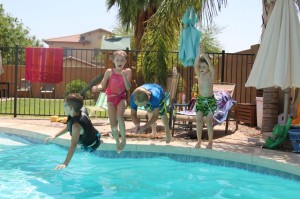 which means they didn't jump at the same time.
again.
sigh.
what's a mom to do?
i made the boys (and samantha) jump again.
and this time….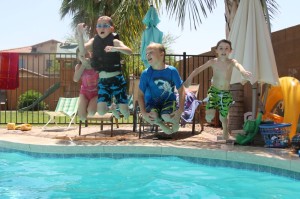 …they got it!
it was SOOOOOOOO worth it!
did you see it?
that photo above?
here it is again,
just in case you didn't pay attention: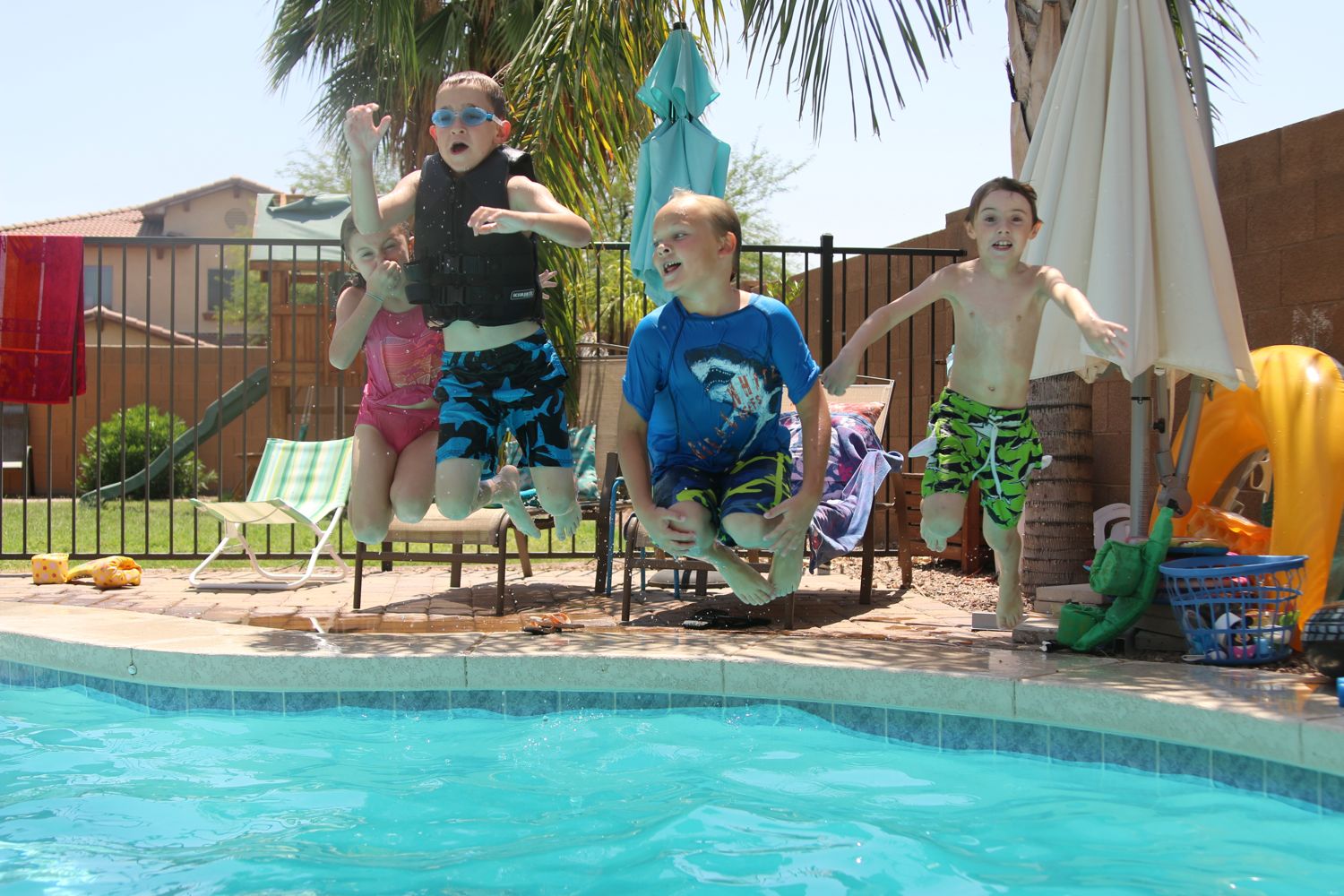 yeah.
it's pretty fantastic.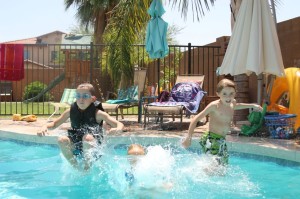 and then we went inside for lunch.
papa johns pizza.
DELIVERED.
and then the aforementioned cupcakes and ice cream.
(and a candle left over from a parent turning 28…)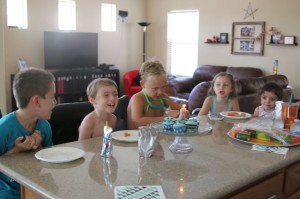 (did you see that?
EVERYONE at the party fit around my island.
yeah.
EVERYONE.
that's pretty fantastic.)
and with a little indoor Lego building time,
the party wrapped up.
well, most of it.
because one of the guests had to leave to go to his swim lesson.
but again,
before i would let him leave the house,
i had to snap a group photo (or two):
and then it was PRESENT time: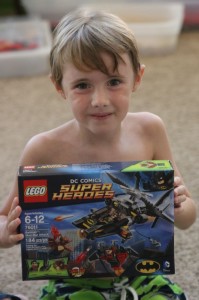 and that set provided a few hours of fun: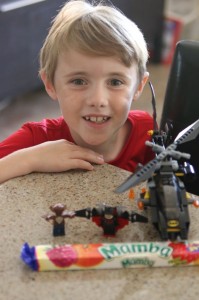 in our house,
on your birthday,
YOU get to choose what we watch.
but it still has to be something appropriate for ALL of the family.
or all of the munchkins.
since dave was at work and i was in the pool.
yes,
i'm serious.
i wanted to enjoy the pool.
the munchkins didn't.
so they watched Cloudy with a Chance of Meatballs 2.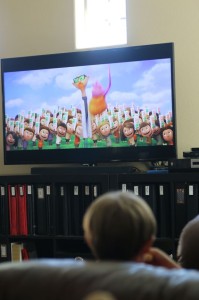 the birthday boy or girl also gets to choose dinner.
dinner was teriyaki chicken with rice.
it's been a LONG time since we've had this meal.
the Munchkins could not stop stuffing their faces.
it is pretty good.
after dinner,
davey chose FREDDY's for his special birthday treat.
and they gave us his sundae for free!
i didn't know they did that!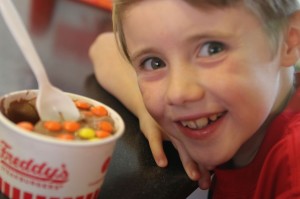 once we got back home,
it was time for PRESENTS: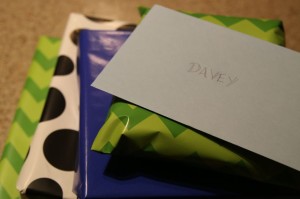 i think he was pretty pleased with his haul
(a card from the grandparents, some t-shirts, and some board games).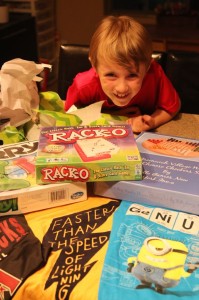 the board games were promptly opened
and enjoyed: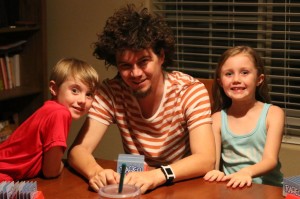 and THAT,
my friends,
is the EASIEST way to celebrate a birthday…
or two…
in a week.
with no planning.
it was wonderful.
and i'm looking forward to october when i get to do it again!