DAY ONE:
while it's been relaxing,
we HAVE been keeping busy since nana came to town a few days ago!
her flight was a little late.
i taught the older kids how to read the board.
they weren't so patient.
they have learned by WATCHING.
and i am learning that i need to change what i do.
fast.
parenthood is not for the faint of heart.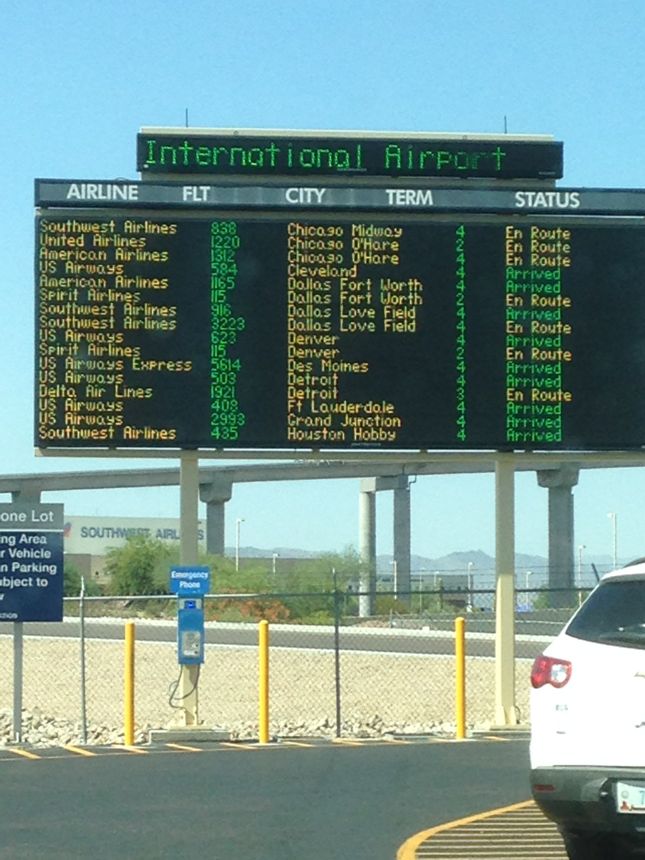 within minutes of arriving,
the munchkins had nana playing games,
and telling jokes,
and laughing.
a lot.
and then she took 20 minutes for herself.
to open the 46-pound box that she shipped here last week.
she had to pull out birthday gifts and wrap them.
she had to pull out daily "surprises" and hide them.
and THEN she was able to give them STUFF.
earlier this year,
nana had FOUR
(yes, F-O-U-R)
pipes burst in her upstairs.
while she was on vacation.
which means she needed MAJOR home renovations
(because the upstairs pipes bursting leads to flooding DOWNSTAIRS).
the upstairs has 2 bedrooms and 1 bathroom.
those rooms would be my old room and my first old room.
(my brother hardly lived in that house, so i consider them BOTH "my room.")
anyway…..
the need for new carpet in both rooms,
(among other things),
means she cleaned EVERYTHING.
including my roll top desk (i still miss that thing!),
and all the shelves in both rooms,
and she got rid of STUFF.
JUNK.
THINGS.
and some of that stuff/junk/things came here.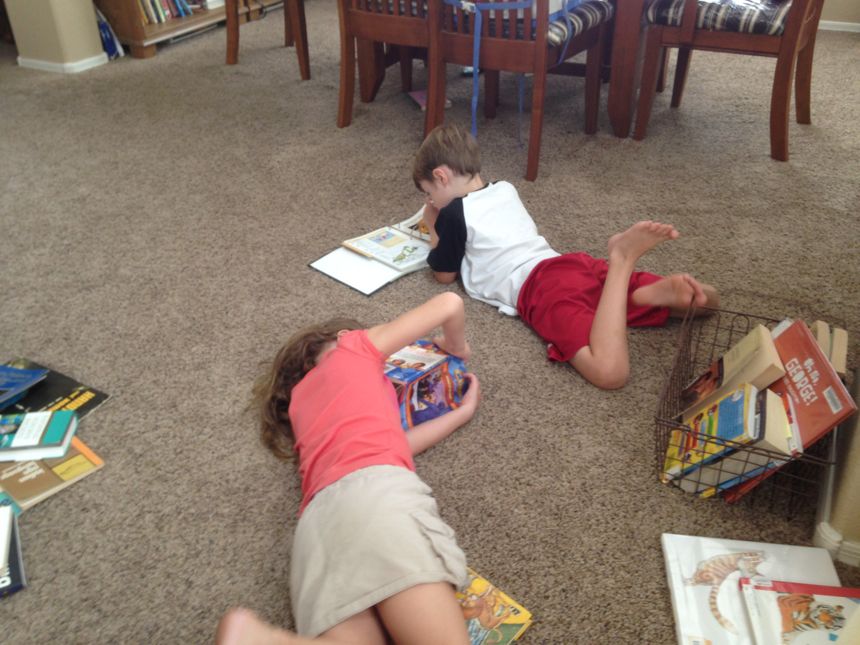 it included a LOT of books.
more like "reference" books instead of novels or stories.
we tend to use GOOGLE as our "reference book,"
but nana is of a different generation.
so the two older Munchkins spent a solid hour that first day immersed in various books.
later, i caught the girls checking out videos on nana's computer.
in this photo (which is only "flattering" of alex),
they were watching the videos Dave posted of Alex's pre-school celebration.
you remember,
the really CUTE songs?!
i must admit,
it was adorable.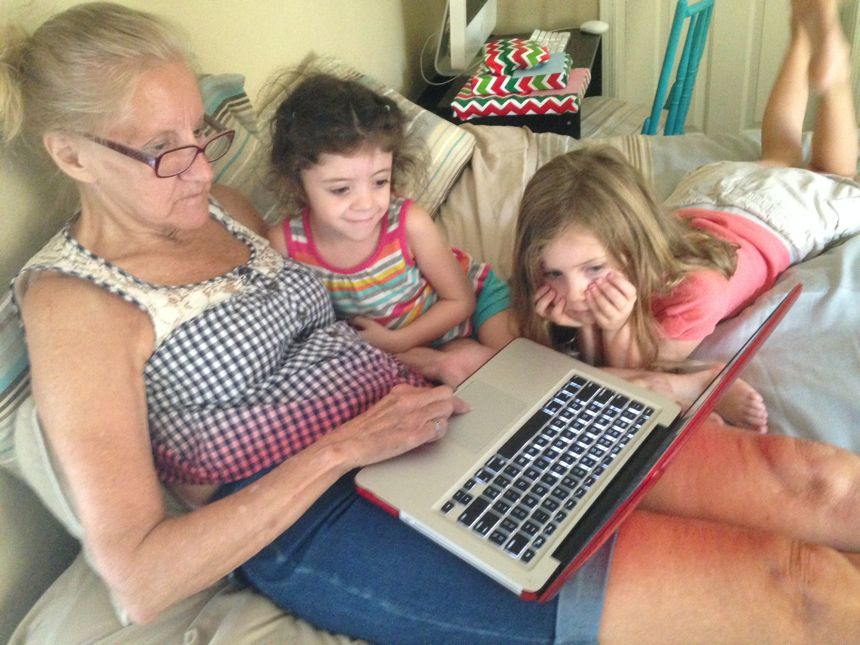 along with all those books,
nana found some of my high school and college memories.
i found THE Bible verse quiz that landed me in detention.
see, i cheated on the quiz.
(i'm not "excusing" my behavior,
but a large percentage of us cheated on those things.
we just always forgot to memorize the verse by Friday morning.)
i didn't get in trouble for cheating, but for FORGING my mom's signature.
yep.
my first
(and ONLY)
detention was in grade 7 or 8 for FORGING my mom's signature on a quiz where i got caught cheating.
what i didn't know,
is there were some notes exchanged between my mom and the teacher because,
apparently,
i also received 10 demerits for my actions.
but, as usual,
that was NOT the story i was planning to tell you here.
it just "slipped" out through my fingers.
well,
you now know i'm human.
i was also reminded that i was only a slightly above average student.
(i have quite a few copies of report cards and progress notes that now provide that proof).
in the two large envelopes of paper goodies from my mom,
i also found these: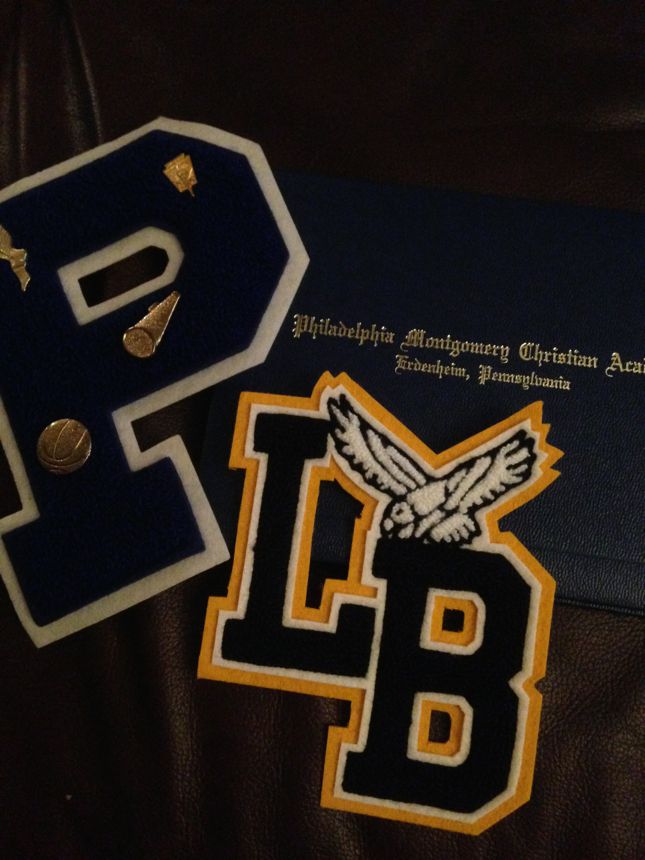 my two varsity letters AND my high school diploma.
I attended LBCA (lower bucks christian academy) from grade 4-10.
(side note: Dave's grandpa helped found that school.
and Dave's grandma taught there the first year it was open.)
after my 10th grade year,
the school closed it's doors.
(long story to be saved for another day).
so then i attended PMCA (phil-mont christian academy) for grades 11&12.
my "athletic" career began when i was a sophomore.
but we'll leave any more "trips down memory lane" for another blog post.
it's time to get back on track.
i looked through those papers after the Munchkins went to bed.
but BEFORE they went to bed and BEFORE i looked at all that old paper,
we had dinner.
and then the Munchkins cleared the table (like usual).
and put away the left overs (like usual).
and loaded the dishwasher (like usual).
and then it was time for a belated BIRTHDAY celebration.
so nana pulled out gifts.
a card and a gift for Alex.
a card and a gift for Davey.
and just a gift for Samantha.
(because EVERYONE gets presents on ONE person's birthday).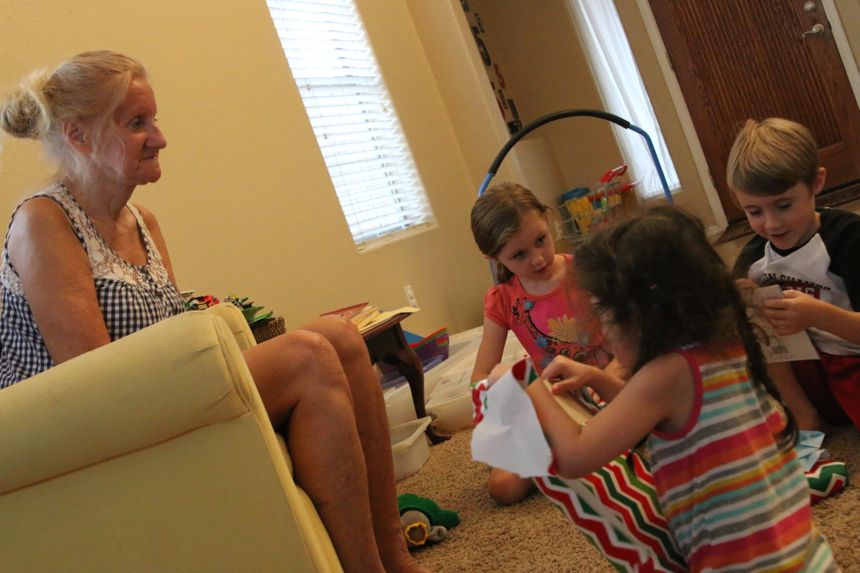 and, as if that wasn't enough,
nana likes to shop.
and she LOVES a good bargain.
(i was well trained).
so she regularly shops for clothes for the Munchkins.
i LOVE that habit of hers.
dave and i even got a pile of stuff this time!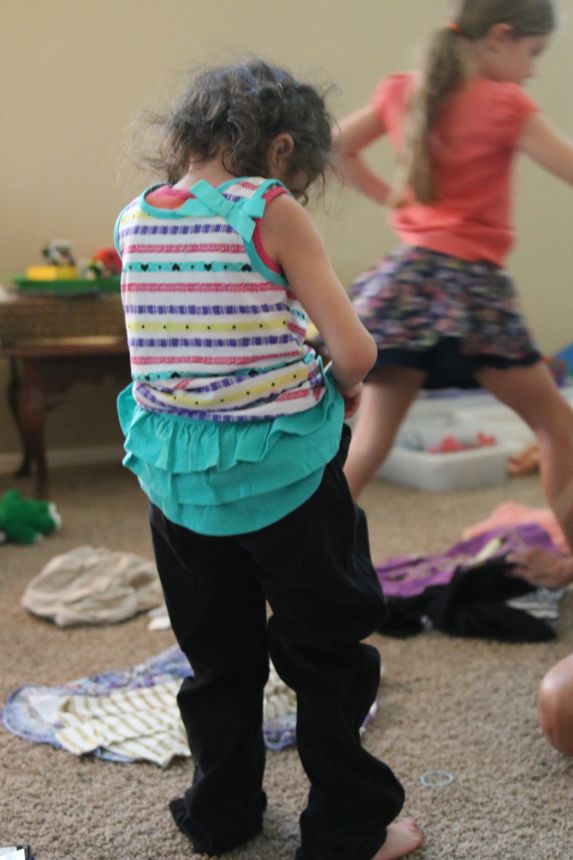 (alex decided to try on ALL of her clothing AND some of Samantha's clothing at ONE TIME).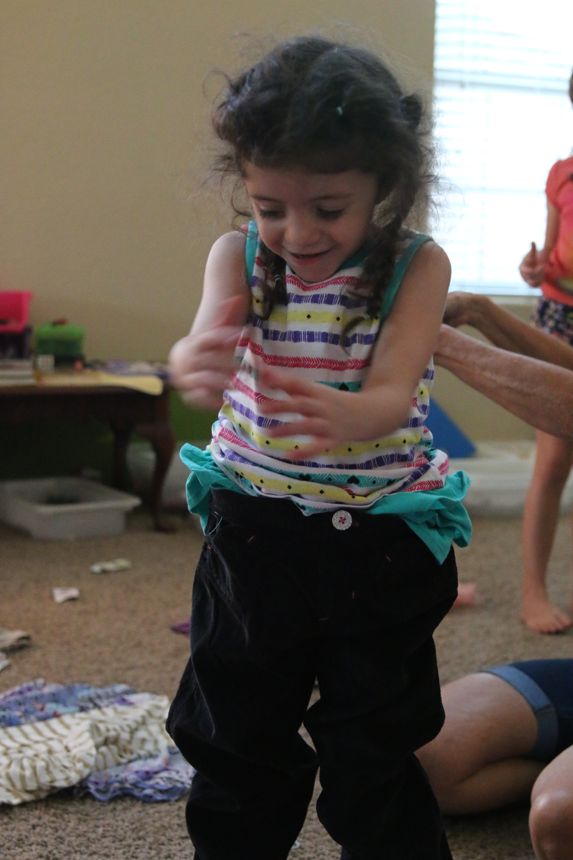 (check this out…. she looks TUBBY):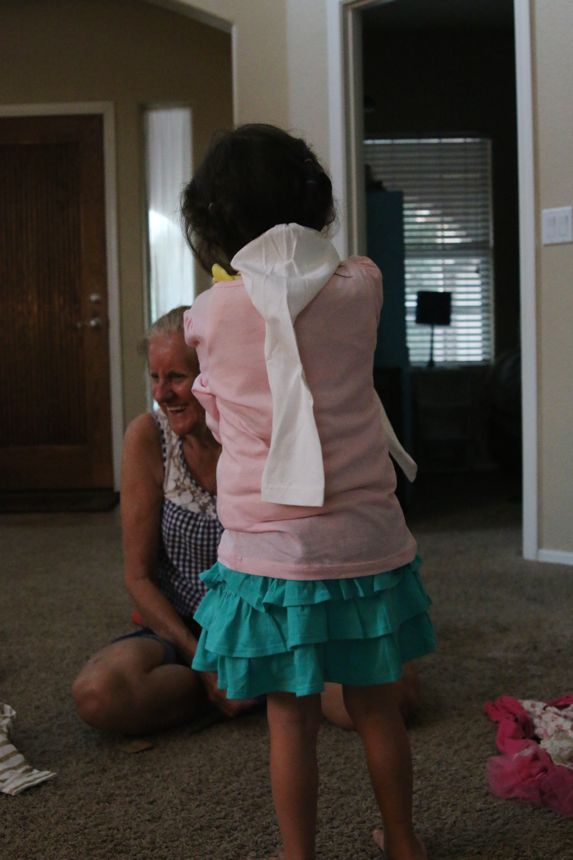 this is her GROWN UP tank top (and jacket):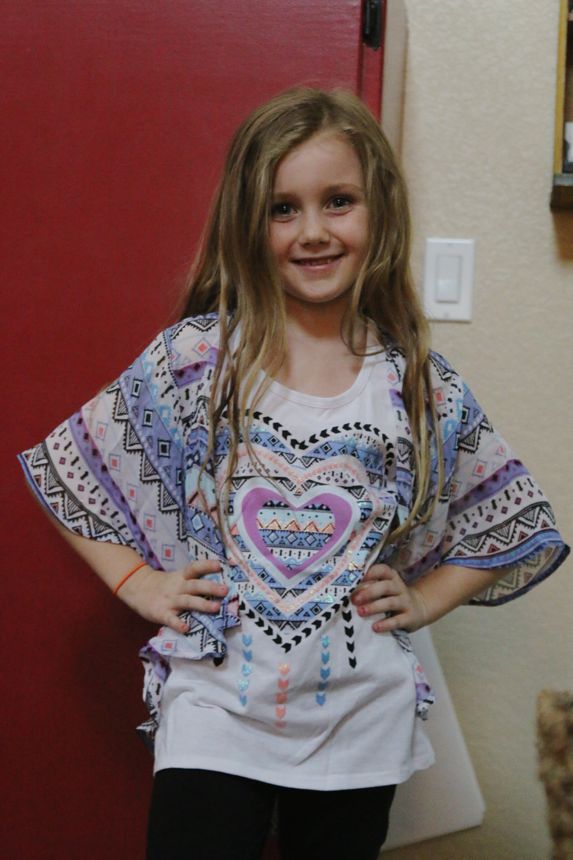 and then it was late and it was time for everyone to go to bed.
especially nana, who was on a plane by 6am that morning.
east coast time.
so that's 3 am our time.
DAY TWO:
on day two,
ALL of the munchkins were up,
dressed,
and READY TO GO by 7:30am.
emphasis on ALL.
seriously.
even samantha.
so they left the house with Nana and didn't come home until almost 10am!
they walked up to Einstein Bros. Bagels,
and then enjoyed an "adventure" walk to find more pellets.
despite the heat.
i think they're crazy.
but they had fun.
while everyone hung out at home and relaxed,
i took alex to a local Imaging Office to get a bone growth x-ray.
her doctor requested it at her well child exam last Friday.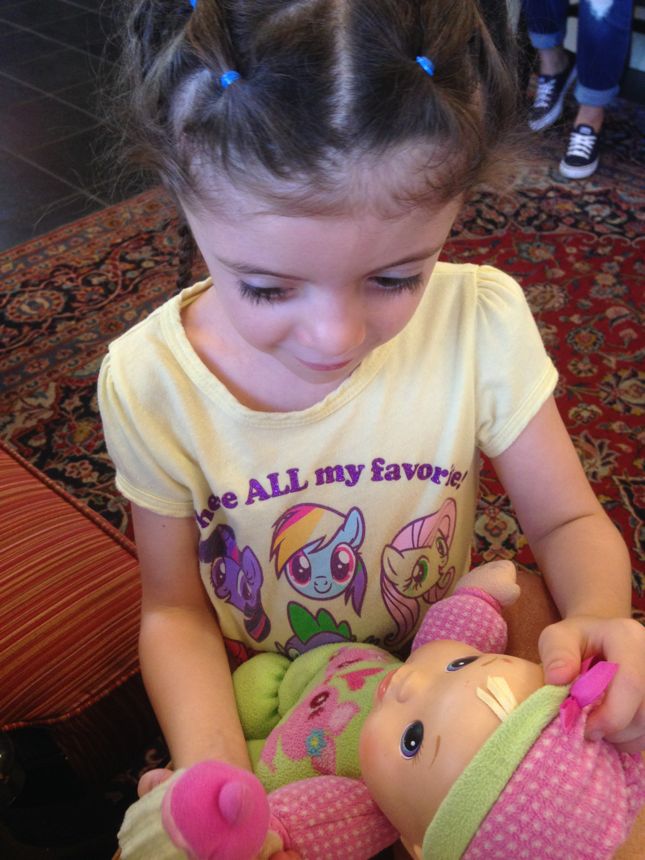 it was fun to have JUST alex on a little "trip" with me.
she brought this Baby Alive doll.
and she (alex, not the doll), was a TOTAL CHARMER in the waiting room.
she almost went home with another family.
#i'mnotjoking
but after a short wait, we were called back.
and it took less than 2 minutes for them to take a picture of her wrist.
x-ray complete.
now we're waiting for the radiologist to read the x-ray.
and write a report.
and send it to the pediatrician's office.
and the pediatrician to read it.
and the pediatrician to call us.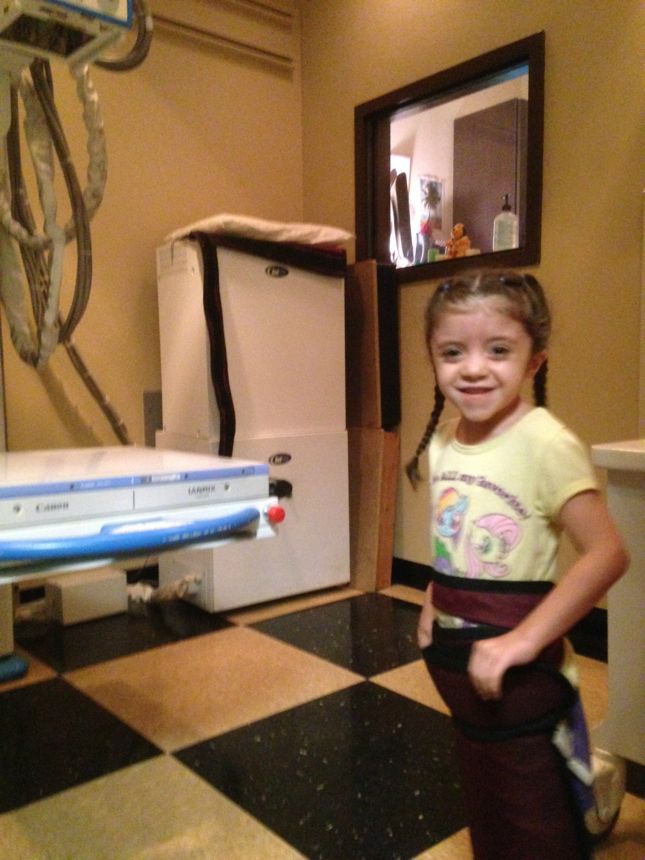 we're not stressing it.
after lunch,
we headed to the mall to visit Macy's.
(we had to return some of the things nana bought.
some stuff was the wrong size.
some stuff was duplicates.
from nana.
meaning she put TWO of the SAME shirt in the box to ship.
and she did it TWICE.
both times for davey.
at least she bought the shirt in two different sizes!)
after spending WAAAAAAAAY too long at Macy's to conduct our business
(it wasn't just an easy return – we had to find some replacements),
we needed a mid-afternoon treat.
Dairy Queen was a good stop:
and then the kids' play area was a good place to warm up.
and then we hit up the disney store (where davey spent a gift card from Christmas!).
and children's place.
and crazy 8.
and we got home with just enough time for me to BREATHE and prep dinner!
and after dinner,
something WONDERFUL happened for Samantha: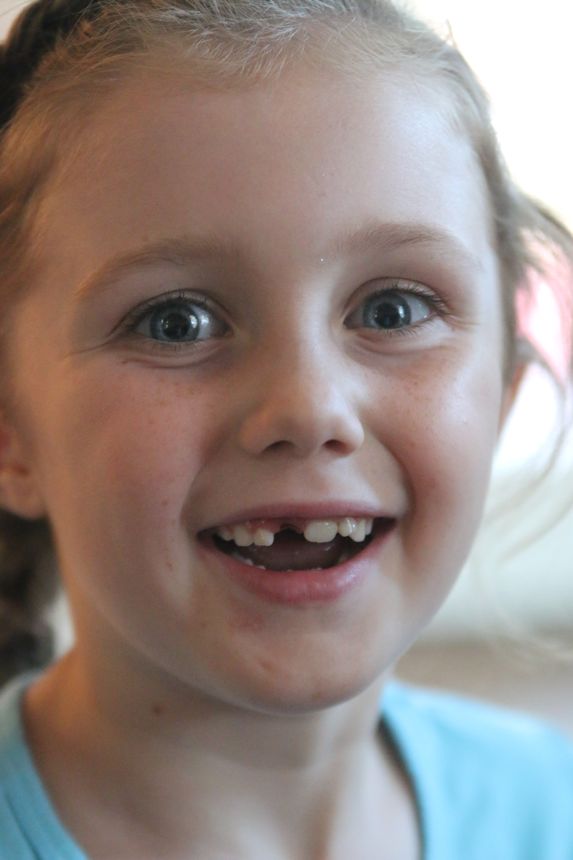 yep.
she pulled out her tooth.
her SUPER LOOSE tooth.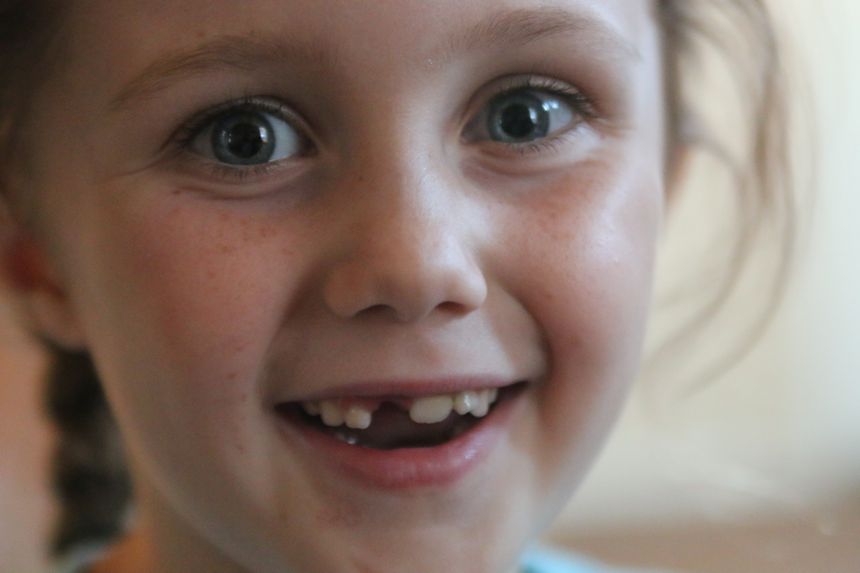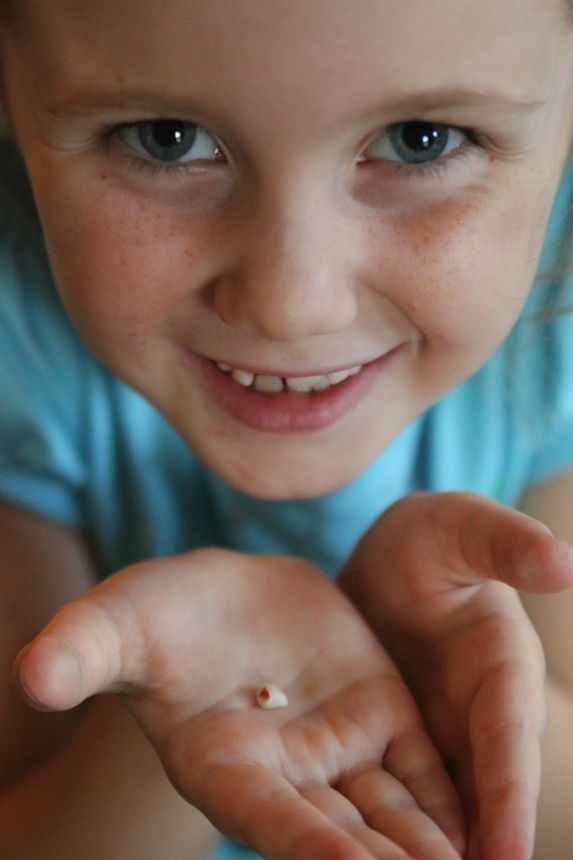 (in the photo above, her BOTTOM tooth looks a little black AND seems to "fill the spot" of her missing tooth on the top row!)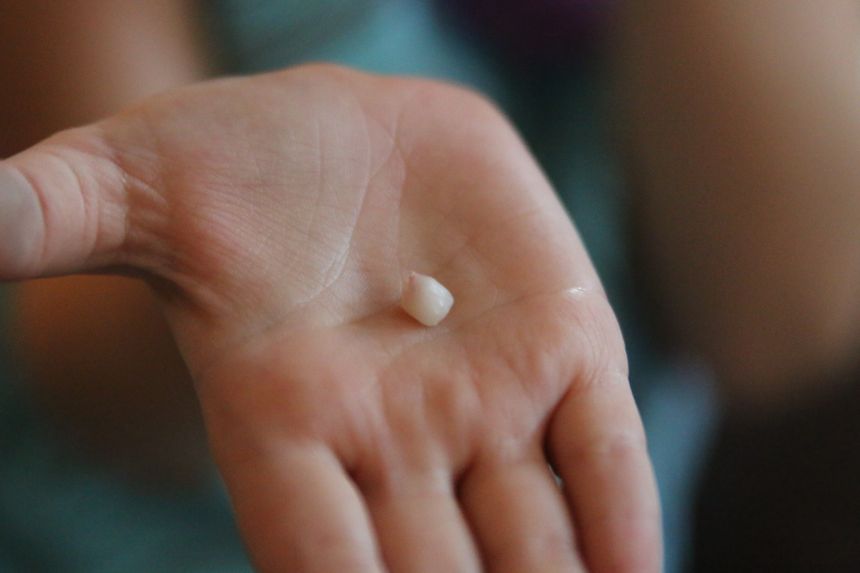 DAY THREE:
samantha lost her tooth before she fell asleep on Wednesday night.
she HAD it.
she wrapped it in saran wrap.
she put it under her pillow.
and then a little sister got involved.
and it disappeared.
and there was much sadness.
but it was late and this mommy assured samantha that the Tooth Fairy was WELL AWARE that she'd lost a tooth from her mouth.
and that she'd lost a tooth from under her pillow.
and MOMMY WAS RIGHT!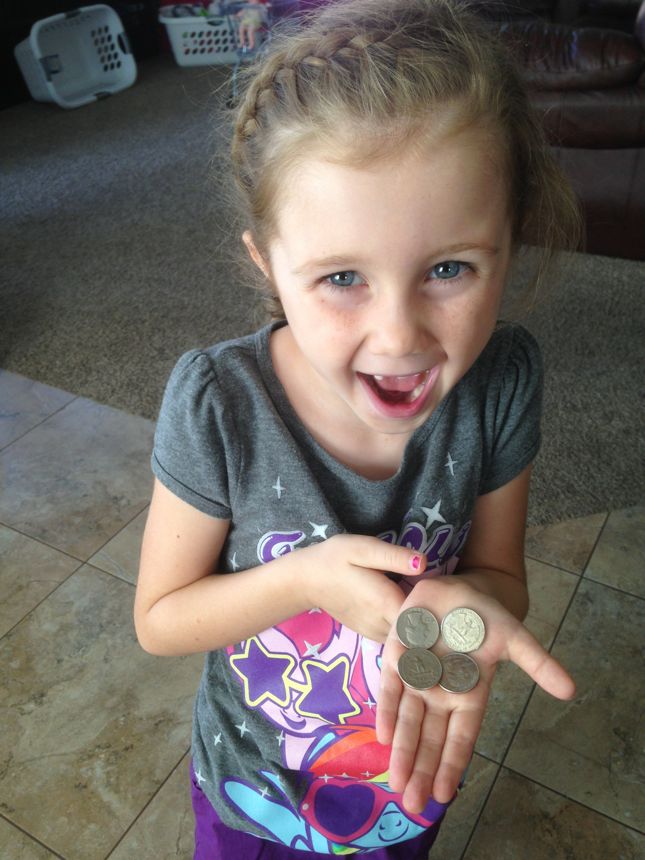 we were up and out by 9am for SUMMER MOVIE FUN!
today was Curious George.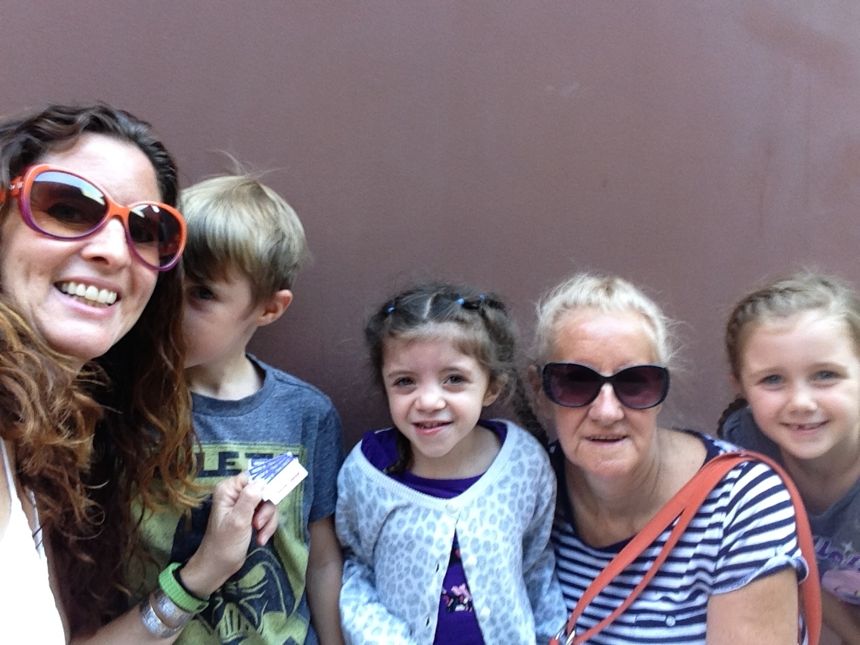 and then mommy had a PTSO meeting luncheon/meeting to attend: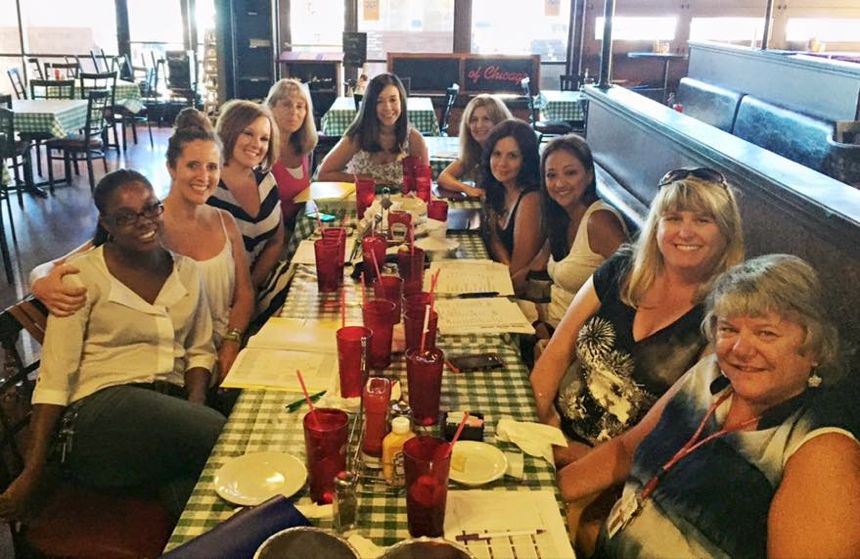 while the Munchkins and nana relaxed at home.
started a corporation.
held their first meeting.
ate lunch.
and whatever else they did.
when i got home at 2:40,
i got in the pool.
eventually everyone else joined me.
(her new swim suit is from the clearance rack at Crazy 8.
it was on sale for $9.99.
and it was another 30% off.
SCORE!)
(this cute girl ALSO got a new swim suit from the clearance rack at crazy 8.
her suit was only $7.99.
plus 30% off.
again: SCORE!)
i tried to take a photo of all three munchkins in the pool.
they wouldn't all cooperate at the same time.
here are the best two shots i could get.
little un-cooperative buggers.
(i took these with my iPhone with a LIFE PROOF case on it.
it's water proof.
and it's cool.)
this was my reaction to their poor "photo subject" skills: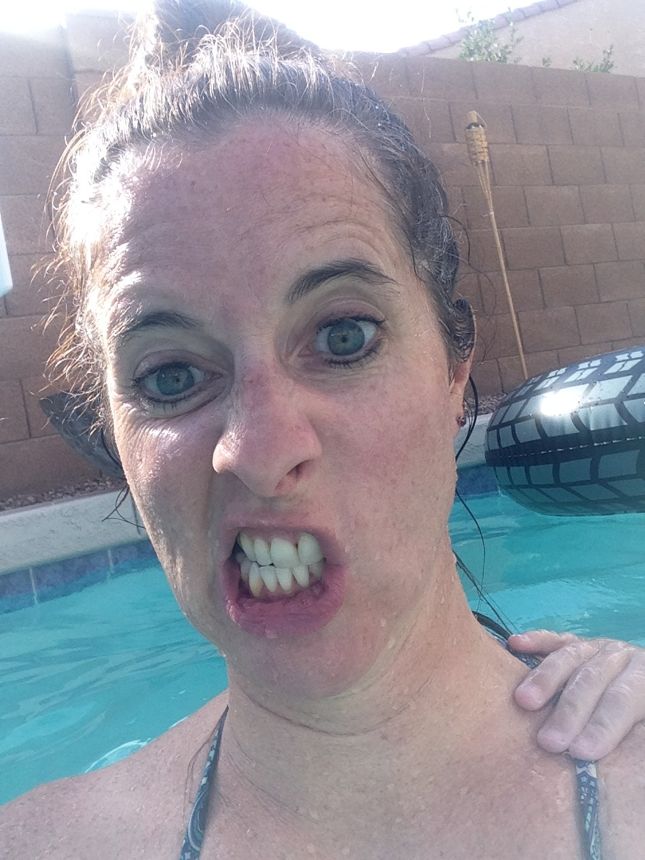 and then davey and i took some underwater photos: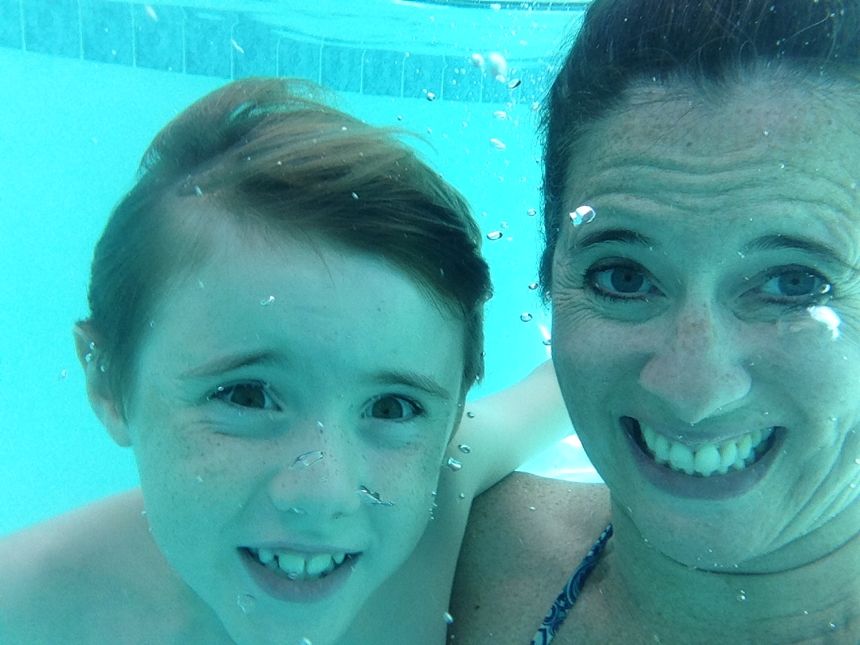 but i guess i'm only showing you ONE of the photos we took.
that's okay.
we laughed a lot.
it was fun.
and then the girls all got OUT of the water.
but stayed outside.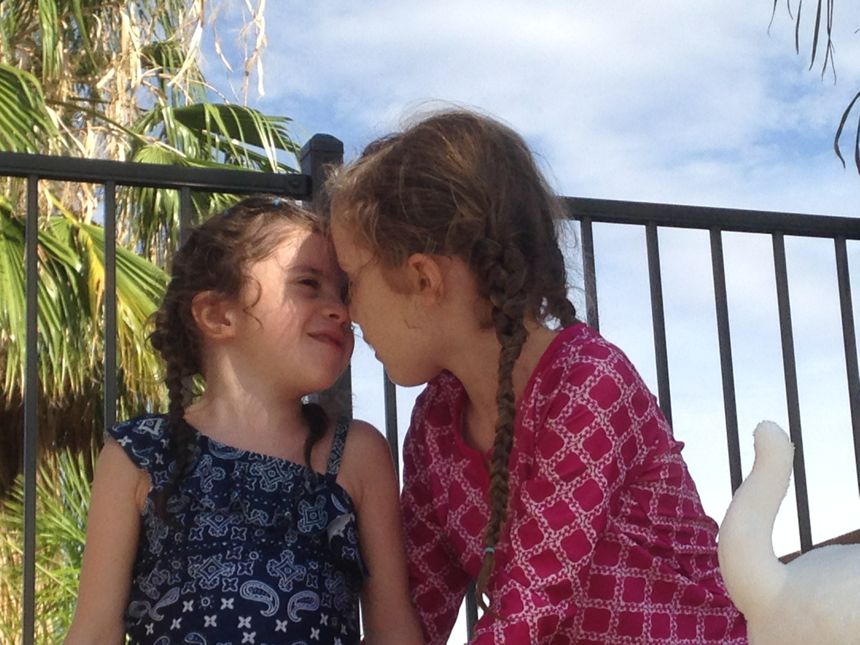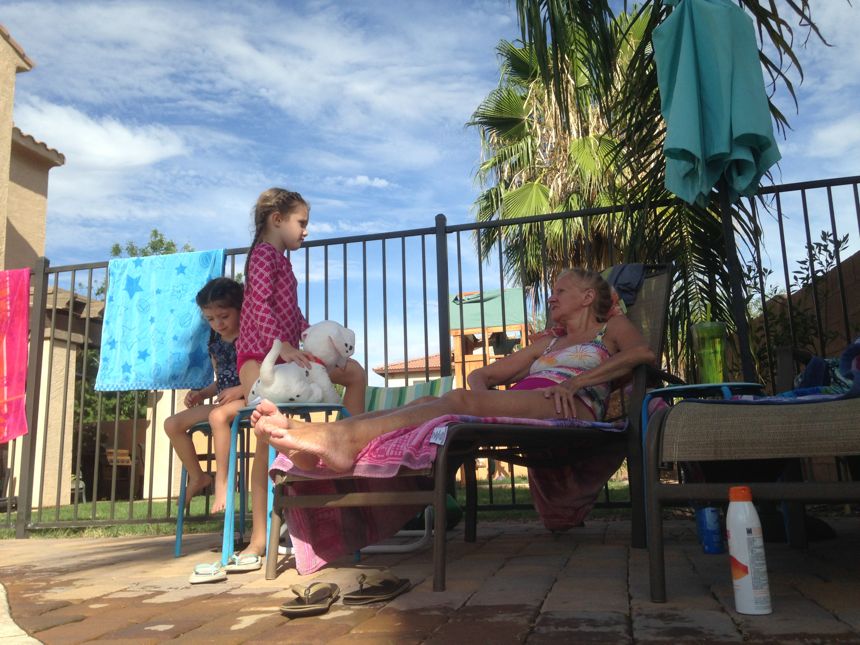 (see that dalmation from the Disney store?
the stuffed animal?
next to samantha?
Disney store had a 40% off clearance prices sale yesterday.
so this puppy was down to $4.19 plus tax.
and davey had $4 to "blow" on his gift card after he chose two things for himself.
so he bought the puppy for alex.
she was THRILLED.
but sometimes big sister likes to take over.
like today.
outside at the pool.
so then alex went inside.
got dressed.
and played with her puppy.
in the "cage" samantha made for the puppy.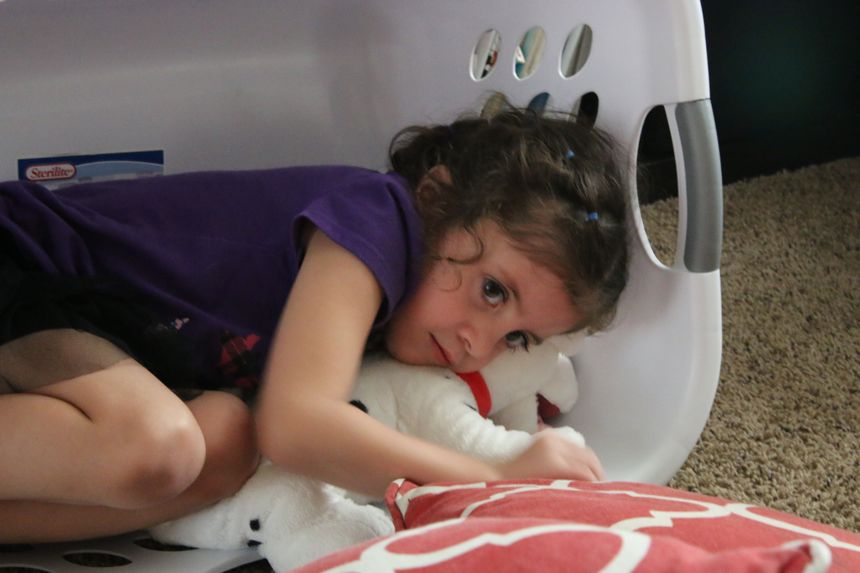 isn't she cute?!
so after dinner,
dave, alex, and i went swimming.
nana, samantha, and davey played Monopoly Jr.
and THAT,
my friends and readers,
is a synopsis of nana's adventures in arizona for days 1-3.