over the years, you've read many stories of adventures with my friends.
you've read about shopping trips.
and mini vacations.
and girls' night.
but i don't think i've ever told you about christy.
she kinda changed my life.
and i'm not sure she even knows it.
though i guess she'll find out when she follows the link i send her to this blog post!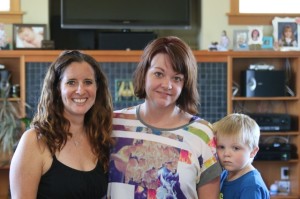 oh-so-many years ago, i was ridiculously stupid brave and drove ACROSS the country.
by myself.
with a car FILLED with stuff.
including a soft-car-top-carrier filled with all my clothing and bedding.
(it was filled with pieces to a computer cart but when the roof of my car caved in, i had to re-think that packing plan. but, at usual, i digress).
i landed in lynden, washington the thursday before memorial day weekend back in 1999.
i had a place to live – a tiny basement room in a house with some other girls.
but about 4 months later, we all had to move out.
we didn't have a lease, so we just found other places to live.
only i was new in town and was really at my wit's end figuring out how i could afford a place to live.
i was regularly attending church and my amazing sunday school teachers (college & career group) offered me the spare room in their home.
rent free.
seriously.
i just had to chip in for groceries.
and they stored all my extra stuff (b/c the bedroom was already furnished) in their garage.
i lived with that amazing family for 3 months.
during those three months, another girl from that sunday school class had housing issues and had to move.
we connected and agreed to get a place together.
we apartment-hunted and found a place pretty quickly.
we didn't know each other very well.
but it was january and it was time for me to move out of that amazing family's home.
we moved in on different days and neither of us was around when the other moved in.
i prayed hard that it wouldn't be awkward.
i was seriously stretched thin with my finances.
when i moved in, i found a plastic male figure (not a doll) in my window sill.
and i think it was that one "strange" and really, really fun event that got us started on the RIGHT foot.
we eventually placed that guy (i think we named him "Todd") on the top of the TV.
kinda like a house mascot.
for the rest of that year, we had a blast.
we shopped together and simply split the bill down the middle.
we hung out together all the time.
we worked out together (using our sliding glass door & windows as a reflective "mirror").
we went to hawaii together.
we stapled christmas lights to our wall in the outline of a tree and then stapled christmas ornaments on the tree b/c we were too lazy to figure out how to get a tree from a lot into our apartment (including strapping it to the roof of one of our cars).
we laughed.
a lot.
we cried.
a little.
we were adventurous.
we shared.
we lived life.
and we lived it well.
and after a year(ish?!) we found a house to rent on the other side of town.
so we continued our friendship with another renting situation.
they were weird landlords.
super sweet people.
but very, very weird.
but in the house, we had parties.
we painted the walls.
we covered weird stains on the carpet (from previous tenants) with furniture.
we endured the ping-ping of rain on our metal roof until we got used to it.
we took photos of each other in our bathing suits (purchased for our Hawaii trip) when there was a foot of snow outside.
we were the "hang out" house for our friends.
it was fun.
it was relaxing.
it was a good life.
and then one of us started dating someone.
and then that one got engaged.
and that one became very ego-centric.
and the wedding wasn't far away.
and the other one moved out when she found a cool apartment.
and the house felt very, very empty.
but despite that, the ego-centric roommate was still loved by the other roommate.
they remained friends.
a few years later, a boyfriend turned into a fiancé and then into a groom.
the ego-centric's husband was the wedding photographer.
the ego-centric roommate was the wedding coordinator.
the other roommate was a BEAUTIFUL bride.
then came new jobs.
different lives.
children.
and then two roommates were stay-at-home moms.
and they started getting together about once a week.
and then it was once every other week.
and then it was once a month.
and then the ego-centric roommate moved to another state.
far away.
and those visits happened less than once a year.
but the friendship?
it survived the drama.
it survived the trauma.
but only because that other roommate knows what it means to be a true friend.
and this is my PUBLIC APOLOGY to one of the best friends i've ever had….
i'm sorry that i was an ego-centric jerk who didn't consider you.
your thoughts.
your feelings.
and i'm so very thankful that we're still friends.
and i'm so very thankful that we can get together once every year or two to catch up.
to talk kinda like the old times-but-not-really-b/c-the-kids-keep-interrupting-us.
and now those children are almost-8, 7, 6, almost-5, and 4.
and today they all got to hang out together.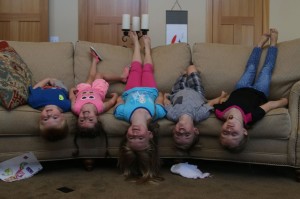 and the roommates were reunited.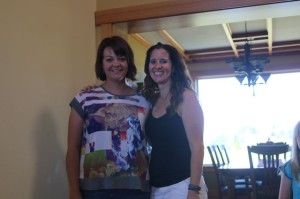 and, yes, it did feel good.
i enjoyed checking out artwork by her daughter: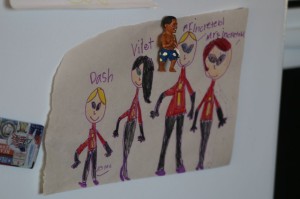 and she was surprised when her son didn't run away from my camera: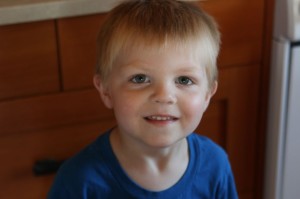 and then the girls asked to pick blueberries:
and i took pictures of other things in her garden/yard: asian pears, apples, blueberries (and not photographed are plums, cherries, strawberries, lavender, rhubarb, mint…. you get the idea):
she "rescued" this cat from her parents when they moved.
ALL FOUR PAWS of this cat have SIX toes.
you read that right.
all FOUR paws.
have SIX toes each.
that's TWENTY-FOUR cat toes.
instead of TWENTY.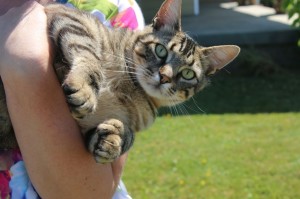 but this girl didn't care…. there was a creature she could pet!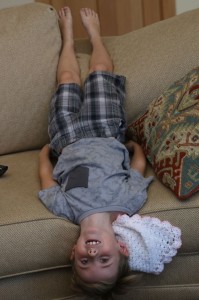 indoor toys (especially someone else's) are fun:
what you can't really see below is a beautiful view of mount baker (it's covered by clouds):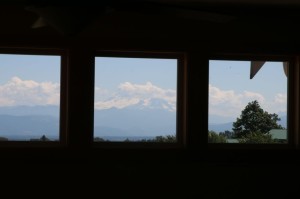 and you can't see the beautiful backyard that's being put in.
an in-ground pool.
an outdoor fireplace with benches for marshmallow roasting.
a hot tub.
and there's a SECRET ROOM at the end of Cece's closet.
it's her private space for playing and creating art.
it's really cool.
like super cool.
and totally hidden if you don't know it's there.
crafting is always a "win" with my munchkins: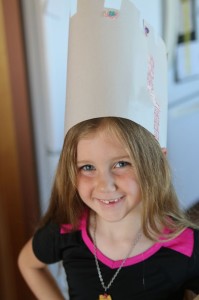 she made a crown.
davey made something.
alex made a mess of stickers.
erik made a sign that read "please do not go in my room" (spelled OTITI b/c it's written from right to left!):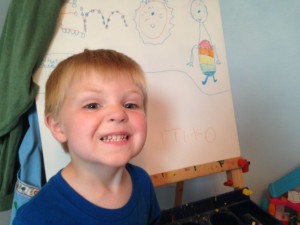 i attempted to snap a few photos of christy with her kiddos.
they weren't super cooperative.
Christy,
THANK YOU.
thank you for being there when i needed a roommate.
thank you for leaving that weird "Todd" in my window sill.
thank you for being my friend.
thank you for being really neat and clean.
thank you for all the fun.
all the laughs.
all the tears.
i wouldn't change them for anything.
and thank you for STILL being there for me.
your friendship is priceless.
*****     *****     *****     *****     *****
and if that wasn't enough fun for one day, i started my day (ON VACATION) at 6:10am so i could join another dear friend, sara, to walk at 6:30 this morning. and on the way home from christy's place, i scored these: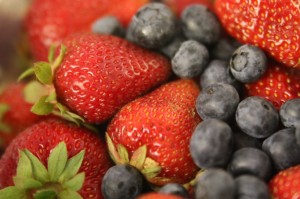 FRESH, LYNDEN STRAWBERRIES and BLUEBERRIES.
i stopped taking photos at that point (it was about 2pm) b/c my day was complete.
or so i thought.
did you know that tonight Venus and Jupiter converged?
and that that hasn't happened since 02BC?
and that this is what it looked like: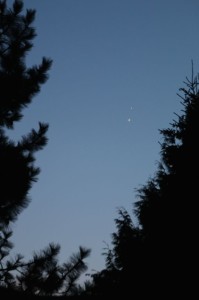 (just bright lights)
but i cropped the photo a little: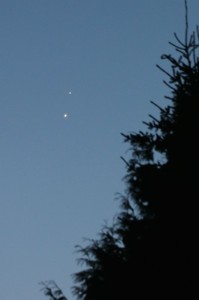 and it still looks like two bright lights.
but the MOON looked REALLY cool: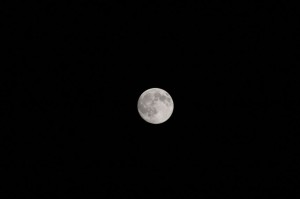 wait – here's some more detail after cropping the photo: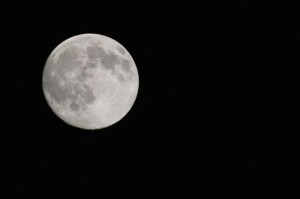 and i think that made for a pretty cool ending to a pretty great day.


(photo credit for the moon goes to my dear husband.
photo credit for the shots of Christy & me go to my daughter, Samantha).