seriously, ya'll.
today was FUN.
F.U.N. kind of fun.
why?
what was different?
nothing, really.
we did the same stuff. but it was fun.
life is just better
(waaaaaaaaaaay better)
with great friends.
things like LEGOS are more fun with friends:
and with daddies: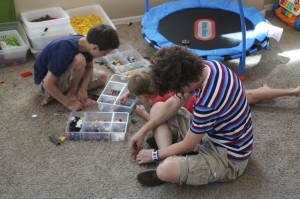 work phone calls don't HAVE to be quite so frustrating when you're on vacation….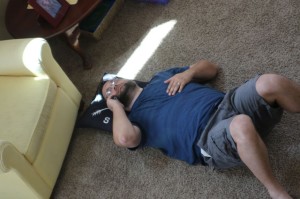 these two guys did a great job watching the kiddos in the pool.
only one rescue was necessary.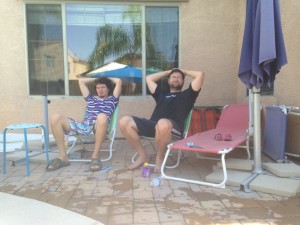 playing in the wok pots was a favorite for abby (it used to be a favorite for alex, too):
davey enjoyed the new basketball hoop: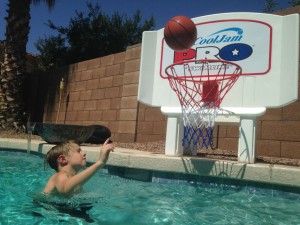 alex just liked floating around.
she REALLY liked using the borrowed puddle jumper (we have two and we borrowed one more from a friend so all the kiddos would be well "covered" when it came to swimming and pool time):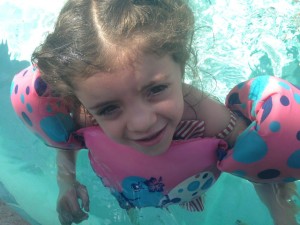 time with mommy in the pool is always fun:
and then we had hot dogs for lunch while the men picked up supplies and the kiddos played inside the house. and after an hour(isn), i had the chance to enjoy the pool all alone…. with THIS as my view: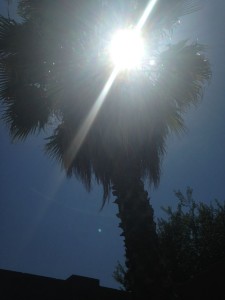 and then the craziness began.
we call it child-launching.
davey and samantha (with dave's help) showed the Dycks how we do it: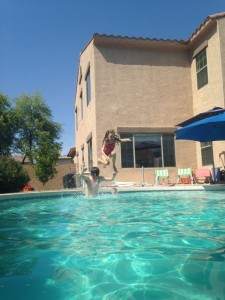 but then the photographer in me wanted to REALLY get in on the action.
so i pulled out the good camera instead of my phone.
and davey and JORJA (not samantha) were launched over
and over
and over
and over
and
O. V. E. R. again:
and then dave agreed to try launching me.
and it didn't work.
at all.
sigh.
but then the most amazing thing happened.
THIS: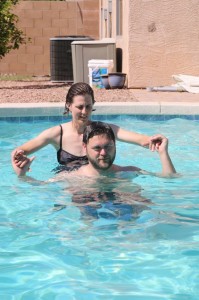 which became more real at this stage: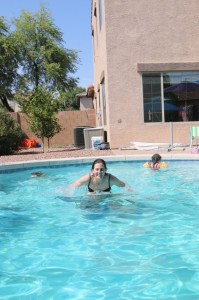 and then turned into THIS: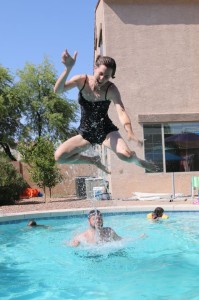 followed by the obligatory "I'm going to sit criss-cross-applesauce" pose: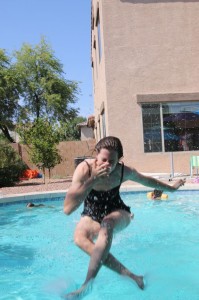 we laughed for a long time.
and i was amazed.
and stunned.
and jealous.
but mostly, i was impressed at what my friends were able to do!
not to be out done by her big sister and mommy, sweet abby got in on the action:
she LOVED it.
carrilee liked this photo – a daddy with his little girls: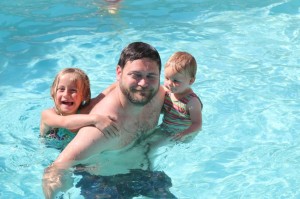 and then it was time for more launching:
UH OH!
WHAT HAPPENED?!
WHERE'S HIS HEAD?!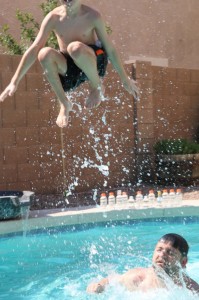 oops.
guess i shouldn't have tried to get so close!
it was so fun to watch these two VERY DIFFERENT kiddos get launched.
jorja was all arms and legs all akimbo.
with huge smacks and splashes into the water.
davey was all form and precision and tidiness.
with big splashes and LONG underwater times.
Abby just smiled a lot:
no one else wanted anything to do with launching, but the pool was still very busy:
and very fun.
it's always fun to get out of the pool when it's for a timing issue instead of a behavior issue!
the big girls didn't mind getting out of the pool.
they had a matching outfit to wear.
that they PLANNED to wear.
yep.
on the way home from the mall the other day, these two SIX-year olds PLANNED to wear their new Frozen shirts with their new BF necklaces….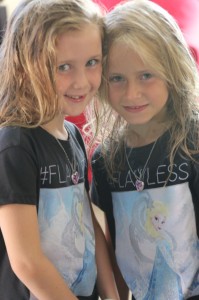 combined with their air-drying hair, these two #6goingon16 year old girls are KILLING me. this is a glimpse – be it ever so tiny – of the future.
with teenagers.
and before that, with tweens.
but instead of going down that "woe-is-me road, the four adults headed out for a fun evening, kid-free (many, MANY thanks to two AMAZING babysitters)!
our evening started at The Keg:
(mmmm. peach bellini for me. two, in fact).
we all enjoyed our steak dinners and then our waiter delivered a bonus dessert for the anniversary couple: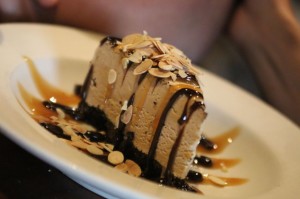 seriously.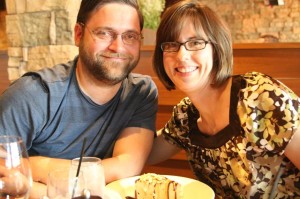 happy 13th anniversary to two of our best friends!
after dinner, we began to meander toward FROST, a gelato place at the mall.
our first stop was the apple store:
yeah, the apple watches are cool, but they're not my style.
and i don't really "get it."
and dave is currently content with his pebble.
thankfully.
but then we enjoyed some more shenanigans before moving on…..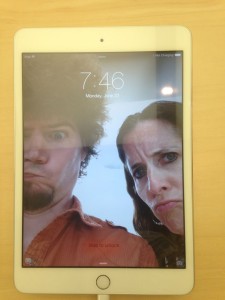 to a shoe store.
where, on the spur-of-the-moment and in a few short minutes, carrilee purchased an amazing pair of super-comfortable sandals:
(trina, she won't let me THROW AWAY your cast offs, but i'm pretty sure she'll never wear them again after putting these things on her feet!)
the line at FROST was too long for us impatient adults, so we headed to Barnes and Noble
and THEN we went BACK to FROST for a cold treat.
a quick stop at Total Wine rounded out our evening:
and we were home ON TIME for the baby sitters.
and by the time i got upstairs to check on the kiddos, they were all sound asleep.
it has been a fabulous FIVE days with our friends.
our dear friends.
and it's gone by SO. FAST.
and we've done nothing "special" or "extra" other than SPEND TIME TOGETHER.
but that's what it's about, isn't it?
vacation.
friendship.
reconnecting.
it's about time.
not entertainment.
we didn't visit the science center.
or the i.d.e.a. museum.
or any indoor trampoline parks.
or ropes courses.
or anything else.
and we don't feel that we missed out.
we spent 5 glorious days swimming.
and playing inside.
and talking.
and eating.
and it was perfect.