Samantha came home from school one day in early May and randomly told me "I want to go to Tiger Soccer Camp."
Um, okay.
A few days later she brought home a brochure for the program. (So did Davey. So did Alex – x2. I think I ended up with every flyer from the school x4 this year – one from each teacher and since Alex had two teachers….. you can only imagine how much paper recycling we did this year!) So I looked at it and set it aside with Davey's basketball camp flyer.
See, I knew about the basketball program because Davey enjoyed it last year. And we were introduced to it last year by my friend Katie (Luke's mom). But I hadn't heard anything about this soccer camp. And as a protective mom, I was cautious. So a week went by and she didn't say anything more about it. But then, again, out of nowhere, she said she wanted to go to "Tiger Soccer Camp."
And in the end, I got her registered for camp (a whopping two days before it started)! I was worried about our Arizona summer weather and an OUTDOOR camp. Ugh. See, Davey's basketball camp is inside – in the air conditioned gym. Samantha's camp was outside. On the football field.
Did I mention it was OUTSIDE?!
In Arizona?
In June?
But it was in the evening (which made dinner a little tricky) and the weather turned out to be amazing! Dave took her the first night while the other two Munchkins and I ran some errands (hello Costco – not fun with kiddos in tow but way better with two instead of three)! Dave took along the good camera for the 90 minute camp/clinic.
 Day #1:
(check out the mountain view):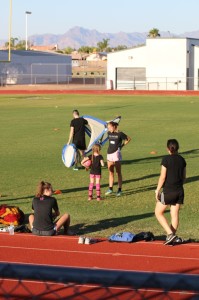 (warm up running):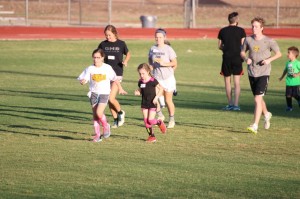 (divided into age groups):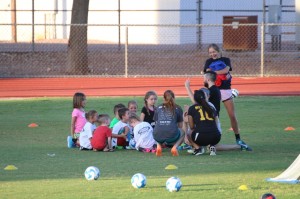 (practicing dribbling skills):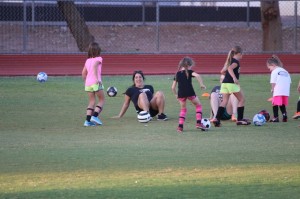 (super cool mural painted by a former GHS student – these tiger eyes watch all the football players, fans, track athletes….):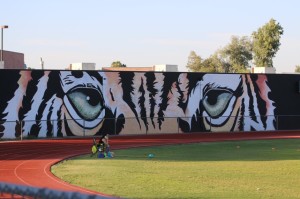 Samantha thought it would be fun for Daddy to take her to camp/clinic twice and mommy to take her twice. But in the end, Daddy took her the first night and then the whole family was along for the ride the next three nights. And mommy had the new camera with the long lens…. and it's just way more fun to shoot outdoors….
Day #2:
(warm up stretches):
(she ALWAYS manages to find the camera in time to flash a smile):
(running warm ups):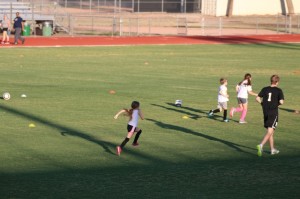 (listening intently):
Day #3:
After spending the full practice on Tuesday in the stands talking with a friend (another parent of an older kiddo), I spent Wednesday night down on the track to get some closer photos…. starting with the tiger's eye….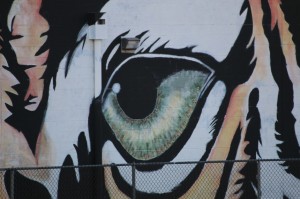 (fun warm up games with the coaches – the high school players):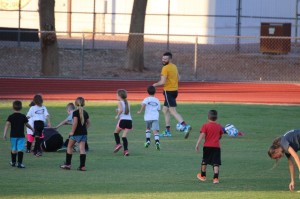 (davey spent a little time reading in the stands):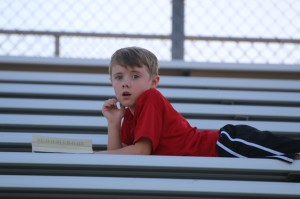 (more warm up exercises):
(i can see her sass in this photo, can you?):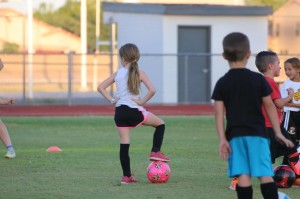 (yep, another smile SPECIFICALLY for the camera):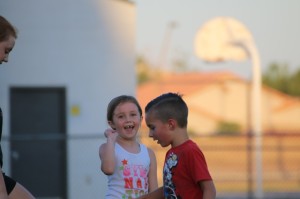 (concentrating):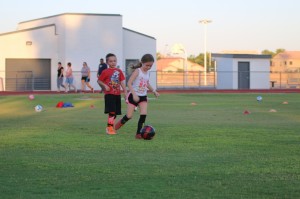 (snuggles in the bleachers):
(Sam "tagged" the leader and then the leader had to spend 5 seconds being an animal of Samantha's choosing – she chose a bear):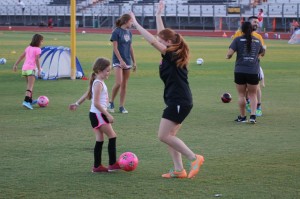 (they kinda follow you everywhere….. the tiger eyes of mona lisa, maybe?):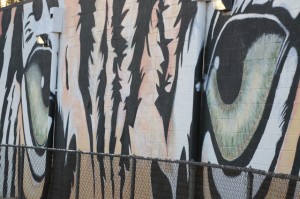 (she always has to be a little goofy):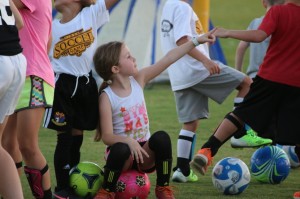 (she kinda looks like a soccer pro here):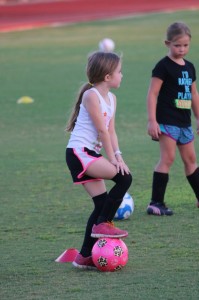 (straight on kicks to another teammate):
The littlest munchkin DEFINITELY liked soccer clinic. She LOVED the bleachers (you couldn't see all the way down to the ground, so her fear of falling/spatial depth perception wasn't an issue here – it was a huge relief!
(love this):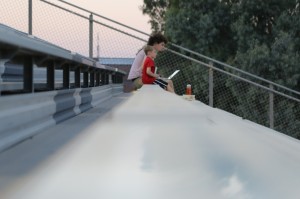 The oldest Munchkin didn't last very long with his book (and he's an AVID reader) but he was definitely "itching" to do some running….. so we sent him around the track:
I really think he'd be great at track or cross country. He just needs to work on some endurance.
(finally time to put the skills to work in a scrimmage):
samantha totally impressed me during the scrimmage on night three. she was totally attentive to the ball. she ran the whole time. she got a little aggressive. she was coordinated and agile. i would not mind it one bit if she wanted to choose soccer as her go-to sport. the weather issues aren't always fun, but it's a game this mom enjoys watching.
(again with the goofiness!):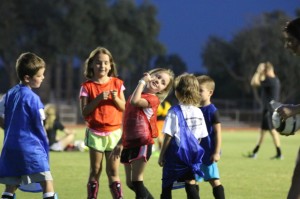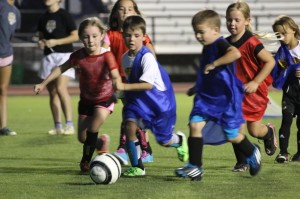 (just for fun):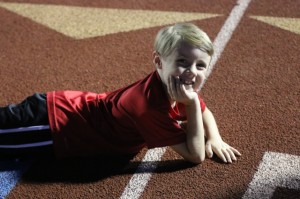 after camp/clinic was over, Dave, Davey and Samantha ran around the track…. Davey was far ahead of the others (samantha had just spent 90 minutes running!) but at the very end, Samantha kicked it into high gear in an attempt to pass her Daddy…..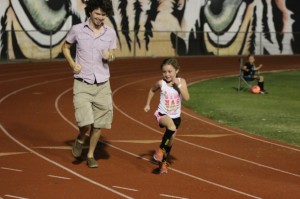 After all that soccer practice AND running around the track, it was time for an all-family special treat…. a trip to Rita's satisfied all sweet-tooth cravings:
Day #4 (final day):
The weather was weird this day. Earlier in the day a sudden breeze blew in and almost took one of our pool umbrellas (that was folded and lying on the ground) into the neighbor's back yard (which means it has to sail up in the air and clear a 5-1/2 foot cinder block wall)! And just as we arrived AT clinic, the rain started to fall and the temperature dropped quite a bit.
While Samantha was on the field for warm ups (in the drizzle and then slightly harder rain),  the rest of us climbed to the top middle of the stands to wait under the Press Box. It was far away, but it was a good view….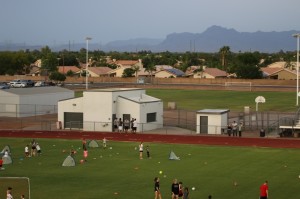 And then the drops stopped and a rainbow appeared with the sun…. for just a few minutes: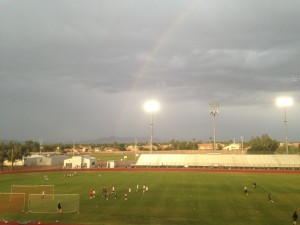 And then the sky behind us did this: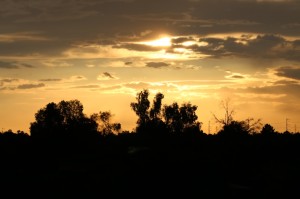 (Alex and a little brother of one of the other campers enjoyed a few moments on the top of the bleachers):
since it was the last night and the weather was iffy and the field was a little wet in spots, samantha's age group was moved over a bit, so i went around to the backside of the track for better photo ops…. the rest of the family came along, too.
(alex LOVED running on the track with daddy's sweatshirt keeping her warm):
(dribbling skills):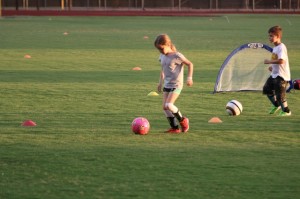 (more listening):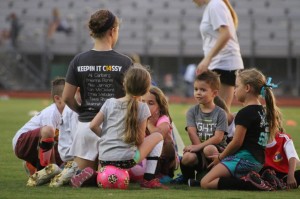 (more ball handling exercises and drills):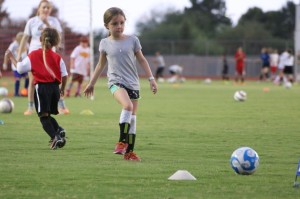 (Oh, wait, there it is…. another "she found the camera and posed" shot):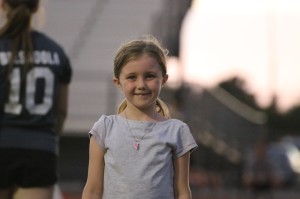 and when it was time for another scrimmage, they needed a few more kiddos (attendance this last evening was low for campers AND helpers – likely due to the weather), so Davey was asked to join in the fun:
(siblings with a high five following a team goal):
after an open/empty net score, samantha took it upon herself to be the team goalie:
(…she did a great job!)
(another SCORE!!!!):
Alex really wanted to join the fun, but she was wearing flip flops and Dave and I envisioned her getting trampled in the craziness that is littler kids playing soccer….. so I had her help the high school girls by collecting all the soccer balls that were outside of the playing field….
(And then she found sister's ball and started kicking it):
And before we knew it, 90 minutes were over and it was time for the end of the clinic and Alex AND Davey were both in the end-of-the-night gathering:
Soccer camp/clinic was a huge success. The high school girls were AMAZING with the kiddos and if Samantha wants to do this again next year, we're IN!