When you live in Arizona and you endure summer temperatures in the triple digits for days and weeks on end, you learn that summertime is all about time spent INDOORS or in the pool. There are no other alternatives. And it's totally worth it for the beautiful weather we have for the majority of the year (and I don't mind the high temps…. 110 starts to get a little uncomfortable, though!).
This year, Davey wanted to enjoy basketball camp again. Our local high school (there are 5 Gilbert public high schools, I think, but the one closest to us – where the Munchkins will go one day – NO! NEVER! They'll never be crabby, moody, high-school aged teenagers!!) – is Campo Verde High School. Each year, their basketball teams host basketball camp/clinics and it's a great way to beat the heat for an hour a day (with the air conditioning being paid for by someone else!) and it's a great way for basketball skills to be learned and strengthened.
Last year, we did two weeks of basketball camp but this year they changed up the system a bit and with the way OUR schedule fell this year, we could only commit to the first "week" (it's really only 4 days) of camp – this past week. The high school girls tend to work with the younger kiddos, so it was fun to see some of the same high school students helping again this year. I like to try to guess their position on the team as I watch them play, demonstrate skills and warm up exercises, and watch them lead the kiddos.
But all that is really to say this: Davey enjoyed a week of basketball clinic with his buddy, Luke (who is in Samantha's class). I didn't take any photos on day #1 and on day #2 I only took a few super grainy shots with my iPhone. But then I wised up and brought the GOOD camera….. I'm so glad I did!
Day #2:
(Davey was singled out on Day #2 by one of the high school students to earn an award – a basketball card – at the end of the day. Unfortunately, he didn't pay attention to WHY his name was called and I couldn't hear. I would venture a guess that it had something to do with his good attitude and his "positivity" throughout the clinic.)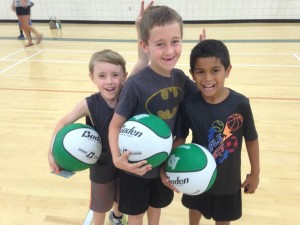 Day #3:
They do lots of warm up drills at clinic but they're FUN!
(sitting up from showing "starfish" position):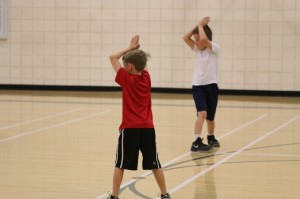 (four man row boat):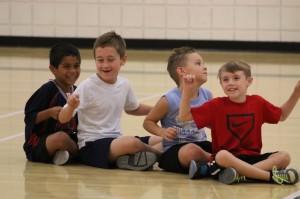 (starfish):
(trying to tap someone's knee or elbow while maintaining your dribble):
(yep, on Day #3 he was singled out AGAIN by another high school student. Again, he didn't listen to WHY…. and I couldn't hear. but he got another basketball card just the same.)
In case you're wondering, yes, the girls DO come along to basketball clinic. So what do siblings do during one hour of basketball camp in a closed gym? They look pretty darn cute:
Baby Sarah (who won't be a baby much longer – sniff! sniff!) wanted to show off her beautiful smile AND her newest trick ("How big is Sarah? She's SOOOOOOO big!"):
In all reality, they play on the 4 rows of bleachers and every once in awhile they get in trouble (by the moms) when they step on the floor and then they pout or provide sassy faces while they "stomp" back onto the bleachers…. it's all so very fun!  :)  (it's not really all that bad. just a moment or two each week where a mom wonders if a baby sitter would've been a worthwhile cost)! I'm so thankful that we were able to enjoy clinic while Luke and his siblings (and his mom!) were there for those of us on the sidelines – the hour every day passed quite quickly since we had friends!
DAY #4 (final day):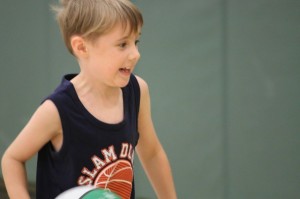 (check out the reflection):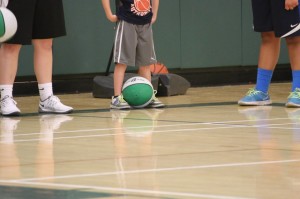 (his face here cracks me up):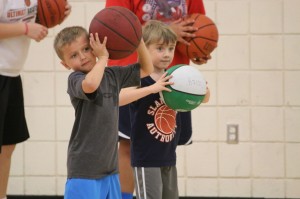 (can you see his name on this ball that's about to go into the net?):
(another good shot):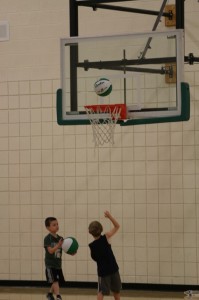 (this reflection is easier to see):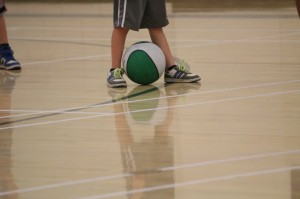 (and another good shot):
(yep, another reflection. there's something about the way his hands are holding onto the sides of his shorts here that touches my heart. i'm not sure what it is…. feel free to provide an opinion in the comments):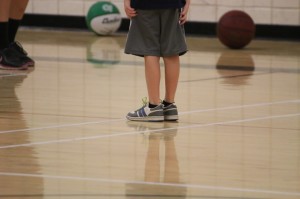 (so this one was more about his feet and the ball instead of the reflection):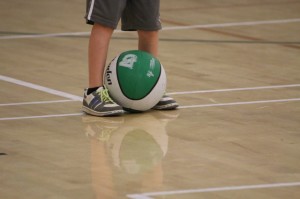 (defense):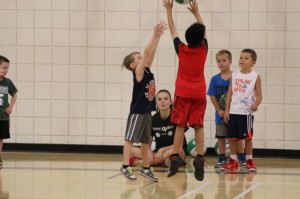 (waiting):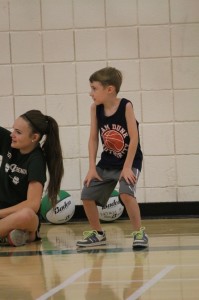 (team competitions. he scored so he had to grab a cone for his team):
(next team competition. scored again – he wanted a big cone this time):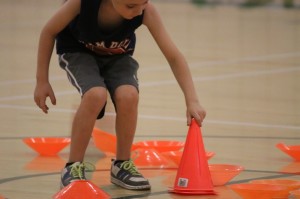 and just like that, the week was over. on the last day,
EVERY camper earned a basketball card at circle time…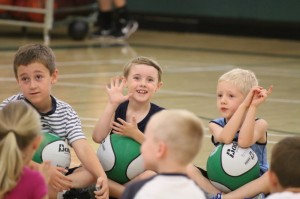 I'd say it was another successful summer of basketball camp/clinic. And as long as he wants to enjoy this program, this mom will gladly register him and transport him and wait for him and encourage him.
#soproudofyoubug