Our journey of the seriously concerning and unknown began with this girl back in May of 2010. At 29 weeks, I was put on modified bed rest for 2 hours at a time, every morning, afternoon and evening. (Davey was 34 months old and Samantha was 19 months old at the time).
And as the weeks of that pregnancy progressed, the amount of bed rest increased, the doctor's visits increased, the visits with the specialists increased and we weren't sure if Baby Daisy would ever breathe her own breath.
And there are enough updates on this blog (starting in May 2010) and in my Facebook NOTES section if you care to read back through any of those details. But just a few months later (after people around the world were praying for Baby Daisy to be born healthy… and after my amazing mom slept on some camping mats on our floor for TWO months while caring for the other two Munchkins…. and after countless doctor's visits in Bellingham AND Seattle)…. just 10 weeks later, our sweet and loving Alexandra was born.
she's tiny for her age (but so is our son). she's got some delays with speech and motor coordination, but she's not too far behind her peers. sometimes i really think she's just 100% her own kid who lives in LaLa Land when she's supposed to be focusing on the task at hand. She's a whiz with her letters (knows upper & lower cases and knows their sounds!) but she can't physically write them yet. Many days I feel like there's so much SMART stored inside her tiny body and one day it's going to come EXPLODING out – as soon as she knows how to express it!
from before  she was born, she has defied the medical odds. she has defied doctor's knowledge and understanding. she has defied all medical reasoning. but you can see here that she is HERE. she is SAFE. she is ALIVE. she is HEALTHY. and she is the sweetest little girl you can imagine. she has hugs and love for everyone.
her school journey began at the tender age of 3, when she qualified for "early intervention" services at our local school. so just a few weeks after her 3rd birthday, she started attending school FOUR mornings a week. she was granted physical and speech therapies during those school hours.
at the beginning of that school year (August 2013), she wouldn't/couldn't say two words together (to get a "bye-bye" out of her was cause for a huge celebration). and by the end of that school year – just ten short months later, she was TALKING IN (mostly) COMPLETE SENTENCES (she often missed the articles – "a," "an," and "the").
she was recommended for the MAGIC pre school classroom the following year. it seems she had a really hard time concentrating on the task at hand if there were more than 3 or 4 kiddos in a group (no surprise to us there). so this year, she was in Mrs. Katie's MAGIC classroom for a small portion of the day (small group work time only) and the rest of her day was spent in Mrs. Andrea's classroom with her classmates from the previous year (and a few "new to us" kids, as well).
i was worried about all the transitions for alex – from one class to another, from one class to PT, from one class to speech…. and then we added Occupational Therapy to her program, which meant another transition…. but you know what? this sweet girl totally ROCKED it. she loved being in the hallway between classes. some of her PT, OT and/or speech was in her classroom setting with the other kids around her so she didn't feel like she was missing out.
this child dances to the beat of her own drum. she does things in her own time. she really loves to observe people. she studies them intently. she learns more from watching and doing than she does from listening. she doesn't like to fail. she doesn't like to be wrong. she is easily frustrated.
but this week, she did something we didn't know was possible.
she "graduated" from pre school!
yes.
my sweet, little, miracle Munchkin completed two years of pre school and is ready to move on to the challenges of Kindergarten.

She even has a certificate that says she finished pre school!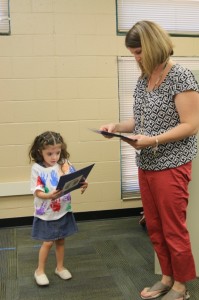 this sweet girl has accomplished so much in her not-yet-five years of life. but this pre school celebration was more than just celebrating that she completed pre school. for us, it was a celebration of her life. that she is a miracle. that she is alive. that she is able to attend school.
her teachers (2), therapists (3), and para-educators (4) were AMAZING this year. we couldn't have asked for a more cohesive team to help our Littlest Munchkin thrive. we couldn't have asked for NINE women who would love her more than these women did. we couldn't have asked for NINE women who would educate us through "the system" the way these women did. we couldn't have asked for NINE women who would try to understand her the way these women did.
we are indeed blessed through the life of our sweetest, littlest Munchkin. she has touched the lives and hearts of so many people already – i can hardly wait to see what she does with the rest of her life!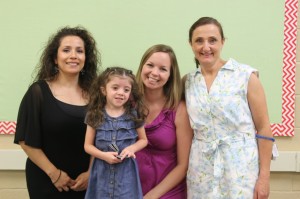 (Alex with Maria, Teacher Katie, and Janele)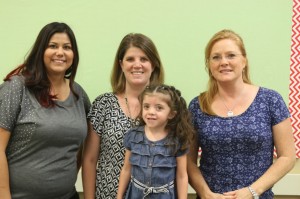 (Alex with Liz, Teacher Andrea, and Anne)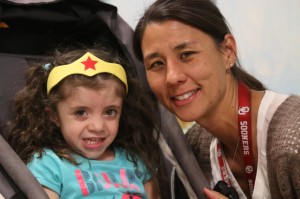 Alex with her Speech Therapist, Kim
I can honestly say that I never thought we'd see this day.
and yet, here we are.
with so much more to go.
next year, i will miss all these familiar faces. i will miss the paras, the teachers, and the therapists. i will miss the sweet kiddos with whom she has learned for TWO YEARS! she's not aware of it yet, but she'll be at a different school next year. a school where we don't know anyone. where no one knows us. and i know it's what's best for her – to have her in a significantly smaller classroom for at least a year, but it's still hard. i know how well loved this child is at spectrum. i know that her siblings are there to watch out for her. i know that her siblings friends are there to watch out for her. i know that she is loved and cared for.
and that kind of change is hard.
but it's also good.
this is a chance for alex to show us how tough she is.
how well she can adapt and learn and grow and thrive on her own instead of in someone else's shadow. i look forward to watching where God leads this little one. i look forward to seeing how He uses her for His glory.
and through it all, i look forward to seeing her tackle life with the biggest heart i've ever known!