have you ever enjoyed an easter egg hunt?
have you ever had to hunt for ONLY ONE color?
have you ever enjoyed an egg hunt in the east valley of ARIZONA?
your easter egg hunts probably involved girls in easter dresses and shiny, patent leather shoes, boys in nice button down shirts and new pants…. and, let's face it…. there are probably sweaters and/or coats involved.
each year we've enjoyed an egg hunt has involved a very a-typical clothing item for our children:
BATHING SUITS.
seriously.
check it out: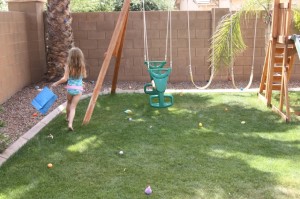 that's samantha running around in a bathing suit.
she had to find blue eggs – ONLY blue eggs (or blue chicks).
we had 10 children and 6 adults at our place for easter lunch/dinner. but we only had 7 categories of eggs. thankfully, three of the children were 10, 12 and 14 (gasp!) so they were willing to HELP some of the younger kiddos find their eggs. the older girls also got to help HIDE the eggs!
we had blue, green, purple, yellow, orange, pink, and white + mixed color eggs.
there were 174 eggs in my yard.
seriously.
the kiddos had a blast.
i love this tradition.
and after the fun of the egg hunt and the yummy food, the adults enjoyed hanging out and talking outside in the hot sun (the other two families are friends of ours from washington state). and while we did do some "shade hunting," we ate outside. we talked outside. we sat around for hours just enjoying one-another's company.
many thanks to jessica for our appetizers to "tide us over" until we enjoyed our big meal
and if it wasn't fun enough to have these families join us for easter, THIS girl turned NINE on easter day. so our dessert was really her birthday celebration!
three of my dear friends from washington…. two on vacation and one who lives here now. (jenn stopped by for a few minutes before her big meal of the day). i am so thankful for these women and for our time together!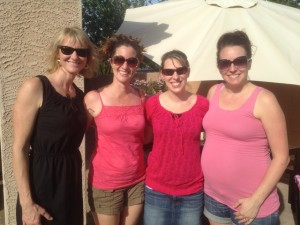 that's a pretty good looking group of "kids," huh?!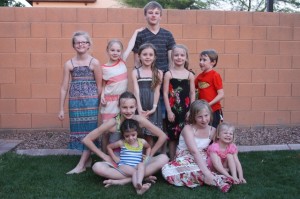 and these "men" (it kinda kills me to say that b/c the one on the far right is 15….. he wasn't born yet when i started working with the youth ministry with his parents back in washington) are pretty amazing, too! (the guy second from the right was in high school when i worked in the youth ministry – and now he's the youth pastor at that church…. CRAZY)!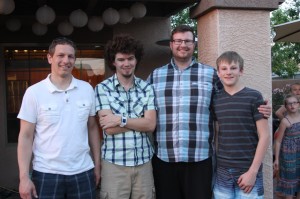 and that, my friends, is what a laid-back, relaxed, warm, sunny easter looks like at our home. wanna join us next year?!