the arizona diamondbacks are sponsoring many (most? all?) of the various little league teams in arizona this year. including the gilbert national little league – davey's league. while it's crazy cool and each kiddo receives a free ticket to any diamondback's game, it's also a little weird because it means that ALL of the teams in ALL of the leagues are named the diamondbacks.
ALL. OF. THEM.
t-ball.
coach pitch.
kid pitch.
ALL. OF. THE. TEAMS.
every single opponent has the same name.
it's definitely weird.
additionally, the diamondbacks recommended colors and styles for the shirts/logos this year. so MANY of the little league teams have the old school diamondback's hats of purple and turquoise. and many other teams have the current dark red hats. but the purple hats are paired with all kinds of colors of shirts….. same with the red hats.
that said, i'll go out on a limb to declare us "lucky" that we scored the "vintage" diamondback's logo and color combo (purple and turquoise). we paired it with purple socks and grey pants and our boys are pretty stylish, i guess.
opening day ceremonies were LAST weekend (the 21st). we didn't have a game but we were all there bright and early (7:30am on a saturday!) anyway.
davey's on the same team as his friends luke and drew again this year.
(davey is #3, drew is #5 and luke is #7)
we celebrated opening day by skipping the crowded GNLL-organized festivities and enjoyed time as a family eating donuts instead! (dave had to bring his own gluten free donut from home)
fast forward to tuesday, the 24th and it was our first game of the season. though davey played hard, we (dave and i) were so bummed that he didn't get a hit (he struck out during his two at-bats).
thankfully, he's easy-going and didn't let it bother him too much, though we could tell he was disappointed.
after a mid-week practice (on Thursday), the boys named themselves THE AQUAMEN. now even though their shirts are technically turquoise (the "correct" color name per the diamondback's website), who could resist calling a bunch of 6, 7 and 8 year olds "THE AQUAMEN?!"
we had another game today (saturday).
at noon.
in many parts of the country, that's not such a big deal. but here,
it's hot.
and sunny.
and it was well over 90*….
i can't imagine how hot it was out on the field!
but despite the heat, TODAY was Davey's day.
he had already put tuesday's game out of his mind.
our rush to get to the game on time didn't bother him. (this mommy lost track of time!)
there was something in him that CLICKED today.
 his first at bat:
and he got a single!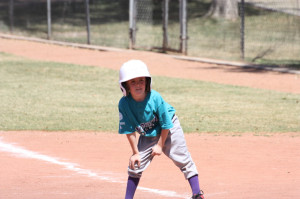 (hooray for 1st base)!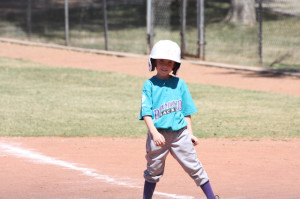 he didn't get a chance to run all the way to home (he made it to second when our team got it's 5th run for the inning, which ended the inning). and he had to sit out during the top of the third inning (we have more players than we have positions!):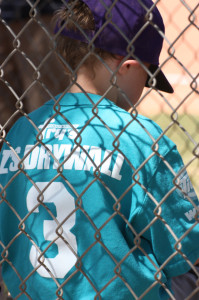 but in the bottom of the 3rd (and final) inning, he got a chance to bat again.
it took a few pitches.
well, maybe more than a few (each kid gets up to 8 pitches).
but this kid…. when he finally connected,
he CONNECTED…..
for a DOUBLE!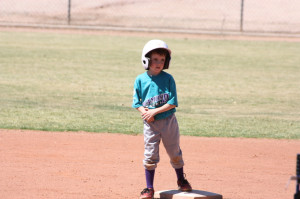 (second base is even better than first!)
and then a teammate hit a single and davey ran….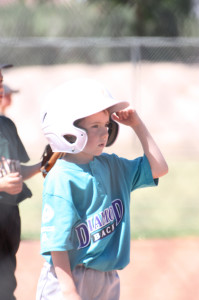 and now he's on third base (gotta focus on getting to home plate)!
and the next teammate hit a single and davey was able to run all the way home.
and he was so excited that he scored a run for his team!
i'm eager to see how he continues to improve as the season progresses!