what happens when
our school + our PTSO
pull together to create a fun, family-friendly event?
something amazing, that's what!
here's a very typical and ordinary school for our area:
okay. so all those cafeteria tables/multi-purpose room benches aren't usually outside (no, the kiddos don't get to eat lunch outside even though we have beautiful weather)… they're already outside to set up for the most time-consuming, volunteer-necessitated PTSO event of the year…..
OUR SCHOOL CARNIVAL!
it's an event to be enjoyed, for sure! there are game booths (complete with prizes), rides, entertainment, concessions, vendors and more. and the best part? not only do families from the school come out en mass to enjoy the festivities, but people from the neighborhood come too. yes, you read that right! the carnival is well organized,  well run, and well planned that people from the community can't help it – they WANT to attend! it's too much fun to miss!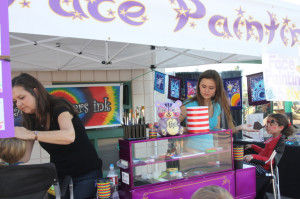 that's samantha's teacher manning the 1st grade game booth: Toilet Paper Toss.
(Yes. Yes, the players have to throw rolls of TP – that have been "sealed" with packing tape – into a toilet ring that sits on a 5-gallon bucket.)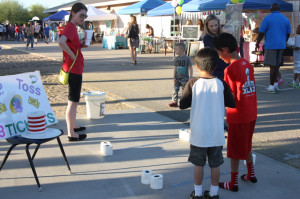 lots of vendors: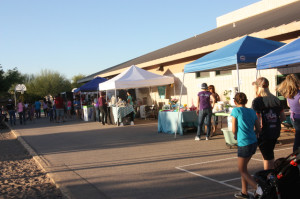 Jill, our PTSO President is in the middle and Bobbi Jo, our VP is on the right. Jill "graduates" out of our school at the end of this year (aka: her "baby" is in 6th grade) so Bobbi Jo hopes to move up to President and two lovely ladies (including Carrah there on the left) hope to serve as co-VPs next year. Jill and Bobbi Jo have worked TIRELESSLY this year to make it an amazing year for our students, our families AND our teachers. We have been so lucky to have this powerful duo for a few years!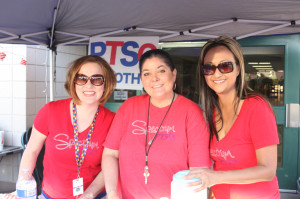 these Mom Squad kidlets/neighborhood friends are adorable….
especially with beautiful face paint!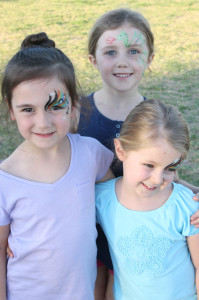 i'm telling you, this carnival is amazing! we had a 4-person rock climbing wall, a spinning strawberry ride, a mega obstacle course/slide (a giant inflatable), human hamster balls, a bounce castle, trackless train, bumper cars, laser tag, petting zoo, pony rides….
here's davey inside one of the human hamster balls…. before they fully inflated it (he had to get out and wait at least 10 minutes while they fully inflated both balls and then moved the air vac out of the way – he has way more patience than i do!)…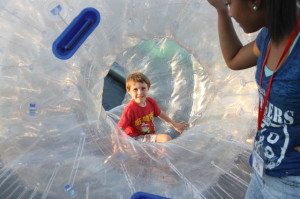 alex REALLY wanted to ride the train… she kept running back to the line until we finally gave her 6 tickets for the ride!
davey in the fully inflated hamster ball:
alex and a dear friend from pre school last year – Miss Maya is the same age as alex (well, a few months older) but this shows you the vast difference between my petite child and a child who is ridiculously tall for her age):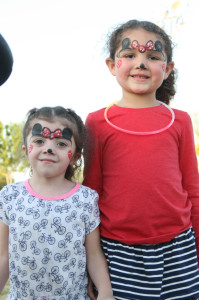 alex also insisted on climbing into the bounce castle with her siblings and friends: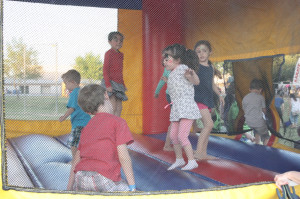 those are the human hamster balls… and that's the giant, inflatable mega obstacle course/slide behind it. davey and samantha spent a LONG time on that bit of air-filled fun!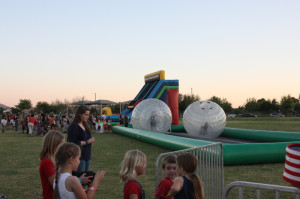 the Spinning Strawberry was a new ride for this year's carnival…. and i think it was a pretty big success. when we left (8pm), no one had thrown up yet…. but there was another 90 minutes of the event so i'm not sure if there were any incidents or not!  :)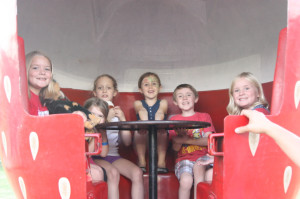 on the giant obstacle course/slide:
samantha and a few of her classmates: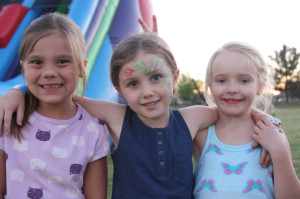 davey and a classmate: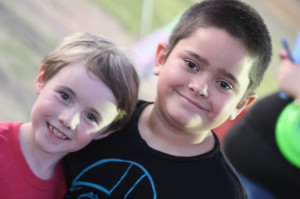 bumper cars!
all-in-all, i'd say the night was a HUGE success and it was WELL WORTH all the time and energy required to pull off such an amazing event. my Munchkins are already planning for next year's fun evening…..