setting ladybugs "free" (or "releasing" them) isn't quite as fun as it sounds.
but we didn't know that until we tried our HOA's recent "lady bug release" event.
you don't hold ladybugs in captivity in your hands and then watch them fly away into the big sky…. you simply open the $8 container from the store and watch as 1500 ladybugs start crawling all over the lid and your arms and the grass…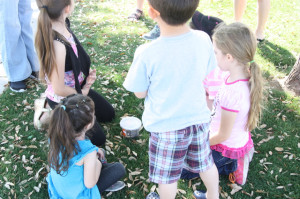 and then you kinda freak out because there are way too many ladybugs crawling on you and you just want the experience to be over….
and then you find a few stragglers and decide they aren't quite so bad.
and then you eat a donut and drink some milk (thanks, HOA!)
and get back on your bike to ride home with your family.
so while not the most exciting event, it was good for some free, short-lived entertainment!