for those of you who don't know, life here in arizona is HOT HOT HOT…. especially in august and september. it starts to cool down to the 90s in october.
seriously.
you might have a few days of 87 or 88 or 89, but it's still pretty darn warm, so halloween here is oh-so-VERY-different from halloween anywhere else i have lived (Illinois, Ohio, Texas, New Jersey, Pennsylvania and Washington).
here in arizona, you do NOT buy costumes from old navy (you know those cute, furry, warm, somewhat insulated ones that keep YOUR kids mildly warm on a cold evening? yeah – you don't buy those here unless you want your kids to have heat stroke. seriously).
but there are so many, MANY good things about halloween here in arizona. FIRST, it's finally COOLING down! yes. weather in the 80s is considered "cool" after months of temperatures over 100*! SECOND, it's PARTY time. because the weather is finally nice enough to be outside, people ARE outside. two blocks over from us, they have a HUGE block party complete with pot luck dinner AND a movie on an outdoor screen (usually a sheet hanging from some giant inflatable something-or-other). the neighbors line up their chairs in a LARGE semi-circle and instead of going trick-or-treating to their HOUSE DOORS, you simply walk down the line of people eating their dinner and watching a  movie – they're holding their candy bowls in their hands. THIRD, other neighbors bring out their fire pits and benches and camping chairs to their driveways and just relax and spend an evening together – and they have THEIR candy bowls in their hands, too.
halloween is a super SOCIAL event here in arizona and while it's like nothing i've ever experienced before, i LOVE it.
i should let you know that halloween is NOT my favorite holiday. i was raised baptist and the baptists are very DOWN on halloween because of all it "celebrates." but in the end, we're okay with halloween. the way i see it, it's been so commercialized that most people don't know the true meaning/origin of the holiday (kinda like Christmas, eh?)! that said, we DO let our children dress up and have fun and go trick-or-treating and talk about vampires and bats and jack-o-lanterns and more. there are SOME things my children will never get to be when they get dressed up but for the most part, we're pretty lax about it all. and i do NOT buy specific costumes for my children – they get to choose whatever they want from their dress up buckets OR we can make/invent a new costume from things we already have (i DO hit walmart/target AFTER the holiday to buy cool costumes for CHEAP that i then add to the dress up bucket, but you get the idea).
anyway….
this year, my kiddos ALL switched their costumes from what they wore at school to what they wore for trick-or-treating. alex's party, as you already know, was on thursday (because she doesn't have school on friday) and she was a Veterinarian. Samantha was a Rock Star from the 80s at school while Davey sported a Darth Vader look around the hallways and classroom.
this year, after a short break from all the fun festivities at school including class parties AND a Character (aka: wear your costume) Parade, we headed to MaryAnn's house for a Mom Squad family party.
Alex was dressed like Snow White (thanks for the hand-me-down costume, MaryAnn!). Samantha was dressed like an Ordinary Princess (until later when we were out Treating and several other adults insisted that "there's no such thing as an 'Ordinary Princess!' all princesses are beautiful and special!" after that, she was a Beautiful Princess). And Davey rocked his Iron Man costume. For a second Halloween.
And I didn't care that they changed their minds and their costumes. It was all about dressing up and having fun and just enjoying being kids.
but back to this Mom Squad Party….
Matt made a yummy white chicken chili (mmmmm!) and the kids enjoyed pizza. MaryAnn had decorated LIKE CRAZY (she does everything 110% – she's amazing, really!) and had a photo booth area for the kiddos (that some of us grown ups crashed!) and there was apple bobbing and it was just a fun EVENT to hype up the kiddos before we went trick-or-treating together.
and once again, ALL my photos are in REVERSE order and one day i will have to figure out how to FIX that, but for now, enjoy our afternoon/evening in reverse order, okay?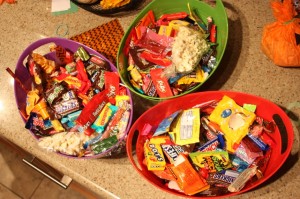 (three very FULL buckets of candy for three candy-loving Munchkins)!
(isn't that a cool BAT-drop for a photo booth?
i promise that was DAVE's joke.)
when it's dark, there are lights, there is space, there is music and there are girls,there WILL be dancing and spinning. LOTS of spinning!
(this poor kiddo is missing a large top tooth so he had a very DIFFICULT time getting his apple stem in his mouth!)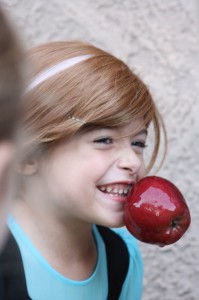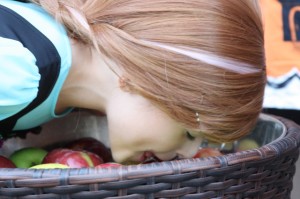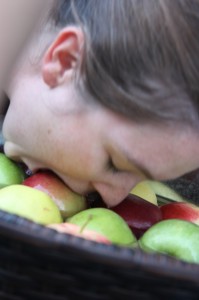 (Geneva volunteered to show the kiddos how to bob for apples. she needed a little direction but in the end, she got one!)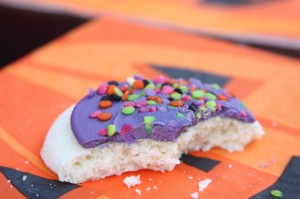 (these Lofthouse Iced Sugar cookies are the devil. they are SO DARN GOOD. dave can't eat them because they aren't Gluten Free. alex will only eat the sprinkles. samantha will only eat the frosting. davey doesn't care for them much. so it's a rare treat for me to have them – because if i buy them and bring them home, i eat them.
ALL of them.
By myself. and that's so very, very bad.)
(luke, reagan, sarah and mommy were going to another party, so they stopped by for just a few photos on their way to another family friend's house. i LOVE their homemade Where's Waldo costumes!)
(i told you, MaryAnn is AMAZING!
Check her out on her blog HERE - it's called Cherish Everyday)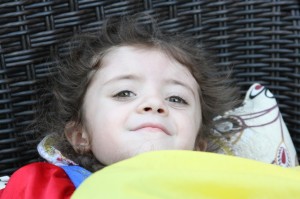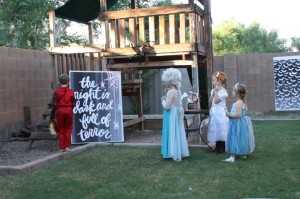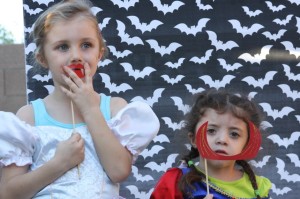 (alex was NOT the only child to think the devil's horns was some warped smile….)
(their newest decoration for their collection this year was that super cool skeleton. see him up their on the roof?!)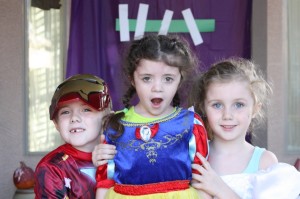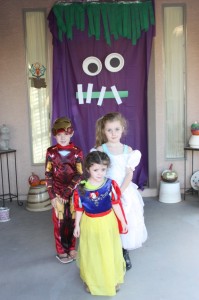 (i LOVE this door monster. he was SO EASY and inexpensive to make. after i made him, i was wishing for more outside doors so i could make more! i confess…. i left him hanging until after church on Sunday when i finally took him down. reluctantly).
and now we are living life  5 days AFTER Halloween.
neighbors are outside more.
kids are outside more riding bikes and scooters. making up games. playing "adventurer." enjoying playground equipment and backyard trampolines and play structures. it's only a  matter of time until bubbles and sidewalk chalk make an appearance again.
the weather has cooled off (it's been in the 70s and very low 80s this week!)
and it was halloween that started it all.
i think i'm really starting to like this "Halloween" day.  :)