once again, all these photos are in REVERSE order.
but you don't care too much, do you?
except that there are no Munchkins in the first photo.
but we can deal with that, i suppose.
this amazing crew of women (an incomplete photo) are the women who LOVE on alex 4 days a week at school. 2 of them are HER teachers. 5 of them are the classroom aides. one of them is her speech pathologist. and one of them is the 3rd pre school teacher (alex is in TWO classes).
about a month ago, when alex qualified for occupational therapy at school, i counted up how many teachers, aides and helpers she has at school.
NINE.
9.
yes, you read that right.
1-2-3-4-5-6-7-8-9.
for my littlest of littles.
she has TWO teachers, FOUR aides (2 per class) and THREE therapists (speech, PT and OT).
she has quite the team working with/for her at school.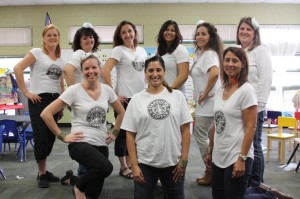 so in case you're wondering, from left to right in the back row, you can see:
teacher/classroom aides Mrs Anne, Mrs. Becky, Mrs. Janelle, Mrs. Liz, and Mrs. Maria. and then on the end in the back row you'll find Mrs. Andrea – she's Alex's 2nd teacher this year, though Alex spends *most* of her time in "Miss Andrea's" class.
in the front row, you'll see Mrs. Katie (Alex's actual teacher), Mrs. Monica (the other pre school teacher) and Mrs. Kim (speech pathologist).
(missing from the photo are Mrs. Michelle, PT and Mrs. Kayla, OT).
and in case you can't tell, these lovely women dressed up as Starbucks BEVERAGES. the back of their shirts have the check-mark boxes on them where they filled in their orders and wrote their names on their "cups!"
the pre schoolers get to dress up every year and walk through a few classrooms (the rest of the students in other grades walk through EVERY hallway in the school to "show off" their costumes). additionally, the pre schoolers get to go TRICK-or-TREATING to the front office. the staff and principal and social worker and nurse and whoever else is in the office at the time all spread out up front and have AT LEAST three LARGE bowls of candy out… and they drop HANDFULS in each kids' bag!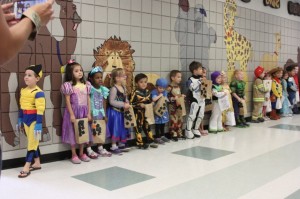 (look for the shortest – no exaggeration – child wearing a blue cap that KINDA makes her look like a blueberry but her costume was ACTUALLY a veterinarian!)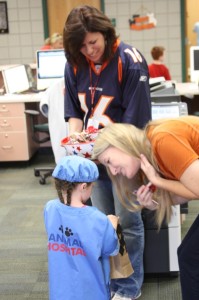 (That's Mrs. Mary in blue – today was "sports team attire" day for spirit week. Mrs. Mary works at the front desk…. a decade is a LONG time for me to be at that school and it's good to have allies! Love you, Mrs Mary!).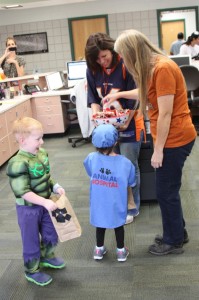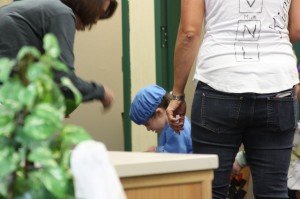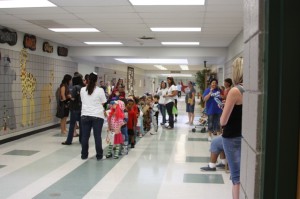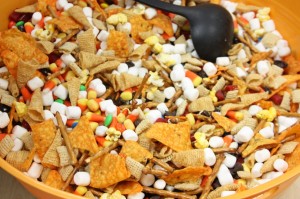 (the pre schoolers made Witches Brew so this concoction is made up of spiderwebs, witches' fingernails, ants, mummy brains, bat wings, skeleton bones and so much more "gross" stuff that smells bad!)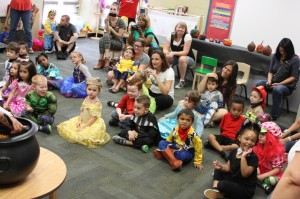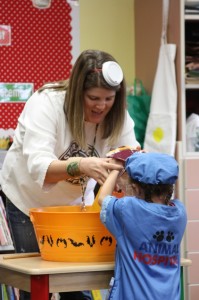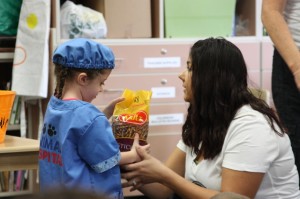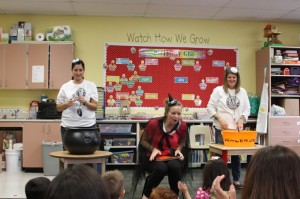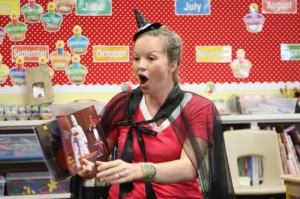 (Mrs. Katie is AMAZING. she's alex's teacher this year and i don't think i've ever met anyone nearly as animated as her. seriously. this woman rocks my world and i adore her. and major bonus? she's a Christian, too. so i know that her love for alex goes DEEP.)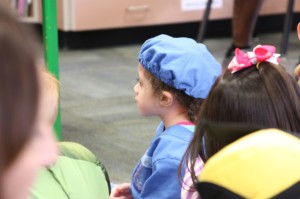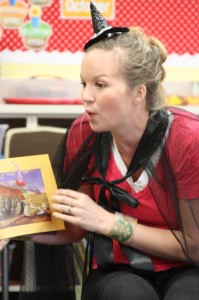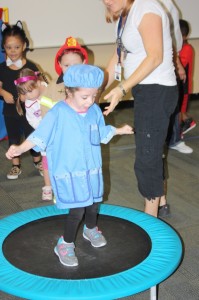 (the kids missed out on outdoor recess today – because they were in their costumes – so they had an indoor "dance party" which was actually more of an "obstacle" course – it was so cute!)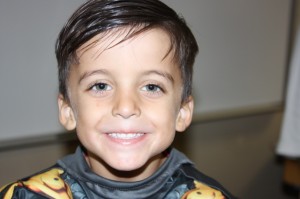 (this is alex's buddy, Cruz. they were in class together last year, too. their birthdays are mere weeks – or days – apart. i love this kid!)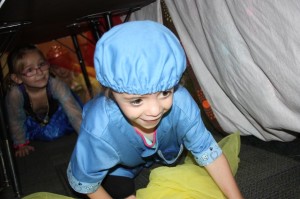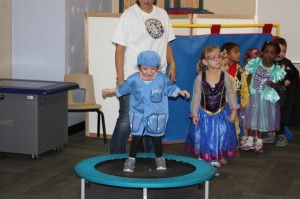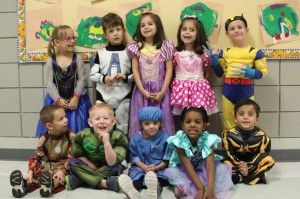 (This is Mrs. Andrea's class… where Alex spends most of her time each school day. She was in preschool with 6 of these kiddos last year. There's an outside possibility that she'll be in Kindergarten with them next year, too!)
and there you have it, a glimpse into Halloween… a day early!