since samantha's birthday was on a friday but there was a fun Movie Night at school that evening (the she wanted to attend), we scheduled her party for saturday morning.
i must confess, that though i created a Pinterest board for this GYMNASTICS THEMED party, it was a bit lack-luster with creativity and completed-theme-ness. (yes, i made up that word – "theme-ness.")
in the end, our 8 paper invitations wound up inviting 11 girls to the party and only ONE girl couldn't attend! the night BEFORE the party, AFTER the kids went to bed (late – after the school Movie Night), i found some free gymnastics-themed printables that are supposed to be punched out and put on the bottom of hershey kisses. i increased the print size and used them (with toothpicks) as the cake toppers, instead!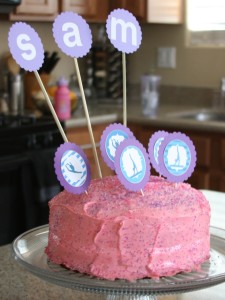 i also dug into my sticker stash for letter stickers to spell out her name.
the morning OF the party i raided Pinterest and Google Images to print some gymnastics-themed coloring pages – always a crowd pleaser! we also visited the local park to play some relay, hula hoop, throwing and balloon-popping games. no fear about the 90* weather (seriously, when i birthed this child in the great NW and it was a whopping 60-something the day she was born, i never imagined that we would be able to have an OUTDOOR birthday party for her – EVER!! but i digress….)… we had spray bottles filled with water to cool off the girls as they ran around.
after some fun at the park (only about an hour), we headed home for lunch…. and our grill promptly ran out of propane.
seriously.
i forgot to check it.
ALWAYS check your propane tank.
sigh.
so we ran late with lunch.
and then we ran late with cake.
and then we ran late with presents.
so the party, that i tried to plan to be short (11am-1:30pm) ran a solid 30 minutes overtime.
but in the end, i think Samantha would call the day a very, VERY large success.
and that's what matters.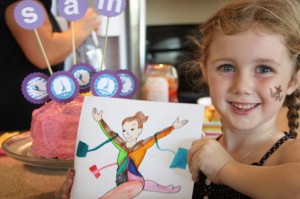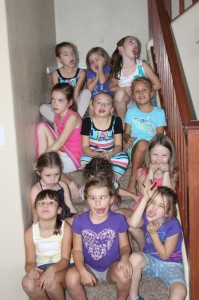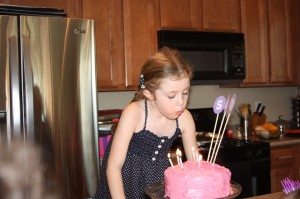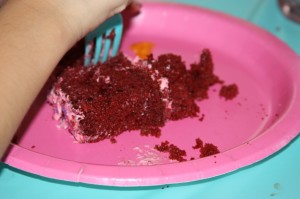 (she asked for red velvet cake. this mama had to oblige. i added sprinkle "balls" to the frosting in between the layers and then i topped it with a LOT of sugar crystal sprinkles to hide the imperfections in my icing job)!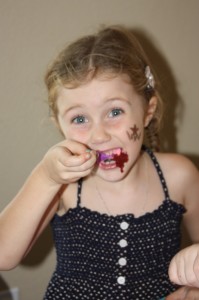 i'd say she had a very grand day!