it was tuesday night (7pm-ish) when the munchkins found out about our trip to legoland.
it was wednesday around 5pm when we rolled out of town.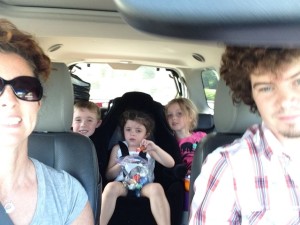 after three summers involving long road trips (the past two years we've driven to washington state to see family and friends and the year before that we drove FROM washington TO the east coast and back), we figured this trip to Cali would be SO DARN SHORT.
but guess what…. it was still 6.5 hours of driving.
that's a long time.
especially with three VERY EXCITED munchkins in the car.
it was a long drive that involved a late night stop at walmart to buy the pull ups i forgot to pack.
but it was so amazingly fantastic to finally pull up to the hotel – at midnight.
and after a short night's sleep, the kids were WIRED. we ate breakfast at the hotel and then found a starbucks and another walmart (someone's underwear didn't make it into the suitcase)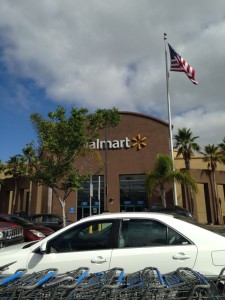 before we reached the final destination: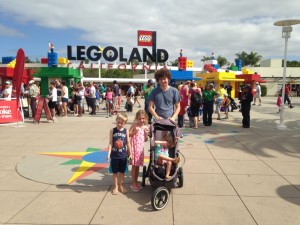 we wandered past the entrance and found ourselves in Miniland: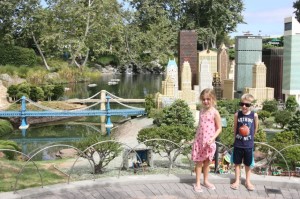 (that photo was taken for Uncle John – the kids are in NYC!!!)
following a quick trip to the bathroom…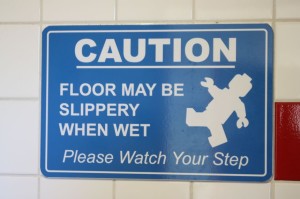 we made our way to PIRATE SHORES where we rode our first ride…
Captain Cranky's Challenge:
we did "child swap" for most of our rides. that means we stood in line as a family. then one adult and one Munchkin would hop on the ride. when they got back, the other parent and the another Munchkin would hop on the ride. alex was too small to ride most of the rides (insert frowny face here) but she still managed to have a good time on the trip.
it wasn't uncommon, however, to hear alex exclaim "my turn!" or "awex turn!" when one ride would end!
most of the rides in PIRATE SHORES are water rides and i wasn't sure what to do with our camera, so we skipped town and headed to FUN TOWN to ride some more rides…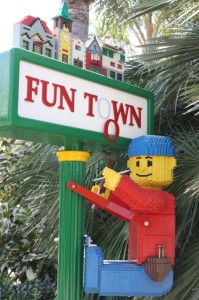 we started with Skipper School:
and then found our way to Sky Patrol:
there are HUNDREDS of lego structures and "people" and animals all over the park. some of them didn't even look like lego structures until you got up really close!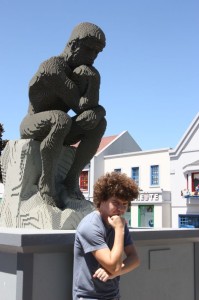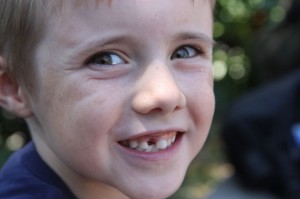 and then Dave and the Munchkins went to the Fire Academy: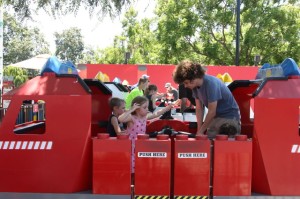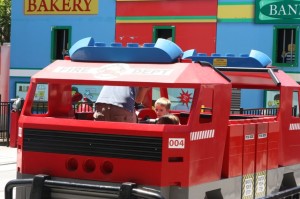 they got the bum truck. boo!
EVERY kid wants to drive, right? so after lunch, we took the munchkins to Driving School: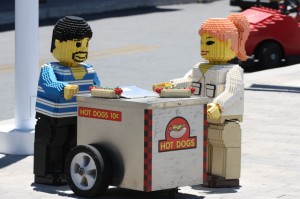 they LOVED it!
while the bigger Munchkins went to driving school, alex found some fun of her own while waiting for them to finish their lesson!
the Kid Power Tower is pretty cool, too:
next we made our way to DUPLO VILLAGE in the hopes that alex could enjoy a few more rides.
these lego instruments played music and were triggered by sensors… davey LOVED running back and forth and back and forth – alex just wanted to play in the water: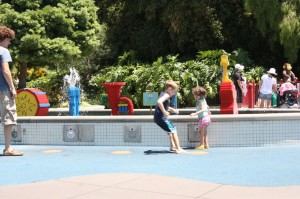 i had to show you this photo…. as i was watching dave and the munchkins play by the different water features, this guy walked by with what i can only assume are REAL arm sleeve tattoos that make him look like a tiger.
SERIOUSLY.
he was wearing a furry tiger hat and his arms were ORANGE with tiger stripes on them.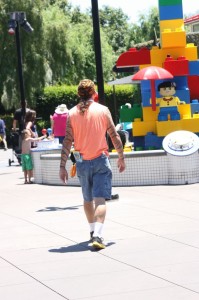 then we saw something amazing….
we saw EMMETT!
yes. THE Emmett.
from the Lego Movie.
so davey got in line to meet him while i took samantha to the potty. but when i came back, he was out of line and he was crying.
it was heartbreaking.
it turns out that he was halfway through the line when Emmett had somewhere else to be, so Emmett left. davey doesn't take disappointment well.
we tried to make the best of it and we hoped that we'd see Emmett again during our stay at the park.
samantha got to meet Wild Style, though: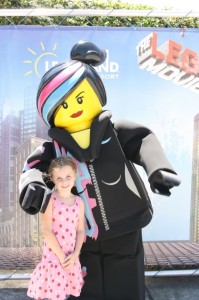 and then we found something to distract davey…. sets from the ACTUAL Lego Movie: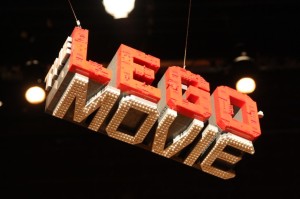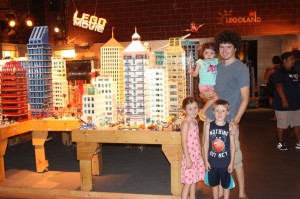 we spent a long time in here looking through the movie sets and looking for various Lego figures and characters.
dave enjoyed the old school Lego sets: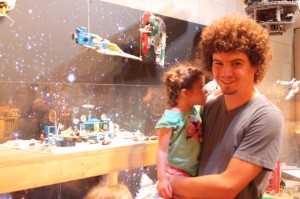 i just enjoyed and loved everything.
but THIS was amazing: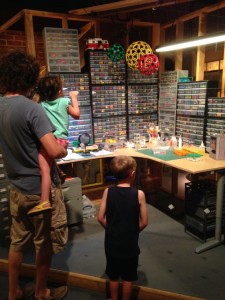 but then we found this amazing wall of mini figures…
i even found a mini Dave:
but the biggest bonus of all…. when we walked out of the Lego Movie area,
EMMETT
WAS
BACK!!!!!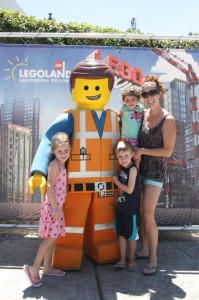 We got in line for the Safari Trek and someone's late night and early morning finally caught up with her:
so i rode first with samantha and then dave took davey while i put alex in her stroller. she took a pretty good nap for being at an amusement park!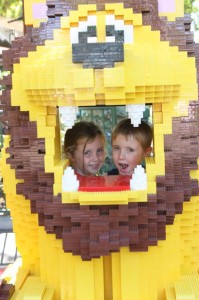 alex enjoyed Duplo Playland – they had some GIANT duplo/lego bricks to enjoy:
we finished our tour of DUPLO VILLAGE with a ride on Fairy Tale Brook:
in DINO ISLAND, we enjoyed our first roller coaster of the trip (and the first roller coaster EVER for the munchkins)… it was the Coastersaurus. Apparently no one else remembers that ride. but i have photos to prove it:
since we were back near the main gate, we found our way to Guest Services where we used their air pump to fill our VERY FLAT stroller tires!
it was in that area that we found the Lego Friends waiting for us outside The Big Shop….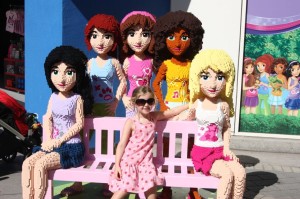 yes.
they are all made out of Lego blocks.
well, except for that Samantha one there in the middle!
Davey found the Lego Hero Factory and enjoyed some quality time with familiar pieces:
(samantha enjoyed it here, too!)
we found the LAND OF ADVENTURE next, where i rode on the nauseating, spinning, Bionicle Blaster with the Munchkins:
and then we hit the big time. the real deal. something that made these parents excited. we found the Technic Test Track (aka: Project X):
this was a REAL roller coaster.
with a BIG drop.
and these crazy, sharp turns that left me fearing one of the kids would fly out of their seat!
it was FUN!
The older two enjoyed the Dune Raiders next:
while someone else was extra crabby….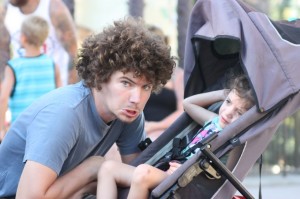 what a creepy spider!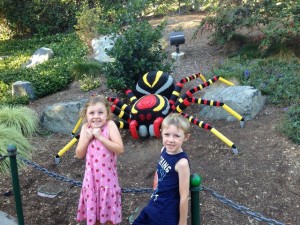 before our trip, we read somewhere (the Legoland website, i believe), that the park was "friendly" to various food allergies, so we were expecting it to be easier to find GF food for dave. instead, lunch was a burger (where he forgot to ask for it without a bun) and the other restaurants featured things like pizza, pretzels, pasta, hot dogs, burgers, fried chicken tenders…. you get the idea. the idea of a $12 salad wasn't appetizing. or filling.
but we found a BBQ "restaurant" in CASTLE HILL, so we spent our afternoon working our way through the lands to that area. the bonus? after 5pm, kids eat FREE (with a purchased adult meal) in several of the Legoland restaurants! i think my meal was around $12, but i got 1/4 of a baked/BBQ'ed chicken plus french fries and baked beans. it was so tasty after hours of walking and enjoying the park in the hot sun!
double bonus?
we ended our first day in Legoland enjoying some rides that we hadn't seen yet!
we found the Builders Guild: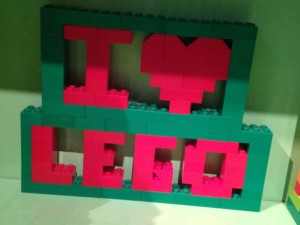 with all kinds of cool Lego creations and nice tables where you could sit and build.
and Beetle Bounce: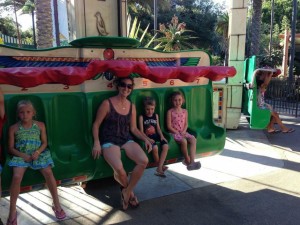 and The Royal Joust:
we found this piece of magic in a little shop in CASTLE HILL: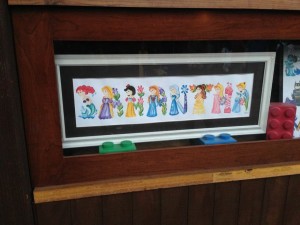 Samantha wanted one (though, thankfully, she didn't see this one that was already made) but at $50 PLUS the cost of the matting and framing…. yeah, we don't think so, baby girl!
and The Witching Well: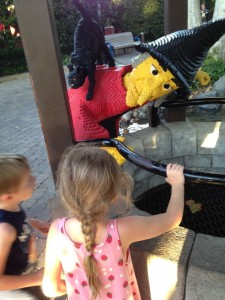 and we closed the park with our final ride of the day,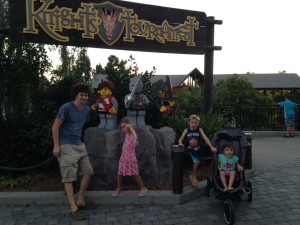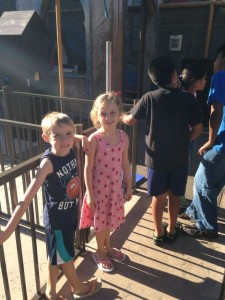 yep. it was fun to be at the park after closing. to walk back towards the entrance and discover that all the rides were closed. some were covered. some were locked.
it was fun to feel like we had CONQUERED the park!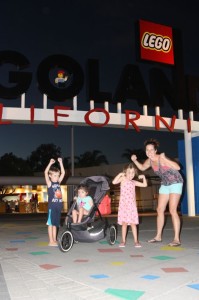 **************     **************     **************
it was NOT so fun to get back to our hotel at 9pm and discover that someone had tried to break into our room earlier in the day: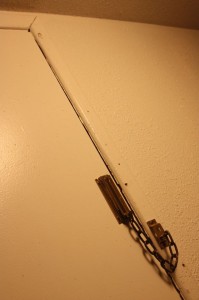 (that's the broken trim on the door that adjoined our room to the room next to us. the ONLY lock on the door. i would NOT recommend staying at the Rodeway Inn in Oceanside. we took our desk chair and propped it under the doorknob for the rest of our stay.)
**************     **************     **************
our munchkins were pretty well wiped out after a late day of travel and then 11 hours at legoland. dave and i were able to wake up on our own, get ready uninterrupted and then snap a photo or two of these crazies: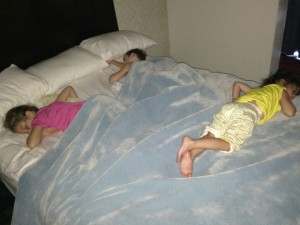 (alex started the night in between davey and samantha… she moved herself to this position at some point! also, during the night, samantha fell out of bed and whacked her eye on the corner of the nightstand…. and didn't remember it AT ALL the next day!)
after our continental breakfast at the hotel and a quick stop at Starbucks, we arrived at the park prepared to visit the park, the water park AND the aquarium in one day. ALL of the following photos are from our iPhones, as we didn't want to deal with the good camera while in the water park.
we started our trip in FUN TOWN at the Sky Cruiser, where the Munchkins were able to wait in a Lego play area: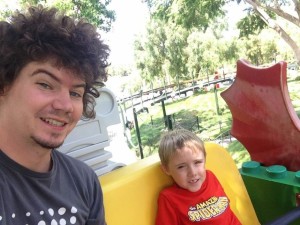 (exercise at Legoland looks a lot different than it does at the gym!)
the ride was a bit of a dud. we thought we'd be able to see more of the park (too many tall trees) and it was really short. in the end, this ride is overrated.
HIGHLY overrated.
on our way back to the LAND OF ADVENTURE to ride Project X again, we discovered a few other things near MINILAND USA, including Darth Vader:
and this cool Model Shop:

(seriously amazing, right?!)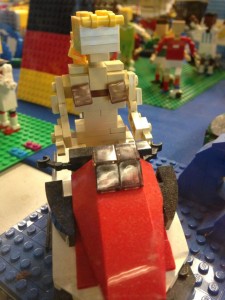 (love this bikini wearing, jet ski riding girl)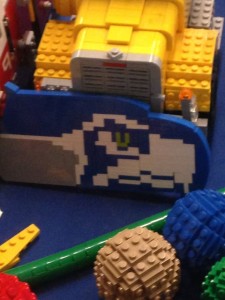 (GO HAWKS!!! YOU'RE STILL THE SUPERBOWL CHAMPS!)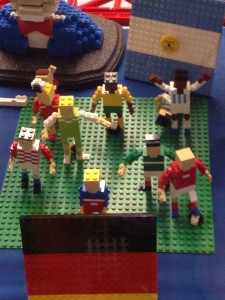 (the world cup soccer players)
there were so many creations here and while we were watching people WORK in the model shop, a guide, Mike, came out to talk with us and answer questions and point out various creations.
after a quick stop in the LAND OF ADVENTURE to ride Project X again (still so much fun!), we took a brief photo op in CASTLE HILL: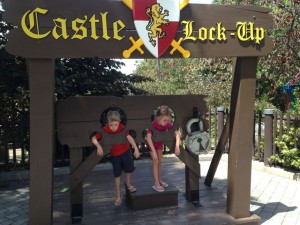 before venturing to the Legoland Water Park: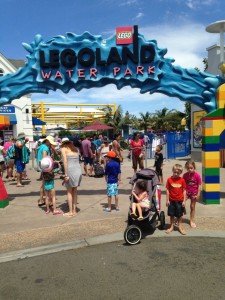 the water park was crazy crowded. and we had a hard time finding seats. we eventually found some, dumped our stuff and went exploring. alex and i settled in at the Duplo Splash Safari (with a visit to Kid Creek and Splash Zoo) while Dave and the other Munchkins ventured to the (new this summer) CHIMA Water Park to ride the Pirate Reef.
We then moved our stuff to the CHIMA Water Park and tried to relax in shallow water near some slides (Crug's Run, Cragger's Splash and Crooler's Twist) before we ventured to the Lion Temple Wave Pool.
THAT was cool.
it was a breezy day and since we're used to 91* pool water, the water at the water park was pretty cold. so when we took a break for a late lunch, the wet munchkins were VERY, VERY cold. after a short 2 hours (or less?) at the water park, we were all done and ready to head back to the main park.
after getting dressed, it was apparent that we needed a sit-down break (everyone's legs were TIRED). so we headed to the LEGO Show Place to see the CHIMA 4D show. en route, we found Chewbacca: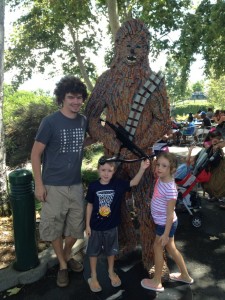 it appears that dave found himself a new girlfriend, too: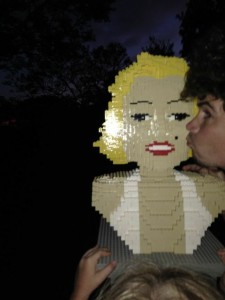 and then we made it to the show in time for good seats:
and a few photo ops:
with a VERY SHORT LINE, the Coast Cruise in MINILAND USA was our next adventure: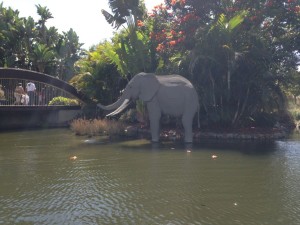 (283,000 lego pieces were used to build that elephant)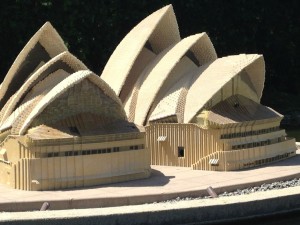 (160,000 for the Sydney Opera House)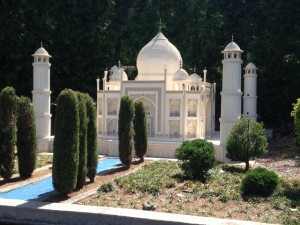 (143,000 for the Taj Mahal)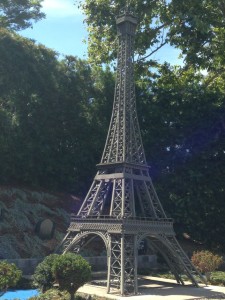 (117,000 for the Eiffel Tower)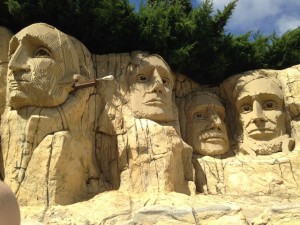 (83,000 for Mount Rushmore – only the faces are made of Lego bricks)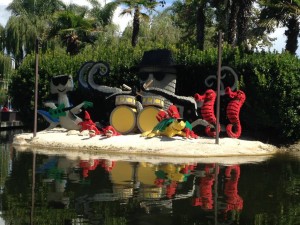 (and 300,000 for the Octopus Band, including Harold the Hammerhead)
we worked our way back through another part of MINILAND USA to check out the Star Wars area:
On the way back from another potty trip, Samantha wanted her photo taken with Luke Skywalker ("because there's a Luke in my class and I want Luke Waltemeyer to see me with another Luke")… so here's that photo: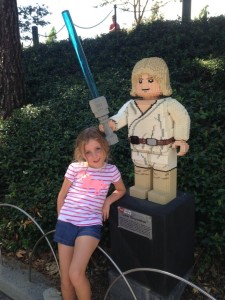 while I preferred the backwards words of wisdom from Yoda: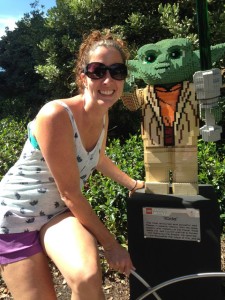 as we ventured back toward the Sea Life Aquarium, we found it was time for a Character Dance Party…  Samantha was enthralled but COMPLETELY shy (she wouldn't dance at all):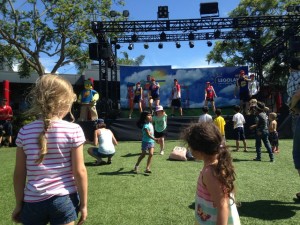 but alex loved jumping and running all over the place!
and it was fun to enjoy some more photo ops with some more characters after the show!
the aquarium was small and… small. but there was an area to touch starfish and some sea life. there was a room full of jellyfish (different kinds). there was an "aquarium room" where it was floor to ceiling glass walls with sharks and sting rays swimming around.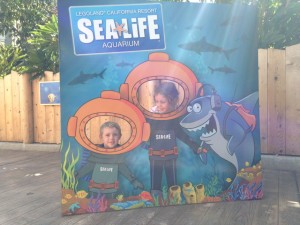 back in the main park, we walked to the LAND OF ADVENTURE so the munchkins could play in Pharaoh's Revenge (where i got beaned in the neck with a ball by an evil 10-year old child that i really wanted to throttle hug) and then we could enjoy a family excursion in the Lost Kingdom Adventure:
we got to shoot at targets with laser guns!
from there, it was time for another ride for Alex – Cargo Ace:
and then we called it a night. sort of.
we wandered back to the front of the park (it was ALMOST closing time – 8pm).
we visited The Big Store where each Munchkin had $10 to spend. Dave chose a small Lego kit and a Simpsons mini figure (surprise package) while I opted for the WonderWoman keychain and a package of stickers (technically car decals). what i really wanted was a "tourist" sticker of Legoland – you know those white oval stickers with black, block letters in them? but there were none to be found. and the employees had no idea what i was asking about. oh well.
Dave liked this set but at $200 it was out of his budget: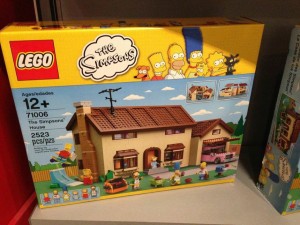 and after spending $50, and walking out the side door, we found the pirate: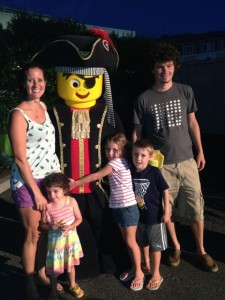 we had seen him the night before, but missed our chance to get a photo with him. we made up for that as we headed out of the park. it was a fitting end to our two-day Legoland adventure.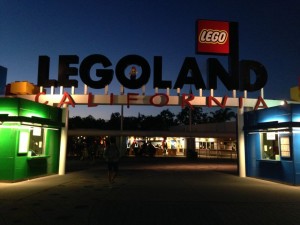 everyone spent some time in the motel room that night building their Lego sets (or Duplo sets, in Alex's case):
(yes, samantha chose a wedding "cake topper" set.
davey chose two mixels.
alex received a duplo set with 4 animals – rabbit, goat, pig and a sheep).
and at 10pm, it was lights out….
and at 8am the next day, this is what we saw:
apparently two 11-hour days at Legoland really wipes out the Munchkins! 
it was a wonderfully, fantastic surprise.
we did not enjoy EVERY moment, but overall, we thoroughly enjoyed our time at Legoland and we WOULD repeat the trip (though we'd reconsider the aquarium and the water park tickets). but our vacation didn't end here – we enjoyed saturday morning at the beach (Buccaneer Beach in Oceanside) but i'll save that for another blog post.
and with that, i will close this longest-ever-blog-post that contains well over 130 photos.
thanks for following along!
i hope you've enjoyed a glimpse of Legoland through our lenses!