2 checked bags, 5 personal carry on items, 3 car seats, 3 Munchkins and 2 parents hopped on a red eye flight from Phoenix, AZ to Cleveland, OH a short while back.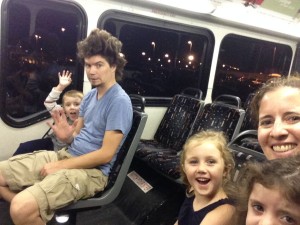 we parked our car at the airport and hopped on the shuttle to the terminal.
we checked in our bags and hauled those darn car seats all the way to the gate (b/c i thought we would have to pay to check them with baggage but i knew they'd be free to gate check them. we should've asked… on the way home we checked them – for free! – with our luggage. made walking through the airport SO MUCH easier).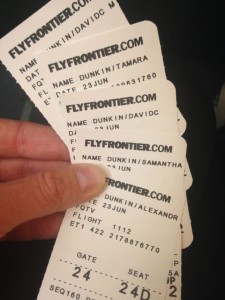 these two munchkins were SO EXCITED for this trip! not only were they looking forward to seeing family, they were also looking forward to the flights – davey flew once when he was 11 months old and samantha's only time on a plane was that same trip – when she was still inside me! (but then, technically, i guess davey was on a plane once before – i was pregnant when we went to mexico for a "final hurrah" before having munchkins).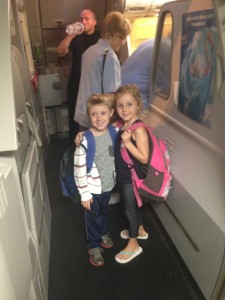 these munchkins did great on the flight. alex slept for at least 2 of the 3-1/2 hours. she even slept through the landing! i DID give each of the munchkins some melatonin on the flight to help them drift off to sleep – i knew they were too excited to be likely to fall asleep on their own.
as we were walking off the plane in the morning, i told davey to peek into the cockpit. the pilot one-upped me: the co-pilot moved out of the way and the munchkins were invited into the cockpit. the pilot let them sit in the seats and he moved them around (raised and lowered) and he showed them the different levers and controls – it was so cool!
and then we picked up our rental van and headed out to the DeJong Bed and Breakfast.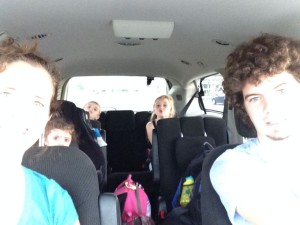 after a few pleasantries, i napped and then dave napped and when i woke up, the two oldest Munchkins had gone to their room to nap! alex, however, stayed awake all day (with a few "naps" in the van to/from places).
next up: great grandpa & great grandma's house!