so my apologies, but i really do not want to take the time and exert the energy to "flip" over 100 photos…. so you'll get a glimpse of our Teenage Mutant Ninja Turtles meet Daniel Tiger's Neighborhood party IN REVERSE (that means you'll see the END before the beginning).
the t-shirt TMNT masks were a huge hit and they were quite easy to make. i call this a Pinterest win!
how is she FOUR?
and how in the world is this Munchkin almost SEVEN?!?
our two-hours of swimming (the only PLANNED activity for the party) got derailed after an hour. the weather took a turn for the worse and a big storm blew in. i had hoped it would blow out just as quickly, but no such luck. granted, it WAS over before the end of the party, but not soon enough to be able to send everyone back into the pool!
the TMNT love pizza.
so did this crowd!
the cheese puffs were a huge hit, too!
mom or dad's phone is usually a good entertainment tool, too!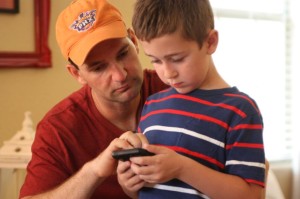 before the pizza arrived but AFTER we were kicked out of the pool, we opted to "kill time" by opening some presents….
the Munchkins took turns (alex opened one gift then davey opened one then alex, then davey…. you get the idea). both munchkins made quite a haul!
i love that two of the munchkins have summer birthdays. despite the unpredictable storms that can come rolling in, birthday party entertainment is easy as long as it includes the pool! (as i type this, the wind is going CRAZY outside).
so. many. presents…..
but fear not! we had some fun goody bags for our friends!
see all those strawberries? they were gone before i could blink!
i LOVE how the cupcakes looked!
many, MANY thanks to Pinterest for the links to the free printables AND to Katie for her help in resizing the Daniel the Tiger (and friends) printables to use as cupcake toppers!
it's hard to see, but there's a Daniel Tiger & Friends bunting here: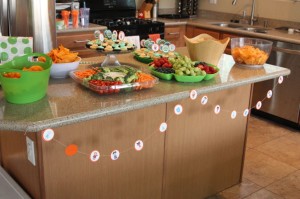 i also made a TMNT one, but i don't have a photo of it yet.
in the end, i think it was a successful party.
i also think the Teenage Mutant Ninja Turtles did a good job meeting with and playing nicely with Daniel Tiger's Neighborhood!