besides many other gifts and talents, after 13 years (or more?!) of teaching kindergarten, Ms. Flanagan KNOWS how to PAR-TAY! katie and i may have been co-room moms for Kindergarten this year, but for 2 of the 4 big class parties, lynn knew just what she wanted and we only had to coordinate it all! this end of the year party was one of those two where she knew what she wanted and we carried it out.
first of all, it is pretty FLIPPIN' hot here in arizona in may. and i mean HOT. like it can get in the 100s on a regular basis. so at 10am when a party is supposed to happen outdoors, you have to plan appropriately. the kids had four stations (or centers) to cycle through. are you ready for the crazy awesomeness of this party?!
CENTER ONE: ICE-CREAM MAKING:
A parent (pretty sure it was my dear friend and neighbor, Geneva) pre-measured a few ingredients into ziplock baggies for the kiddos. another parent or two brought ice and there was some rock salt…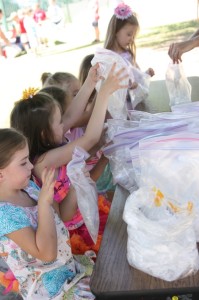 and then the kiddos LITERALLY SHOOK their baggies and made ice cream.
(for some, the shaking was more "painful" than others).
(it was REALLY tasty vanilla ice cream. super creamy and yummy)!
(for other kiddos, the shaking was more "entertaining" than others).
(and for most, it was just plain fun)!
(alex even got to enjoy the party AND some ice cream since her pre school day AND school year ended at 10:15)!
CENTER TWO: WATER BALLOONS!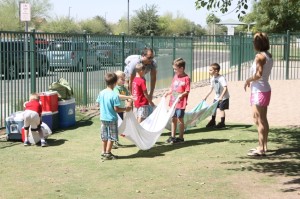 and by "water balloons," i mean HUNDREDS of water balloons. and they were NOT allowed to throw them at each other or parents or teachers. they used some beach towels to see how far they could "fling" them. and they played the "toss the water balloons" game (one girl had magic hands – she kept catching the water balloons one handed and they wouldn't pop in her hands!)!
CENTER THREE: BUBBLES!
lots and lots and lots and lots of bubbles. seriously. this is a baby pool with a LOT of bubble solution in it. a LOT. and in case you're wondering, it was around the corner from the kindergarten playground, in the shade, under the MISTERS that are attached to the school building.
yes.
you read that right.
it's SO HOT here in arizona, that SCHOOLS have misters on the buildings for the kiddos during recess!
CENTER FOUR: T-SHIRT TIMES!
every student brought in a t-shirt and had the class sign it with sharpies. so every kid signed/wrote their name 22 times.
TWENTY TWO.
20+2.
for a kindergartener, that's a lot of times to write your name.
samantha DEFINITELY signed her name "Sam." and every other child who had a name that could be shortened did, too. pretty smart kiddos, eh?!
(side note: i know samantha wore hers home that day, but i haven't seen it since…
perhaps i should go looking for it…..?!?!?!?!)
FINAL CLASS PHOTO: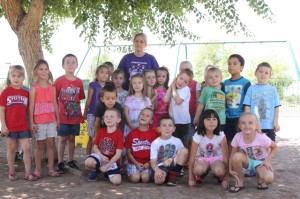 (Lynn – ahem – Ms. Flanagan, I apologize that this class photo is not the most flattering one of you. In case you didn't realize it, samantha was pushing and bumping other children out of the way to stand by you… and based on where I was standing to take photos, THIS is the only photo where i can see her face/head!)
it's not easy for me to see this school year end, especially for samantha. she had an amazing teacher. she had a wonderful class and i knew all the students pretty well. i even know most of the parents names (though i don't have them all connected to faces).
and what's even harder is knowing that some of these classmates won't be back next year. some kids are moving out of the state or even just the district. some are changing to private or charter schools. some are going to their "home" school (and no, i don't mean "homeschool" – i mean the students will go to the school in which their house is zoned). it's even harder when they're some of your favorite kiddos (like sweet Carson below):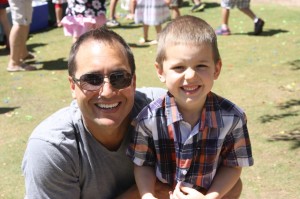 but all in all, this PAR-TAY was a fantastic celebration of Kindergarten for these 22 munchkins. many, MANY thanks to Ms. Flanagan for being the amazing teacher she is and for LOVING our kiddos the way she did! many, MANY thanks to Katie for being a co-room mom with me and for taking on so many details for so many parties! and many, MANY thanks for the generous parents of these 22 kiddos who donated time, money, energy, food, water balloons (including the sore back and red, chapped and sore fingers to PROVE they spent HOURS filling and tying them!) and more! this year was FANTASTIC!
*****     *****     *****     *****     *****
and completely unrelated to this post, here's Alex with her classroom aide/para-educator, Mrs. Liz, who LOVED Alex (who doesn't?!). Mrs. Liz so kindly "delivered" Alex to the kindergarten playground for me at the end of the pre school day on Wednesday: