it is ENTIRELY possible that i MIGHT have 1000 photos of my Munchkins (and their friends!) playing t-ball this past season. i think it's a 6 or 7-week long season. yeah. i take a lot of photos. doh!
but, honestly, when you've seen ONE t-ball game, you've seen them all. each one has their own nuances, for sure (like that one game where Davey and Luke were an AMAZINGLY FANTASTIC tag-team duo at pitcher and 1st base)!
this last game (8am on saturday morning, may 3rd), was extra fun, though. all four dads (of our 5 neighborhood kiddos) were there helping coach, cheer on, encourage and organize (so sorry, Ted!), the players.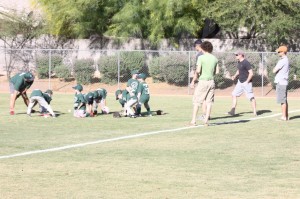 (you can see Matt's head just to the left of Dave's hair. Then Ted – ready to move. and Keith is wearing the orange hat).
*****   *****   *****   *****   *****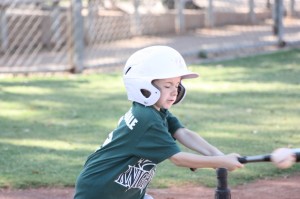 (he makes this face EVERY SINGLE TIME he hits the ball.
it makes me laugh.
EVERY. SINGLE. TIME!)
*****   *****   *****   *****   *****
this girl leaves her eyes open when she hits the ball:
i loved that in this game, BOTH of my Munchkins were involved in not only hitting and running, but in fielding, too!
*****   *****   *****   *****   *****
and lest you wonder what i did with alex during all these games (2-3 each week!), i assure you she was well cared for by the OTHER "little sisters" of our neighborhood gang. and the other moms. and, of course, she found her own mischief to get into, as well:
i might also need to mention that she is NO stranger to ANY lap of any parent or grandparent of a KNIGHTS team member.
i'm serious.
when i was taking photos, i'd lose track of her. when i'd begin my somewhat frantic search, a stranger (who was actually a Knights family member) would simply point down the line of chairs and i'd find her in someone's lap. playing with their glasses or baseball caps or begging food from them.
again, i'm serious.
i'm super proud of alex and the way she (mostly) obeyed and managed to find things to do she enjoyed during the t-ball games.
*****   *****   *****   *****   *****
after the game, the players received some special trophies (many, MANY thanks to another mom, Shauna, for organizing this!), the coaches received their THANK YOU gifts and the kids enjoyed their snacks.
coach ryan was great. he didn't put any pressure on the players – he really just wanted them to have fun. some of the other t-ball coaches were more… well, just MORE… so i'm thankful that we wound up on the Knights with Coach Ryan.
*****   *****   *****   *****   *****
after the trophies were handed out and everyone had their obligatory photos with the coach, i wanted our neighborhood gang to get together by home plate for some photos.
we tried these "smiling-group-shots:"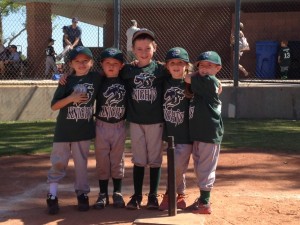 but the kiddos weren't really interested (it was ridiculously hot).
*****   *****   *****   *****   *****
but what happened next, when we told the kids we were all finished taking pictures, was crazy:
they huddled together, all of their own accord, and they shared some secrets.
and they stayed like this for quite awhile.
and the 4 of us mamas snapped about 100 photos of this spontaneous huddle!
*****   *****   *****   *****   *****
i'm so very thankful that t-ball is over (especially now that it's over 100 on a daily basis), but it was fun while it lasted. and i wouldn't mind if davey wanted to play again next season. samantha, however, definitely preferred playing in the dirt (her glove held more dirt than balls this season!), so i'm guessing she won't be too interested in playing again!