you may be thinking about the old nursery rhyme, "Mary, Mary quite contrary, how does your garden grow? with silver bells and cockle shells and pretty maids all in a row."
then again, you may just think i'm crazy.
(but i'm okay with that because i know i'm only a LITTLE bit crazy).
but if you were to ask samantha the question in the title of this post about a month ago, she would NOT recite the well known nursery rhyme for you. [in fact, i wonder what percentage of today's children would? they know more about sesame street and curious George and sid the science kid and all those other PBS shows that let us take showers WITHOUT INTERRUPTION when our munchkins were younger. but i digress.] samantha would most likely start singing some songs for you. and maybe doing some dance moves. and she'd probably even recite her lines as Queen Cabbage ("Now plants! Plants! Hear me once and for all! These weeds are getting much too tall! I can't even see where my head meets the ground, and I'm the Queen after all!") from her Kindergarten performance, which was so fantastic!
after a brief introduction by Ms. Flanagan (the teacher), the gardeners got right to work (see the cute one on the far left? that's drew – our neighbor. he had SO MANY LINES and he did AMAZING with ALL of them!)
***   ***   ***   ***   ***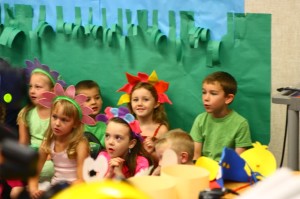 here's samantha waiting for her turn to be up front, in front of the audience, her favorite place to be (yes, in the spotlight)!
***   ***   ***   ***   ***
i'm gonna guess that she loved this musical so much because it involved DANCING like a ballerina-princess. (can you see her personal addition to her costume – the giant ring on her right hand?!) she's my beautiful flower, for sure.
***   ***   ***   ***   ***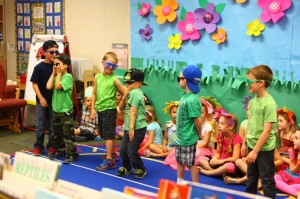 these "weeds" were a total hit – mostly thanks to that cute kiddo with the green shirt and the backwards black baseball cap. he had some serious "rapper" dance moves! i talked with his mom after the show – it turns out everything Joshua did, he learned from watching Toby Mac videos and performances!
***   ***   ***   ***   ***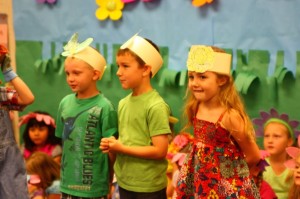 and after the weeds, it was finally time for Queen Cabbage to enter the show. she looked nervous and even a little shy, but she wasn't. she said her lines as clearly as her sweet fast-talking-slurred words would let her (i think she talks a bit like me?!)
***   ***   ***   ***   ***
and then, for the encore, the kids were all paired up for some partner hoe-down swinging and spinning: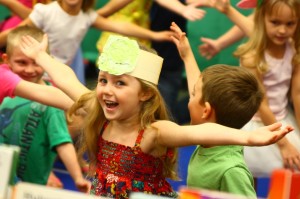 the show was ADORABLE.
the parents laughed a LOT (mostly when "Weed Joshua" was laying down his moves).
the students had FUN (based on their smiles).
and we couldn't have asked for a better "gift" to the parents.
BRAVO!!! BRAVO!!! BRAVO!!!
***   ***   ***   ***   ***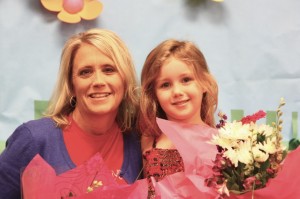 and to the amazing Kindergarten teacher who made it happen, i say a very sincere and heartfelt, "THANK YOU!"
***   ***   ***   ***   ***
i LOVE that dave has a flexible work schedule and can go to work late or come home early when the Munchkins have special school events.
***   ***   ***   ***   ***
and i love these families (2 of my favorite 3 neighborhood families)!
Ted, Geneva and sister Kayleigh were SO PROUD of Gardener Drew for all his hard work and excellent line delivery in the show. (he even had to take a quick potty break at the beginning of the show and he didn't miss a line – NOT ONE – which is not an easy feat for a Kindergartener, especially when wearing overalls!)
Matt, MaryAnn and sister Violet were equally as proud of their Flower LilyKate, who did a fantastic job dancing and singing with the other girls and dancing the do-si-do with Gardener Drew!
***   ***   ***   ***   ***
and, as if that sweet show weren't enough, these sweet gems came home with us that day:
i LOVE when kids fill out these kinds of forms about their parents. (Davey did them last year, too, but his were filled out with his handwriting .) i'm quite impressed, actually, that samantha knows me as well as she does. she added a decade to my age and my weight is obviously way off, but my name, shoe size, hair description, favorite color and hobby are all spot on accurate. i have no idea WHERE she got the idea that my favorite TV show is "the News" but then i realized that we don't let the kids see us watching TV unless it's a show for them.
as for dave's list, she did pretty well there, too. again, her guess for his weight was way off. but she correctly stated his name, his hair (i LOVE the description – "dark, black, crazy, curly" hair), his employer, his job description, one of his hobbies and one of his best friends. please note that she made him YOUNGER than he is. i need to teach her it's more important to UNDER guess a woman's age.]