in case you're wondering about alex and her end-of-the-school-year activities, this post is for you (and for her)! since she'll still be 4 when the NEXT school year starts, alex has another year of pre school ahead of her… AND she qualifies again for the Amancer program with the school district, so she'll be back again next year.
(unfortunately, she'll have a new teacher AND a new speech therapist because mrs. lyssa and mrs. judy aren't coming back next year. and i DID cry when i learned of this. and if i think about it enough, i might start to cry again. but, as usual, i digress….)
since alex wasn't "graduating" from pre school, but SOME of her classmates were, there was a cute ceremony for all of them. when we first arrived, Mrs. Judy (speech therapist) was reading a story to the sweet kiddos:
i could NOT get over how STILL and QUIET alex was during the reading of that book!
*** *** *** *** ***
once most of the parents had arrived, the kids lined up on the wall for a fun Photo Op. have you ever tried to get 12 kids (ages 4 and 5) to look at you for a photo? i have a hard enough time getting my THREE to look and smile at the same time…. forget TWELVE!!!
*** *** *** *** ***
following the group photo op, there were two songs (i don't think alex sang ANY part of EITHER song even though she LOVES music) and then Mrs. Lyssa shared with the audience a drawing by each child. it was their favorite thing about pre school.
*** *** *** *** ***
then the kiddos got to sit with their families until their name was called again later for "graduation" (to pre-K or Kindergarten) or for "recognition" that this year was completed.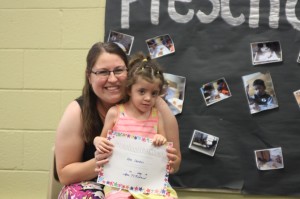 *** *** *** *** ***
and then there were treats. LOTS of sweet treats.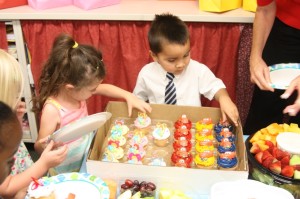 (alex and jack had been eyeing those cupcakes for about 3 seconds before their hands were IN THERE, choosing at least one!)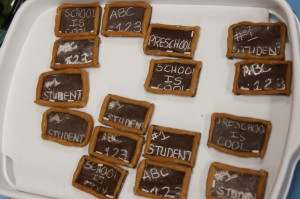 aren't these the cutest little "chalkboards" you've ever seen? Ben's mom made these (hooray for Family Fun magazine for the idea). They're chocolate bars, caramel piping and powdered sugar as the "chalk." they were darling. and sweet. and yummy!
*** *** *** *** ***
and then, before i realized it, we were among the last few people in the classroom. and i knew i would cry if i stayed any longer, so i told alex to go give Mrs. Lyssa a hug: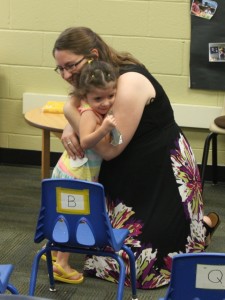 dang it! just looking at this photo and remembering how much this woman LOVED my daughter… yep. the waterworks are upon us again. i can't say enough good things about this Godly woman who LOVES her students and FIGHTS for them. she also has two little ones of her own at home. and yet her heart is big enough to make every one of these kids feel so special. and loved. and smart. i heard amazing things about "mrs. lyssa" before the school year began – she has, by far, excelled and exceeded beyond my wildest imaginations at being the PERFECT teacher for alex! she encouraged (and required) independence while tempering it with help, assistance, training and love, as needed. mrs. lyssa will be missed by MANY parents this next year.
*** *** *** *** ***
but before my waterworks could start on this day, my little peanut and i walked home:
(doesn't she look SO GROWN UP and still so tiny at the same time?!)
so ceremonies may not be her thing… but she's a really good hugger and cuddler and snuggler and i think that's way better!
*** *** *** *** ***
and now, more than two weeks later, while working on my Project Life album, i started a list of "August 2013″ vs. "May 2014″ regarding Alex and her abilities. It turns out she learned a LOT in her 10 months of school – way more than we ever thought possible. i wrote it as a letter to alex's teacher and support staff:
Dear Spectrum Pre-School Staff,
We can't begin to thank you enough for all you've done to make this year so special for Alex. First Miss Michelle, a long-term substitute, taught Alex about schools and classrooms and schedules and routine and helped her know what to expect. Mrs. Judy worked HARD with Alex to help her communicate verbally and to expand her vocabulary. Miss Michelle dealt with an often times temperamental Alex on the playground and in the hallways to get her to do things she physically did not want to do. Mrs. Lyssa returned from maternity leave and helped Alex expand her learning of the world around her. Ms. Mel and later Mrs. Liz were phenomenal aides who helped Alex wash her hands and change her diaper and try to focus during circle time (hey, not EVERYTHING can be learned in one year, right?!). We have seen so much GROWTH in Alex this past school year and from the bottom of our hearts, we say, THANK YOU. The chart below highlights some of her more notable accomplishments over the past 10 months.
| | |
| --- | --- |
| In August 2013 | In May 2014 |
| Alex was unable to say two words together. She was unable to explain what was wrong, what hurt, what happened, how she felt, etc. | Alex is now speaking in full sentences (minus articles, "a," "an," and "the"). She can tell us what hurts and how it happened. She spontaneously says "i wuv you" (which fills our hearts). |
| Alex was terrified of an exercise ball. | At home, Alex can often be found sitting or rolling on her belly on a large boucy ball! |
| Alex had no interest in dressing herself. | Alex has mastered putting on shirts and sweaters/jackets and most pants and skirts. She even likes to remove her own diaper. |
| Alex knew few, if any, letters of the alphabet. | Alex can identify almost all 26 letters of the alphabet (upper and lower case) at any given time. |
| Alex knew few, if any, numbers. | Alex can count from 1 to 12 rather consistently (though she can't yet count that many objects). |
| Alex wanted to be carried or pushed in the stroller EVERYWHERE we went. | For the last few weeks of school, Alex and I walked the ¼ mile to school most days WHILE she wore her backpack. |
| Alex was unable to run or jump with two feet. | Alex rarely stops running (she has to keep up with D&S) and she can jump up with two feet. |
| Alex would use her hands to eat and wouldn't sit still at the table after she finished her meal. | Alex needs reminders to use her utensils, but she can and does use them. She's still squirmy, but does sit still at the table for a few moments after finishing her meal. |
| Alex was able to climb stairs but she was unable to climb ladders or the "rock wall slats" on our backyard playset. | Alex can now climb up the slats to slide down the slide (with her trunk upright!) all by herself. |
We are so grateful for all the love, support and encouragement Alex received in pre-school. We are so thankful for all those who have played a part in helping Alex grow and mature this year. We love our sweet, social girl and are so thankful for the staff at Spectrum who love her, too.  
*** *** *** *** ***
So with that, I want to tell Alex something -
Alex, you are amazing. You are sweet, kind, loving, social, funny, friendly, smart and eager to learn. You have been one of the biggest blessings in my life. In our family. You make us happier. You make us kinder. (You also make us frustrated but you can't be perfect!). You provide every member of our family with their quota of hugs for the day. I can't tell you how thankful I am that God gifted you to our family. I can't tell you how thankful I am for all those people who prayed for Baby Daisy for all those months. I am overwhelmed by how integral you are to our family unit. Thank you for being who you are. For trying hard like you do. For loving life and people whole-heartedly. For loving me unconditionally. You are amazing and I can only imagine the wonderful progress you will make after ANOTHER year of pre-school! You are a blessing to everyone who knows you. Thank you, my sweet daughter, for being you.