so i don't know if ALL elementary schools do this (like this might be some new trend from when i was in school a looooooooong time ago) or if it's only our school or only our district or only the greater east valley of phoenix, but no matter, i still think  it's pretty fun idea for the kiddos. it's called Art Walk.
throughout the year, different parents volunteer to go into their child's classroom and teach them about one artist, at least one of their works of art (painting, sketching, pottery, etc.), and then the students get to make their own rendition/version of that famous piece of art.
one month, davey's class learned about an artist (please don't ask me which one!) and his use of water colors. the students then used a sharpie to draw a cat on a dried baby wipe. then they "painted" it with water colors and we sprayed it with a water bottle to blend/blur the colors together a bit.
since i know ZERO about art and am not really that interested in it, i didn't volunteer to be an "Art Masterpiece" mom in ANY of my Munchkins' classes this past year. i did, however, get to take photos a few times in Davey's class. but the most fun comes at the end of the year when the school is open from 5:30-7:30 one evening. there are cookies to munch on and there's art on EVERY hallway all over the school. most of the art is even "matted" (usually on construction paper) – it's a pretty cool event.
***** ***** ***** ***** *****
our Munchkins were VERY excited to show off their handiwork this year. we went in classroom order, which means we started with Samantha's Kindergarten classroom, worked our way down the hall to Alexandra's Pre School classroom and then over to Davey's 1st grade classroom.
I wish I could tell you the name of the artist and the original piece of art studied so you could see what the students were using as their "inspiration" but, alas, i remember none of those details.
(i LOVED how davey asked samantha all kinds of questions about her art work – he really cared and wanted to know what she made, how she made it, why she made what she made, etc.).  
(interpretation: "I taught myself to swim"
and then she made our swimming pool out of clay).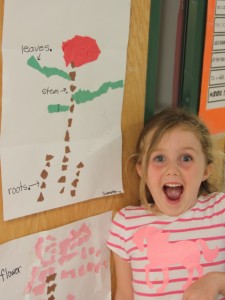 (sometimes the teachers just add extra non-Art Masterpiece art to the walls during this fun event – i love how colorful it makes the school!)
***** ***** ***** ***** *****
now i don't think the pre-schoolers actually participated in Art Masterpiece BUT they definitely spend a lot of time drawing, painting, coloring, gluing, molding play-doh and clay and more, so there was plenty of pre school work out on display:
here alex is showing off her painted rock (hooray for lady bugs!) and her clay sculpture (i think it was a spider but in the photo on the left, you can see it in her hands – she picked it up and squashed it and then put it back down in the right photo. i'm SUPER thankful that i caught her before she did irreparable harm to anyone else's sculpture!)
this is alex standing in front of her self portrait from August/September and again in May. the one on the left was from back at the beginning of the year. (i'm guessing she had a lot of "help" making that self portrait!)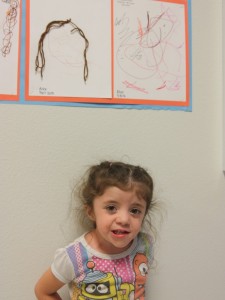 one of the FABULOUS pre school teachers (mrs. katie – who will be alex's teacher next year) coordinated this photo project of all the pre school students (meaning three classes of morning AND afternoon students!). i didn't take a photo of the full art (doh!) but it was a huge sunshine with student handprints IN the sun and then each "ray" consisted of school year photos of TWO different students (alex's strip is in the middle with a giant glob of gold glitter AND a nice, sharp glare from the overhead lighting):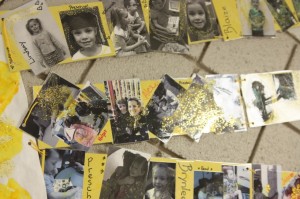 i think alex had the most fun playing in the hallway with her classmates!
***** ***** ***** ***** *****
and not to be out-shined by his younger sisters, this kiddo had a GREAT time sharing his art with us (and he was SO PATIENT while we chatted with parents and teachers and looked at Samantha and Alex's work first)!
(see the water colored baby wipe above? it was a pretty cool art project to watch happen.)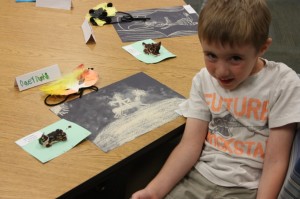 (chalk art, a feather mask and a clay animal)
i'm one of those moms who is a SUCKER for ANYTHING involving my Munchkins' handprints or traced hands (imagine having a 20-year old davey hold this bee in his 20-year old hands and wonder "was i ever that small?!?!"), so i LOVED this bee more than any other piece of art work that was displayed that night: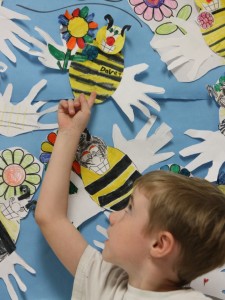 it was also the last piece of art to view.
many thanks to the Art Masterpiece VOLUNTEER moms who coordinated, arranged, scheduled, taught, matted and everything else required for this amazing night!
***** ***** ***** ***** *****
[i do feel the need to state that, personally, i think this should be something where the art teacher is very involved and some of the displayed art should be what the kids learn in art class. but, to date, i don't think that has happened. in fact, i'm not even sure WHAT the kids learn in art class. but maybe the art teacher IS involved with the Art Masterpiece program in some fashion and i just don't know.]