you read the title of this post, right? the box: the musical.
no. it's not some weird joke that you don't understand (or if it is, I don't understand it, either!). it's simply the name of a musical. The Box. the 1st grade classes (all 4 of them) performed the musical "The Box" at 2pm and 6pm on thursday, march 6th —- the same day i left town for a long weekend in washington  (another #momfail). davey even had a speaking part. yep. and i missed it. his FIRST musical. his FIRST speaking part. his ONLY musical with a speaking part in 1st grade. i repeat, #momfail.
after pleading my case to davey's teacher (who then, in turn, plead my case to the music teacher), i was able to attend their FINAL rehearsal the day BEFORE the show(s). unfortunately for the photographer in me, the day BEFORE the show was also WACKY WEDNESDAY, so the kids were supposed to wear mis-matched clothing and have crazy hair and whatever else their minds could devise. davey chose to also wear two different shoes.
seriously.
it's just another reason why i love him the way i do.
after signing in at the front office, i found my way to the cafeteria gymnasium theater multi purpose room where the hallways were filled with giddy and wound-up 1st graders who were learning "where to stand" in the hallway so they could walk into the multi-purpose room in an organized fashion. and i found davey pretty quickly and couldn't stop myself from snapping some photos of him: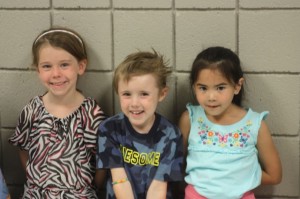 unfortunately, most of them turned out rather blurry.
but i didn't want to be too much of a distraction, so i hustled myself into the multi-purpose room where i discovered that i had a front row seat to the final rehearsal where the audience consisted of part of a 6th grade class, 4  1st grade teachers and myself. woo hoo! and then, DOUBLE BONUS, davey was in the front row (okay, not really a big surprise!)!
i was impressed with his use of the microphone and that he spoke clearly and slowly enough to be understood: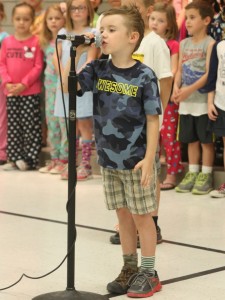 at 2pm on tuesday, however, maryann was not as lucky as i was the day before. she arrived early enough for a front row seat…. but the "front row" was pretty far back from the stage: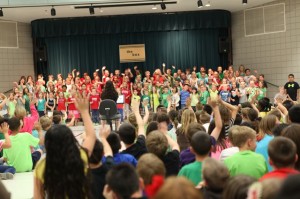 the 2pm showing, apparently, was also an all-school assembly with ALL the students from ALL the grades sitting on the floor in between the benches and the performers. this made photos kinda hard. but there IS a silver lining: dave was able to attend the daytime performance that day (nana and alex "represented" our family at the evening showing) so after the performance, maryann moved in close and snapped some photos of my guys:
dave said davey did a GREAT job.
and dave doesn't say things just to make you happy. or to say them. or because he's expected to say them. he says things because he means them. so even though i couldn't be there for the actual show(s), i'm so-very-thankful to my family and friends who supported davey when i couldn't.
and after pleading my case with my friend (who is a much better amateur photographer than i), she was able to attend the 2pm showtime.