samantha's hair has gotten REALLY long. especially when it's wet and we've combed out all the tangles.
a few weeks ago, i posted this photo on Facebook: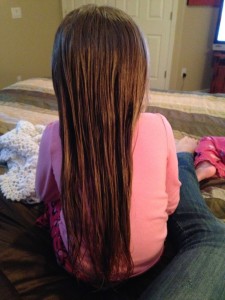 i mean, look at that – her hair is down to her waist!!!
we've (samantha and mommy) been struggling each morning before school and before t-ball games to comb out some tangles and "do something" with this mop. she really prefers her hair DOWN, and while i don't "mind," it bothers me that her hair just gets more matted and knotted and tangled and turns into a crazy mess. for t-ball, i insist on braids (usually two french braids) but that involves parting her hair with a comb and separating the tangles to braid it all.
it's been a frustrating, painful, tear-filled time in our home.
so we started talking about trimming it. and at first, she was AGAINST it. she would like to have Rapunzel's hair, you know.
yes. that long. she would be in heaven. i would be in Hair Hell.
but after a particularly tangled day when her hair had to be sectioned into french braids, she agreed it was time for a cut.
and a few days later, SHE reminded ME.
so this past saturday afternoon, her hair went from this: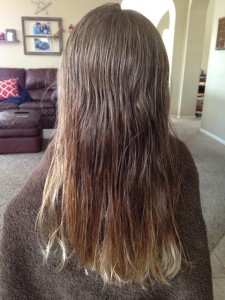 to this: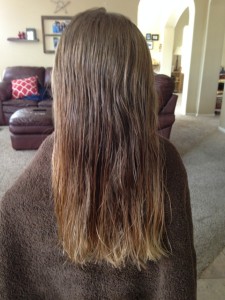 which means she left behind all of this: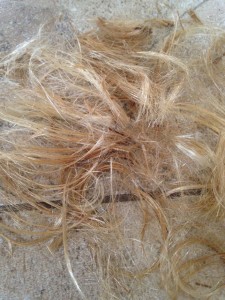 it looks like i cut off about 2 inches (maybe closer to 3). it was all dry, damaged ends that had been bleached by the Arizona sun + pool chlorine last summer.
***************************
i'll admit, i was VERY nervous. and the only reasons i agreed to trim her hair are as follows:
1. she was REALLY excited about it and we didn't have time to go somewhere
2. she REALLY needed it
3. she has a lot of natural curl so i knew that would "hide" any mistakes i might make (and let's face it, we KNOW i was going to make mistakes!)
***************************
so my concern now that it's been trimmed so significantly is many of her natural curls seem to have disappeared. then again, she ran around at two birthday parties (with one bath in between) and has been sick since Sunday night, so we haven't really had a chance to see what it's going to do long term. i'm just hoping i didn't cut off all her beautiful curls – i would be devastated!